10 Art Movies Every Collector Should See
By Shira Wolfe
There's a long list of fantastic films made about artists and the art world, but it's worth starting with this selection of stunning and insightful art movies that every collector should see.
---
1. Jean-Michel Basquiat – The Radiant Child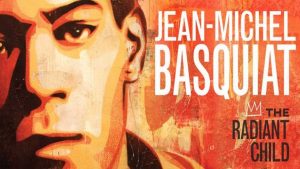 Jean-Michel Basquiat is the highest selling artist in the art world today, and his works are without a doubt more coveted than any other artist's art. This excellent 2010 documentary delves into the life and art of the genius artist, and is an easy addition to this list of art movies. The documentary was directed by Basquiat's friend Tamra Davis, who interviewed Basquiat, her friend, in 1986 when she was working at an LA art gallery. Basquiat was 25 at the time, and had already established himself as the shining, iconoclastic new voice in the art world. When he died two years later of a heroin overdose, Davis was too distraught to do anything with the material. In 2008, she decided to return to it and started creating this documentary. Due to their friendship, the material she shot of Basquiat carries a certain sensitivity to who he was and what he was facing in the art world. As such, the documentary offers a very intimate, honest portrayal of Basquiat and also features rare interviews and footage with some of Basquiat's artist contemporaries and friends in 1980s New York City.

2. The Art of the Steal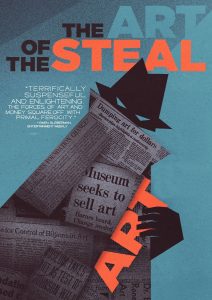 Albert C. Barnes, born in 1872, made his fortune in business and his name as one of the most impressive art collectors of Impressionist, Post-Impressionist, and early Modernist paintings – the collection is valued at around $25 million. During his lifetime, he amassed no less than 181 Renoirs, 69 Cézannes, 59 Matisses and 46 Picassos, as well as countless other important works of art, making this documentary, which traces the massive decades-long controversy over the Barnes Foundation collection, unique among art movies. When Barnes died, he left a will stating that Lincoln University would have control over the foundation, and stipulating that his precious art works were never to be sold, loaned or moved. However, as these things go, the collection soon found itself at the center of a nasty art world battle when it was decided that the collection should move to a new location. With opinions and insights from journalists, art historians and civic leaders, 'The Art of the Steal' is a riveting and informative account of one of the more recent art world controversies.

3. The Cool School


Narrated by Jeff Bridges (aka 'The Dude'), this documentary about the rise of the LA art scene in the '50s and '60s as a counter-culture to the New York Abstract Expressionist Movement is a must-see. It's a story of intense cultural ambition told through beautiful '50s and '60s footage and retrospective interviews. The film centres around the Ferus Gallery and its owners Walter Hopps and Irving Blum, which was the first professional space in LA to be mainly devoted to the postwar California avant-garde (think Wallace Berman, Robert Irwin, Ed Kienholz, Larry Bell, Ed Ruscha, John Altoon, and Billy Al Bengston). The Ferus Gallery also represented avant-garde New York artists like Andy Warhol, Jasper Johns, Roy Lichtenstein and Frank Stella. Enjoy watching how the LA art scene was sculpted from a gang of beatniks into a group of brilliant, influential artists.
4. Exit Through the Gift Shop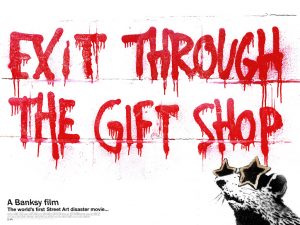 This 2010 documentary touches on every important question in the art world today: authorship, authenticity, credibility, and the popular/high art divide. It started as a passion project by French expat Thierry Guetta, who lives in LA and became fascinated with the underground street-art scene there. He began accompanying street artists on their nightly excursions and filming them at work, wanting to eventually make a documentary. When he met Banksy, the most influential, groundbreaking, and elusive street artist of our time, he managed to gain the artist's trust and started following him around as well. However, according to Banksy, he flipped the tables on Guetta and convinced him instead to take on a street artist persona and become part of Banksy's film. The final result is a whirlwind of a film in which nothing is ever really what it seems. A thrilling and important impression of one of the smartest and most provocative artists of our time.
5. Herb and Dorothy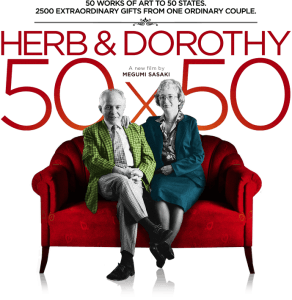 'Herb and Dorothy' is an endearing and insightful documentary about Herb and Dorothy Vogel, perhaps the most unassuming art collecting couple out there, who amassed over 4000 works of art in a 45-year period. Herb was a postal worker, and Dorothy was a librarian, and their shared passion for art led to them storing their large collection of often non-decorative, daring, and complex contemporary art in their humble one-bedroom New York apartment. The couple soon became known in the New York art scene for attending every show and were even lovingly called 'mascots of the art world'. This film is a great introduction to the passion of art collecting and the Vogels' journey through the art world.
6. Gerhard Richter: Painting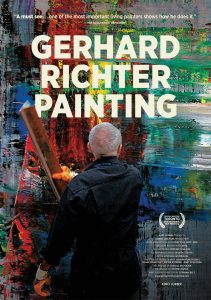 This beautiful film gives an unprecedented insight into the artistic process of Gerhard Richter, one of the best-selling artists in the world today. Through mesmerising behind-the-scenes footage of Richter in his studio and exclusive interviews with the artist and some of his contemporaries and critics, a rich and well-rounded portrait of the artist and his creative method emerges. It's worth watching simply for the breathtaking scenes when Richter is scraping paint across a large canvas, transforming the layer underneath into something utterly magical.
7. Marina Abramovic: The Artist is Present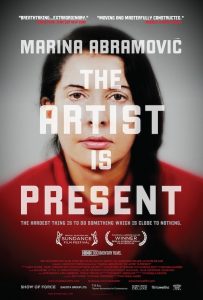 Marina Abramovic is arguably the most famous performance artist – perhaps ever. 'Marina Abramovic: The Artist is Present' traces the performance art star and her journey while preparing her large retrospective of the same name at the MoMA in 2010. The pièce de resistance of this exhibit was, of course, Abramovic's endurance performance piece in which she sat for seven and a half hours every day for three months in the main hall of the MoMA, inviting anyone who was interested to sit opposite her and lock eyes with her. The movie explores the nature of performance art and Abramovic's important role as the 'grandmother' of the movement, as well as questions such as 'why is this art?' A gripping piece of work that guides the viewer through the life and art of the queen of performance art.
8. National Gallery
'National Gallery' offers a delightful behind-the-scenes portrait of one of the UK's most impressive art collections – the National Gallery in London. For any art-lover who is dying to see how it all functions on the inside of a big museum institution, this film will be an absolute joy. Gently interspersing close-ups of art works with board meetings, educational programs for children, curator talks, or the restoration of a work of art, director Frederick Wiseman has beautifully and insightfully captured the essence and the stories of the grand London museum.

9. Brillo Box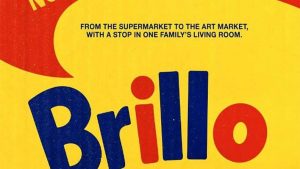 This 2017 HBO documentary, directed by Lisanne Skyler, poses all the big questions regarding the value of art and the materialism of the art world. In 1969, Skyler's parents bought an Andy Warhol Brillo Box for $1,000. They eventually sold it, and 40 years later, that very same Brillo Box sold for $3 million at a Christie's auction. The film traces the 40-year journey of the Skylers' Brillo Box, from their home to, eventually, the global art market. Interviews with Skyler's parents and important figures in the contemporary art world offer context and insight into this bizarre story about the fickle and ephemeral nature of value and the art market.
10. Ai Weiwei: Never Sorry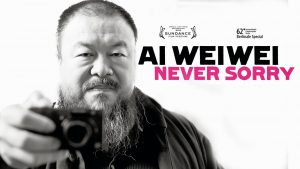 'Ai Weiwei: Never Sorry' tells the story of China's most famous international artist. Ai Weiwei is the country's most outspoken domestic critic, blurring the lines between art, politics, and activism. Journalist and first-time director Alison Klayman gained access to Ai Weiwei while working in China, and the result is this intimate and electric portrait of the bold and uncompromising artist who has been harassed and arrested by the Chinese government on multiple occasions due to his artistic voice and social media activism.