Articles and Features
Art Movement: Art Nouveau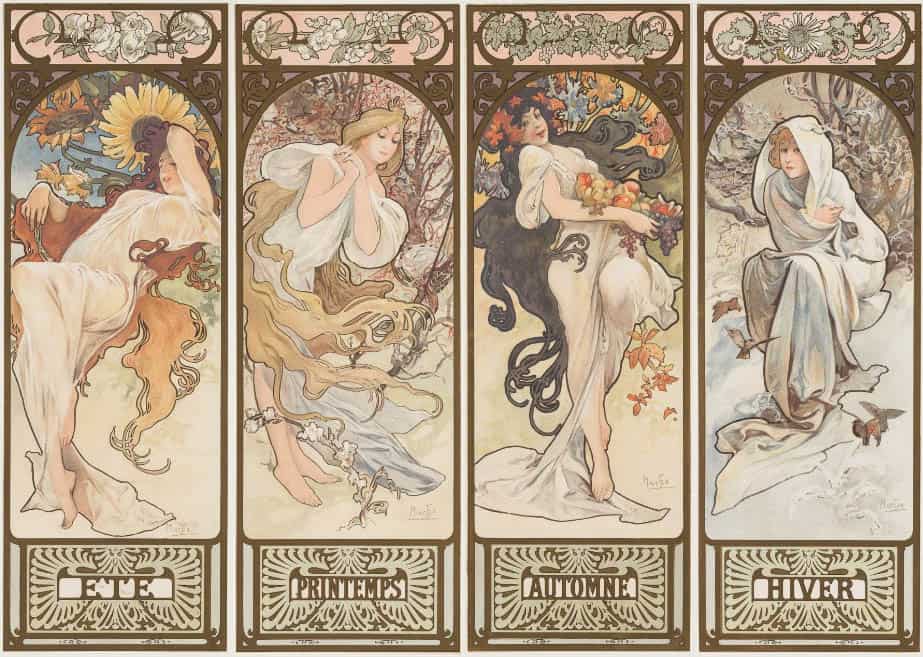 By Shira Wolfe
"To give people pleasure in the things they must perforce use, that is one great office of decoration; to give people pleasure in the things they must perforce make, that is the other use of it."

William Morris
Art Nouveau definition: what is Art Nouveau?
Art Nouveau is an international ornamental art style that characterized architecture, fine art and especially decorative arts across Europe and the United States at the turn of the twentieth century. The term 'Art Nouveau' (literally 'New Art') was first used in 1884 in Belgium but the movement was known by many different names in different countries: Jugendstil in Germany, Viennese Secession in Austria, Glasgow Style in Scotland, Arte Nuova or Stile Liberty in Italy, and Belle Époque in France.
Art Nouveau artists believed that all arts should be united, resulting in a unifying movement that encompassed many different art forms and fields. With the aim to modernise art and design, artists took inspiration from organic and natural forms, resulting in elegant designs with sinuous, asymmetrical curves and lines.
Key period: 1880-1910
Key regions: Western Europe, United States
Key words: organic forms, natural world, sinuous lines, curves, Gesamtkunstwerk, design, architecture
Key artists: Gustav Klimt, Aubrey Beardsley, Louis Comfort Tiffany, Antoni Gaudí, Henri de Toulouse-Lautrec, Alphonse Mucha, Henry van de Velde, Eugene Grasset, Jan Toorop, Victor Horta

The origins of Art Nouveau
In 1884, the term Art Nouveau first appeared in Belgian art journal 'L'Art Moderne' to describe the work of Les Vingt, a group of 20 artists dedicated to the unification of all arts. Influenced by both William Morris' Arts and Crafts movement and the Aesthetic movement, the proponents of Les Vingt fought against the low-quality, mass-produced products bred by the industrial revolution and the heavy, cluttered designs of Victorian-era art and architecture. They instead encouraged the incorporation of an aesthetic, functional design into the objects, architecture and design of everyday life. As English designer and businessman William Morris explained, the main goals were "to give people pleasure in the things they must perforce use, that is one great office of decoration; to give people pleasure in the things they must perforce make, that is the other use of it."
Closely correlated to Post-Impressionism and Symbolism, Art Nouveau was also greatly influenced by the penchant for Japanese art which spread among European artists in the 1880s and 1890s, in particular for wood-block prints by artists like Hokusai. These prints contained many floral forms and organically shaped curves, which would all become key elements of Art Nouveau.
Art Nouveau across disciplines
Following the ideal of Gesamtkunstwerk (literally 'total work of art'), the movement's mission was to achieve a synthesis of art forms, resulting in a harmonious and unifying design across a variety of disciplines. Artists worked in this style in the fine arts, in graphics and design, in architecture, in furniture and interior design, in glasswork and jewellery. Sinuous curves, high-style, finely crafted steel-and glasswork, golden elements, organic forms and patterns characterised the style.
Art Nouveau Architecture
With its sinuous lines, Art Nouveau manifested in architecture as a reaction to traditional values of reason and clarity of structure. First appeared in Brussels, the style soon spread across Europe but especially in Paris, where it provided a rhythmic alternative to the strict regulations imposed on buildings by Georges-Eugène Haussmann with either bidimensional or sculptural decorations.
Art Nouveau Glass Art
Art Nouveau found one of its most notable expressions in Glass art. Glass designers worked in collaboration with established workshops, ultimately developing advanced production techniques such as engraving win cameo, double layers, and acid engraving to create the sought-after effects of transparency and opacity as well as the undulating shapes inspired by natural forms. While in Europe the city of Nancy became one of the most important centres for the glass industry, Louis Comfort Tiffany's workshops made a name for themselves overseas with experimental stain glass coloring techniques and the production of the iconic Tiffany Lamp.
Key Art Nouveau artitsts
Gustav Klimt
Perhaps one of the first artists everyone thinks of when Art Nouveau is mentioned is the Austrian artist Gustav Klimt. As the first president of the Austrian Secession group, the Vienna-based Art Nouveau group that brought together artists, designers and architects, Klimt worked towards the principle of the Gesamtkunstwerk, combining beauty and utility. Eroticism and sexuality were important elements in Klimt's work, elements that pervaded Vienna in philosophy, psychology and the arts around 1900. This eroticism shines through clearly in Klimt's most iconic work, The Kiss (1907), which shows two lovers in a passionate embrace. The rich golden design, flattened form and sensual curves are exemplary for the Art Nouveau style of the time.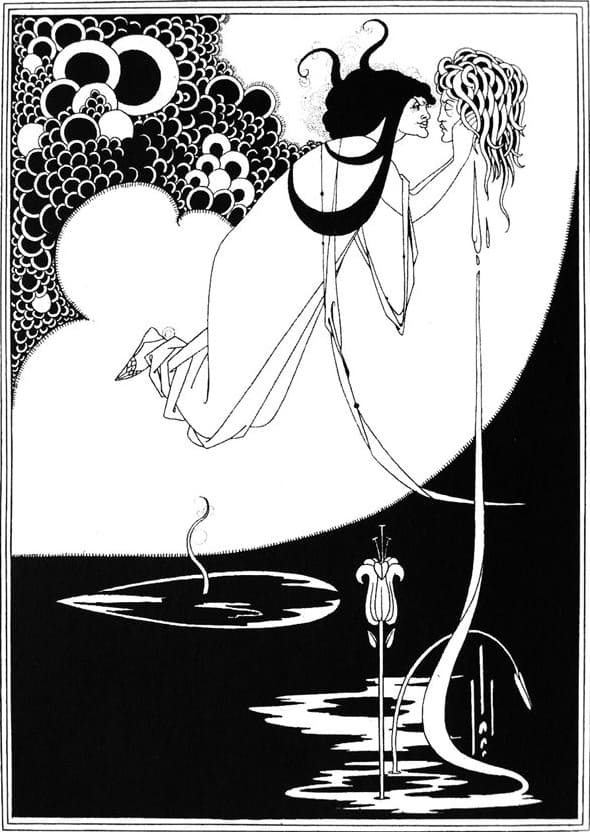 Aubrey Beardsley
Aubrey Beardsley was a talented young English artist, who was never formally trained. Due to his bold depiction of provocative erotic topics, he became one of the most controversial figures of the Art Nouveau movement. Despite his untimely death at the age of 25, he produced a great number of important artworks, including India ink illustrations for Oscar Wilde's Salomé. The Climax (1893) depicts Salomé kissing the severed head of John the Baptist, and is filled with erotic symbolism.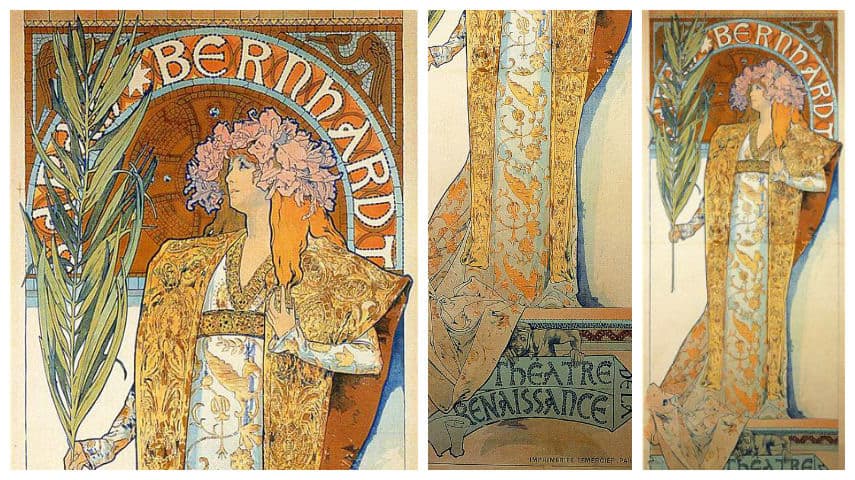 Alphonse Mucha
The Czech artist Alphonse Mucha was primarily known for his commercial posters and advertisements. He was interested in depicting "the new woman," celebrating femininity, sexuality and empowered women of the modern age. His poster Gismonda (1894), made for Victorien Sardou's play of the same name, became an emblem of the Art Nouveau style and inspired many artists after him. He is also famous for his depictions of the different seasons in the shape of women.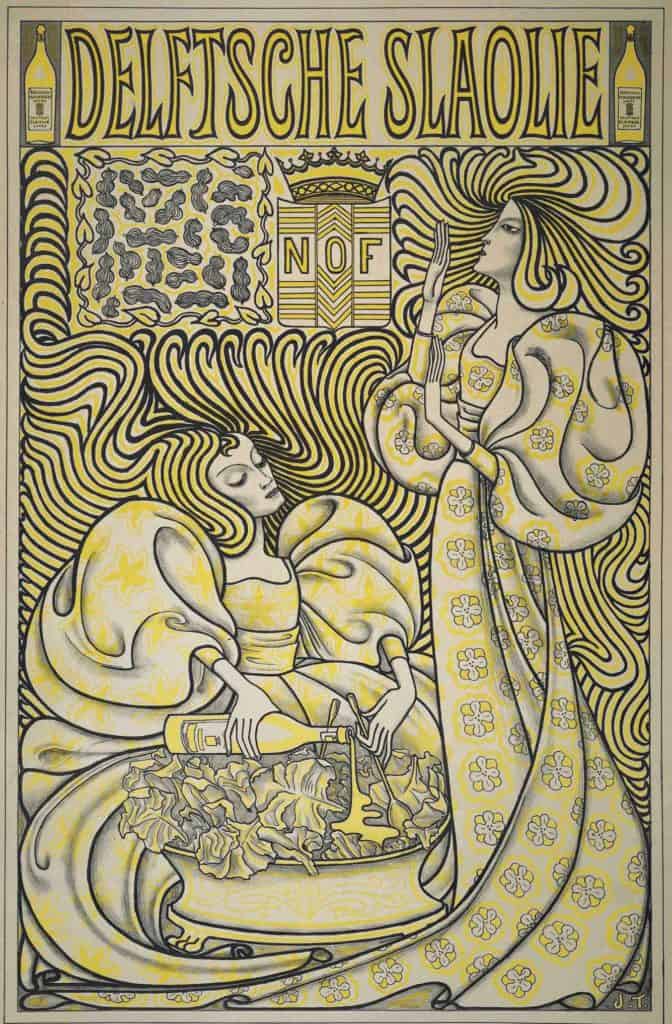 Jan Toorop
Jan Toorop was a Dutch-Indonesian artist working in the styles of Symbolism, Pointillism and Art Nouveau. His highly stylised figures and curvilinear designs are emblematic of the art movement. In his commercial poster for Delft salad oil, "Delftsche Slaolie," he effortlessly merged the emerging commercial world of consumer product advertising with fine art, depicting two beautiful, sensual women in flowing curves and lines pouring oil on salad. This influential poster is the reason that the Dutch Art Nouveau style was often referred to as "slaoliestijl," meaning "salad oil style."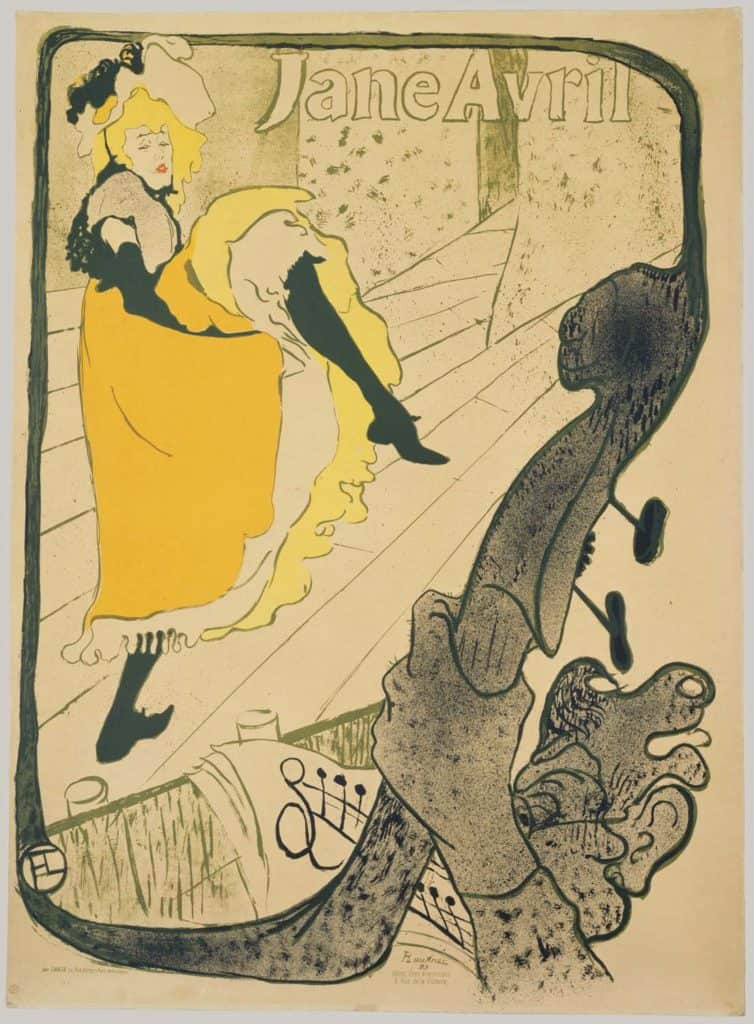 Henri de Toulouse-Lautrec
Henri de Toulouse-Lautrec can be categorised among both Post-Impressionism and Art Nouveau art styles. He was particularly known for his lithographs depicting scenes of bohemian life in Paris. He even produced a series of posters for the Moulin Rouge cabaret, which he frequented often.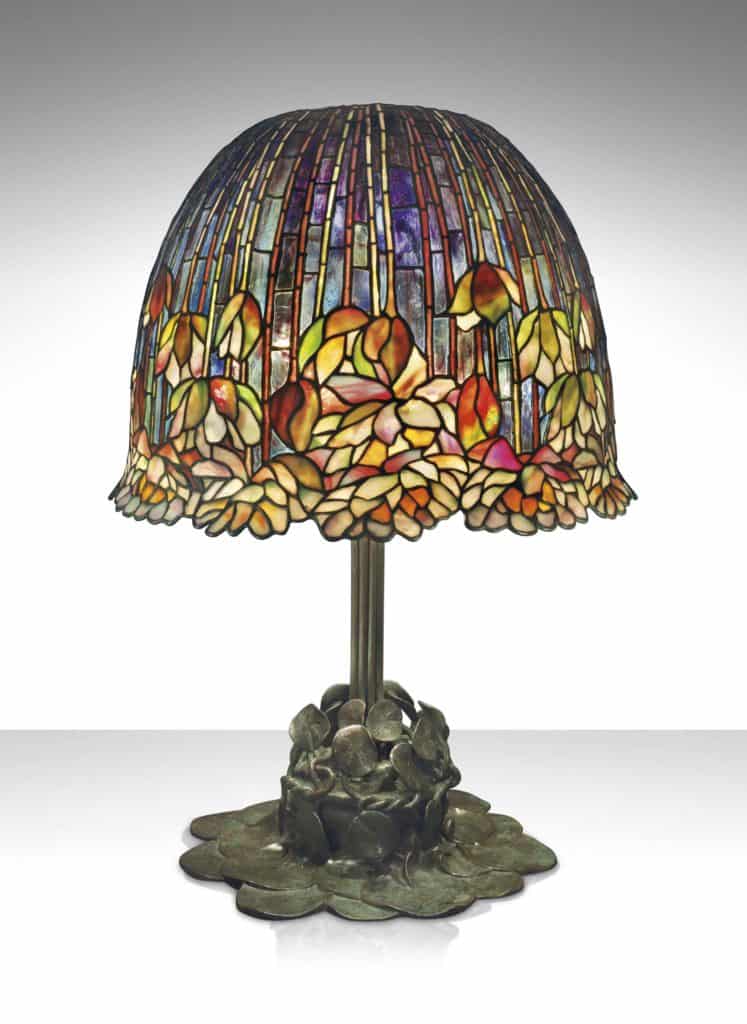 Louis Comfort Tiffany
Louis Comfort Tiffany became the name most associated with Art Nouveau in the United States. He was heir to the Silver Empire Tiffany & Co., which had been founded by his father in 1837. Tiffany started out as a painter, but became best known for his decorative artwork, in particular his fabrication of leaded glass. Tiffany produced stained glass with finely painted details, creating a revolutionary decorative style still synonymous with the company name to this day, and coining the catch-all term 'Tiffany lamp', used even for similar looking products made by rival designers from the same era.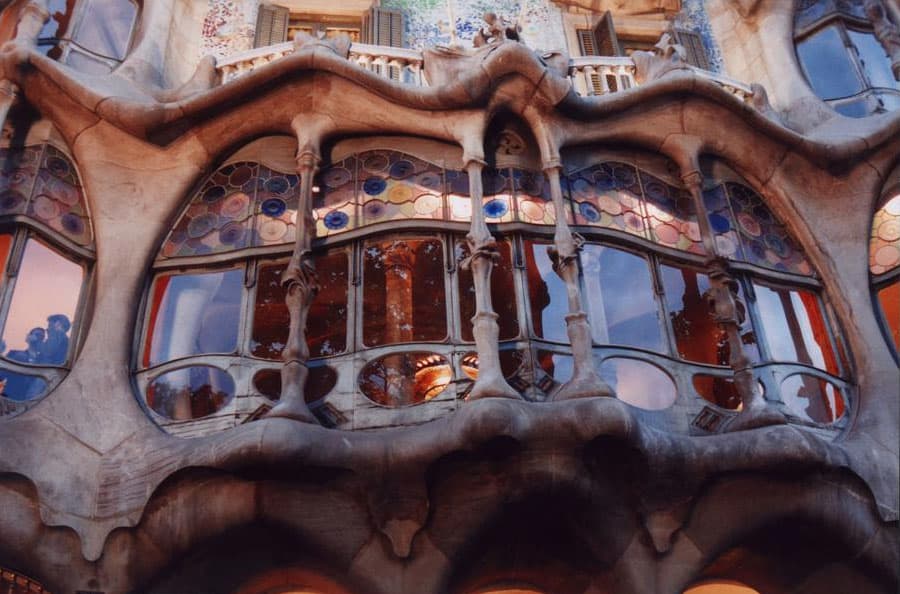 Antoni Gaudí
Antoni Gaudí is one of the most famous architects associated with Modernisme, the Catalan variant of Art Nouveau architecture. The Catalan architect, most famous for the Sagrada Familia cathedral and Park Güell in Barcelona, worked with abundant curves, flamboyant smooth designs, and bold colours in his buildings.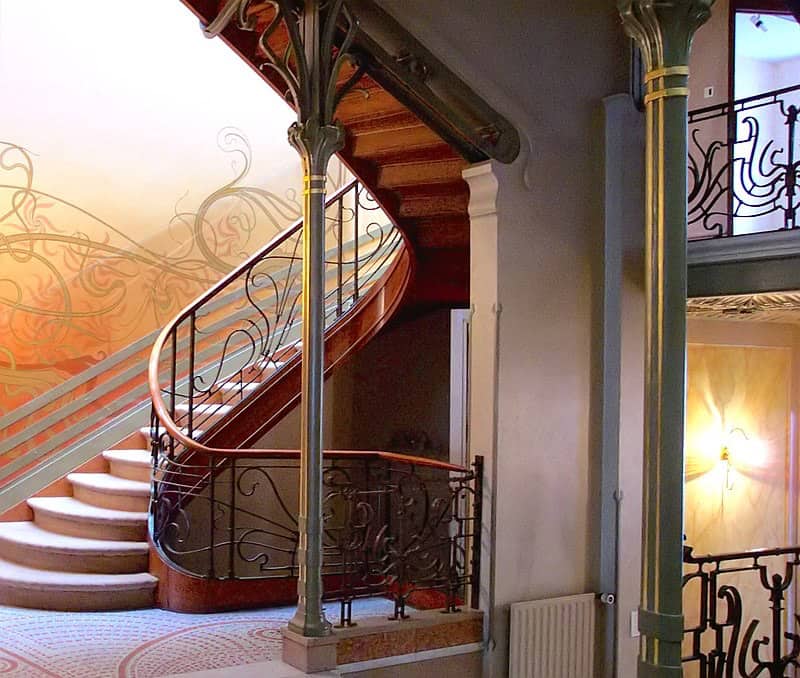 Victor Horta
The Belgian Victor Horta was one of the founders of the Art Nouveau movement, and is one of the people responsible for expanding the movement from the visual and decorative arts into the field of architecture. He is famous for his design of the Hotel Tassel (1894) in Brussels, which is considered to be the first Art Nouveau building.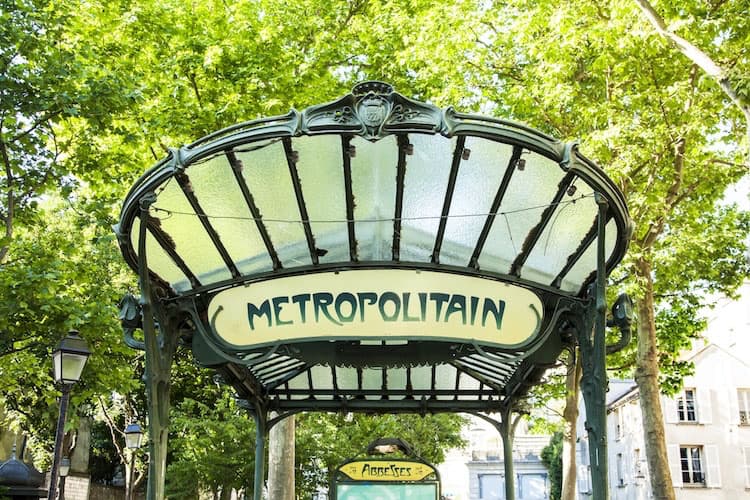 The legacy of Art Nouveau
Around the period of the First World War, Art Nouveau was subjected to criticism for its overly elaborate, lavish decoration. Moreover, the intensive craftsmanship involved made it fairly inaccessible to a mass audience. Though the movement did not survive the First World War, it lived on in different movements that came later, such as Art Deco, Modernism and even some elements of Bauhaus. Art Nouveau was the defining visual language of a brief moment in time, and remnants of this beautiful style can still be seen in many cities all around the world, such as in Paris, where the entrances to the metro stations, designed by Hector Guimard between 1890 and 1930, remain in the original style.
Wondering where to start?