Articles and Features
Henri de Toulouse-Lautrec – The Artist of Parisian Nightlife
By Shira Wolfe
"I paint things as they are. I don't comment."

Henri de Toulouse-Lautrec
Who is Henri de Toulouse-Lautrec
Henri de Toulouse-Lautrec was a 19th-century French painter, illustrator and poster artist, known for his atmospheric depiction of the Parisian underworld. Besides his work as an artist, his height (only 152 cm), and scandalous behaviour in society brought him notoriety.
He is one of the most famous post-impressionist painters of the era, whose style was also influenced by Art Nouveau, and the topics he focused on centred around the bohemian life on the streets, in brothels, theatres and bars in Paris. Although he died young and his whole career lasted less than 20 years, he managed to produce a great number of for the time modern, provocative and decadent images that give us a real picture of what Parisian nightlife was like at the end of the 19th century. The most famous works by Henri de Toulouse-Lautrec are the posters commissioned by the Moulin Rouge cabaret, including the poster for the performance of Jane Avril (1893), Divan Japonais (1893), and the painting At the Moulin Rouge (1892-1895).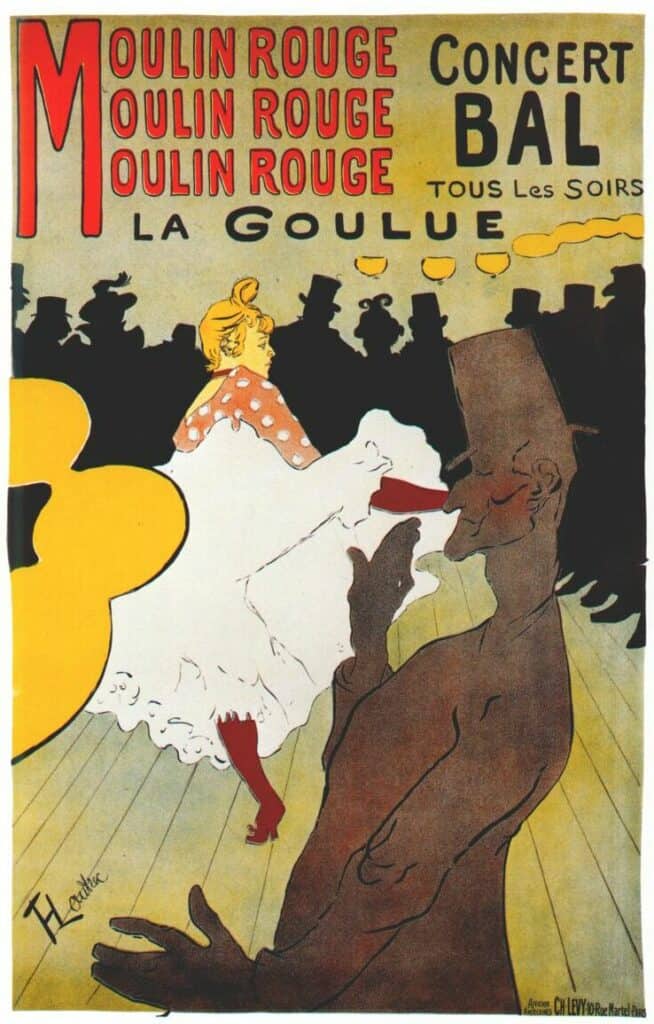 Biography of Henri de Toulouse-Lautrec
Henri de Toulouse-Lautrec was born into a very different world from the one he would later live in and depict in his art. He was born in 1864 into a noble family, the son of a count of Toulouse. At the age of 10, Toulouse-Lautrec was hospitalised due to severe bone pain, which started a life filled with physical complications and periods of convalescence. By the age of 16, he was left permanently crippled by a genetic disorder that halted his growth. Drawing and painting served as an escape, a way to deal with his physical and emotional suffering. In 1882, he moved to Paris to study art and soon became acquainted with other artists like Émile Bernard and Vincent van Gogh, whose portrait he painted.
Toulouse-Lautrec was academically trained, but soon abandoned the conventions of perspective in favour of avant-garde experiments, greatly influenced by Eastern aesthetics (Japonisme). He settled in the Montmartre district in 1884, at the time a low-rent haven where artists, bohemians, and the performers, patrons and prostitutes who frequented the nightclubs in the area, all lived and interacted in a bustling environment. Toulouse-Lautrec associated with all kinds of people, from the poor to the rich and famous. His early paintings focused on the models themselves, but from 1886 onwards he chose to place his subjects in nightclubs, brothels, bars, racetracks and other social environments. When the Moulin Rouge cabaret opened in 1889, Toulouse-Lautrec was commissioned to produce a series of posters for it, which allowed him to make a living separate from the regular income he received from his family. Among the works he created for the Moulin Rouge and other Parisian nightclubs are depictions of the singer Yvette Gilbert, the dancer Louise Weber (also known as La Goulue), and the dancer Jane Avril.
The death of Henri de Toulouse-Lautrec
Toulouse-Lautrec was a severe alcoholic and he ended up in a sanatorium in 1899. After he was released, he returned to his Paris studio and also travelled throughout France, while his physical and mental health started to decline due to his alcoholism and syphilis which he had contracted. He died on 9 September 1901 at the age of 36 at his mother's estate, Château Malromé in Saint-André-du-Bois.
Best known paintings of Henri de Toulouse-Lautrec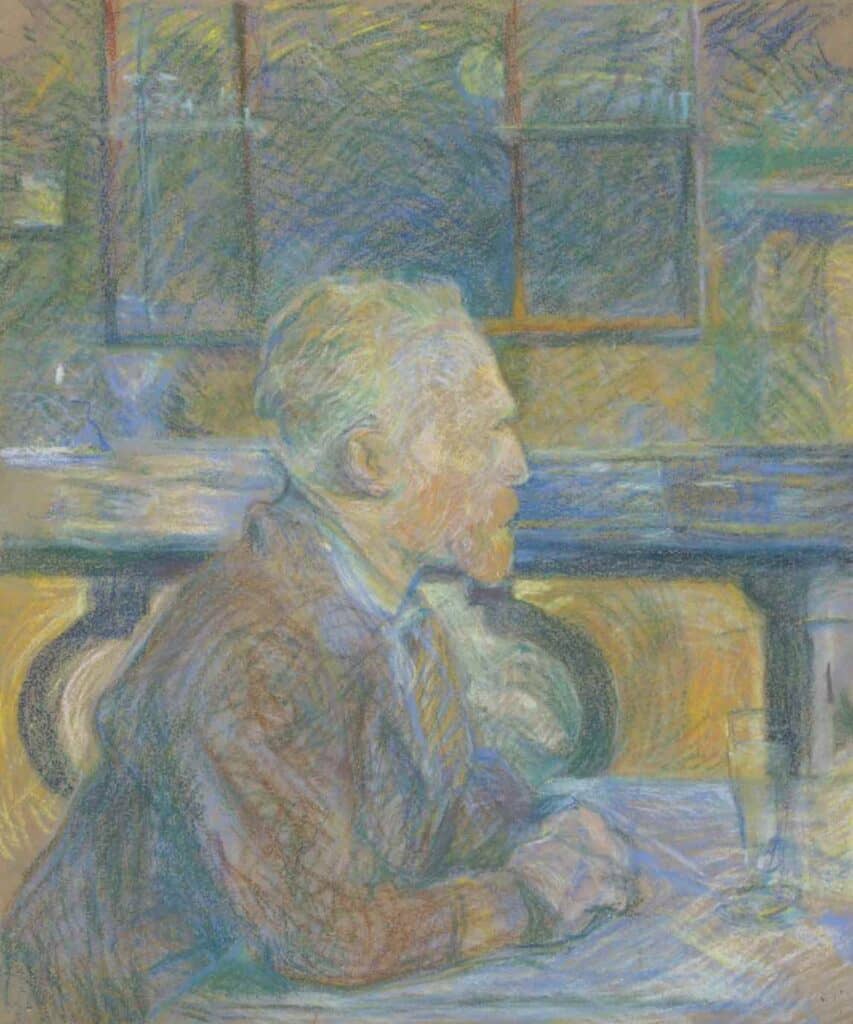 Portrait of Vincent van Gogh, 1887
Portrait of Vincent van Gogh is an 1887 chalk pastel on cardboard artwork that Toulouse-Lautrec made of his friend Vincent van Gogh. The painting shows Van Gogh in a café with a glass of absinthe. The painting is on view at the Van Gogh Museum in Amsterdam.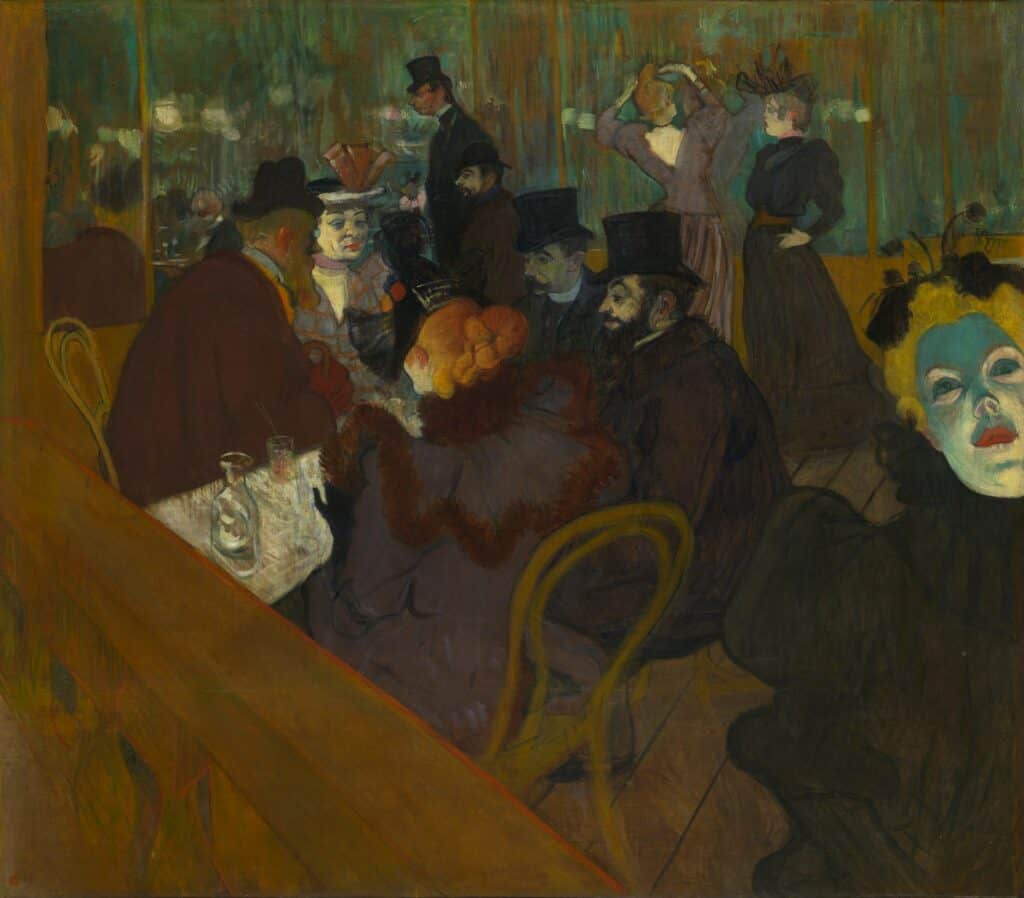 At the Moulin Rouge, 1892-1895
At the Moulin Rouge is an oil-on-canvas painting painted between 1892 and 1895. In the background (centre-left) we see a self-portrait of Toulouse-Lautrec in profile. The painting shows a great use of depth – in the right foreground, we see part of the English dancer May Milton, her face glowing with a particular greenish light. At a table in the middle, we see writer Édouard Dujardin, dancer La Macarona, photographer Paul Secau, photographer Maurice Guibert, and dancer Jane Avril with her flaming red hair. The painting is part of the Helen Birch Bartlett Memorial Collection at the Art Institute of Chicago.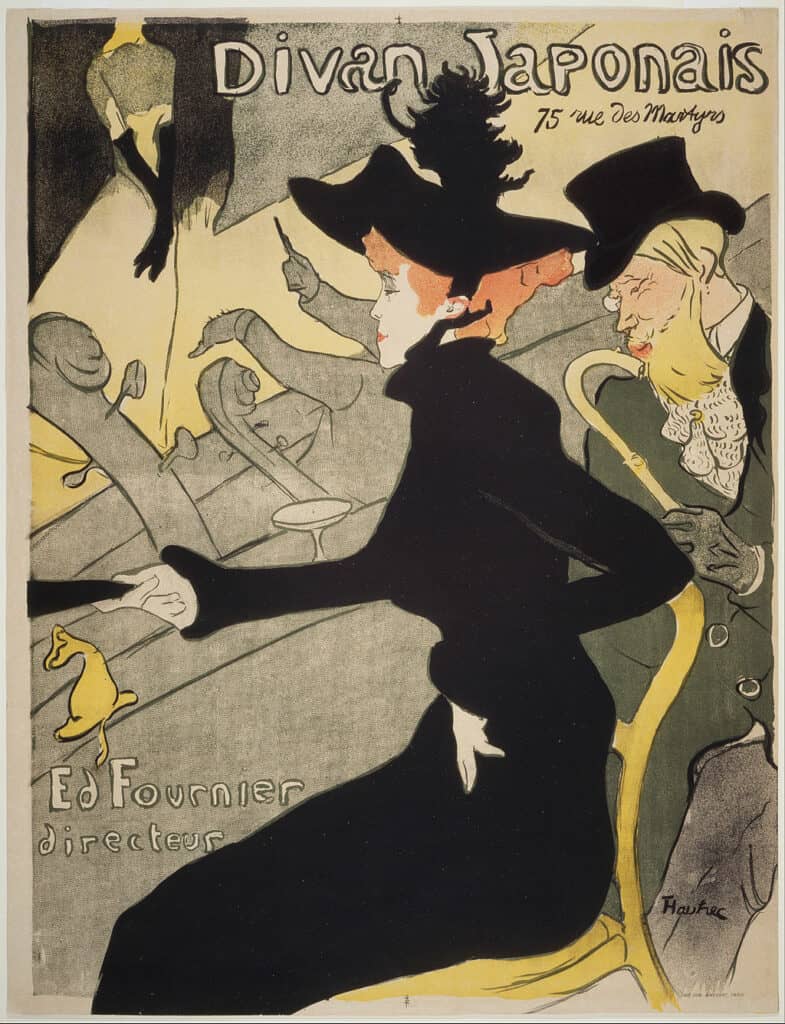 Divan Japonais, 1893-1894
Divan Japonais is a lithograph poster created in 1893-1894 to advertise a café-chantant that was known at the time as Divan Japonais. The poster depicts three known Montmartre characters: dancer Jane Avril, writer Édouard Dujardin, and the performer Yvette Gilbert.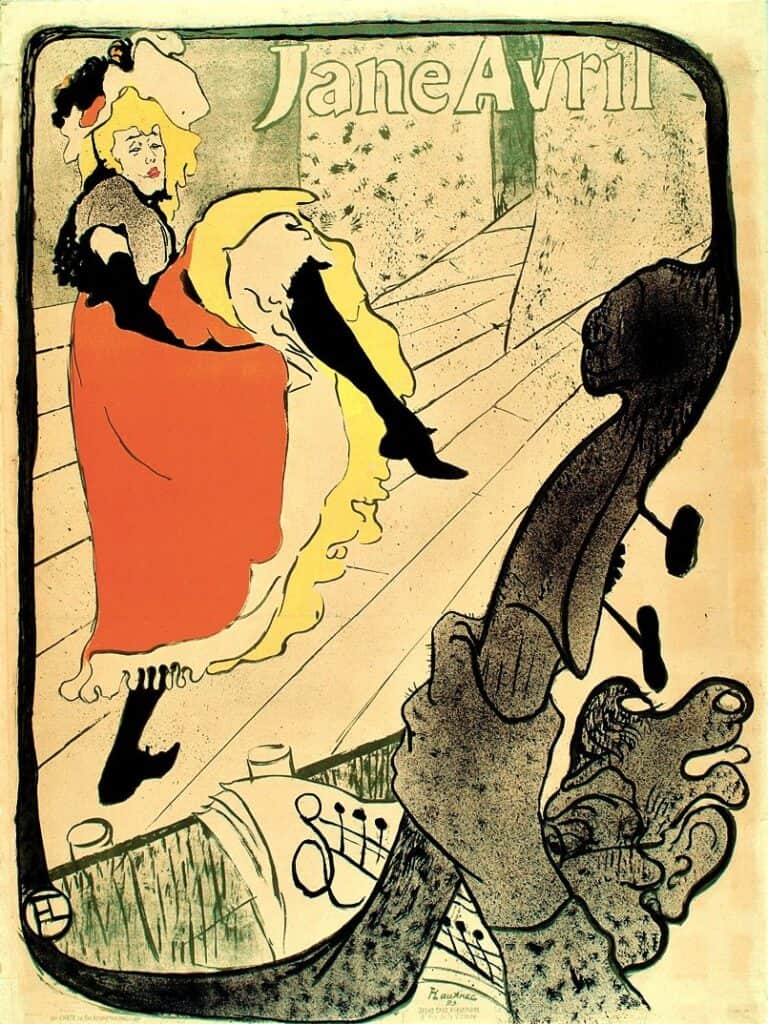 Jane Avril, 1893
Arguable the most iconic of Toulouse-Lautrec's works, his poster Jane Avril from 1893 shows the famous dancer in all her frenetic spirit and exuberance, encapsulating the fin-de-siècle Parisian nightlife. Avril was a lifelong friend of Toulouse-Lautrec's, and commissioned this print to advertise her cabaret show at the Jardin de Paris in 1893. We see her in the middle of performing a "can-can" kick, one of her signature dance moves.
Where to find Henri de Toulouse-Lautrec's work
Today, the Musée Toulouse-Lautrec in Albi houses over 1000 of his works, while other works can be found in the collections of the Art Institute of Chicago, the Hermitage Museum in St. Petersburg, The Museum of Modern Art and the Metropolitan Museum of Art in New York, and the Van Gogh Museum in Amsterdam, among others.
Relevant sources to learn more
Wondering where to start?