Articles and Features
Heaven on Earth – Gaudí's Spectacular Architecture
By Adam Hencz
Those who look for the laws of Nature as a support for their new works collaborate with the creator.

Antoni Gaudí
Who is Antoni Gaudí
A leading contributor to modern art, Antoni Gaudí was a Catalan architect and pioneer of 19th-century architecture. He was among the most influential modern artists in Spain, whose sensational architecture represented Barcelona's interpretation of Art Nouveau: Modernisme.
Gaudí studied structure as a way to convey imaginative forms while flawlessly combining natural ornamentation with architectural elements influenced by religion while designing structures with unprecedented modernity. In the end, his building designs were a product of his intense Catholic faith, his dedication to Spanish culture, and his obsession with the structural logic of nature.
The most famous works by Antoni Gaudí are Casa Vicens, Park Güell, the restoration of Mallorca Cathedral, the church on the Güell Estate, Casa Batlló, La Pedrera, and last but not least, the Basílica de la Sagrada Família, also known as the Sagrada Família.
Biography of Antoni Gaudí
Born in Reus, Catalonia, Spain on June 25, 1852, Gaudí was trained as a craftsman in ornamental and utilitarian copperwork and metalsmithing by his father. His natural orientation towards a hands-on approach to both the design and the production processes was well suited to his future architectural profession.
He studied architecture in Barcelona during a time when Catalonia experienced a period of cultural and political rebirth, also known as the Renaixença. Economic and urban growth benefited the bourgeoisie, who thrived to patron artists from the region and wanted not to mix with European currents. Gaudí's first commission from the Barcelona City Council came in 1879 for designing public lampposts and his mark on the city just continued to grow in the 1880s as he refined his visual vocabulary of architecture and decorative art. By the time he executed some of his best-known structures in the early 20th-century like Park Güell or Casa Batlló, he was saturated with utopianism that argued for a unification of the ancient with the contemporary as the means to a better future. With this approach, he succeeded in synthesising a number of influences into a magnificent style of architecture that defies categorization. In addition to designing residential buildings and urban spaces, Gaudí was devoted to the construction of a truly exceptional temple, The Basílica de la Sagrada Família, which is still being completed.
Death of Antoni Gaudí
Antoni Gaudí lost his life unexpectedly in 1926 after being knocked down by a tram while making his way, as he did every evening, to the Sagrada Família from the Church of Sant Felip Neri. He was buried following a funeral attended by many of the citizens of Barcelona who came to bid a final farewell to the most original architect that the city had ever raised up.
Best known works of Antoni Gaudí
Casa Vicens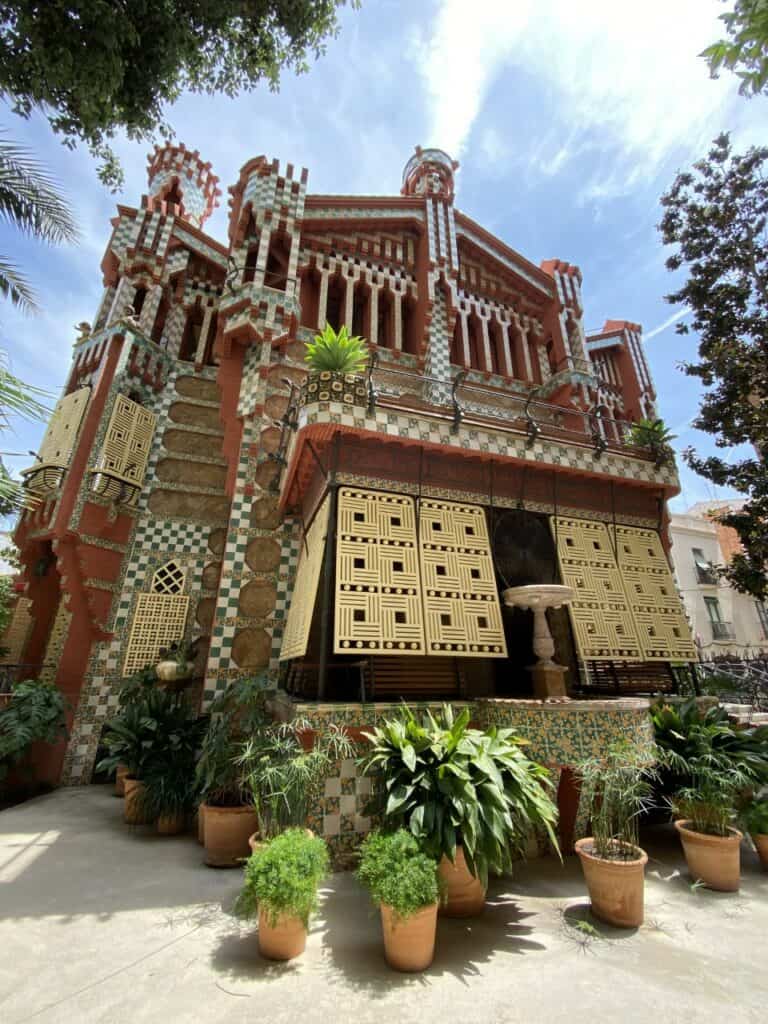 Casa Vicens is the first important commission Antoni Gaudí received that sowed the seeds of all his later architectural works. Manel Vicens i Montaner, a stock and currency broker, entrusted the young architect with designing his summer garden home in the former village of Gràcia. Built between 1883 and 1885 the Casa Vicens is one of the first buildings to kick off the Modernisme movement in Catalonia and Europe.
Park Güell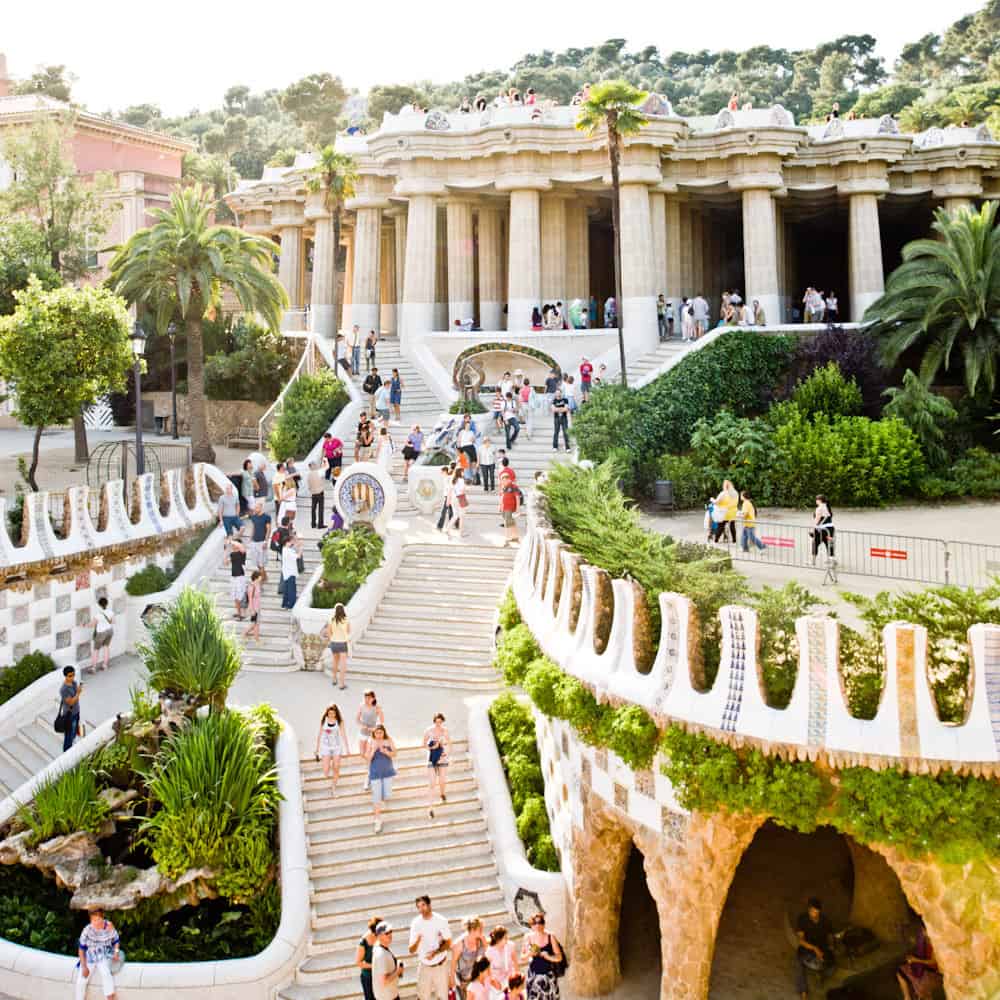 After a decisive meeting with entrepreneur Eusebi Güell, Gaudí received many commissions and proposed numerous projects. The association between the two led to the erection of numerous pioneering architectural works. Park Güell was one of these assignments of Gaudí to draw up plans for developing an estate for well-off families on a large property with splendid views, known popularly as the Muntanya Pelada. Even though a lack of buyers led to the works being abandoned only a few years after completion, the park became a large public garden that in the businessman's own lifetime was already considered to be one of Barcelona's great tourist attractions.
Casa Batlló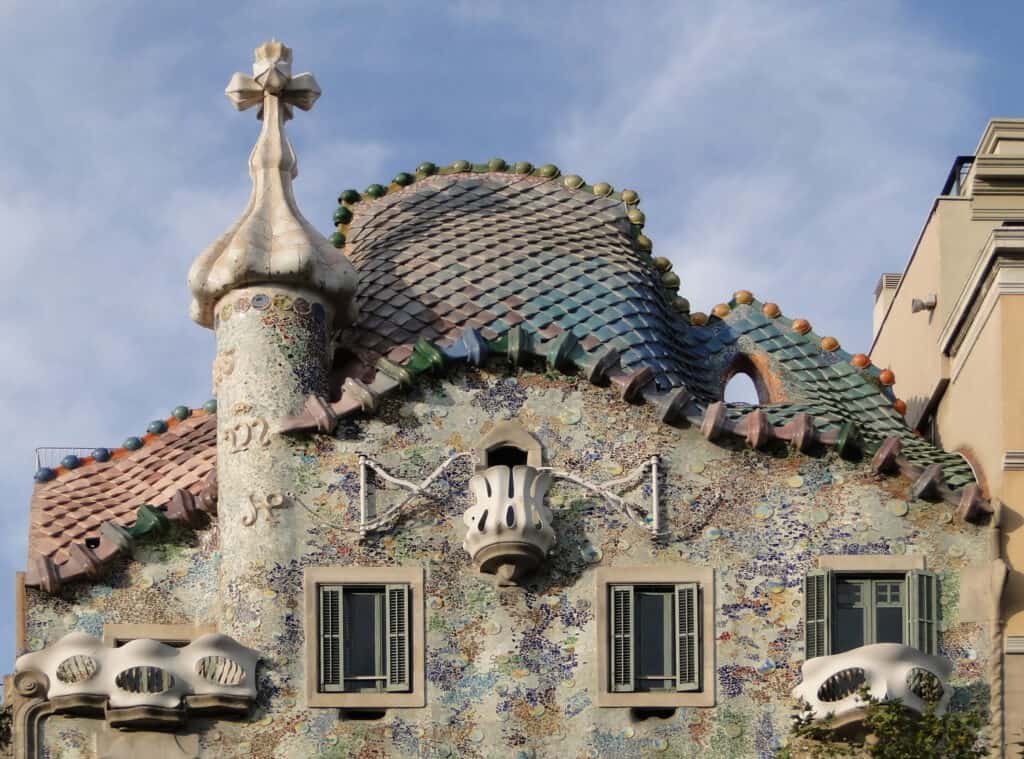 During Gaudí's mature period, masterpieces followed one after another. In 1904 he received an assignment that turned out to be one of his most iconic works. Josep Batlló, a wealthy textile industrialist comissioned Gaudí to design his home and construct a completely new house instead of the preexisting building on Paseo de Gracia. Gaudí was given full creative freedom to execute his joyful but risky plan. Casa Batlló is now best-known for its unique façade, similar to the crest of the dragon, an allegory of the legend of Saint George, the patron saint of Catalonia. Since 1995, the fully-restored house has been open to the public. At present, Casa Batlló is a UNESCO World Heritage site and an icon in Barcelona, a must-see for those who want to discover Gaudí's work and Modernisme at its finest.
La Sagrada Família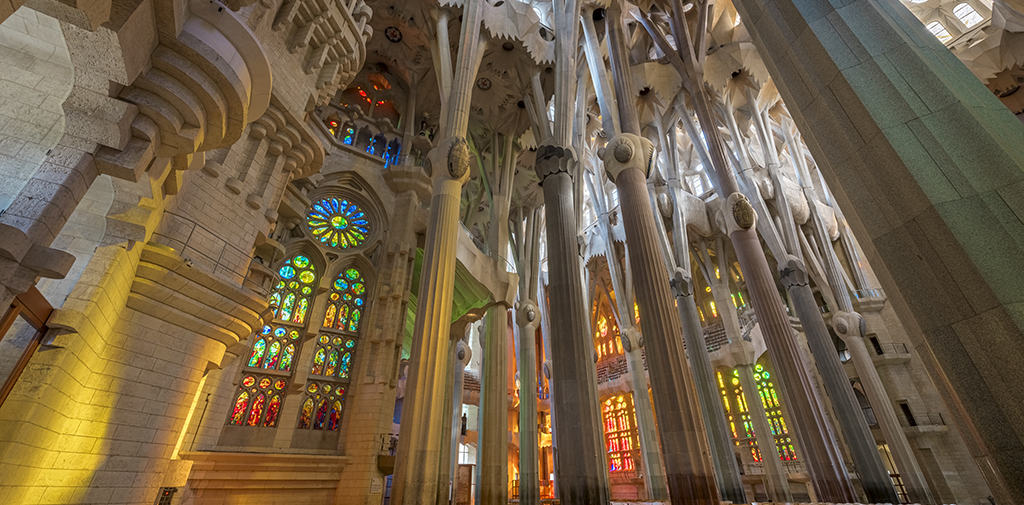 Construction of the Sagrada Família originally began under architect Francisco de Paula del Villar following the prevailing guidelines of the time, with neo-Gothic elements. However, due to technical differences, Villar was replaced with Gaudí, who took the project in a different direction, transforming it with his unique architectural and engineering style, combining Gothic and curvilinear Art Nouveau forms. Gaudí devoted the remainder of his life to the project, but the bell tower dedicated to the apostle Barnabas was the only part of the temple Gaudí would see finished, with less than a quarter of the project having been completed. Five generations now have watched the meticulous construction progress in Barcelona as today, almost 140 years after the laying of the cornerstone, the work continues on the Basilica.
In order for the ornamentation to be interesting, it must depict objects that bring to mind poetic ideas that constitute motifs. The motifs draw on history, legends, icons, fables concerning man and his life, actions and passion.

Antoni Gaudí
Where to find Antoni Gaudí's works
Barcelona is the home of Gaudí's major works. Six of the buildings he constructed in the city are listed as Unesco World Heritage sites. Even though most of his architectural masterpieces are found in and around Barcelona, his influence is present throughout all of Europe and beyond.
Relevant sources to learn more
Casa Vicens
Parc Güell
Casa Batlló
La Sagrada Família