Articles and Features
Art Movement: Op Art.
History and Famous Works
By Adam Hencz
"Every form is a base for colour, every colour is the attribute of a form."

Victor Vasarely
What is Op Art?
Op Art is an abbreviation of optical art, a form of geometric abstract art, which explores optical sensations through the use of visual effects such as repetition of simple forms, vibrating colour-combinations, moiré patterns, foreground-background confusion, and an exaggerated sense of depth. Formally, all Op Art paintings and works employ tricks of visual perception like manipulating rules of perspective to give the illusion of three-dimensional space, mixing colours to create the impression of light and shadow.
Key period: late 1950s and 1960s
Key words: visual illusion, illusion of movement, repetitive forms, checkerboard patterns, tension, complementary colours
Key artists: Victor Vasarely, Bridget Riley, Richard Anuskiewicz, François Morellet, Jesús Rafael Soto, Julio Le Parc, Gianni Colombo, Peter Kogler
Origins of the Op Art movement
The roots of Op Art, in terms of graphic and colour effects, can be traced back to Impressionism, Cubism, Futurism and Dada, but the movement perhaps more closely derives from the constructivist practices of the Bauhaus. The German school stressed the relationship of form and function within a framework of analysis and rationality, which led to mirroring the counterculture of the time in the embrace of graphic shapes and bright colours. At that time, artists such as Josef Albers, Victor Vasarely and M.C. Escher experimented with what is now considered optical art. Albers works are studies in colour perception, while Escher's work, although not abstract, employs paradoxical placements, visual tricks and errors of perspective in forms and structures that seem plausible at first glance. The artist known as the grandfather of optical art is French-Hungarian artist Victor Vasarely, whose painting titled Zebras (1938) is by many art historians considered one of the earliest examples of Op Art.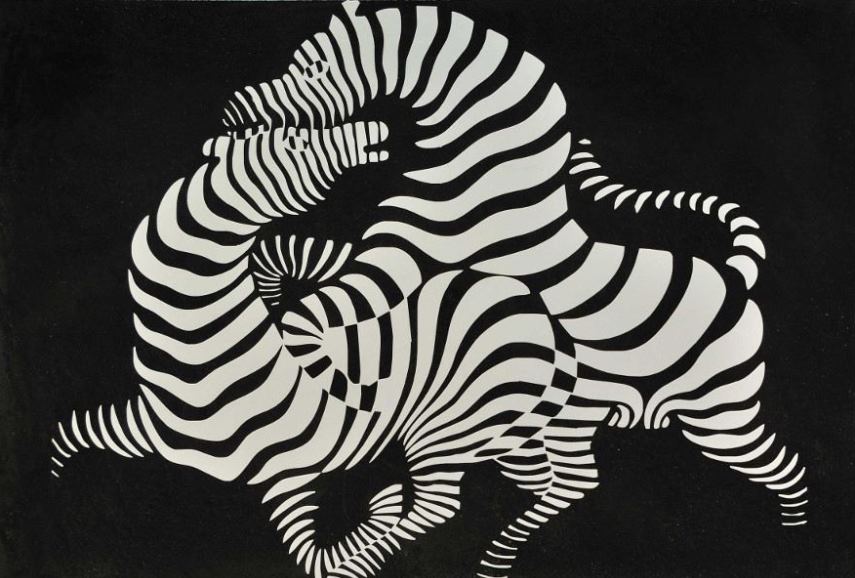 A decisive event in the history and development of the kinetic arts, the 1955 group exhibition Le Mouvement, shown at the Galerie Denise René in Paris, also proved to be one of the first shows to promote works that used optical illusions and visual trickery. The pinnacle of the Op Art movement's success was 1965, when the Museum of Modern Art embraced the style with the exhibition The Responsive Eye, which showcased paintings and sculptures by artists such as Victor Vasarely, Bridget Riley, Frank Stella, Carlos Cruz-Diez, Jesús Rafael Soto, and Josef Albers. Op Art profoundly influenced advertising, fashion, and interior design as well, before fading in the early 1970s.
"Focusing isn't just an optical activity, it is also a mental one."

Bridget Riley
Famous Op Art artists and iconic Op Art artworks
Victor Vasarely
Vasarely created an extraordinary series of paintings and sculptures which used geometrical effects to suggest motion within static forms. A Hungarian-born Frenchman, the founder of Op Art is one of the great artists of the twentieth century. His artistic roots lay in his explorations of early modern art. He took inspiration and orientation from theories of the Bauhaus, Suprematism, and geometric abstraction. From illusions of oscillation and vibration to Escher-like tricks whereby apparent indentations in the picture-surface suddenly seem to protrude from it, Vasarely's pioneering techniques not only influenced the Op Art movement of the 1960s, but helped to define the whole psychedelic mood of that decade.
Bridget Riley
Bridget Riley is one of the best-known Op Art painters, famous for her striking murals composed of multiple stripes which create optical illusions for the viewer. Her black and white geometric patterns explore the dynamism of sight and produce a disorienting effect on the eye, creating an illusion of movement and colour. Born in 1931 in London, Riley studied at Goldsmith's College and the Royal Academy of Art. Riley is known in the public consciousness for her iconic black and white geometric works, as well as for her temporary public murals in major institutions such as the Tate gallery in London and the Musée d'Art Moderne in Paris. She currently lives and works in both the United Kingdom and France.
Richard Anuskiewicz
He was one of the founders and foremost exponents of Op Art during the late 1960s and early 1970s. In 1964, Life magazine ran a feature on him in which they called him "one of the new wizards of Op Art". Born in Erie, Pennsylvania, Anuskiewicz went to the Cleveland Institution of Art where he found and became interested in Op Art. He graduated and went to Yale and, interestingly enough, was taught by Josef Albers for some time. Anuszkiewicz is still actively painting today.
François Morellet
A self-taught painter, sculptor, and installation artist, French artist François Morellet developed a radical approach to geometric abstraction during a career spanning more than six decades. Throughout his career, he committed to a methodology of rigorous objectivity and personal detachment, while incorporating a wide range of practices and materials into his work such as steel, neon tubes, iron, adhesive tape, wire mesh and wood. The artist continually explored the use of light and movement, therefore challenging the viewer's understanding of perception.
The legacy of the Op Art movement
Artists today enhance the scope and range of the Op Art movement and continue to draw on earlier investigations while continuing to expand it into three-dimensional space. Austrian artist Peter Kogler is one of these artists, who operate at the forefront of technology while contributing greatly to the Op Art movement. Over the past 20 years, Kogler has worked towards a radical transformation of the exhibition space, making it an integral part of his work. Moreover, his unique patterns have taken a wide variety of formats including prints, sculpture, furniture, wallpaper, lighting fixtures, collages, and room-sized Op Art influenced labyrinths.
Relevant sources to learn more
The Most Famous Art Movements and Styles
The Drive to Classify Art Movements
Wondering where to start?