Articles and Features
The Immersive Universe of Bridget Riley, the Artist That Hypnotized the World
By Méri Charitonidi
"For me nature is not a landscape, but the dynamism of visual forces"

Bridget Riley
Almost synonymous with the Op Art movement for her distinctive black and white paintings, Bridget Riley far exceeded the boundaries of purely optical art. Her works, governed by geometrical forms and structural shapes such as ovals, squares, parallel stripes, and curves create immersive environments where the viewers are perceptually involved through the masterful use of optical illusions. Bridget Riley's work evokes sensations of movement that produce physical as well as psychological and emotional reactions that are associated with psychedelic effects, challenging the notion of the mind-body duality.
First achieving international prominence in the 1960s – especially following her participation in the notable exhibition The Responsive Eye at MoMA in 1965 – Riley became the symbol of her generation in contemporary British painting and her innovations had a profound impact on the work of fellow Op artists and several artists connected with the YBA movement. She was the first woman to win the painting prize at the Venice Biennale in 1968.
Biography of Bridget Riley
Bridget Riley was born on 24 April 1931 in Norwood, London. She grew up in Cornwall and then studied first at the Goldsmith's college of art at the University of London, and then at the London Royal College of Art, where she graduated in 1955. She spent several years casting away from her artistic career, working as an art teacher and a commercial illustrator while taking design courses. However, the social stimuli she was exposed to, along with the art exhibitions she visited at the time led her to take on painting again. Her initial figurative and semi-impressionist style with some hues of pointillism would later blend into her distinctive perceptional language.
Op Art: Exploring Movement and Perception
Following a journey to Italy in 1960 with her mentor Maurice de Sausmarez, Riley began to synthesize her many influences into her first geometric patterned configurations. In her paintings, sequential elements are repeated to create a field of optical frequencies with an intention of semiotic conceptualism.
Her first exhibition at Victor Musgrave's London gallery in 1962 brought her great critical acclaim and, three years later, she made her debut in the United States.
Her sudden success, however, was accompanied by the commercialization of her patterns, especially by the fashion world, and the appropriation of her work by popular culture, which Riley saw as contrasting with her idea of the social nature of art by reason of its engagement potential with the viewers.
In the later 1980s and 1990s, Riley created a number of large-scale, site-specific murals, including at the Tate Gallery of London and the Musée d'Art Moderne in Paris.
"I am sometimes asked – "What is your objective" – and this I cannot truthfully answer… I work "from" something rather than "towards" something. It is a process of discovery."

Bridget Riley
Artistic Style and Concepts
Heavily influenced by neo-impressionism – mainly through the work of Georges Seurat, whose works she used as a tool to comprehend the optical science – and then also interested in abstract neo-expressionism, Riley progressively implemented her first pointillist experimentations with the study of color and contrast, and the investigation of movement and perception, shifting into the realm of pure abstraction.
The Process of Creation
Bridget Riley produced her first stripe painting in 1967, while she was still in the process of studying color and movement. Some of her later works would portray different compositions such as her tessellating patterns in the '80s. She embraced them in a way that served her to develop her own variations, integrating the patterns into her signature geometrical expression. Even though she almost stopped painting in the '50s due to family reasons, her restlessness and versatile educational, as well as professional background, had such an impact on her that she has been able to constantly and consistently pursue the explorative approach that, ultimately, has led to the development of her unmistakable style. Throughout her career, Bridget Riley seems to be constantly exploring the idea of creation as a concept rather than an action, and then again the action derives as a natural outcome. In her words, "it's a process of discovery." Her current show Perceptual Abstraction, presented by David Zwirner Gallery – the largest survey of Riley's work in the US in the last two decades – highlights the evolution of her creative process as well as the profound and long-standing engagement with the fundamentals of visual perception.
Most Famous Artworks by Bridget Riley
Artworks from Bridget Riley's rich body of work are part of many prestigious collections around the world. Here is a selection of her most famous works.
Kiss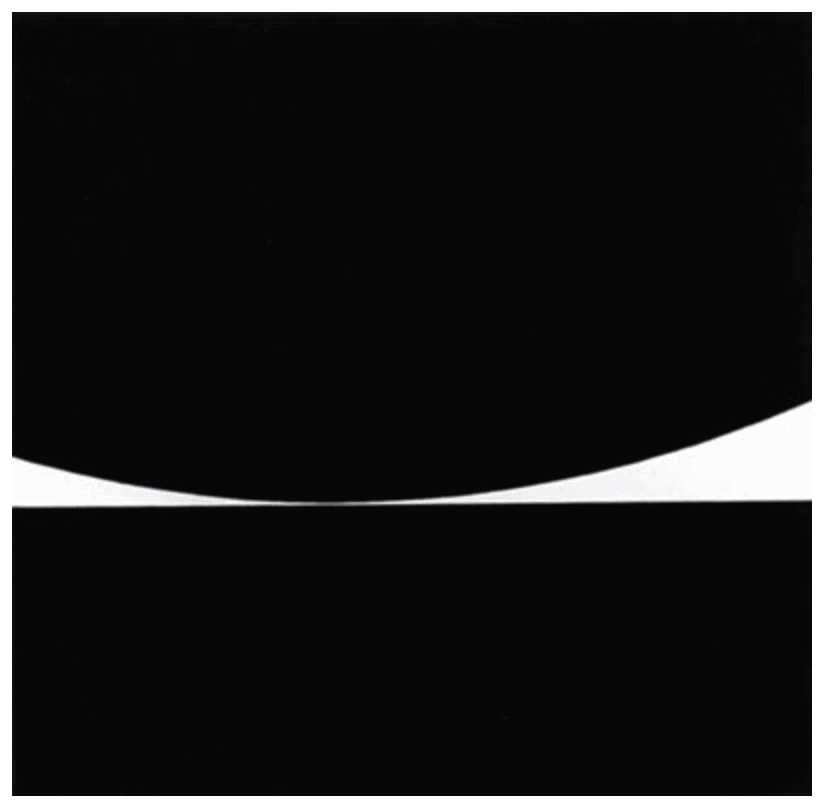 Simultaneously minimal and dramatic, Kiss is a seminal abstract painting by Riley and the earliest of her groundbreaking black and white painting from the 1960s that has brought her international acclaim. The contrasting, almost touching areas of black and white are sharply delineated and evoke, in pure abstraction, the feeling of two people just about to kiss and the feelings those performed actions would fire.
Movement in squares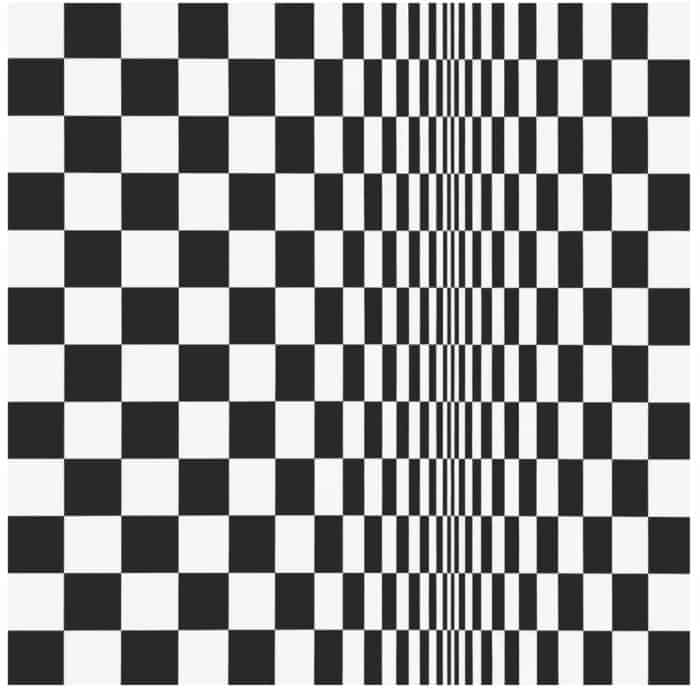 Bridget Riley described Movement in Squares as something that happened "on the paper that I had not anticipated." This work is the ultimate result of years of experimentation and artistic research which culminated in such an impressive precision of geometric forms and bending shapes generated almost by intuition. The development of contrasts and optical illusions providing a sense of movement served as the beginning of Riley's early investigations into the conceptual roles of geometric shapes.
Continuum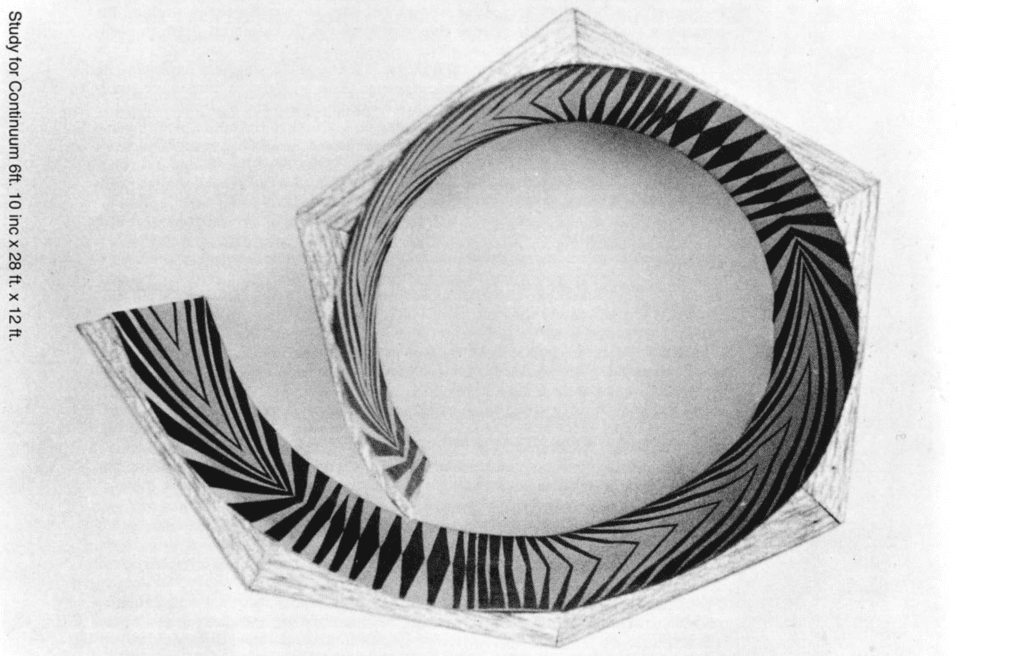 Originally produced by the artist in 1963, this powerful op-art piece is a three-dimensional structure resembling a large shell that would completely immerse the spectator who approached it or entered its sanctum-like inner space. The structure was around six feet and ten inches high and twelve feet in diameter. While the original structure no longer exists, the artwork was recreated at Max Hetzler Gallery in 2015.
Blaze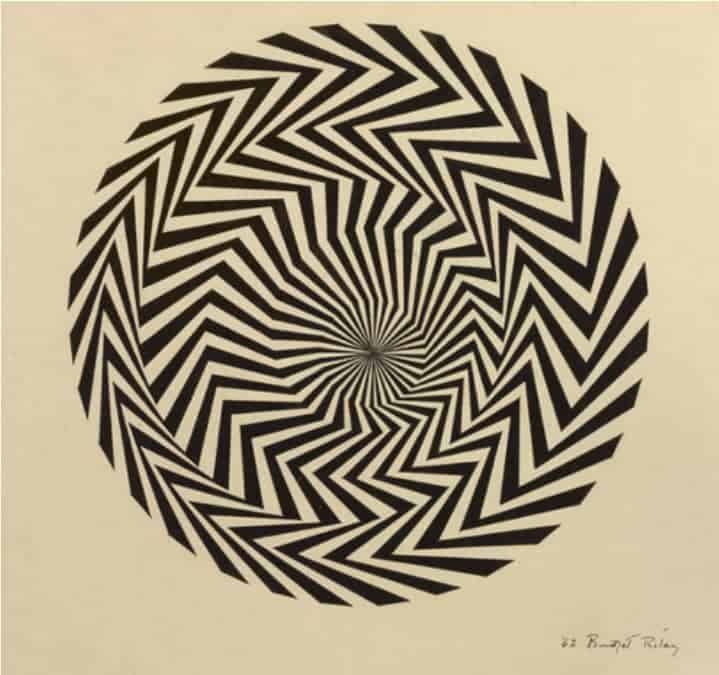 First displayed in London in 1963, the series Blaze is the one that gained Riley international recognition. What appears to be a spiral is actually a succession of concentric circles made of zig-zags meeting each other in a composition that generates a natural impression of movement. The movement effect aims at striking viewers as natural phenomena would, such as strong sunlight. "Looking directly into the sun over a foreshore of rocks exposed by the tide – all reduced to a violent black and white contrast," stated the artist.
Shadow play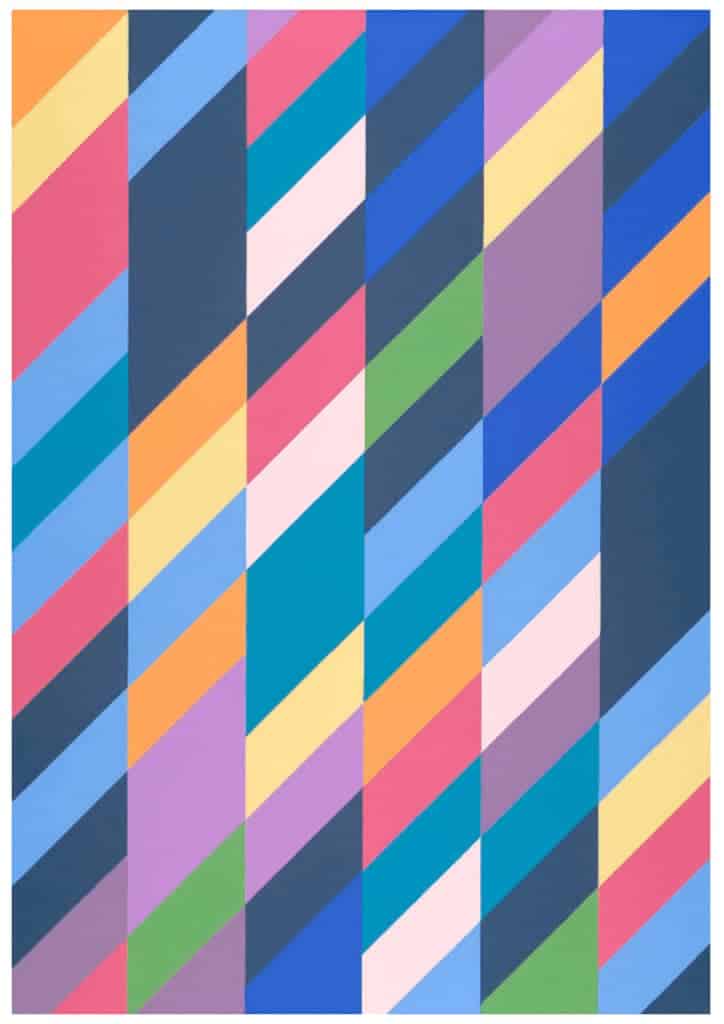 A master of optical illusions, Shadow Play by Bridget Riley is an exquisite visual trigger, where even figuring out the colors and counting them down seem impossible. In this piece lies a meticulous accumulation of two-dimensional shapes through elusive depth and repetitive geometric structures in a complex yet clear vertical and diagonal stripe structure. The signature colors in this painting are distinctive of the artist's "Egyptian palette" – an outcome of her intense fascination from her 1981 trip to Egypt with her mentor Maurice de Sausmarez. Riley was deeply impressed by the ability of Egyptian artists to use a limited color palette to represent what she defined as the "light-mirroring desert" surrounding them. The trip to Egypt represented a watershed in her artistic practice and, following this experience, her paintings would contain a freer arrangement of colors.
Relevant sources to learn more
Browse and buy works by Bridget Riley on Artland's marketplace
Wondering where to start?