Articles and Features
Aubrey Beardsley, Art Nouveau's Controversial Wunderkind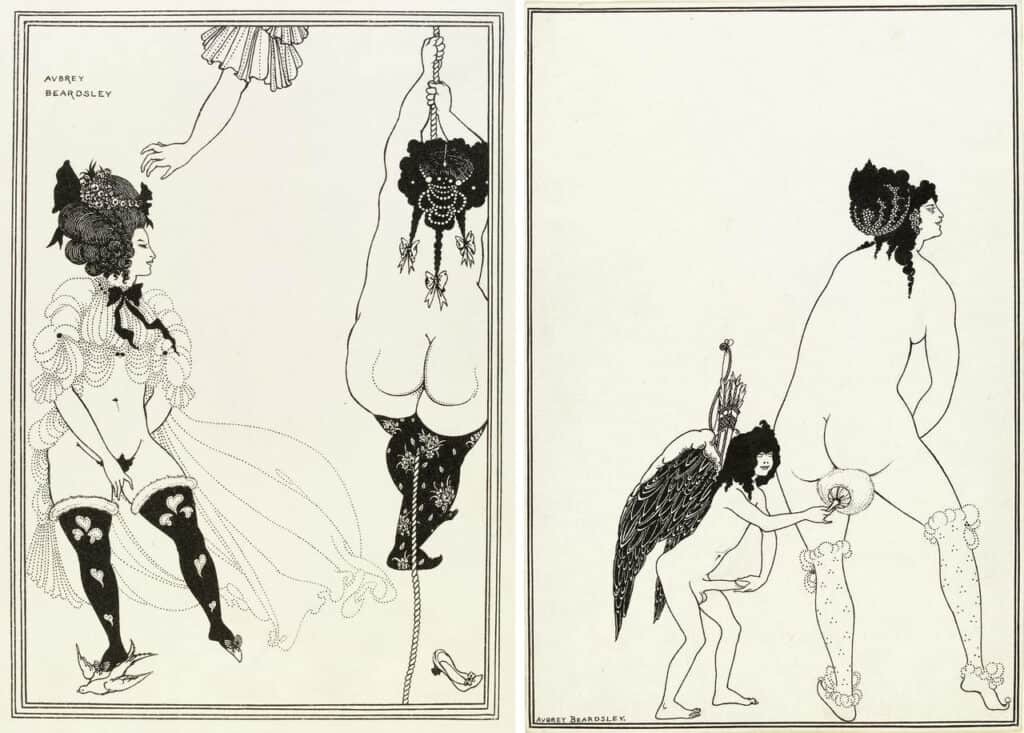 By Adam Hencz
"I have one aim—the grotesque. If I am not grotesque I am nothing."

Aubrey Beardsley
Who is Aubrey Beardsley?
Aubrey Beardsley (1872–1898) was a controversial English graphic artist and illustrator, who despite his tragically short life became a leading figure in the Aesthetic movement and is considered as the most influential master of Art Nouveau graphics. His drawings typify fin de siècle English decadence from the end of the 19th century and are characterised by elaborate composition and definite, refined lines, from which erotic, cruel and ironic contents unfold. Amongst others, he explored themes such as sexual identity and is best known for his commission as an illustrator for Oscar Wilde's play Salomé. Beardsley's contribution to the development of Art Nouveau and its poster styles was significant.
Biography of Aubrey Beardsley
Born as Aubrey Vincent Beardsley on 21 August 1872, in Brighton, England, Beardsley's childhood was full of social instability and emotional intensity. Due to recurrent attacks of tuberculosis throughout his life, he was often unable to study, draw, work or even leave his home. Besides his continuously failing health, he lost his father and his fortune at an early age, which forced the Beardsleys to live in lodgings for the next twenty years, fending off poverty. Nevertheless, his mother cultivated the genteel talents of his two children in both music and literature.
At the age of 16 Beardsley left school and obtained a job as a clerk in London to help his family make ends meet. It was a very narrow existence for a cultured and ambitious young man. While browsing in bookshops in his lunch hour, he came across the work and life of the painter and poet Dante Gabriel Rossetti, that fuelled his hopes to become an artist. He spent the year 1891 learning about art, visiting galleries and exhibitions, and seeking excitement and progression. The Pre-Raphaelites were Beardsley's favourites at this stage, but he was alert to other current tastes: the New English Art Club, the French décadents, Oscar Wilde. This year, at the age of 18 he met painter Edward Burne-Jones, who praised his work and said he ought to go to art school. As a result, he attended Westminster School of Art in the evenings for about a year. Here, Beardsley discovered the graphic work of the designer and illustrator Walter Crane and received advice on line drawing in pen and ink.
"People hate to see their vices depicted, but vice is terrible and it should be depicted."

Aubrey Beardsley
Salomé and other famous works by Aubrey Beardsley
In 1892, commissions to illustrate Thomas Malory's Le Morte D'Arthur and three volumes of the Bon-Mots series allowed Beardsley to leave his clerk's job behind him. Beardsley first rose to notoriety in April 1893, when he was the subject of the lead article in the first issue of The Studio art magazine, which praised Beardsley's original simple linear style, the use of white spaces as well as celebrated his inspiration by Japanese woodblock prints. His line block prints were also full of cultural references from ancient Greek vases and medieval woodcuts to illicit French literature.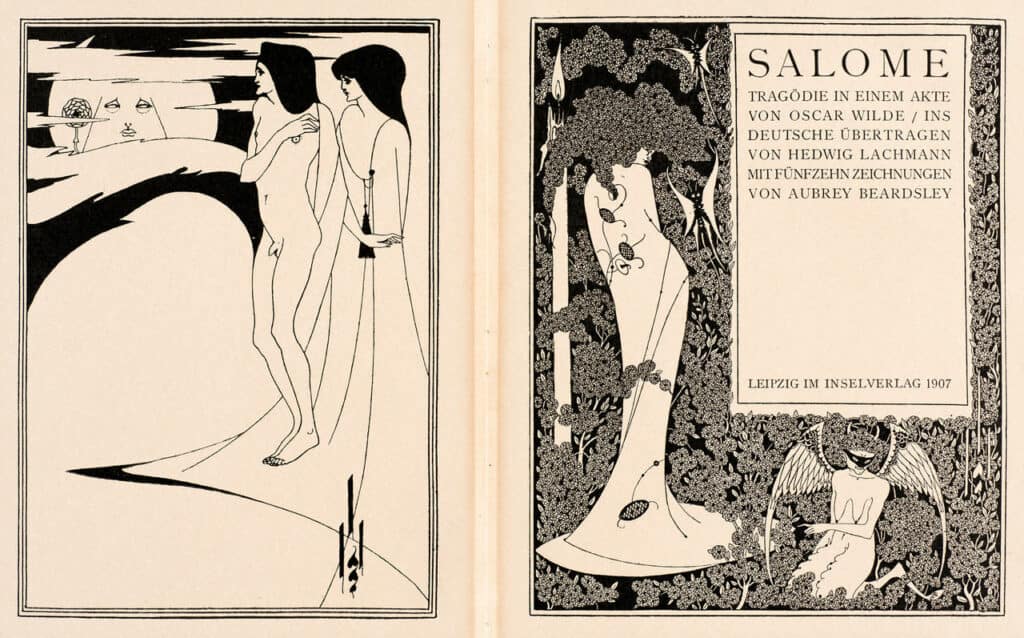 His drawing for The Studio led to a commission from the publisher John Lane to illustrate an edition of Oscar Wilde's play Salomé (1894). Beardsley knew Wilde through his friends Robert Ross, a journalist, and art critic, artist Will Rothenstein and caricaturist Max Beerbohm. Beardsley's intimate drawings echo Wilde's exalted text, and in many cases step into a dialogue with the writing, responding to Wilde's charecters and story with subversive symbolism. Wilde praised Beardsley for his "naughty" illustrations that Beardsley produced eighteen pieces of in total, of which ten appeared in the first printing of the play.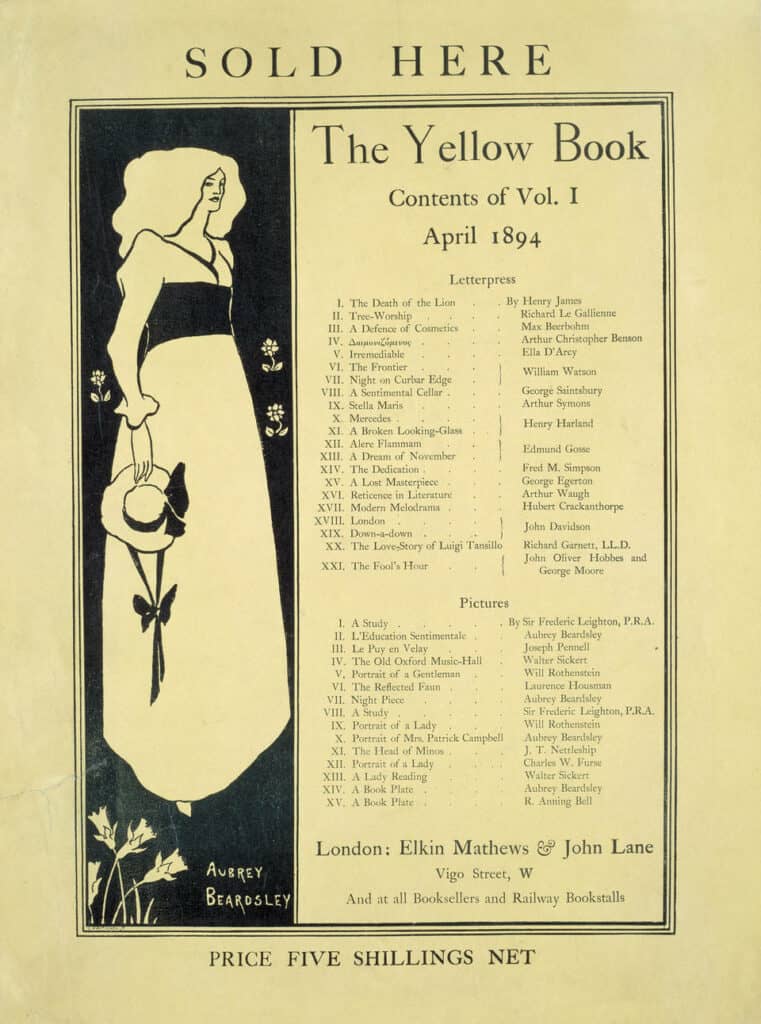 Publications were key for the dissemination of Beardsley's work; none more so than the magazine The Yellow Book, a quarterly magazine he co-founded, or later The Savoy, a magazine of literature, art, and criticism, with both gaining their avant-garde reputation thanks to Beardsley's bold and daring cover designs and drawings. Even though his health worsened, he turned to new pictorial projects that included an elaborate retelling of the Tannhäuser legend with elaborate rococo illustrations. Beardsley died just as he was becoming one of the most prominent graphic artists of his day, his brilliance and promise cut short by tuberculosis.
The legacy of Aubrey Beardsley
Beardsley's linear art and eclectic style had a huge impact on his peers and on generations to come. He was one of the most important representatives of Japonisme, embracing Japanese influence with his unique style of black-and-white ink drawings. Due to his bold depiction of provocative erotic topics, Beardsley became one of the most controversial figures of the Art Nouveau movement. In 2020, Tate put on the largest display of his original drawings in Europe since the seminal 1966 exhibition at the V&A, which triggered a Beardsley revival.
Relevant sources to learn more
Aubrey Beardsley exhibition at Tate
For other Art Nouveau artists, see:
Gustav Klimt
Henri de Toulouse-Lautrec
Antoni Gaudí
Wondering where to start?