Articles and Features
Louis Comfort Tiffany: The American Glass Art Innovator
"I have always striven to fix beauty in wood, stone glass or pottery in oil or watercolor by using whatever seemed fittest for the expression of beauty, that has been my creed."

Louis Comfort Tiffany
This article explores the life, work and artistic expression of one of the most known American artists of the past century – Louis Comfort Tiffany. As the heir of jewellery mogul Charles Lewis Tiffany, Louis Comfort Tiffany developed into an exceptional entrepreneur, innovator, designer, and artist. He is widely acclaimed for his innovative work with stained glass and as one of the most important American artists of the Art Nouveau movement.
Who is Louis Comfort Tiffany?
Louis Comfort Tiffany was an American artist and designer who is most known for his creativity and innovation in the production of stained glass. Throughout his career, Tiffany was experimenting with a wide variety of mediums, materials and techniques including painting, ceramics, jewellery design and metalwork. Still, he remained most engaged with the production and design of stained glass. His determination, innovative spirit, profound sense of aesthetic and family status helped him become one of the most known American artists of the 19th century.
Tiffany was artistically gifted but also technically knowledgeable. With his team of artisans, he developed a new, so-called 'American Style' of stained glass. The raw material for the production of the stained glass was sourced from cheap jelly jars and bottles that contained a higher amount of mineral impurities which enriched the appearance. Further, glass was assembled using an innovative technique that allowed for the highest level of detailing ever seen in stained glass production. Compared to the traditional lead came technique where the glass was only soldered on the points of intersection, the copper foil technique employed by Tiffany allows two pieces of glass to be soldered along the entire joint where it touches another piece of glass. This innovation in the production and soldering of stained glass allowed for higher precision and complexity in design, which proved to be essential in the production of the detailed, naturalistic Art Nouveau elements.
Another notable innovation that came out of Tiffany's workshop is favrile glass. Favrile glass is the type of colored blown glass where the pigment was integrated into the glass raw material. Compared to the traditional technique for coloring glass, where the surface was hand-colored after the shape was created, Favrile glass allowed for a whole new level of opalescence and a new range of designs, patterns and color combinations. The innovative design and technique earned Tiffany a grand prize at the Paris 1900 exposition.
Biography of Louis Comfort Tiffany
Louis Comfort Tiffany was born on February 18th, 1848 in New York. His parents were Harriet Olivia Avery Young and Charles Lewis Tiffany, founder of the iconic American jewellery company Tiffany & Co. Louis's artistic education started as a trainee of painter George Inness in Eagleswood, New Jersey. Later, he worked with other recognized artists such as Samuel Colman and Leon-Adolphe-Auguste Belly, whose artistic styles would heavily influence Tifanny's early career. He also attended the National Academy of Design in New York from 1866 till 1867.
After he finished his education, Tiffany travelled through North America, Europe and North Africa. During that period, he got introduced to other artists and prominent artistic styles that inspired his works, such as Art Nouveau. Following his return to New York, Tiffany worked in several glass workshops, developing a passion for glass production and design that would lead him to join with a couple of other artists into a creative group called Louis Comfort Tiffany and Associated American Artists. They successfully designed and produced wallpapers, furniture, and textiles, but the venture did not last long and after a couple of years, the group fell apart. However, Tiffany's entrepreneurial spirit and family connections led him toward his most successful artistic project: the foundation of his own glass factory in New York.
Not much is known about Tiffany's private life aside from the fact that he was married twice, firstly to Mary Woodbridge Goddard with whom he had four children. After Marry died, he got remarried to Louise Wakeman Knox and had four more children with her. In 1902, Louis partnered with his father and became the first design director of Tiffany & Co. He spent his older years mainly designing jewellery. He died in 1933 and was buried in Green-Wood Cemetery in Brooklyn, New York.
Most famous works by Louis Comfort Tiffany
Paintings
Although widely celebrated for his work in other mediums, painting was Tifanny's earliest means of artistic expression and one he silently enjoyed during his entire life. Snake Charmer at Tangier, Africa stands out among his most famous works in this medium. Produced during his travels to North Africa, the painting depicts a Morrocan snake charmer during his performance, surrounded by a curious audience. The use of color, composition and attention to detail in the architectural elements of the painting uncovers the influence of his mentors, George Inness and Léon-Auguste-Adolphe Belly. Snake Charmer at Tangier, Africa is kept at the Metropolitan Museum of Art in New York.
Mosaics
Mosaics were the prelude for Tiffany's later work in glass. After he returned to New York from his travels, his studio produced many interior decorations, often employing the mosaic technique. The Garden Landscape is one of the popular examples of mosaics; it was carefully designed and crafted with small pieces of colored glass with the aim of decorating Tiffany's showroom. Nowadays, the piece is part of the collection of the Metropolitan Museum of Art in New York.
Glasswork
Louis Confort Tiffany is certainly most recognised for his work with coloured glass. One of the best and most known examples of his glass decoration is the series of four pieces of window decorations named Four Seasons. Tiffany has received global recognition for this piece after showing it at the 1900 Exposition Universelle in Paris. This decorative piece was made at the peak of his career, just after he introduced the favrile glass and copper foil technique. Influenced by the Art Nouveau style, the four panels show Tiffany's unique representation of nature cycles symbolizing the structure of life – birth, ageing, death and rebirth. Other examples of Tiffany's glasswork are lamps, vases and window decorations.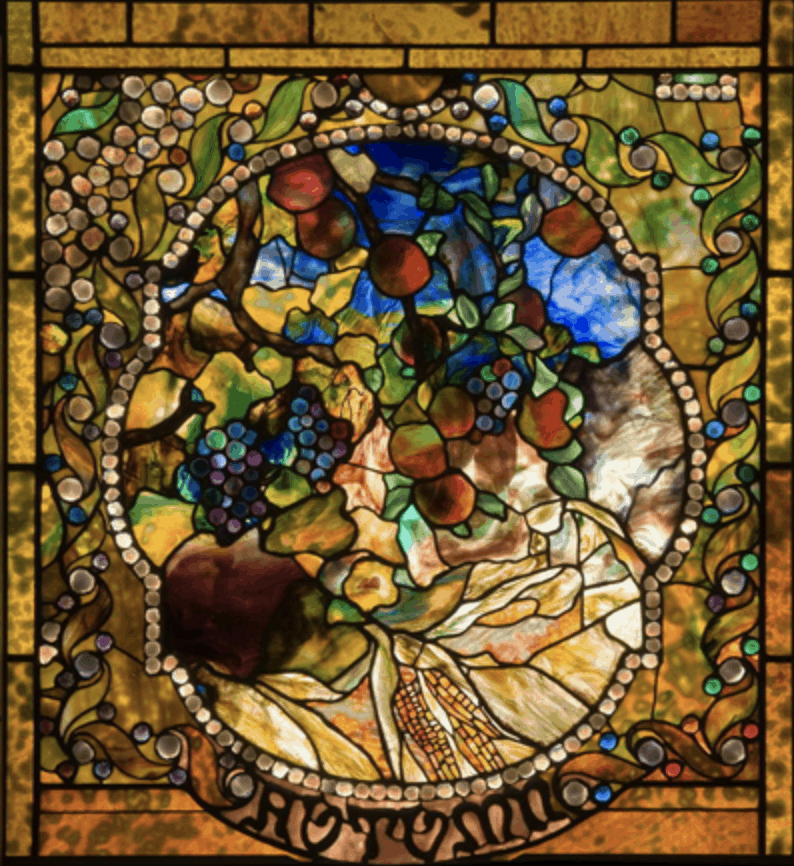 Wondering where to start?