The Art of Peppi Bottrop
By Shira Wolfe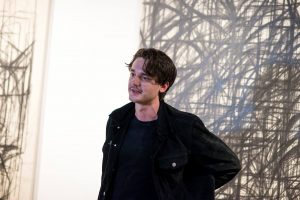 Geometric abstractions, skeletal outlines, lines representing action, and a musicality inherent in the shapes and forms… welcome to the world of German artist Peppi Bottrop. Bottrop's art is characterised by the reduction of the gesture of painting, using pure graphite on large, rough canvases which he often staples to the wall. Bottrop has said he actually doesn't like painting. What he does is something else. He works strictly with rectangles, circles and triangles; expressive, linear gestures creating depth and intensity.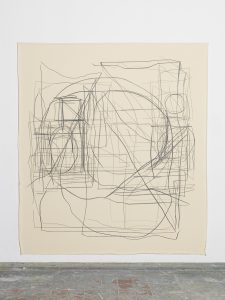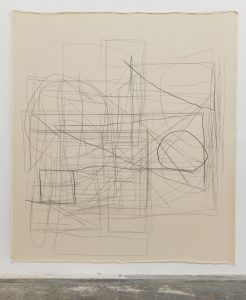 He started working with graphite because he didn't have money to buy paint, and then realised how well this medium worked for him. The same goes for how he staples his canvases straight to the wall. He didn't have money to keep buying stretchers back in art school, and started with this approach. He soon realised it offered him a much more immediate relationship with the space and intensive exchange with the art work itself. Throughout this process, he says he has discovered how interesting various walls can be – they each leave their own traces in the pictures.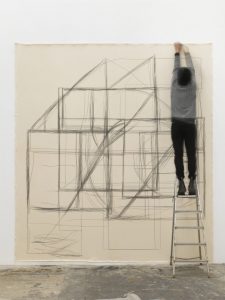 Bottrop studied under Albert Oehlen in Düsseldorf – and is amused at how often people feel the need to refer to that. But there is definitely a connection there that still continues. In March 2018, teacher and student came together for a duo-exhibition in LA, entitled Line Packers. The former master-apprentice combo constructed two unfinished planes of aluminium studs. Bottrop mounted shards and slabs of Fermacell on the studs (upon which he scrawled his signature charcoal images), while several of Oehlen's Computer Paintings (1992-2008) were placed boldly on top of, in front of, or interspersing Bottrop's works. Oehlen's works, which were made with a now outdated Texas Instruments laptop, somehow translate seamlessly into our contemporary world, and create a fascinating dialogue with the raw, immediate graphite expressions of Bottrop. A constant push-and-pull of comfort and discomfort occurs in their space.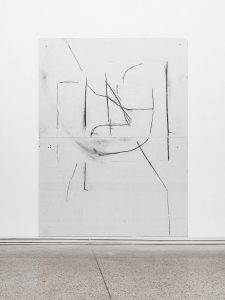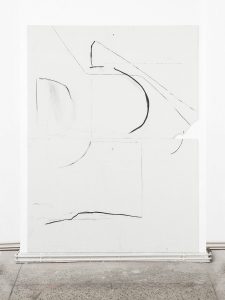 'Action' is a word that comes to mind when you see Bottrop's paintings. 'When I work, I enjoy moving – I like the "action" of painting,' he said in an interview with Artuner. 'Immediacy' is another word that belongs to him. The method of drawing with graphite directly onto the canvas creates an immediate experience. Quick movement, lines correcting lines, repetition and reacting forms. And at times, a work needs chaos, at other times, he realises fewer lines are better. It's about impulse and intuition.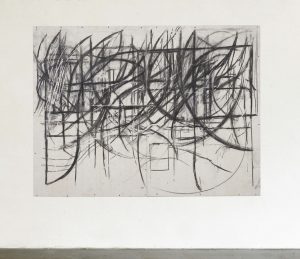 Bottrop's vision about colour is that it is only a means to support the layout and composition of an image. Leaving it out allows for a better view of the structure. He likes to keep a distance from colour, but does not mean to say that he will never return to it. In the meantime, it's all about monochrome gestures, graphite lines dazzling together like an experimental musical composition, exploring and expanding the concept of space…
---