Articles and Features:

Alex Da Corte | Marigolds,
Karma, New York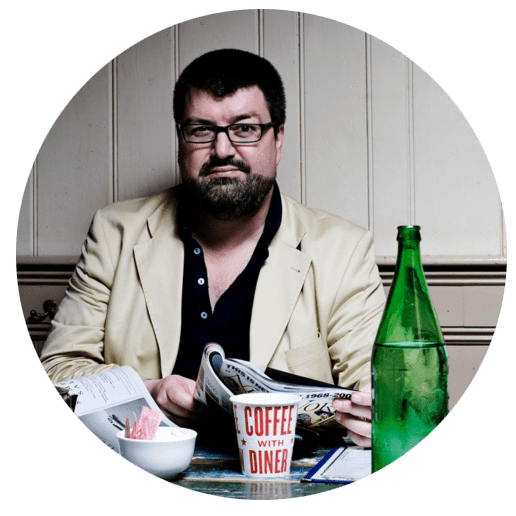 Christian Viveros-Fauné | Kulchur Vulture
Viveros-Fauné is Artland's inaugural Chief Critic and the contributor of this regular column. Based in New York City, he writes primarily about exhibitions and the cultural landscape there. His articles also feature Artland's revolutionary 3D exhibition tours that enable the viewer to pay compelling virtual visits to actual exhibition spaces in support of the texts.
---
---
Of all the wonderful lines contained in Eugenia Collier's 1969 coming of age story "Marigolds," two stand out for their diamantine compression. The first, invokes the incompatibility of compassion and innocence—the beginning of the former, Collier says, spells the end of the latter. A second epiphany does something similar for seeing aloud and remembering: "Memory is an abstract painting—it does not present things as they are, but rather as they feel."
So it is with Alex Da Corte's art. Starting with his 2010 breakthrough video Chelsea Hotel No. 2—which he filmed entirely on a cell phone—the Philadelphia-based artist has repeatedly conjured up associations that swap straight reason for the fluid, shape-shifting logic of poetry. In a recent lecture, the artist, fresh off his celebrated appearance at the Venice Biennial, also invoked the theory of quantum entanglement: a concept in physics which posits that two particles can remain connected across vast distances of space and time. In Da Corte's universe, yanking at one element may result in what Albert Einstein described as "spooky action at a distance"—or an explosion of cartoon imagery.
"For an idea of the exhibition's overall effect, think André Breton and The Cat in the Hat sipping ayahuasca from furry teacups."
Da Corte's current outing at Karma Gallery—which he has titled "Marigolds" in honor of Collier's yarn—gives bright outlandish shape to far-out scientific theory, while poetically linking together physical objects as seemingly disparate as redacted comic book pages, bas-relief sculpture, neon signs, flat acrylic paintings, acid-colored wall treatments, modular furniture and a giant stuffed toy. As with many of Da Corte's installations, his discrete pieces nudge viewers toward what the Surrealists termed the unfettered play of thought. For an idea of the exhibition's overall effect, think André Breton and The Cat in the Hat sipping ayahuasca from furry teacups.
Spread out over two galleries on the same block, Da Corte's display arrays ten Blue Pencil Drawings and twelve supersized objects that illustrate one of his fundamental dicta, via materials like aluminum, steel, plywood, inkjet printing, polyester fabric, neoprene and upholstery foam: "sculpture is the unveiling of a familiar object." The drawings' series title alludes to the preferred pencil color used by illustrators, but also to Robert Rauschenberg's Erased DeKooning (1953). An experiment in composition by effacement, Da Corte's works on paper consist of comic book printouts—Donald Duck, Casper, Peanuts and more—to which he has applied store-bought White-Out.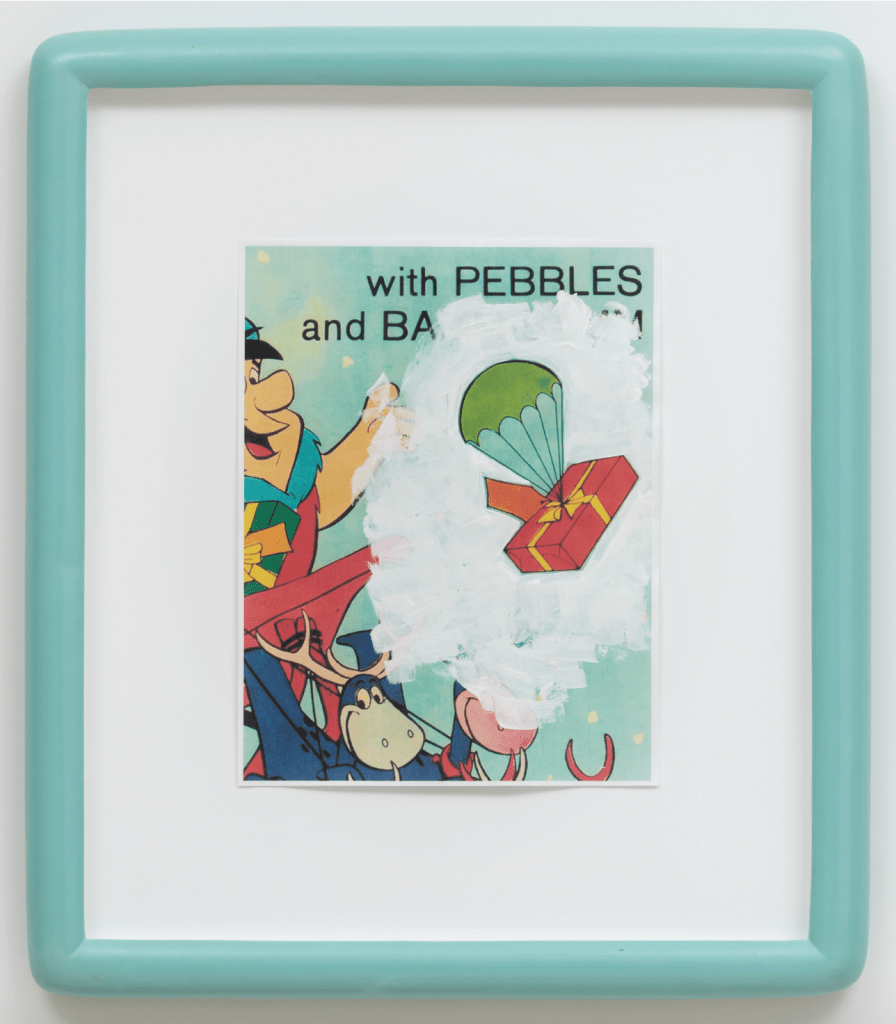 The drawings, encased in candy-colored matte frames, occupy gallery one. Gallery two is devoted to a pair of romper rooms featuring XL versions of Da Corte's works on paper. Among the artist's wall-hanging sculptures are a seven-foot high green candle and a twenty-three foot wide jack-o-lantern; their respective titles The Night Watch and Non Stop Fright (Bump in the Night) clue viewers into the images' shift from cute to creep. A second room contains a blood-red acrylic, ink and flashe painting of a moonscape as reflected in a pool of water, and an engulfing "boyfriend pillow." The kind of cushion with arms that wrap around the unsuspecting user, Da Corte's version takes the shape of a blue python that appears, like a tapeworm, to have gobbled up its host.
Yet Da Corte's latest show harbors more than a plushy take on the uncanny. Like Collier's short story, Da Corte's two-gallery installation establishes spooky relationships between childhood and adulthood, the strange and the familiar, the innocent and the perverted. Collier reminds us that we have all planted marigolds. Da Corte, for his part, insists on revealing the flip side of that virtuous moment. His flowers' radiance can gladden or appall us, depending on the day.
Relevant sources to learn more
Alex Da Corte Website
Karma Gallery Website
Kulchur Vulture – Sarah Sze, Tanya Bonakdar Gallery