Articles and Features. Artist Focus
Anne-Lise Coste, meet the artist whose work is her rebellion.
"I don' t want to believe the art and the artist cannot be critical and straightforward. (…) Working freehand and having faith in the first gesture, I scream with the screamers: merde a la guerre"
Meet the French artist calling for rebellion and female upheavel through dada-influenced art
Anne-Lise Coste was born near Marseille, France, in 1973. She studied in Marseille and in Zurich, Switzerland. After spending 7 formative years in New York in a live-hard-work-hard mode, she is now based in a small village in the south of France. Her drawings and texts have the immediacy of graffiti, and allow her to mix subjective moods with political criticism, addressing topics such as war, friendship, desire and sexuality. Articulated in the spontaneous movements of the airbrush or pencil she portrays a highly emotional and idiosyncratic universe exuding irony and rebellion.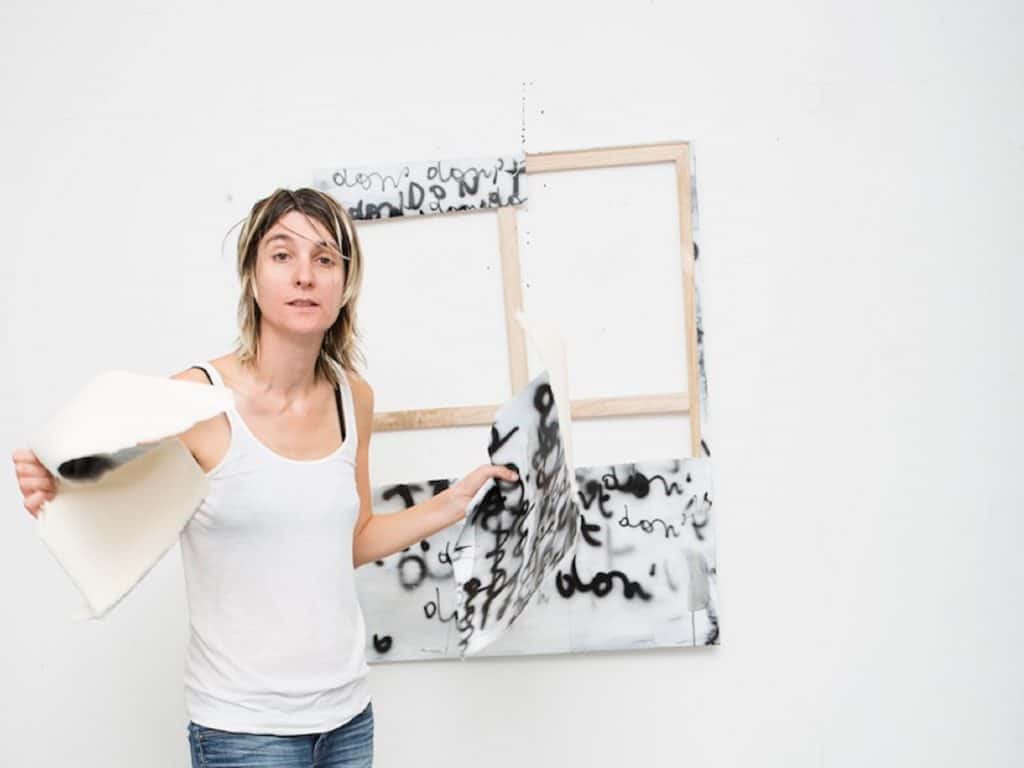 Coste's work denies clear cut genre categorisation in a prolific body of work that includes both drawing and painting. Although she is mostly known for her airbrush paintings, her works also include many pencil drawings, gouaches, lithogravures, mural frescos and ink works, on canvas, paper and notebook pages. Her subject matter ranges from portraits and architecture to depictions of the natural world, and tends to blur the line between high-brow and low-brow, archaic and contemporary, private and political. Though steering clear of obvious labels, Coste's work always expresses an instinctive, raw energy and a sense of unfettered freedom, creating seemingly decorative compositions that actually instead offer us a catalogue of contemporary anxieties.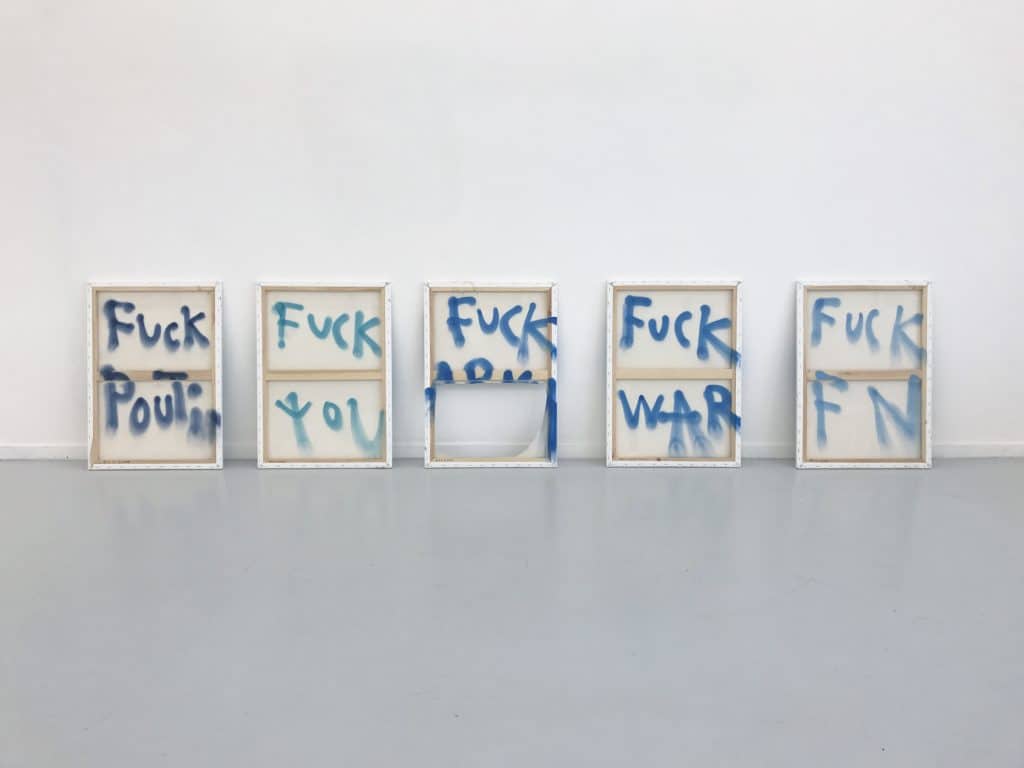 The Blue Nude Women
The Blue Nude Women, 2017, is a series of gestural drawings executed with oil stick on wood panel. Evoking the approach to the figure of the proto abstract-expressionist period, this group of works was created by Coste after looking at a box of oil pastels. She was reminded of a more joyful world, one of which she was free from being "eaten by the ugliness of the people in positions of big power" and liberated from "the nastiness of thoughts you can find everywhere in the world as soon as there is a human hierarchy".
Anne Lise Coste is represented by Ellen de Bruijne Projects in Amsterdam.
Available works
Selected exhibitions:
La Vie en Rose, Centre Régional dArt Contemporain Occitanie, Pyrénées-Méditerranée, France (2019)
Sors le monde, La FabriC, Fondation Salomon Art Contemporain, Annecy, France (2019)
Ton Crâne, Mon Crâne, Reinhard Hauff Gallery, Stuttgard, Germany (2018)
Entusiasme. El repte i l ́obstinació en la Colecció MACBA, MACBA, Barcelona (2018)
Inside Intensity The Anniversary Show, Museum Kurhaus, Kleef, Germany (2017)
Things are getting better all the time…, Helmhaus, Zurich, Switzerland (2017)
ONLY LOVERS, Le Coeur Paris, Paris, France (2015)
Blackboard-White page!, Kantonsschule Zürich Nord, Zurich, Switzerland (2014)
Critical Episodes (1957-2011). Colección MACBA, Caixaforum, Barcelona, Spain (2013)
Laat je haar neer (Let Your Hair Down), Boijmans van Beuningen Museum, Rotterdam, Netherlands (2013).
Selected collections:
Migros Museum für Gegenwartskunst, Zurich, CH
Museum Arnhem, Arnhem, NL
Fries Museum, Leeuwarden, NLCollection of the City of Zürich, Zürich, CH
Erasmus University, Rotterdam, NL
Museu d'Art Contemporani de Barcelona (MACBA), Barcelona, ES
Kunsthalle Lingen, Lingen, DE
Kunsthalle Glarus, Glarus, CH
Kunstlerhaus Stuttgart, Sturttgart, DE
Staatsgalerie Stuttgart, Stuttgart, DE
Relevant sources to learn more
Anne-Lise Coste Profile on Artland
Anne-Lise Coste Website
Ellen de Bruijne Projects
Artist Interview – Jong Oh