Articles and Features
Exploring Abstraction: Ed Moses' Whiplines, Waterfalls and Worms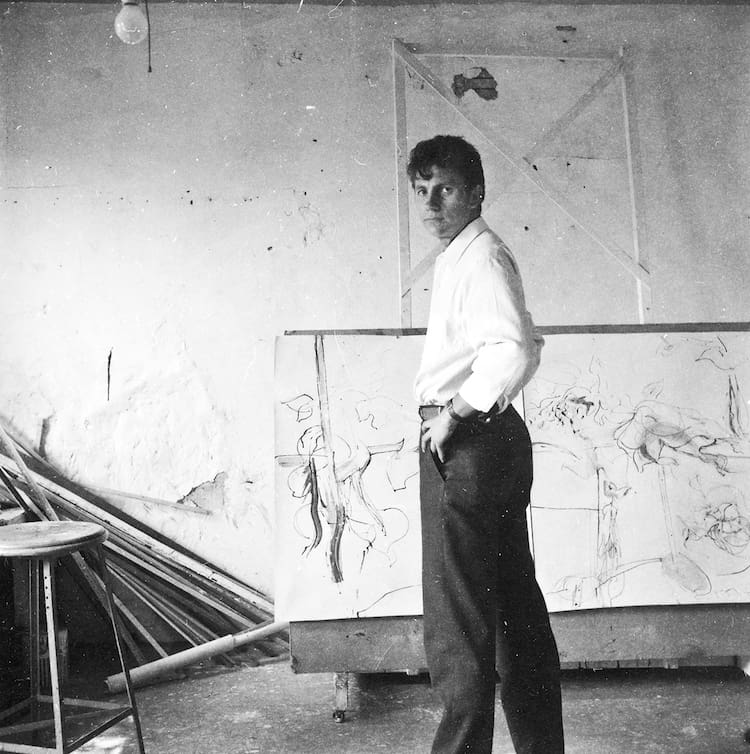 By Adam Hencz
"I don't express myself, I'm a mutator, I explore."

Ed Moses
California stood for a long time on the fringes of the artistic events and appreciation that agitated the New York scene. Against all odds, and with the support of one Los Angeles gallery and some brave collectors, Californian artists would finally find recognition and put Los Angeles on the art world map. Ed Moses was one of those artists. During his long art career, he traversed rough terrains before becoming a recognised and celebrated West Coast artist that along with the members of the Cool School electrified the late 1950s Los Angeles art scene.
Moses referred to himself as a "mutator", a painter who rather continued to experiment, embracing transformation and change than to yield to the tenets of any singular art movement or style. Ed Moses has been honing a distinct visual vocabulary for over 60 years, absorbing the possibilities in painterly abstraction until his death in 2018. In the form of a new exhibition Whiplines, Waterfalls and Worms, occurring both inside the realm of the Internet and in a gallery space in London's Mayfair, JD Malat Gallery celebrates the last two decades of Moses' artistic career and showcases three distinct series of energetic and boldly colourful paintings. From different spots in Europe, we talked with the founder and director of the gallery, Jean-David Malat about the ongoing show as well as tapping into opportunities to support artists in entrepreneurial ways amid the pandemic. Interview excerpts have been edited for clarity.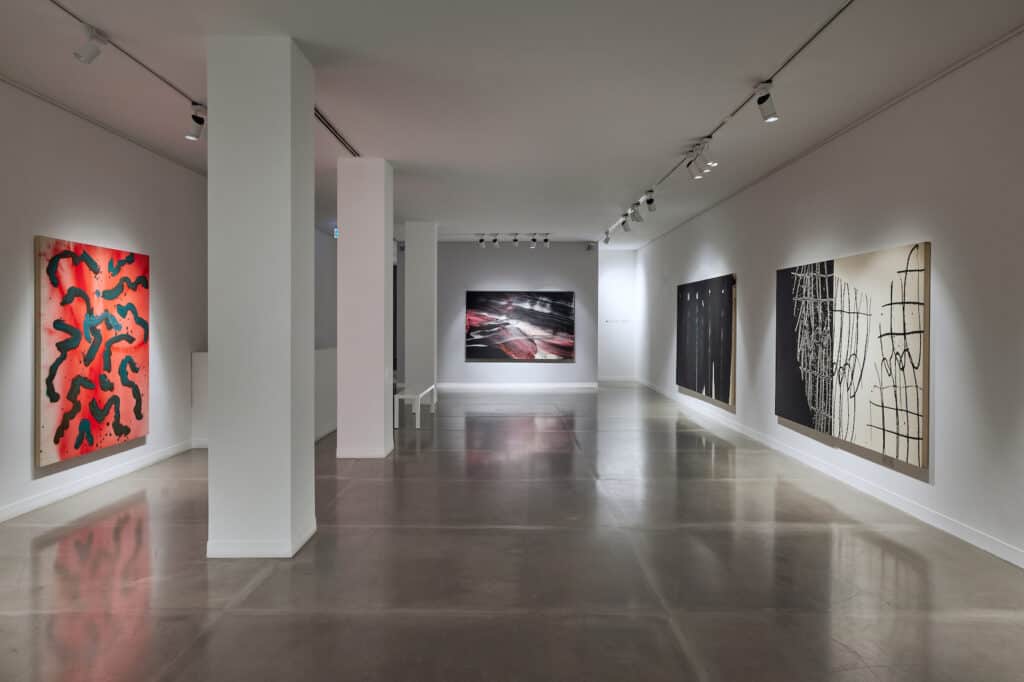 Discovering Ed Moses
Jean-David has been captivated by Moses' works since he had his first encounter with his paintings a few years ago in New York. "A friend of mine invited me to the opening of an exhibition of Jeff Koons in his gallery in New York. I went to the exhibition and my friend introduced me to Andy Moses, the son of Ed Moses, whom now I also represent. We went out for dinner and talked almost all night, and we immediately connected. We met again the very next day and started working together, that first manifested in Andy's solo show in London in 2019. I have also visited him in his studio in Venice Beach, where he also showed me around the house of Ed. I found myself in a home surrounded by vivid, energetic paintings hanging on the wall, with vibrant colours and gripping textures exploding into space. I loved it. And today when I come to the gallery, I love them even more. They grow on you because when you are standing in front of his works, you can clearly connect with the emotions and the controlled movements Ed Moses put onto his paintings. It is truly a pleasure to curate a diverse body of work by such a versatile and widely respected artist."
A native of Long Beach, California, Ed Moses spent his childhood between Hawaii and Southern California, picking up surfing when the sport as we know it today was only practised by a handful of fans. Medicine became his interest while he was serving in the navy, but soon after enrolling he changed major from medicine to art. At UCLA he met artist Craig Kauffman who introduced him to the future Ferus Gallery owner Walter Hopps. Hopps ventured to show Ed's MA exhibition, as well as other West Coast artists from Ed's circle in the late 1950s, when the LA art scene was still in its infancy. The Ferus Gallery quickly grew to become Los Angeles's legendary gallery and attracted wealthy collectors by hosting exhibitions of this raucous group of artists known as the Cool School, including Craig Kauffman, Larry Bell, Billy Al Bengston, Ed Ruscha, Robert Erwin, and Ed Moses himself. While his Ferus Gallery companions set out to deal with either conceptual issues of the Light and Space movement throughout the 1960s or produced paintings solely linked to Pop Art or Abstract Expressionism, in contrast to his contemporaries Ed Moses set forth to an ever-evolving artistic career and never followed a distinct framework or style.
Whiplines, Waterfalls and Worms
The current show at JD Malat Gallery was co-curated with author and friend of the late Ed Moses, Dr Richard Davey, who is currently writing the forthcoming book, Ed Moses, Beyond the Myth, soon to be published. In the exhibition catalogue essay, Davey throws light on the artist's underlying practice, his elemental act of "mark making", which eventually encompassed his whole career. "Using squeegees, house brushes, snaplines, spray paint, small brushes, decorators brushes, anything in fact that would allow him to place one mark on top of another, he built up anonymous patterns and left embodied marks, created structure and suggested organic flow," elaborates Davey on Moses' unusual artistic tools and effects. The show now on display is a testament to how controlled gestures and chance could create both unexpected colour effects and textures reminiscent of those in nature.
Whiplines, Waterfalls and Worms runs on both floors of the gallery, expanding the exhibition throughout the entire gallery space. "We had been planning the exhibition for a year when in the last moments we decided to offer the entire gallery place to these fascinating works," shares Jean-David passionately about the curatorial process. "We planned the Whiplines series just by the entrance of the gallery, then the Worm series stretching through the left wall, and downstairs we have our guests arrive into a peaceful world of Waterfalls. The pulsating red and blue greatly changes the atmosphere of the room, as the paintings are so powerful that they gracefully dominate the whole lighting of the room." Jean-David suddenly picks up his laptop and tilts the camera towards the gallery space showing a painting called Samba. "When you look at the back of this work, the back is almost more interesting than the front. It is another piece of art. When I show them to collectors on private viewings, they feel it, as it hits much stronger than if you just looked at the front of the canvas."
Moses' works are included in the collections of the Los Angeles County Museum of Art, the San Francisco Museum of Modern Art, the Whitney Museum of American Art, and the Museum of Modern Art in New York, among others. He is a legendary artist in the US, yet not so well known in Europe. "I believe that this show is an important moment in my career as a gallerist," tells Jean-David. "It is the first exhibition at JD Malat Gallery that we co-curated with a foundation and I am pleased that I was able to do it with Ed Moses Studio. I have a real passion for his work, therefore my goal as a gallerist is to bring his eclectic body of work close to the art collectors, as well as to educate collectors about him in this important moment. There is quite a buzz around him as another gallery in LA is showing his works in May as well as Dr Richard Davey's book on Moses is coming up around the same time. I looked very forward to opening the doors of our physical gallery space and sharing our exhibition with the public, but still, in spite of the fact that London is in lockdown, the exhibition is widely accessible and can be experienced in many ways, like via taking our virtual tour, watching our behind the scenes documentary or exploring the works in viewing rooms on Artland."
"My goal as a gallerist is to bring the eclectic body of work of Ed Moses close to the art collectors, as well as to educate collectors about him in this important moment."

Jean-David Malat
Through the current exhibition, JD Malat Gallery took a step towards immortalising the work of an established, artistic legend, but at the same time for the past years, it has been successfully discovering emerging artists as well as even selecting artists completely unknown for the art world, like in the case of last summer's Isolation Mastered exhibition. "Last June, during the first lockdown we welcomed all UK-based artists to propose the works they did in the quarantine period. Originally I was thinking and trying to find an idea about how I can help artists, so I organized a jury of seven, with talented and powerful characters from different creative industries, like music, media as well as contemporary art, to select works and curate a group exhibition. The competition was an enormous success as we received over 2500 applications. Then we chose 25 artists for the show, from which we eventually signed 2 artists. Now we represent among others Kojo Marfo, a Ghanaian artist based in London. I fell in love with his work, and am doing a solo show with him later this year. I found this artist completely out of the light, and just now you can see how things changed around him. This was also one way to meet new artists this year. I did that by trying to help artists, with all profits made from the exhibition directed at each artist and their practice, the goal of this initiative was to support artists during this difficult time, to keep them going with their project."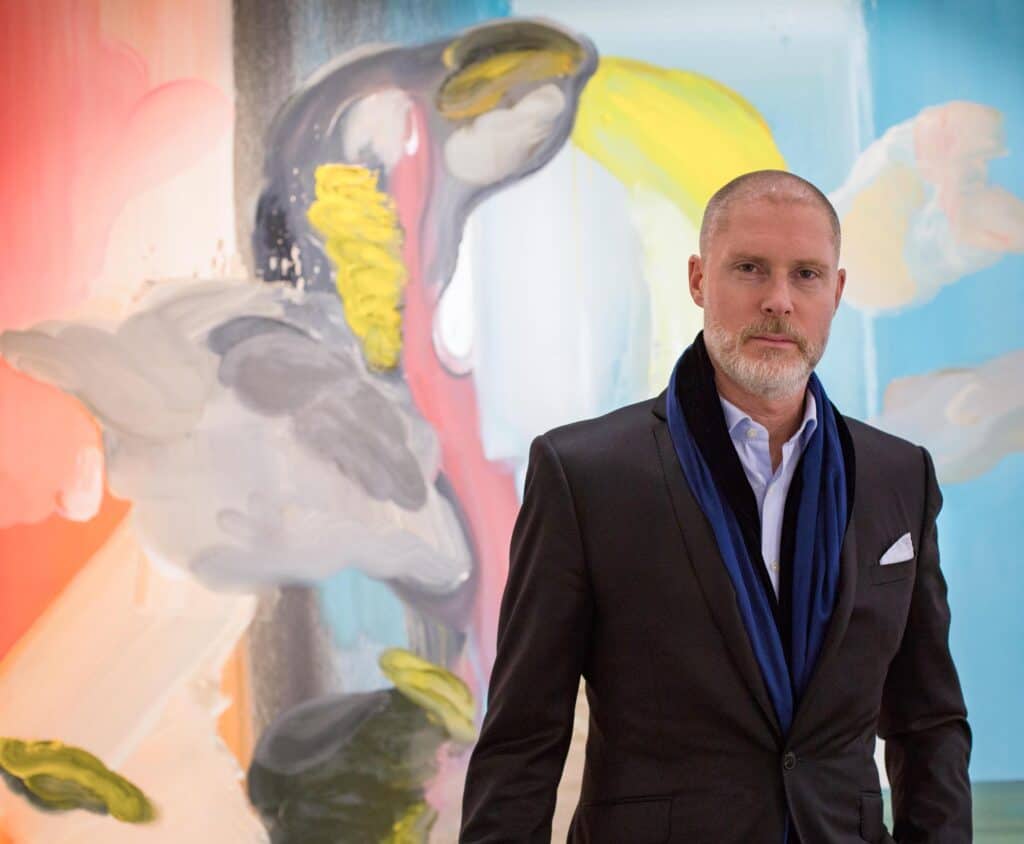 Even though London is still under lockdown and only slowly opening up, Jean-David works even harder than usual, as his gallery looks into the future with projects embracing new technologies and brand new artists. "We signed a contract with a very important American artist a few weeks ago, who is entangled with the NFT digital art space. We are going to do a digitally well connected exhibition in October, during Freeze. We are learning about the opportunities these new markets hold, reading and listening about it. We have been thinking about having such artists for months now, and we are finally getting there."
Ed Moses: Whiplines, Waterfalls and Worms is on view at JD Malat Gallery through March 31, 2021. A viewing room on the displayed works is available on Artland.
Relevant sources to learn more
JD Malat Gallery, London
Artland Viewing Room | Whiplines, Waterfalls and Worms
Behind the scenes | JD Malat Gallery installing an Ed Moses exhibition
Whiplines, Waterfalls and Worms Exhibition Catalog