Articles and Features
How Art Memes Have Become the Art World's Newest Form of Criticism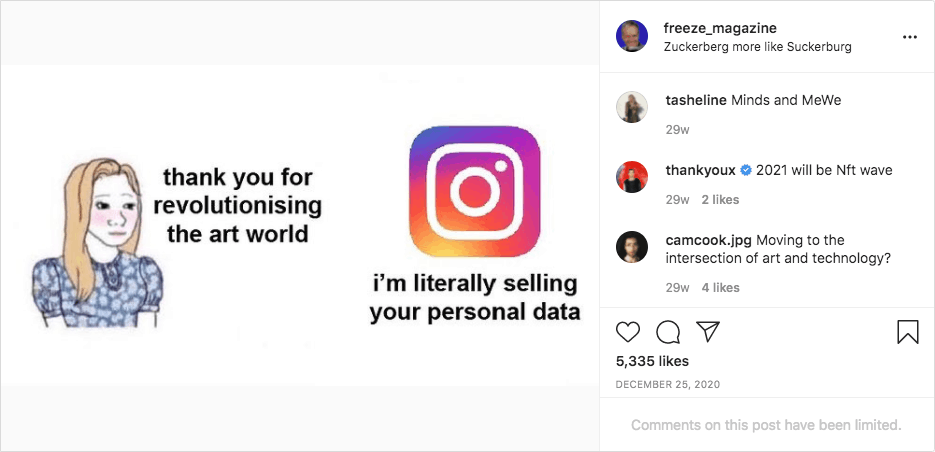 By Adam Hencz
"Via Instagram, art meme accounts uphold the illusion that anyone can remotely participate in the madness of the art world even just by double-tapping on funny images, gifs or short videos."
Since the platform's original release in 2010, the art world has approached Instagram in various ways; from collectors buying artworks via Direct Messages, through the rise of Instagrammable exhibitions at art museums, to art activist accounts curating social movements across the globe. In the past two years, art meme accounts are popping up in every corener of the paramount social media platform. Superimposing contemporary contexts and conversations into classical art dubbed by cultural references, or reflecting on relevant topics like art world elitism or just making snarky remarks about curators and museum management, meme accounts are loved by all type of art audiences. We reveal the main underlying trends and examine the ways art memes have contributed to the popularity of classical artists as well as they have become a primary method of institutional critique.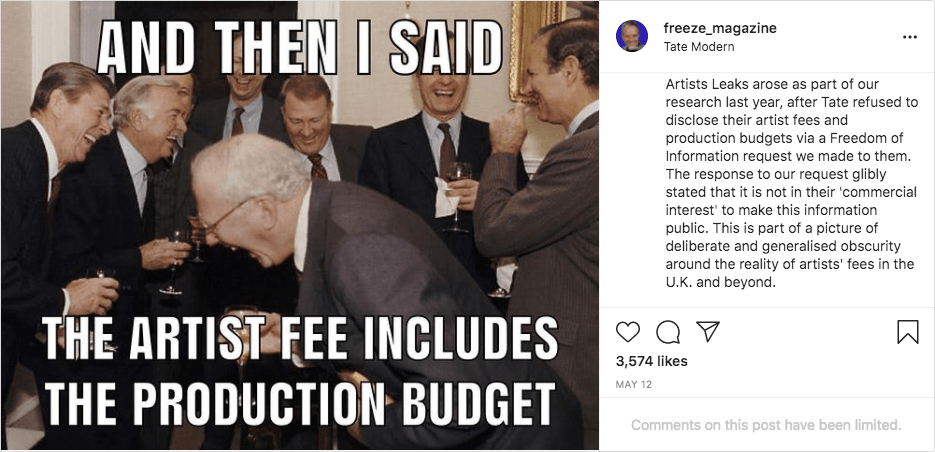 While the pandemic has forced the art world to embrace the digital – with major auction houses holding their first online auctions or selling NFT digital artworks for eye-watering prices, the art world's real digital challenge is now to advocate new media literacy. The rise of art meme culture and its wide acceptance just demonstrate that the channels of information dissemination are transforming. The pace of relevant art criticism has also changed remarkably in recent years. Even on social media, we are being schooled on the etiquettes and nuances of the art world but in a way that no time in an art school could have taught us at all.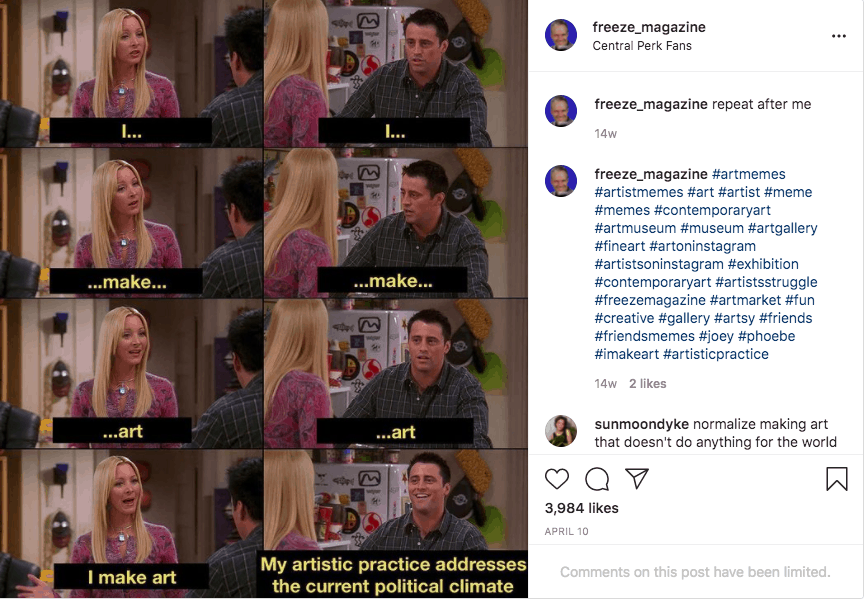 Freeze Magazine (@freeze_magazine) is one of the Instagram users to follow for a steady stream of humorous posts, inside jokes and witty criticism. Since its launch in September 2019, it has grown to become a critical platform within the art community, as well as advocating memes as a collaborative form of communication by nature. Its collaborators are from anonymous citizens to contemporary artists, campaign groups and arts organisations. Freeze has been discussed in university lectures and covered in the press, including The New York Times, The Art Newspaper and Frieze Magazine.
Freeze has contributed greatly to scholarly meme theory as well, by presenting Meme 5OO, a project with Open Space Contemporary to push the boundaries of meme analysis and understanding with an objective of also being accessible to both readers and writers. Freeze's account reflect on many themes that are at the center of debates in the art world such as institutional critique, the fair pay of cultural workers, gender equality as well a art historical concerns like decolonisation.
Another account with a remarkable follower base that amplifies the influence of art memes is Jerry Gogosian (@jerrygogosian) – a play on the notorious New York Magazine art critic Jerry Saltz and blue-chip art dealer Larry Gagosian – that went from making raw inside jokes to eventually using their platform to engage in questions like sexual misconduct or decolonisation. According to many fans, social media accounts like these successfully lower barriers and the invisible class boundaries of the art world by inviting people in to laugh on jokes where artists and galleries themselves are the subject.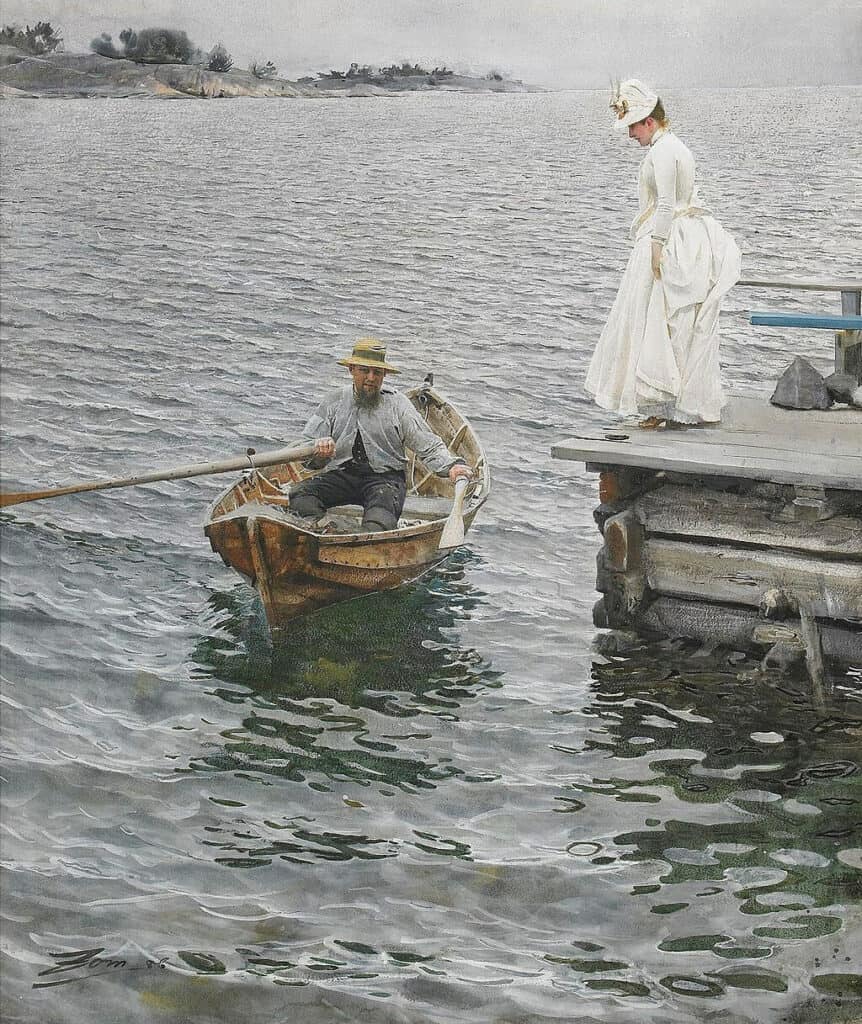 A different kind of home to the quickly digestible text-on-image format of art memes draws often from Renaissance and sometimes modern artworks. Accounts like @classical_art_memes_official or @artmemescentral aim to revisit classical and well-known works to juxtapose their images with texts on contemporary first-world situations, severely exaggerating their drama.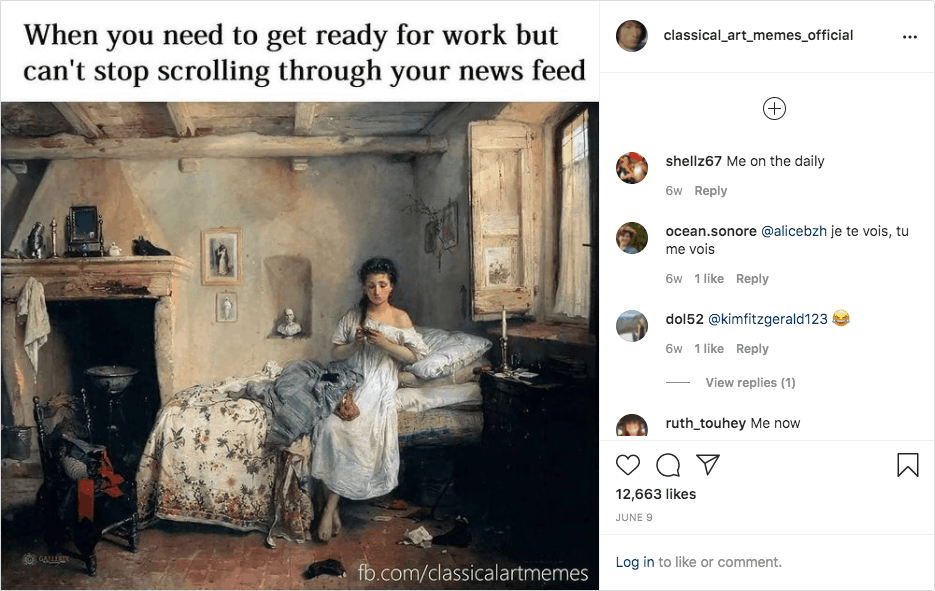 Themed art meme accounts balance on the edge of being easily relatable to those not actively present in the art world or are no up-to-date with art news, but they tap into topics in a universal way, that proves to be enough to attract a remarkable audience while also educating about art historical works. Liking, sharing and posting memes lets us participate in the collective experience of sharing our true feelings about the dark side of the art world without ever revealing whether a specific meme really reflects our individual opinion or not. It upholds the illusion that anyone can participate in the art world from the comfort of their home even just by double-tapping on funny images, gifs or short videos. At the end of the day, whether we like them because we acknowledge thier message or because we simply just laugh at them since we find them amusing is beside the point. What remains important is that through these accounts, we eventually take part in a large-scale therapy session that aims to improve the current system from the inside, rather than to recklessly reject it.
Relevant sources to learn more