Articles and Features
HuskMitNavn: the Danish Artist Who Celebrates the Subtle Moments of Life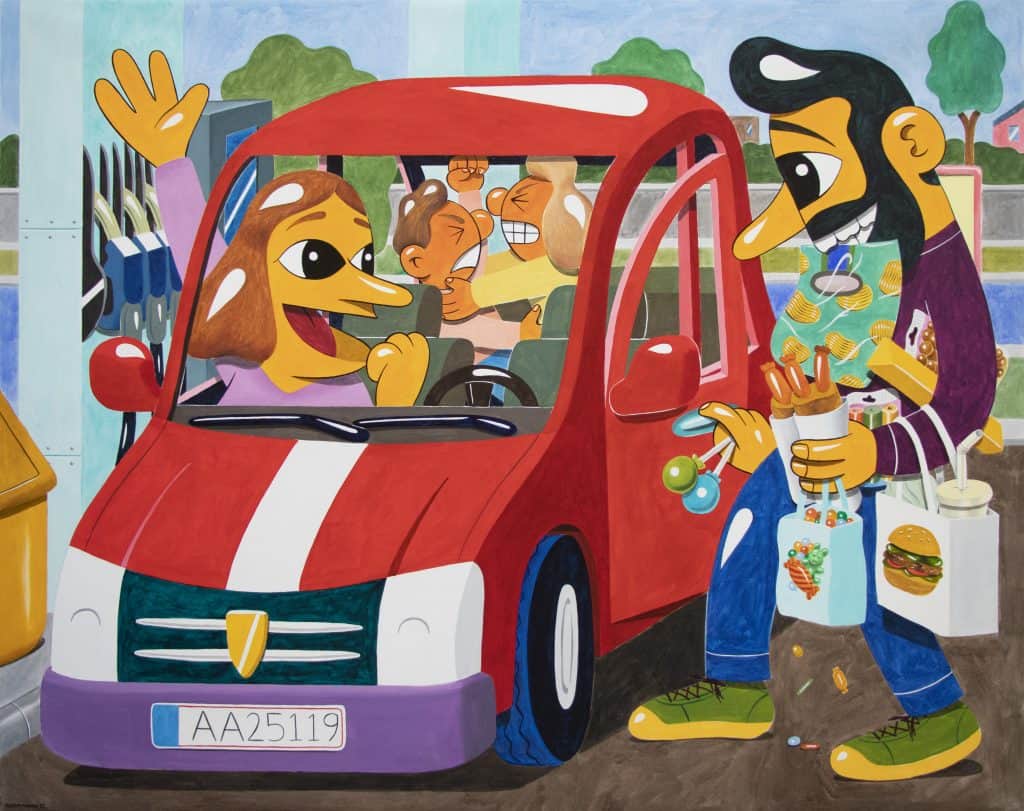 By Adam Hencz
The nostalgic characters of Danish street artist HuskMitNavn, contrary to his moniker that translates into English as 'RememberMyName', are hard to forget as his large-scale graffiti scenes celebrate the mundane and the subtle moments of life on houses and buildings around the world, often delivering controversial, cutting edge messages with an activistic perspective. The artist, who is as direct with his artistic message as he is covert regarding his identity, has made his name both in Denmark and internationally producing humorous and political art that covers a wide range of scales and formats, from frame drawings to graffiti in public space, from illustrations for international magazines and newspapers to fine art shows at contemporary galleries and museums across the world.
Until March 30, Artland Collector Auction No. 2 offers a unique opportunity to acquire some of HuskMitNavn's works during an exclusively online auction, featuring artists of vetted quality, and selected modern and contemporary artworks coming from international private art collectors of the Artland community.
The Danish multidisciplinary artist began gardening widespread acclaim for his sketches, drawings and paintings of retro-bubble characters performing mundane activities, cast into comic-absurd situations. He is sourcing inspiration from his private life or the life around him and is usually depicting it through a universally understandable filter of humour. In an interview with Juxtapoz Magazine, the artist gave insights into his creative process: "As an artist you make your living observing the surroundings. I look at the world and I try to draw it. […] If I come across some situation that I think looks funny, I'll try to remember it, write it down or draw it, but most of the time I sit at my desk and think of situations that people have in common. So I try to find a theme that a lot of people can relate to. So not some nerdy stuff, but something very general."
In a very personal style, his works also comment on absurdities by stolid comments that give 'food for thought', with subjects like climate change or integration getting a completely new meaning.
Born in 1975, the Copenhagen native artist started out as a graffiti artist in the '90s while taking an art teacher education. Later on, he honed his skills as a cartoonist at a Danish newspaper. In the early 2000s, when Copenhagen artists in the graffiti community started to experiment with other mediums, HuskMitNavn turned towards acrylic painting and started exhibiting extensively both in Denmark and internationally and, based on street art and graffiti had paved his way to art museums and galleries. "Around that time I was doing graffiti, I still do it once in a while, but back then I made these hand-drawn street posters and they were pretty effective. […] So I stopped right away and started trying to learn how to paint along with doing traditional graffiti. I knew that was gonna take over," the artist shared about his journey from painting graffiti to gallery solo-shows that put him on that map "within [that] corner of the art world".
Over the years the visual language of HuskMitNavn has evolved from creating large-scale graffiti with significant outlines to creating a unique style of painting. "My style of drawing is a mix of Asterix, Keith Haring, Walt Disney, graffiti and a bit of me," HuskMitNavn says. "When you develop a personal style of drawing it is sort of a personal alphabet. Your line is your letters." The combination of different graffiti techniques and classic styles are reminiscent of Danish artists such as Wilhelm Lundstrøm, Henry Heerup and Edward Weie. Today his work has taken the shape of graffiti in public spaces, illustrations for print media, and internationally exhibited paintings and drawings. The artist also makes inventive use of paper and pen to make drawings that leap out from the page, evocative of traditional Scandinavian paper-cutting. HuskMitNavn's drawings featuring three-dimensional elements in the form of folded, torn, or otherwise manipulated paper, really took off on Instagram and helped build him, cherish and entertain a +200k follower base.
Despite his visibility as a muralist, spraying meters high onto buildings, as a social media phenomenon as well as a household name within the Danish fine-art scene, HuskMitNavn continues to work anonymously under his pseudonym. "It's like wearing a uniform," he told in an interview. "I can leave it at my studio and when I walk out the door no one connects my work with my face, which gives me the possibility not to think about work all of the time. I did not start drawing to become a known face, but I like when people see the things that I create."
The artist is represented by various galleries internationally, including V1 Gallery in Copenhagen, Denmark; Charlotte Fogh Gallery in Århus, Denmark; and Alice Gallery in Brussels, Belgium. HuskMitNavn's work is also part of the permanent collections of institutions such as The National Gallery of Denmark and ARoS Aarhus Art Museum.
Relevant sources to learn more
HuskMitNavn on Artland
V1 Gallery
Charlotte Fogh Gallery
Alice Gallery