Interviews
Artland Interviews: Jwan Yosef
By Artland Editors
In the course of the various technologies, we develop and build for the art industry we encounter a very large and diverse group of galleries, artists and work. Sometimes, there is an interesting coalescence between the constituent parts, and in the context of Syrian-Swedish artist Jwan Yosef's current exhibition at Frozen Palms there was much about the synergy that struck us. Based in Sweden and Los Angeles, Frozen Palms occupy a unique space in the art world, showing both original works, and also compelling objects and textile editions by some of the world's leading modern and contemporary artists. They have also taken the visionary step of augmenting their program to include a virtual reality gallery space, programmed with ambitious and rigorously curated shows as a supplement (and complement) to their physical program.
In the current show, intriguingly titled Object / Object, the virtual gallery features several types of work by Jwan Yosef, including his enigmatic painted portraits of subjects both known and anonymous, his tape installations, and an incredible group of trompe l'oeil textile works produced by Henzel Studio and which mimic the visual tropes of various kinds of tapes used in the building trade, but fabricated on an enormous scale. Existing as amazing discrete tactile objects, and also as interesting articulations of space, not to mention their musing nod to the modernist canon with the AbEx painterly gesture and Judd's minimalist 'Specific Object' chief among the pantheon that spring to mind.
Infused with a poignant subtlety where subject and object are frequently posited with equal primacy, Yosef's works succeed in evoking a powerful presence precisely because of their inherent quietude. Reflective and confidently reticent, the works are extremely thoughtful and engaging essays on many of the key themes of postmodern aesthetic thinking. Embracing both figuration and abstraction, painterliness and the sculptural object, in addition to the formal/personal narrative dichotomy and other overarching themes of cultural and political signifiers, Yosef's works feel extremely current and relevant without resorting to grandiosity in any way.
After having enjoyed our own virtual tour of the exhibition in Frozen Palms' online gallery, and having reflected on the quiet yet compelling restrain evident across all the works, Artland conducted an interview with Jwan in order to find out more.
Artland: Hi Jwan, thanks for taking the time to consider our questions. How do you choose subjects for your 'portraits', if we can call them that?
JY: It is truly a whole range of sources—from personal to anonymous—pressing on who and what the subject performs for the genre of portraiture. It is often personal, drawing from familiar family photographs and portraits of family members. With the found images, I repurpose and superimpose a detail where an individual might just be in the background of a larger assembly.
Artland: In these paintings we see a duality at work. The persons depicted, most often in broad flat tones, sometimes even little bleached out, are still very clearly represented. But this presence is felt at some remove somehow, since there is also a coolness, a kind of detachment or distance that is evoked by the handling. This presence is further challenged or negated by the ruching of the canvas and the starkness of the empty space one experiences through the stretcher frame (which also have a very fine, well-engineered and precise object quality, surely no coincidence). Can you describe how this dichotomy between elements of figuration and abstraction came about and how they work alongside each other for you?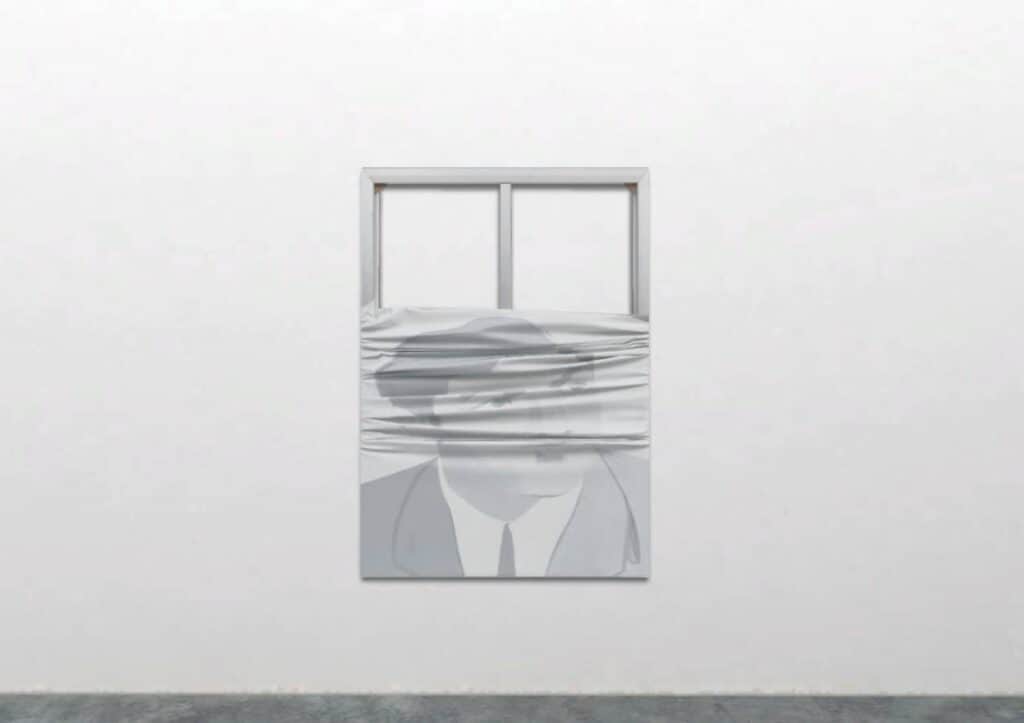 JY: I often imagine my paintings as these very muted images. I prefer them to whisper rather than scream in your face. Even when they are large at scale, at times monumental to human scale, they still posture a subtlety. I like to interact within the sphere of mystery and revelation. It takes a minute for the image to land—often, there is more going on the outside than the insides of the painted frame. The reveal of the stretcher bars deviates from the image's boundaries and becomes a path to where the piece itself wanders onwards, expanding from the canvas to walls. It becomes a constant painting.
Artland: Can you describe, at least for you, how the deconstruction of the painted surface examines or tries to challenge the power constructs traditionally associated with representational imagery?
JY: The pushing and pulling is not necessarily a violent or destructive act but rather an evolutionary one. It's somehow about claiming the right to dismantle something you have created. It tells a story about the making and unmaking of things. A 'destroyed' painting exposes the painting's pure form—a very beautiful object in its revealing element.
Artland: And then we also see empty canvases which have had the same physical treatment. Tell us why some are empty and would it be possible for you for one of the types to exist without the other?
JY: I wouldn't say the paintings are empty—they are painted with white paint and a medium that brings out a high gloss, almost mimicking a wet paint look. Before the process of un-stretching and sculpting, the paintings exhibit a perfect, white, canvas. It plays with the idea of a very satisfying white finished object being wrecked—the poetic justice of perceptions and expectations facing realities. It is cathartic as society has a say on what objects can or cannot be touched. Looking closer, the play becomes more apparent, with the juxtaposition of the white paint meeting textures of the canvas's posterior, along with the shadows and folds of the painting viscerally caught in the act of undressing.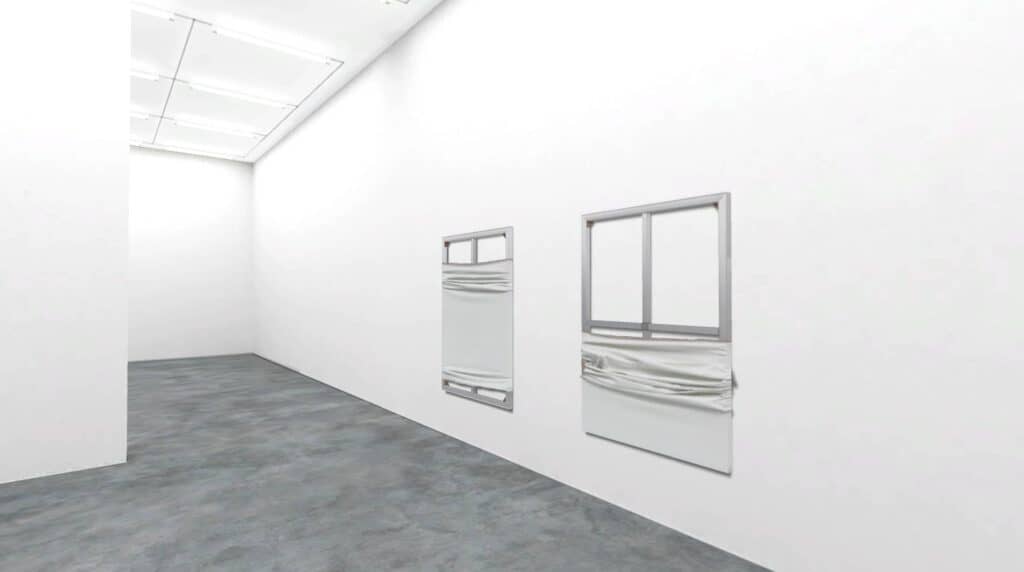 Artland: What prompted your interest to make the textile works in collaboration with Studio Henzel? Can you tell us a little about how this came about?
JY: I love the idea of producing and superimposing everyday, overlooked materials like masking tape, duct tape, and of course, painter's tape, and elevating them to a brilliantly considered design object. The thought of a whole room being 'taped up' or put together by these trompe l'oeil rugs, whether on the floor or on the walls, carry a notion of fixing things or holding something together. Conceptually, I love to play with that idea of mending things; when joining art and design for something as intimate as a rug for liveable spaces, it's a gesture worth considering daily.
Artland: Finally, have you ever had your works reconstituted in this kind of digital format 3D exhibition before? As an artist what is the experience like to see your creations rendered like this? And more generally what do you think of this as a medium for making shows, for creating and sharing work?
JY: I think, in effect, any alternative way of exhibiting work and art is of the essence. To play and exhibit in the digital field is one out of many ways to 'perform' and also offers spectators different ways of viewing and reading art. I don't think of this digital space as one that cancels the other, but rather opens up opportunities to engage with larger audiences. One could almost pretend to be invisible in a space like this—and that thought alone is so stimulating to the imagination.
Relevant sources to learn more
Explore JWAN YOSEF: Object / Object on Artland
Visit Frozen Palms Gallery's profile on Artland
Wondering where to start?