Interviews
Nigerian Artist Dennis Osadebe On Isolation, Neo-Africa, and the Abundant Lagos Art Scene
By Adam Hencz
The lockdown, the pandemic and this whole period I was having to isolate, made me realize the importance of being comfortable with spending a lot of time with myself. Books were a source of escape for me.

Dennis Osadebe
Dennis Osadebe's Safe Space exhibition marks the return of the Nigeria-based, mixed-media artist to New York with an exhibition assembled exclusively for GR Gallery. Osadebe's vibrant post-pop style is amplified by references to paintings made by both Old and Contemporary Masters. Besides combining elements of the past alongside the present, the artist also draws on his Nigerian heritage and provides hints to traditional materials and crafts, such as masks and colourful textiles. His pieces blur the line between digital and physical as the digitally composed scenes are elevated by painted adornments of carefully selected areas. Via a video call, Osadebe shared his reflections on isolation, gave insights into the creative process behind his works and told about the rapidly expanding and abundant Lagos art scene.
You just spent two weeks in New York, and you were there for your first solo show in the city called Safe Space at GR gallery. How was your time in New York?
New York was great, but it was initially really cold when I got in, so I had to get a massive jacket, coming from the very hot Nigeria. I had been working so much that I started to really struggle towards the end of last year. So New York was not just a 'work trip' to open the show, but also was a break for me. I remember I asked after the show, not to contact me during that weekend, because I wanted to get out and discover the city. I took the chance to just relax and see shows happening in the city at that time, like the KAWS show, WHAT PARTY at the Brooklyn Museum. I loved it since I am a great fan of him and it was important for me to experience that show. I also got to experience the Once, Twice and Memories are Weapons shows at the Hole as well as Anthony Bunmi Akinbola's Fire By Force at the False Flag. And you know I also just simply went out to eat and tried to do things that relaxed me and inspired me the most.
You run your own studio and collaborate with brands on certain projects as well as continuously producing new artworks that kept you very busy the past year. Was there a balance between commercial work and art?
I think the past year was a combination of everything. I usually work very closely with my studio assistant here in Lagos, and we had a lot of commercial projects the past year that we all had to manage remotely and interact with people online even more. Besides, I was producing the works for the show in GR and preparing to fly there in the middle of the pandemic. Putting the show together as well, for me was hard work because it was my first show in New York and that city means a lot to me because that was where I decided to pursue art. That is where I saw artists really thriving and artists doing very inspiring works, so what doing a show in New York meant to me was to thrive for a show in the most authentic way possible. For the series displayed at GR Gallery, I had to put aside a series I was working on to properly complete it. We had a lot of conversations with the gallery and we had to have a lot of back and forth to find the right ways to express why the show is important at this moment. I think doing that took just all my energy but seeing it all come together was the biggest blessing of it all.
Time travel, gravity, dreams were central concepts of your previous body of works like Remembering the Future, and also your South African debut exhibition I Like History, But I Love Fiction over a year ago gathered historical references and a critical reflection to art history. How do works for the Safe Space exhibition connect to this narrative? How do they fit to your program?
Safe Space was a continuation of my practice because these works also focus on the character with the mask. They focus on the character in a comfortable, interior space. They focus on the idea of finding the fantastic in the mundane. So working on Safe Space was a continuation on that path, but it was also a way to say what is happening in my life right now. The lockdown, the pandemic and this whole period I was having to isolate made me realize the importance of being comfortable with spending a lot of time with myself. Books were a source of escape for me for example. I also found out that I had to find a routine that in the meantime also allows me to escape and get away if I wanted to.
The first idea I had for the show was a piece called Dismantle. There is the masked figure with a rock and there are different parts of a machine on the table. That was actually inspired by a renaissance painting that I came across during that period and it felt like that it really captured what I was going through. I had to break free from bad habits, things that distracted me. Sometimes I would just listen to the news and forget about myself and focus on the world falling apart. I had to let the distractions go and really focus on myself and on what the true essence of what I am doing is. I painted the librarian next, titled the Odd self, that was inspired by one of David Hockney's paintings. The books, the horses, the pink floors of the reading area all translate into that a lot can be happening at the same time while it can all be very quiet.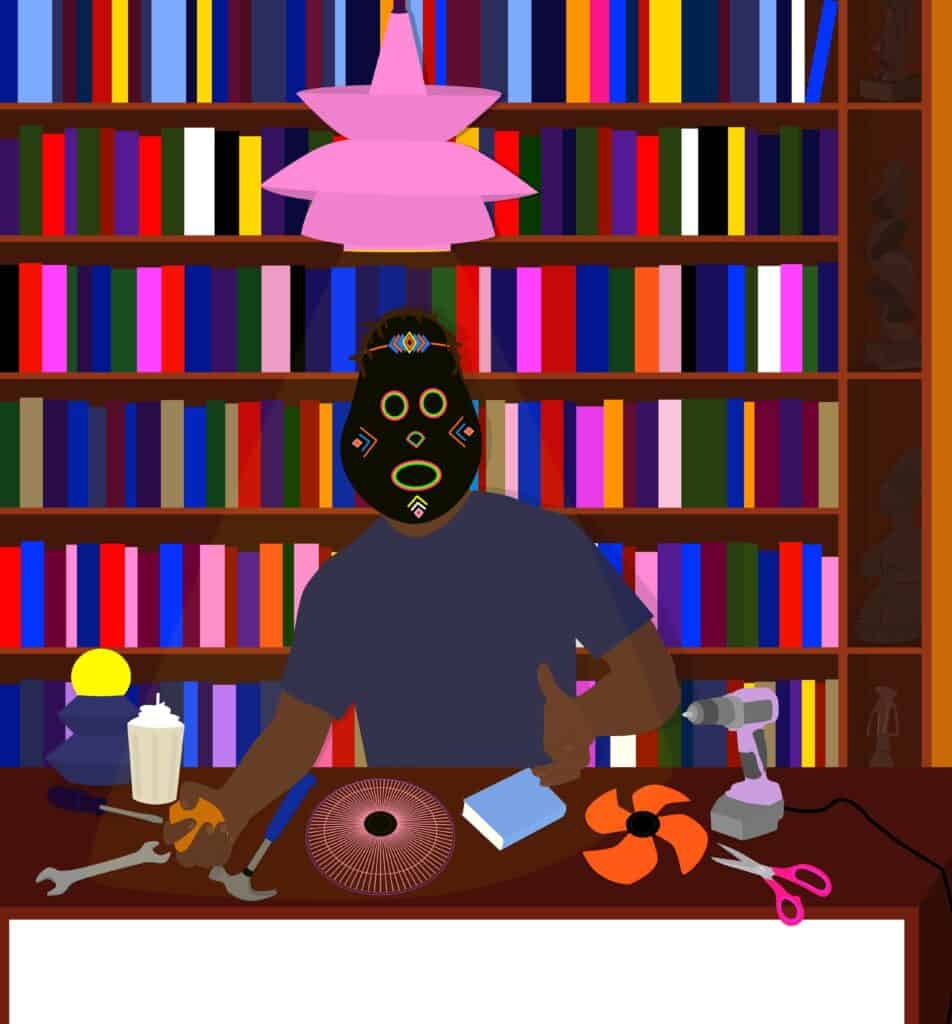 So, once I found that second work, it just became easier to create and to redirect my energy to this body of work. I did not just want books to be backed up in the back, I also wanted there to be characters in a very personal setting. In Isolation there is a lady in a red dress reading a book, and she has a lot of orders from Amazon and in one of the orders is a Nigerian sculpture. For me, this element represents the dichotomy of technology and culture and the accessibility of culture today and depicts how we can even own artefacts in the most disconnected way even though we are connected online and participating. The windows and the bars on her windows are also a homage to the way houses and interior spaces are designed in Nigeria. Once I found these different elements, I started to enjoy the series more and more.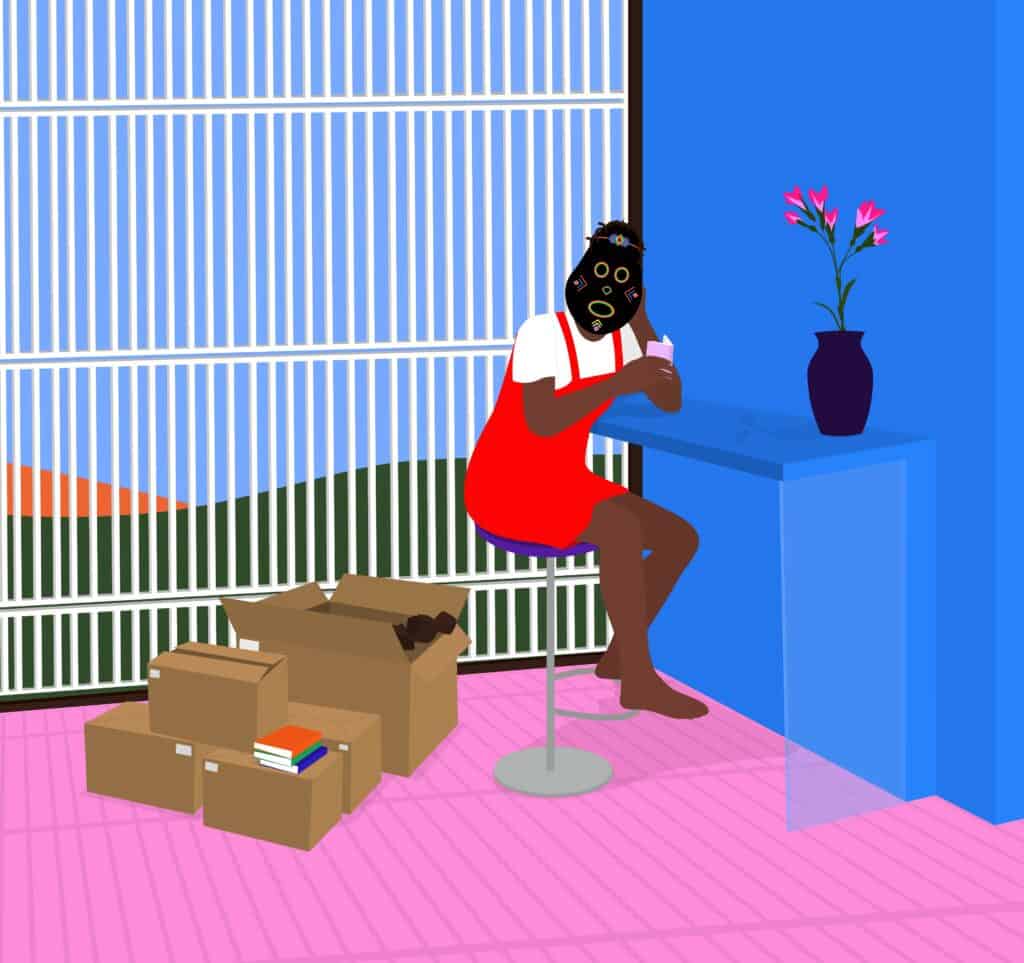 Now when looking at the pieces of Safe Space it is also hard not to miss the well-framed artworks hanging on the walls in the background. Especially with your painting called Collectors. How are you reflecting on the art market with this piece?
The Collectors was actually the start of a new series and was the last work I did for the show. I will be very-very honest, one thing I noticed during this whole period of the pandemic was that meanwhile there was a lot of attention on artists, there turned to be even more on collectors. Suddenly collectors were having interviews, collectors were dominating even the art magazines. That made me think that "Oh wow, in this industry everyone wants to be a star!" For me, the authentic collector is them, who truly believes in the artist's works and who I can help to express themselves with my works in that way. Indeed, the art market was something that really pleaded for a big role during this period. For the first time in my career, I really got to experience the art market in motion and its importance as an ecosystem. The Collectors piece just points to the fact that collectors are key players in that ecosystem. One of the frames behind the characters was inspired by Rothko while one of the frames were taken from The Jetsons cartoon. I wanted to bring different periods together while keeping the composition minimal, making it stronger with the characters holding hands together.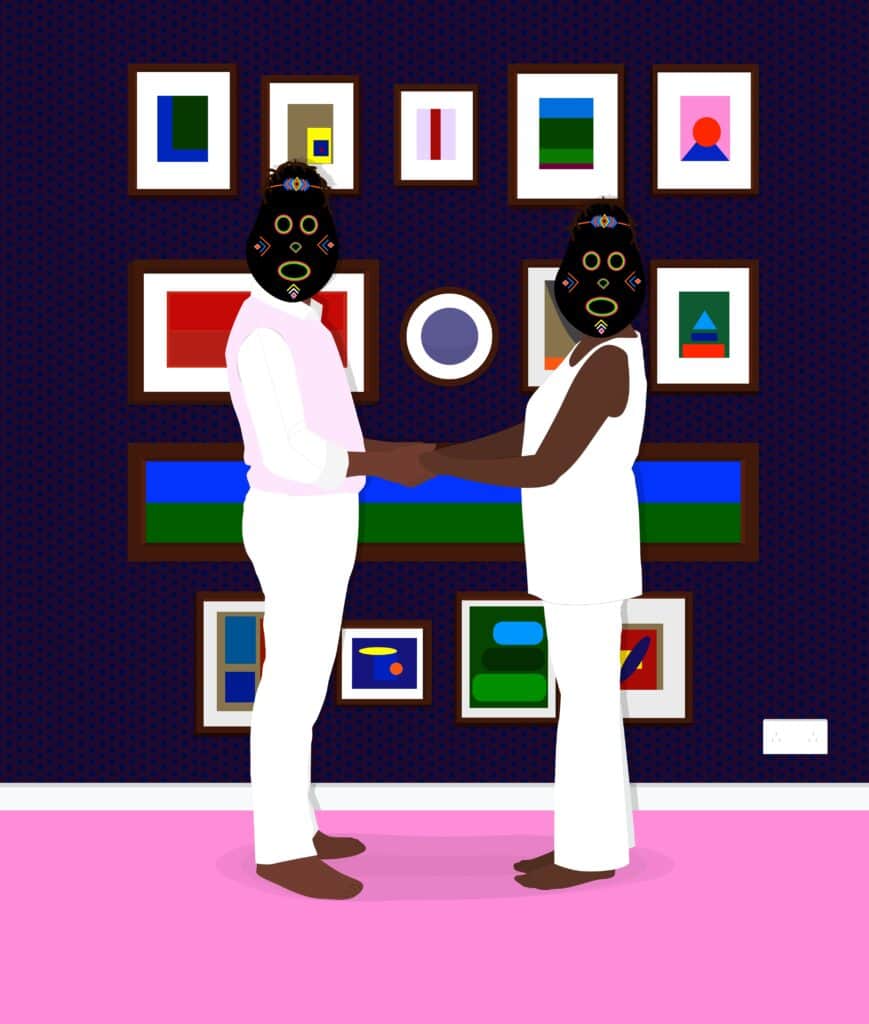 Besides drawing on art history, you also explore traditional motifs and incorporate meaningful symbols and elements into your work that were inspired by the arts and culture of your home, Nigeria. How is your work received differently in Nigeria, in Africa and in America?
It has been shocking since they have been received in the exact same way. The conversations were precisely the same conversations. I think it is because I am dealing with very universal ideas. For example, Safe Space is very relatable to anybody anywhere in the world. But I remember when I just started my career, before my first show, Remember The Future that was a collection of works with Nigerians in space costumes, I really struggled with how the works would be received. But I found that when people came, they appreciated the context and found the humour and the possibility in the bizarre fact that Nigeria is engaging with the idea of having a space program. When I create, I simultaneously express how bizarre Nigeria can be, but at the same time in that whole bizarreness, there is so much great potential. It is this magic what I see and what I love about Nigeria and about Lagos especially. This is where I live and what I get to experience. For example, a lot of people ask about the horses in my works. It is simply because I see a lot of horses every day on the road and they just need to get into the work. I like to draw on things I see and experience so that makes my work very relatable to every Nigerian. In the meantime, in a place like New York, these paintings are also relatable, because I also draw inspiration from Western artworks. I think it is a healthy balance.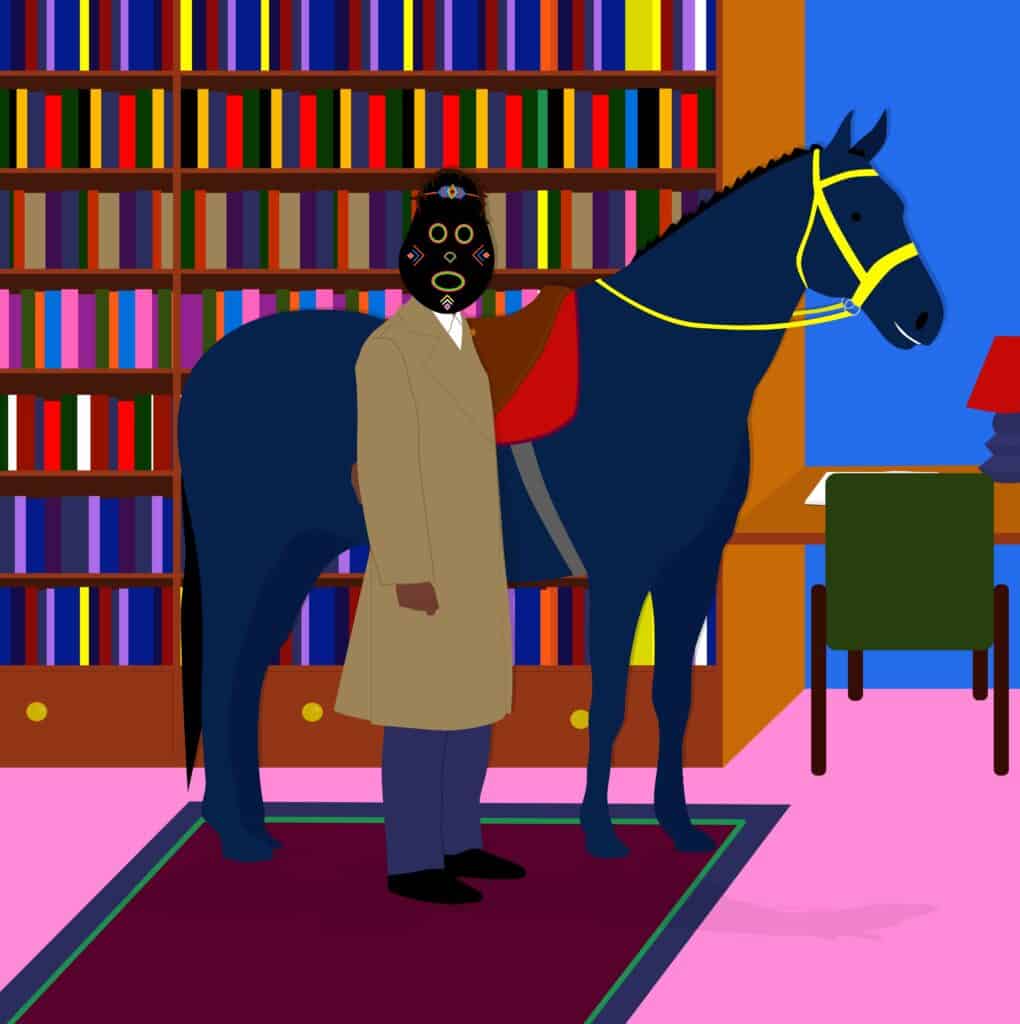 You are credited with coining the cultural movement, 'Neo-Africa' as a response to deconstructing the limiting term of 'African Art', essentially to break away its expectations. How has, from your point of view, the contemporary understanding of 'African Art' changed in the past years?
Initially, the idea with Neo-Africa was to advocate for the freedom of artists, and to encourage them to express whatever is important to them, and enjoy it, as opposed to fitting into a determined cart that they did not even choose. I believe that somebody with their most bizarre perspective can open you up to a new way of thinking. Now I see a lot more confident artists, musicians and fashion designers in Africa who express themselves in a way that is very authentic to them. The attitude is changing and the scene is growing as well. I feel like if people start to understand the concept of Neo-Africa, there will just be more artists to create out of the sheer necessity of just to express themselves as opposed to the need of having to learn how to perfectly draw with a pencil, or the need to listen to the news every day, so they have something to comment on.
Neo-Africa advocates for the freedom of artists, and encourages them to express whatever is important to them, and enjoy it, as opposed to fitting into a determined cart that they did not even choose.

Dennis Osadebe
How do you engage with the Nigerian art scene?
There are a lot of artists who I am engaging with, who are really exciting and are doing compelling work. There is a young female artist Deborah Jayde, and I love everything she is doing. Diana Ejaita is doing great work as well. I am also in contact with product and industrial designer Nifemi Marcus-Bello who is working with a lot of constraints in the market of production and meanwhile creating stools and lamps with a unique outlook. And of course there is Frank Burna Boy, who just won the Grammy, which makes me so excited about the future.
There are also a lot of new creative hubs in Lagos at the moment. The biggest hub for example is Art X, which is the first international art fair in West Africa. It is executed so well that it brings a lot of people from the international markets to Lagos. Art X is playing a great role in waking the city up by important names to develop the industry. There are also places like hFACTOR, which does a lot of small events, where they do exhibitions, art parties, installations and create a hub for experimental art. It is co-founded and run by a well-respected designer, Bubu Ogisi and also by a gallery manager of another art hub called 16/16. There are also galleries, let's say the Rele Gallery working really hard at the beginning of every year to find five young artists and put a show together each January. They could be fresh from uni, they could have been practising for five years, but what is important is that they give new voices on this platform dedicated to them. Besides, I believe that it is also up to the artists to grow from there and then collaborate with artists they enjoy working with. All these platforms mentioned are in fact under 10-years-old, even under 5-years old, and they are doing a great role in developing the Nigerian art scene.
Before I let you back to the studio and back to the Lagos art scene, let's talk about your upcoming projects and ideas. You have been recently selected for a micro commission for The National Gallery X program. What exactly is the focus of the commission and how did this opportunity come about?
I am very excited about this commission, which draws from two artworks. One work combines technology with a dancers movement. I think that when there is stagnation in the world, the dancer moving for me interprets as a sign of potential and a sign of "no matter what, the world will keep moving". The other piece is a renaissance painting from an artist who works on a commission for the National Gallery. This opportunity is very in tune with my practice because I like to combine history with the modern and contextually it fits very well with my practice. The commission I am working on at the moment draws from these requirements of the open call. It has been a fruitful process and I enjoyed the engagement with the museum and to be able to see the way they think. On the tech side of things, we are working with Google, since the idea we have is to push the frames of art. The idea basically is to have people engage with the artwork by being able to touch it. Imagine seeing a renaissance painting with all that is going on and then you just touch the piece and everything starts moving. The only way you bring it to life is by touching it. It feels like that in a museum context, the idea of touching or not touching is an exciting concept to work on. I am working on it with another artist studio and having Google on board to direct us on what to look at and how to approach the technology and its potential, have been fantastic. Also having the team of the Royal Opera on board, interpreting the movements of the dancer. It has been like I am back in school, that this is my coursework and dissertation and everybody is working hard for it so that it comes out in the best way possible. We are really excited to show this, possibly by the end of March. I am getting to a level of engagement where I just want each person to experience it and we are taking on scales that we have never done before. In essence there are a lot of interesting projects happening and in the meantime I am working on a new series and I am also working on new sculptures as well. The studio is just working, and I think our best motivation is excitement!
Is there a chance that we can see you in Europe in the near future?
Honestly, if Europe gives me a call, I'll be there.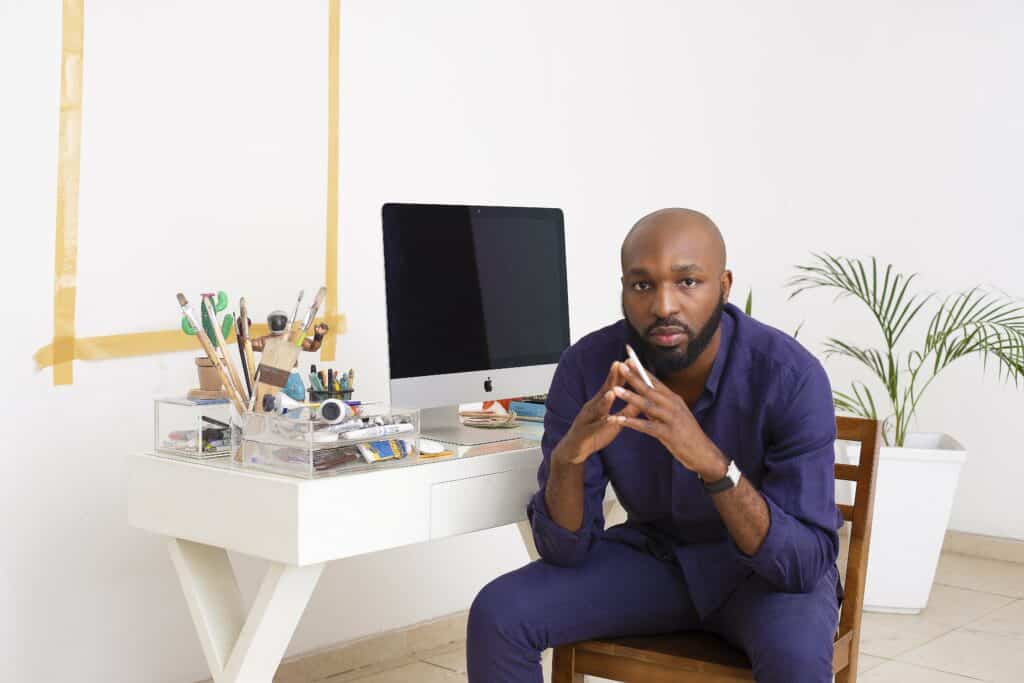 Relevant sources to learn more
'Safe Space' by Dennis Osadebe on Artland
Dennis Osadebe Studio
GR Gallery, New York