Interview with Owner and Director Steve Turner
Steve Turner, owner and director of the Los Angeles-based Steve Turner gallery, returns to Art Brussels for the sixth time with a striking two-person booth. Yellow walls, chrome shelves, and a dynamic interplay between works by the two artists Manor Grunewald and Joaquín Boz await the visitors. According to Steve Turner "fair fatigue is real", but nonetheless he looks forward to Art Brussels with great optimism, excited by the thought of introducing two talented artists in a compelling installation as well as the prospect of meeting new collectors and curators from all over the world. Leading up to this year's Art Brussels, we have talked with Steve Turner about his participation in this year's fair, his choice of the two painters Manor Grunewald and Joaquín Boz and the challenges and advantages of taking part in an art fair in a time of change.
You are participating in Art Brussels for the 6th time. This year, the fair celebrates its 50th edition. What makes Art Brussels special for you as a gallerist?
It starts with the fair administration. They have always worked to make the fair successful. So too do the gallerists from Belgium who exhibit at the fair, who are helpful in every way. Most significantly, there is a great group of Belgian collectors who have taken a special interest in my program. They visit my booth. They look at my presentations. They ask questions. They discuss. They come back several times. They visit me at other fairs. They are truly interested in art and they make exhibiting at Art Brussels rewarding and gratifying.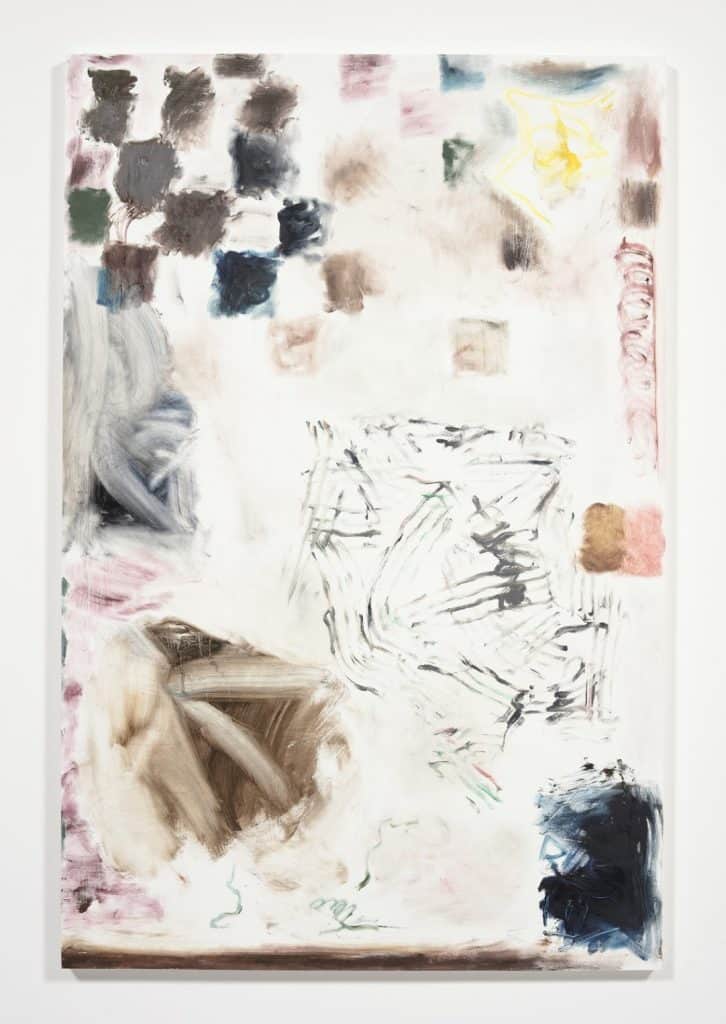 Looking back, how has Art Brussels developed over the years, and how do you experience its audience? In your opinion, does it appeal to a certain type of collector?
It has evolved. It moved to a good new location several years ago and its team is always working to improve. As one of the best regional fairs on the calendar, it draws extensively from collectors in Belgium, Netherlands, France and Germany and also gets good international visitors from elsewhere. I think it gets a high percentage of serious collectors who collect quietly and passionately, collectors who are serious about collecting.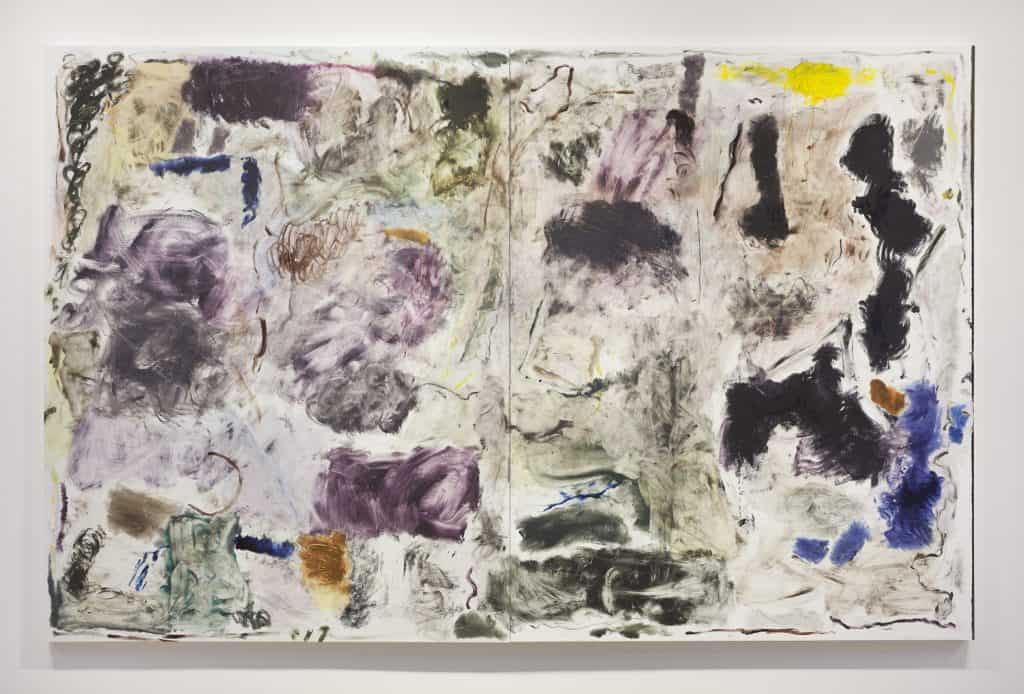 This year, you will present Two Painters, a two-person booth designed by Manor Grunewald (Ghent) which will feature the abstract paintings of Joaquín Boz (Buenos Aires) alongside those of Grunewald. What can the visitors expect from the exhibition?
Visitors can expect a very arresting booth that will have yellow walls, chrome shelves on one of the three walls, and complementary but contrasting works by two very talented artists. Boz' paintings are fluid and lustrous, painted by the artist's gloved hands in oil on wood panels. They contain a diverse array of gestures that he creates by wiping paint onto and off of the panels. I have not seen the finished works yet as Boz has been creating them in his temporary Brussels studio for the last month. He likes to visit a city and experience it by walking extensively in different neighbourhoods. He then works intuitively, editing as he goes. This will be the fourth city in which he has worked this way (Buenos Aires where he lives; Los Angeles where my gallery is located; and Mexico City where we presented his solo booth at Zona Maco in 2016). He will soon add New York to his resumé when he has a residency there later this year. As for the works we will present at Art Brussels, I am expecting very appealing works that are in a range of sizes.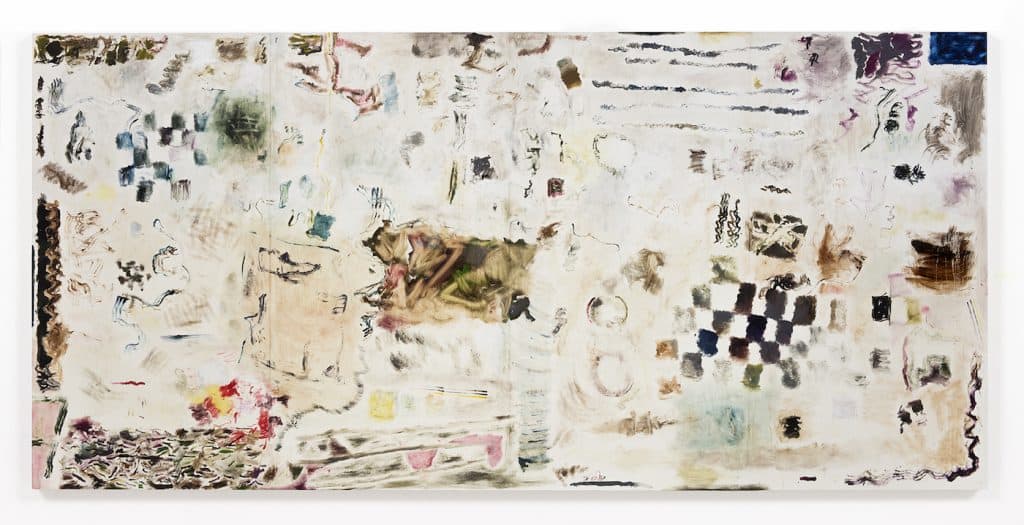 Grunewald works in a much different way to create similarly compelling works. He takes many steps to complete a painting. For Art Brussels, he will introduce a new "wormhole" series that I think is very exciting. He starts by selecting an image of an historic painting in a book, let's say a Van Eyck or a Matisse. He photocopies it, he scans the image, he prints it on canvas. He might repeat various steps numerous times, selecting a composition that incorporates aspects of page layout on the canvas. He then applies paint to the canvas and uses a separate layer of mesh polyester to add depth to the image. The resulting work is complicated and fresh. One might see remnants of the original artwork that he sampled from, but as its orientation, colors and context have been tweaked, it may go unnoticed. The metal shelves add an element of minimalism and give a heightened framework for both artists' works. The yellow walls, and it is a very specific yellow that Grunewald has selected, will create another level of impact.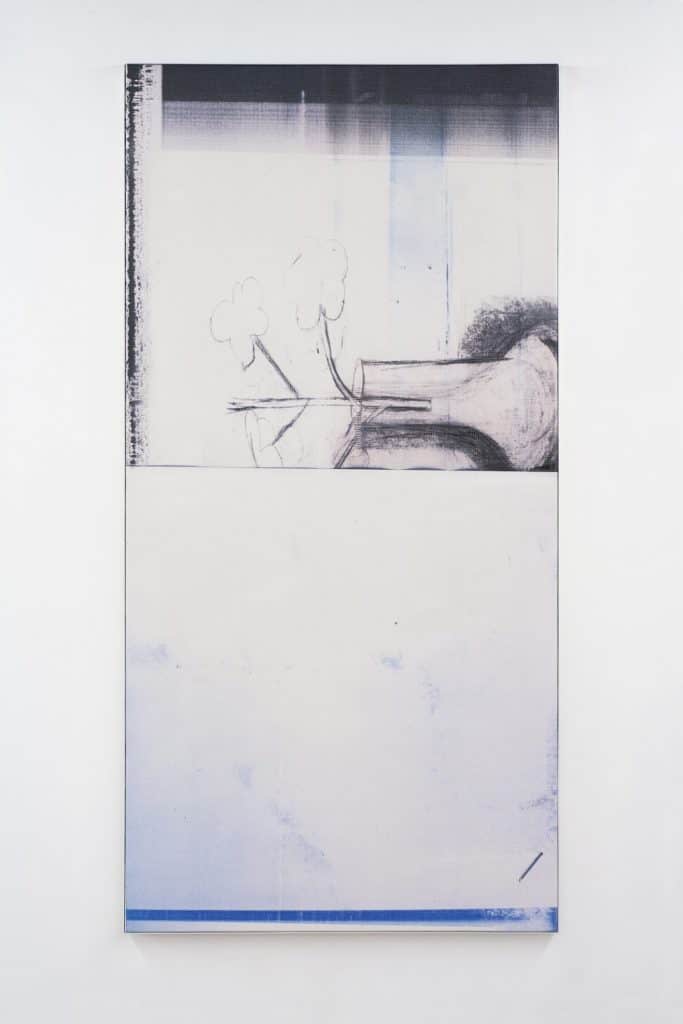 Can you elaborate a bit on the interplay between Manor Grunewald and Joaquín Boz? How do their artistic practices complement each other?
I chose to pair them together with the intuition that their works would have a dynamic interplay. Let's see if I am right. As I described above, they work very differently. Boz's process is physical, corporeal. I can imagine that he burns a lot of calories when he makes his works. He moves a lot in the process, going from the most distant points in his studio to view the evolving work, back to the painting to add or remove paint, then back to the distant points. He goes up and down ladders or scaffolding, back and forth, but ultimately he spends a lot of time studying and assessing before he alters the work. They have layers and layers of activity and judgment and the end results are very satisfying. Grunewald is more methodical in his use of photo-mechanical processes, but he is no less intuitive. His works are also fundamentally reliant on his judgment, and contrasting as two artists works might be, I expect they will work very well together.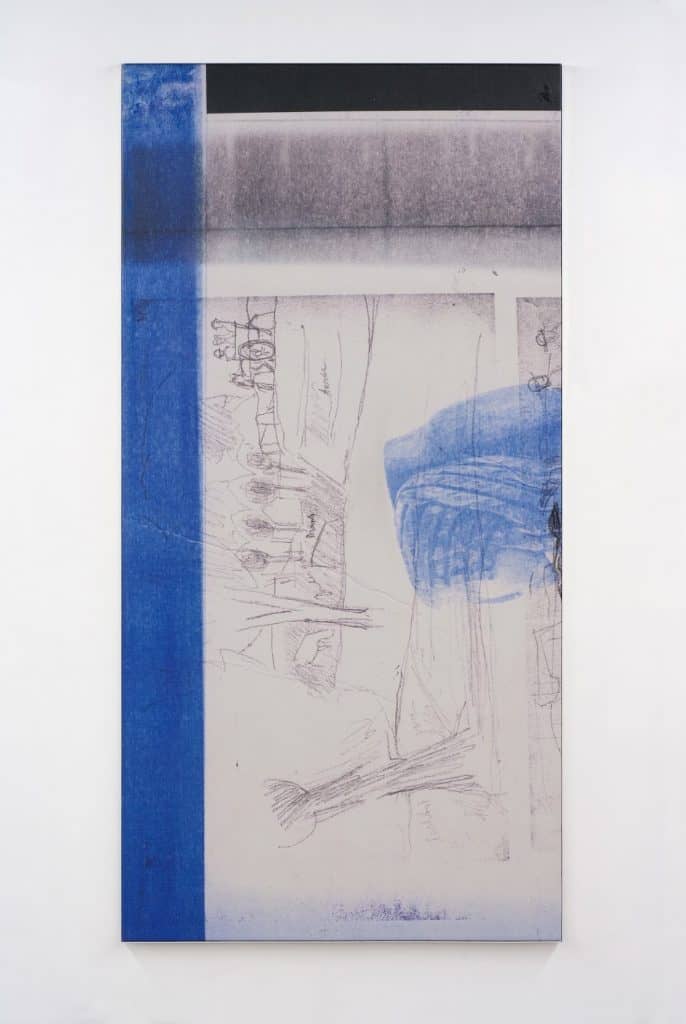 Can you tell us about the process of curating an exhibition in the setting of an art fair and more specifically your collaboration with Manor Grunewald and Joaquín Boz leading up to Art Brussels?
I approach art fair presentations much as I do gallery exhibitions. The only difference is the duration of the presentation. I want the installation to be visually compelling and thought provoking. I want the artists to be as proud of it as they would be of a gallery exhibition. I knew that I wanted to introduce Boz in Belgium. That was the starting point. Then, when I did a studio visit with Grunewald in his Ghent studio last year, I started to think about pairing the two artists. Grunewald's exhibition ideas lend themselves very nicely to the fair setting and he was very interested in Boz' work and thought that the juxtaposition would be interesting.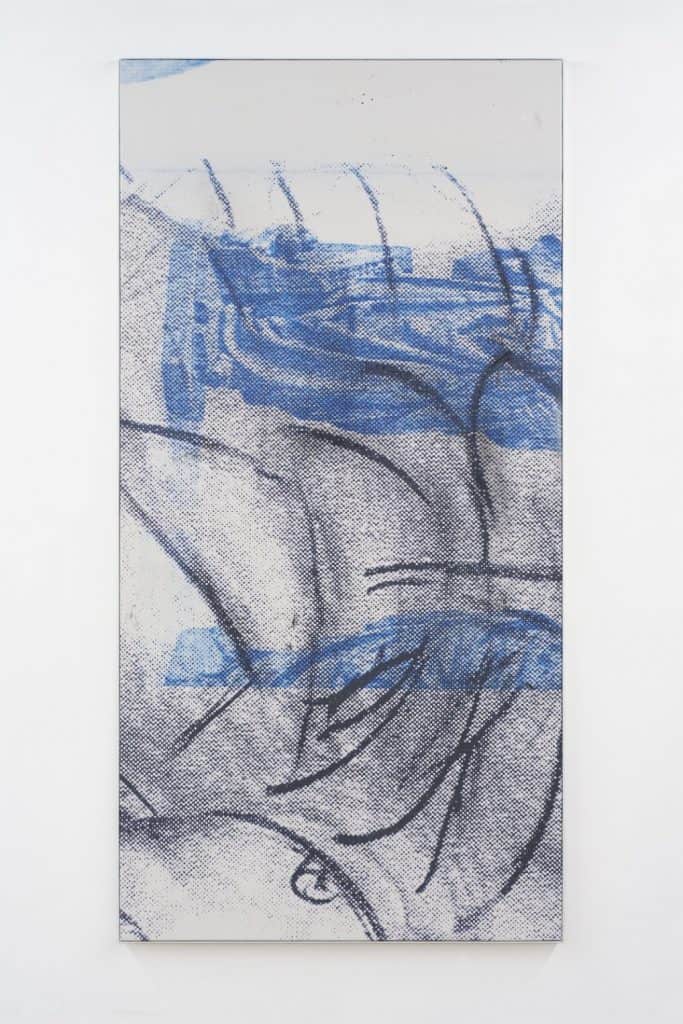 You have a long history of participating in art fairs around the world, what role do the art fairs play for you?
Fairs enable me to give my artists more creative opportunities and exposure and they enable me to meet new collectors and curators. I have great collectors around the world because of my fair strategy. For example, when I exhibit in Miami in December (the only US city that I return to annually), I get great visits from my collector and curator friends from Bogota, Buenos Aires, Mexico City, Lima, Rio, Brussels, Amsterdam, Copenhagen, Berlin, Munich, Paris, London, etc, all of whom I met while doing South American and European fairs over the years. Of course, this comes with a great cost, but I try to intelligently assess the balance of risk and reward. I say yes to some fairs and no to others.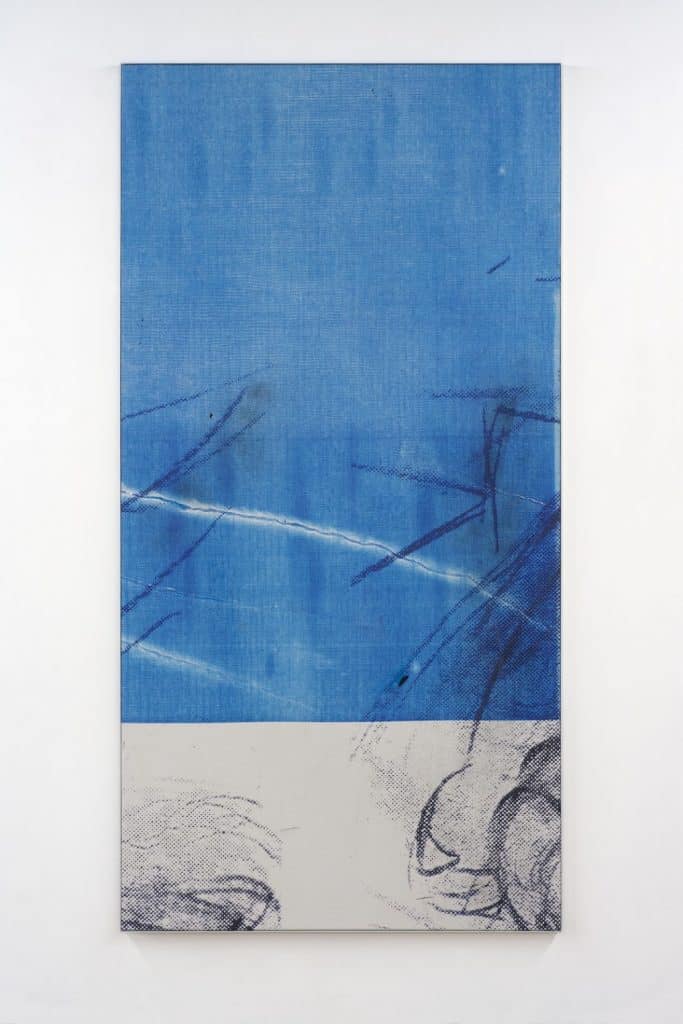 What are the most challenging and rewarding aspects of participating in a fair?
There are many challenges. We have done some very ambitious fair presentations (see what we did with Pablo Rasgado at Art Brussels in 2017) and these present tremendous logistical and timing challenges.  Some challenges are outside the gallery's control (booth location, VIP attendance, economic and political climate, etc), so even when we manage every detail perfectly, outside forces can adversely affect us. We are rewarded when our booths get publicly acknowledged by the press and influential visitors and when our artists have won important prizes.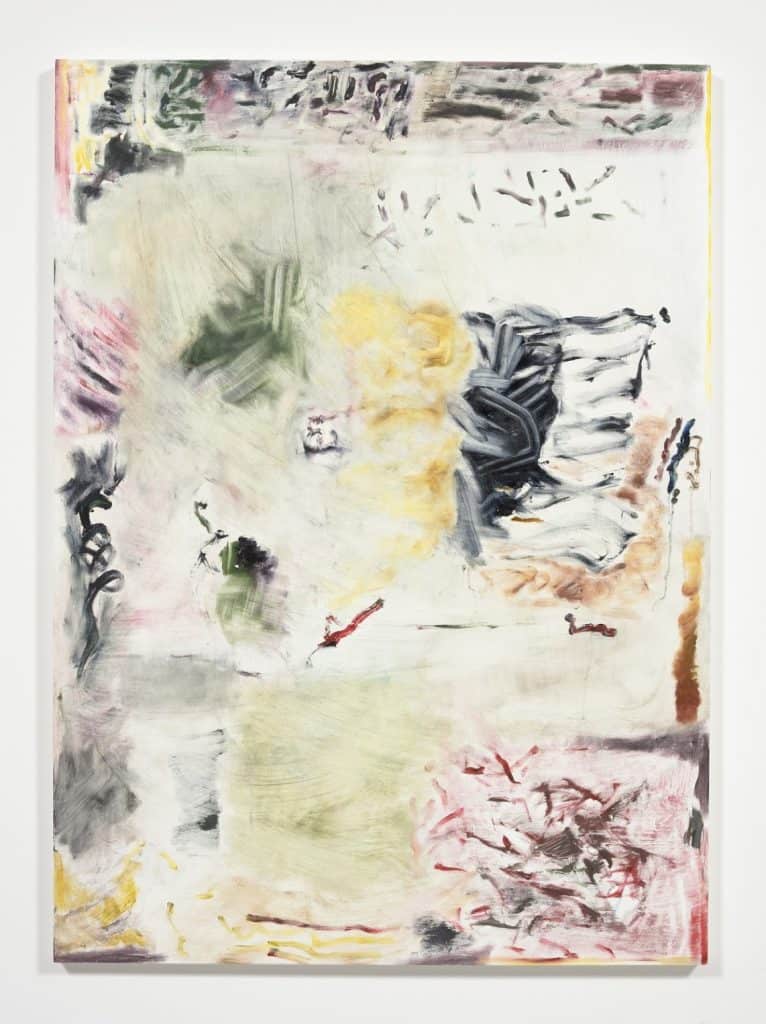 Art fairs have been sprouting across the globe the past decade causing the industry to talk about a global fair fatigue. How do you see this and where do you see the future of the art fair is heading?
Fair fatigue is real. I imagine some fairs will cease to exist, that attendance will decrease, and that fairs will be forced to innovate. If fair organizers want to attract diverse gallery exhibitors, they will need to get more sponsors who will enable them to more extensively subsidize booth costs. The model that puts too much cost onto the exhibiting talent is unwise. Great booths at a fair might make no sales but they still greatly benefit the fair. Cities and chambers of commerce that want the economic benefits that fairs bring will have to up their economic support. Fairs should encourage better presentations by offering more incentives to exhibitors.
What are you personally looking forward to at this year's Art Brussels?
I look forward to introducing Boz and Grunewald to old friends and to new ones. This will be my sixth time at Art Brussels and I hope that it will be my best year yet.
Read More