Articles and Features
The Most Expensive
Paintings of the Decade 2010 – 2019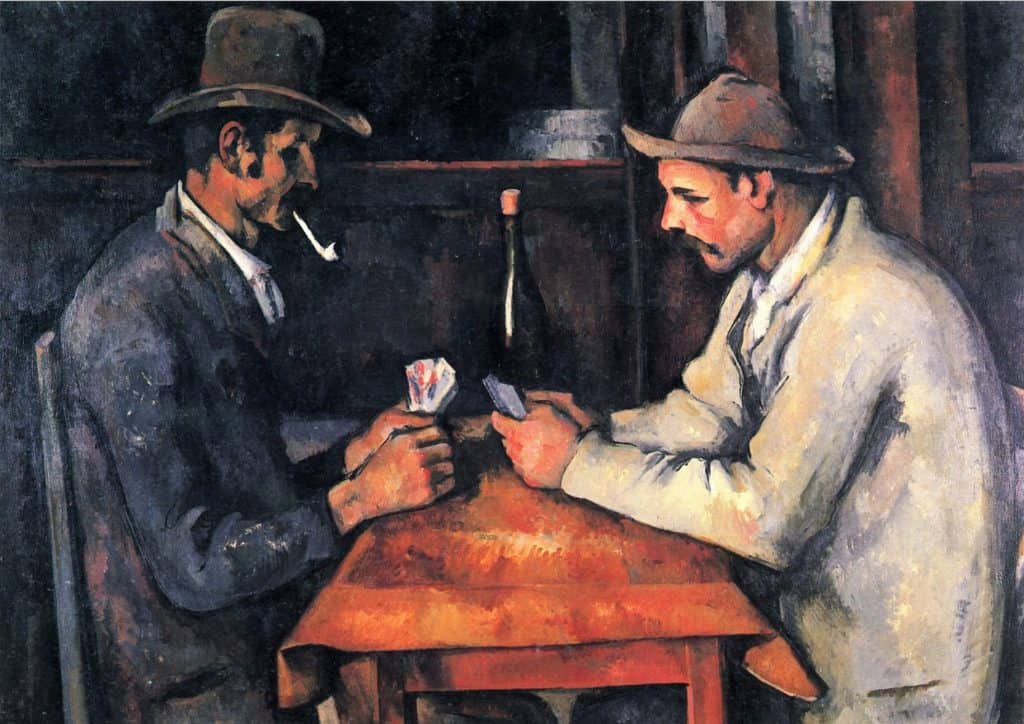 As we come to the end of a decade we take a look at one of the key characteristics of the art world in the 2010s, that of the tendency for ever-increasing sums of money to change hands for seminal art masterpieces. Since the information is in the public domain, we often hear about the acquisition of trophy works at the glittering evening auctions of New York and London, but there are probably an equal number of privately brokered transactions taking place discreetly behind closed doors. The one benefit of auctions, and a reason why this method of sale is often chosen for the most desirable artworks (from a market stance), is that it creates a highly anticipated and charged sale environment which, in turn, engenders fierce competition amongst bidders, whose determination to become the winner often drives prices ever higher.

Back in the late 1980s, the art world began its trajectory to its position as the most highly prized of all luxury markets. Eye-watering sums were paid for iconic masterpieces by Vincent Van Gogh that made the whole world take note. In 1987 Van Gogh's Irises became the most expensive work of art ever sold when it was auctioned for $53m to Australian tycoon Alan Bond. It subsequently transpired that Sotheby's had loaned Bond $27m, or half of the acquisition price, which he was unable to pay, resulting in his subsequent sale of the work to the Getty in Los Angeles. If this byzantine transaction makes the eventual price of the work unclear, there was no such doubt a couple of years later in the Spring of 1989, when Van Gogh's 'Sunflowers' sold to Japanese Insurance magnate Yasuo Goto for $39m.
2010 – 2019: The Most Expensive Paintings
Here is our list of the most expensive artworks sold, year by year, of the past decade.
2010: Jasper Johns, Flag, 1958, $110m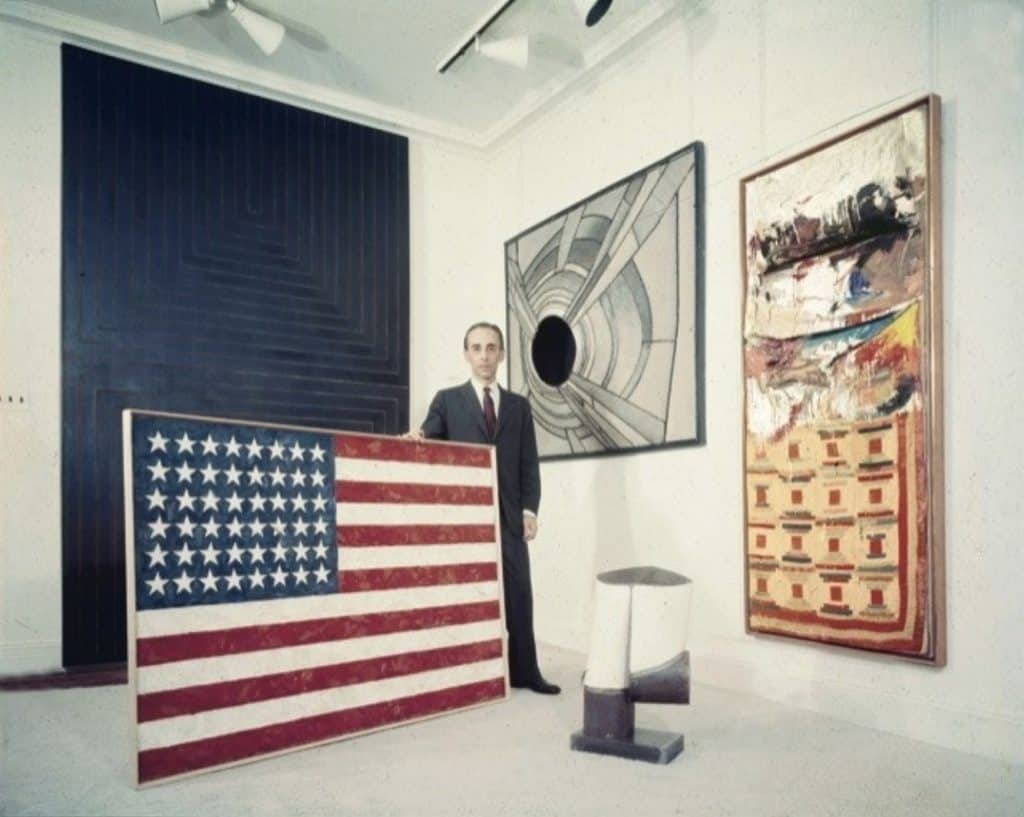 Sold by Jean-Christophe Castelli, Leo Castelli's son, in a private sale to hedge fund principal Steven Cohen. The above image from 1960 shows the painting with Leo Castelli, the legendary gallerist who represented Johns and who also accumulated incredible holdings of many of his star artists' works, including key masterpieces by Warhol, Rauschenberg, Twombly and Stella.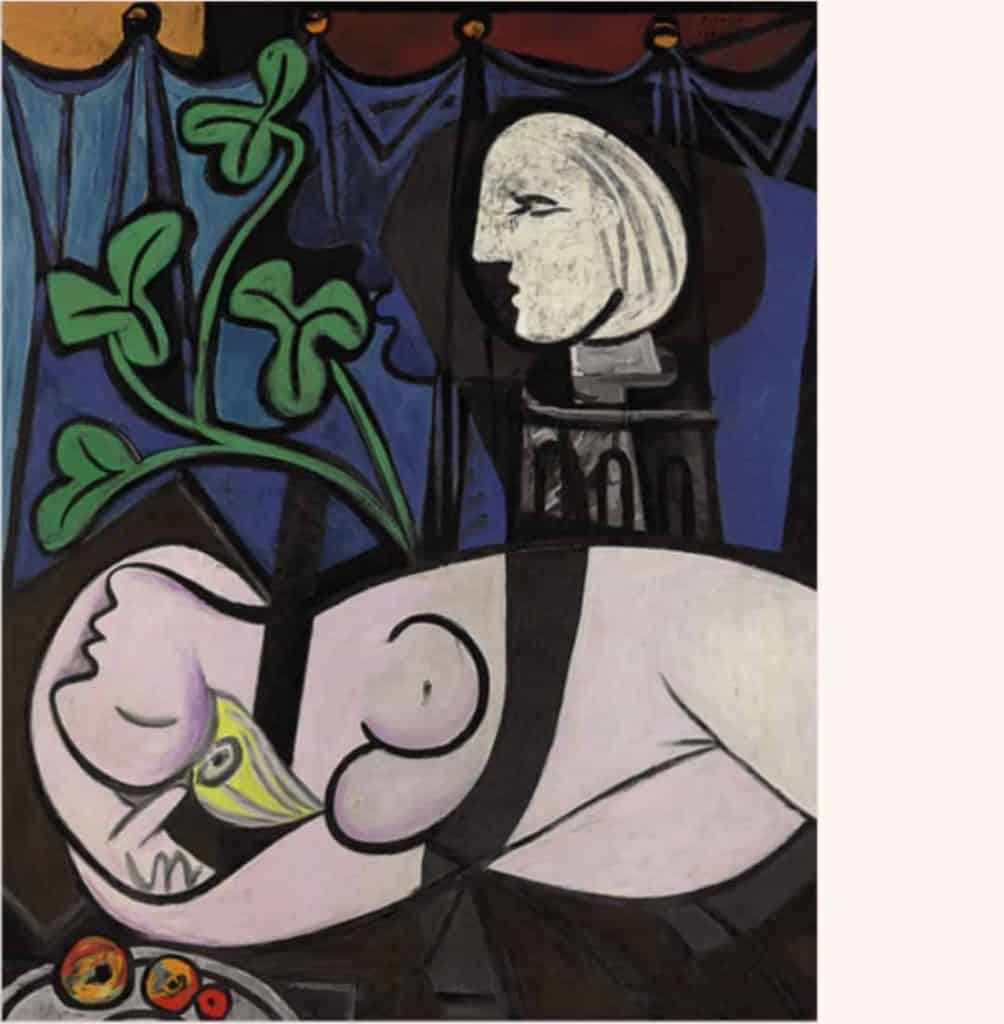 Pablo Picasso, Nude, green leaves and bust, 1932, $106.5m
Picasso's portrait of his mistress Marie-Thérese Walter from 1932 became the most expensive work of art ever sold at auction for $106.5m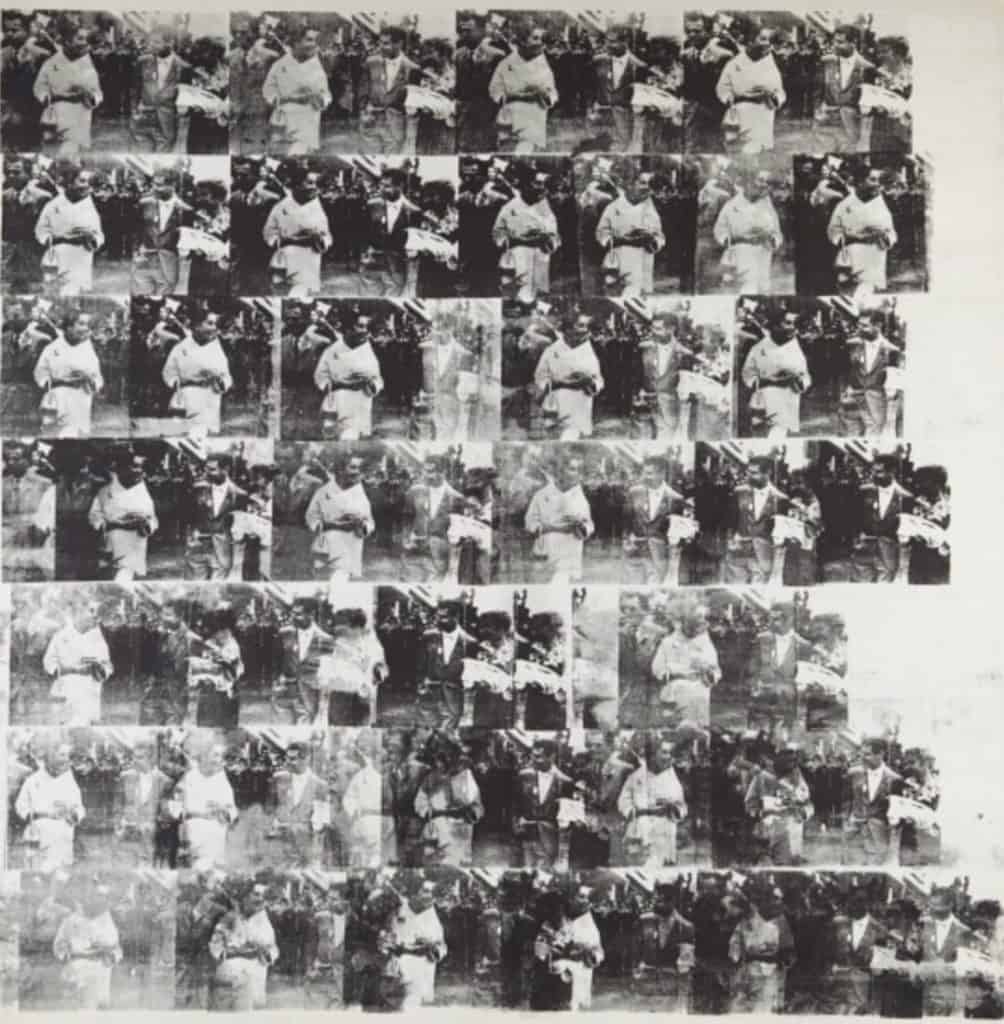 Andy Warhol, Men in her Life, 1962, $64m
Sold by auction at Phillips for $64m by the Mugrabi family, reputed to have the largest collection of Warhol's in the World numbering some 800 works.
2011: Paul Cezanne, The Card Players, 1892–93, $250m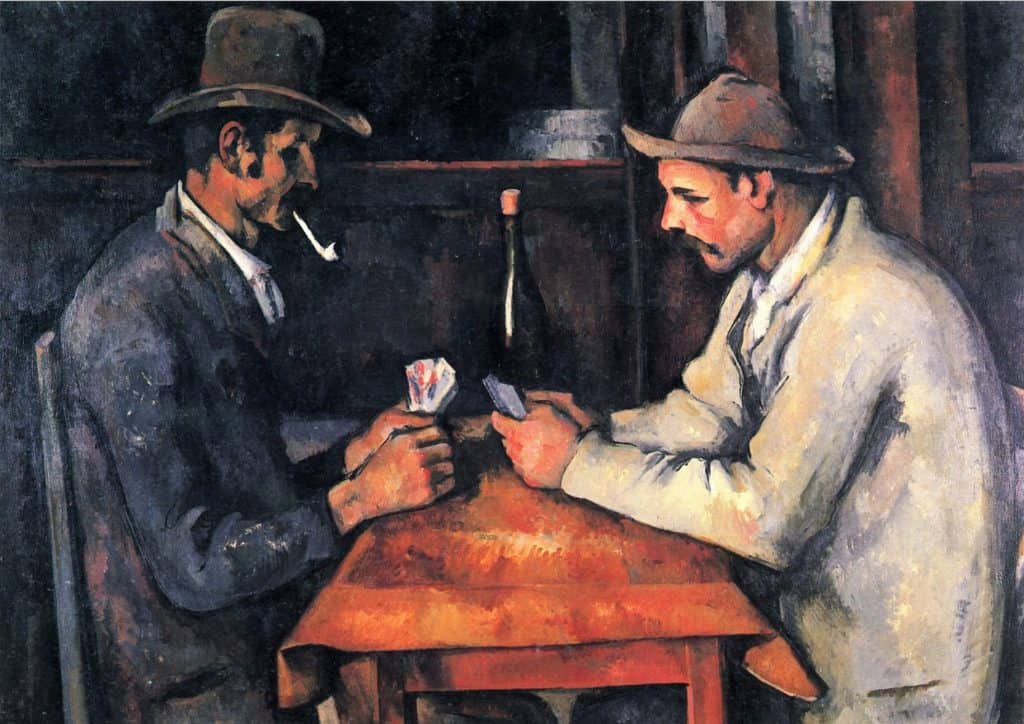 Paul Cezanne, The Card Players 1892–93, Oil on canvas. Sold by Greek shipping magnate George Embiricos to the State of Qatar in a private sale for a reputed $250m. The Card Players is one of five paintings with the same subject, painted during the final period of Cezanne's working life, and considered the key stylistic bridge between Impressionism and Cubism. It was the only version in private hands, the others being in the Musée d'Orsay, the Metropolitan Museum, the Barnes Foundation and the Courtauld Institute.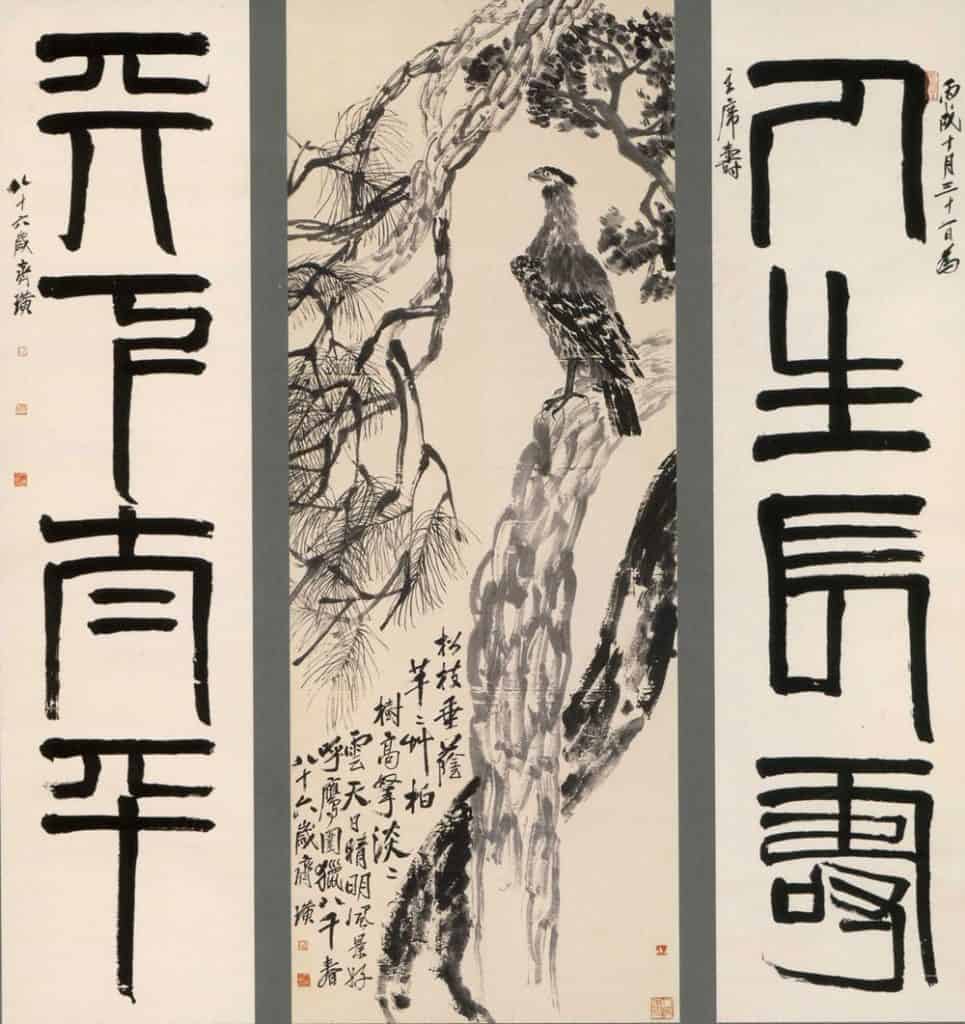 Qi Baishi, Eagle Standing on Pine Tree, 1946, $65.5m.
This was the first milestone of Chinese modern art achieving big prices at auction. Formerly in the collection of Chiang Kai-shek, this work achieved a new record for a work of Chinese modern art at auction and heralded a new era of major prices for this category.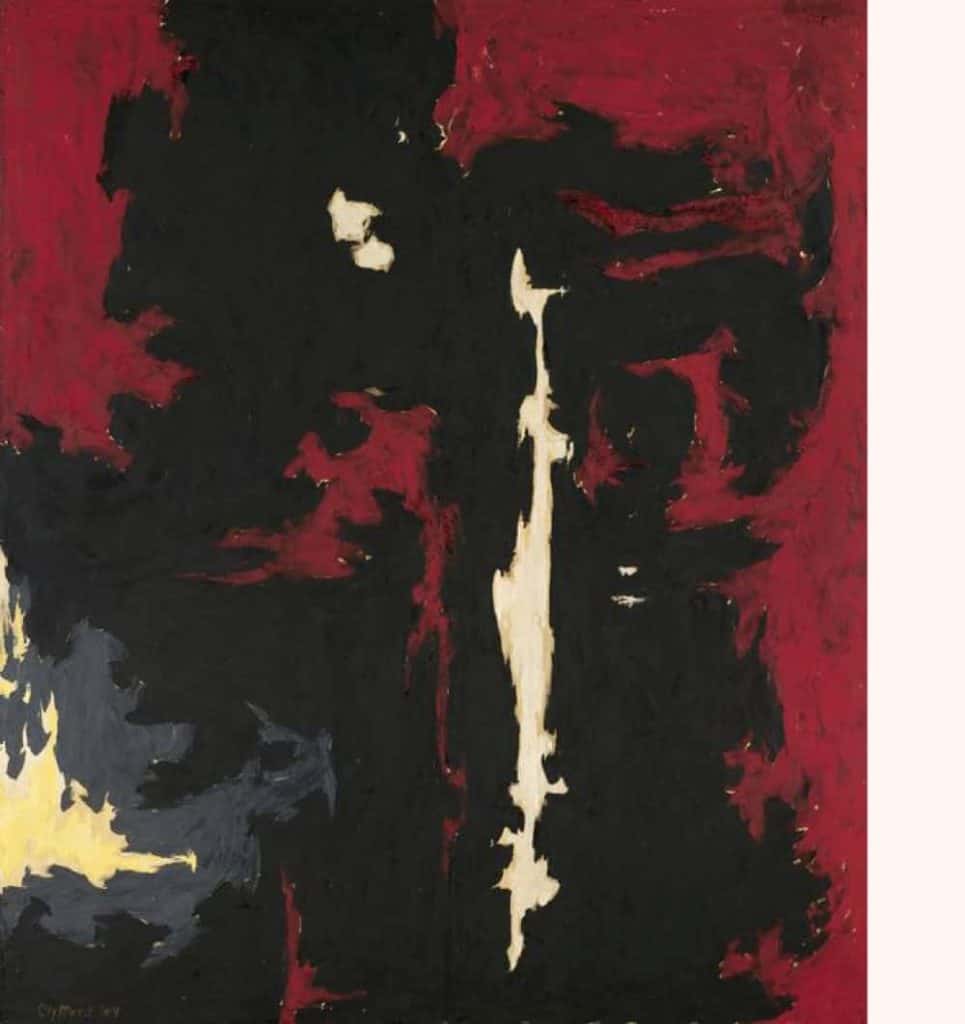 Clyfford Still, 1949-A-No.1, 1949, Oil on canvas $61m.
An early Ab Ex masterpiece of the reclusive and mysterious Still's oeuvre. Sold by the city of Denver at auction through Sotheby's, in order to fund further acquisitions for the city's museum.

2012: Edvard Munch, The Scream, 1895, $120m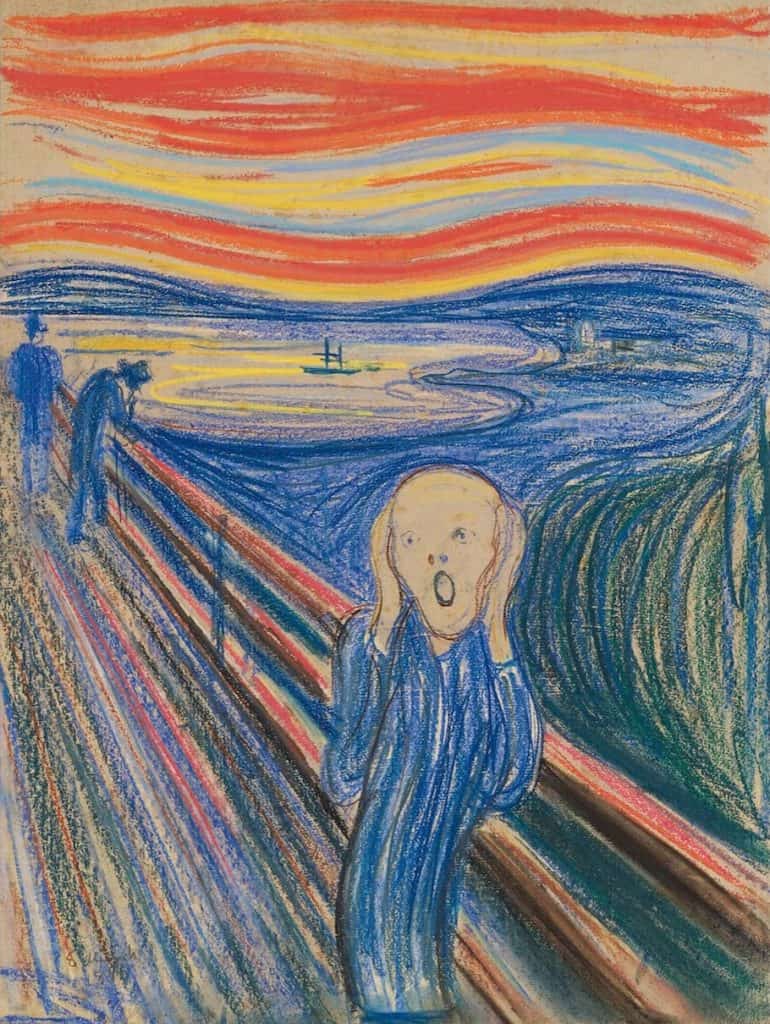 Sold by Petter Olsen of the Norwegian shipping family by way of public auction at Sotheby's in NYC, to American private equity billionaire Leon Black. Four versions exist of this iconic image – one of the seminal early modern artworks made before the twentieth century had even begun, and an image that has begun synonymous with the existential anxiety of the human condition in the Twentieth Century. This version is executed in pastel. There are two painted versions, both of which have been stolen.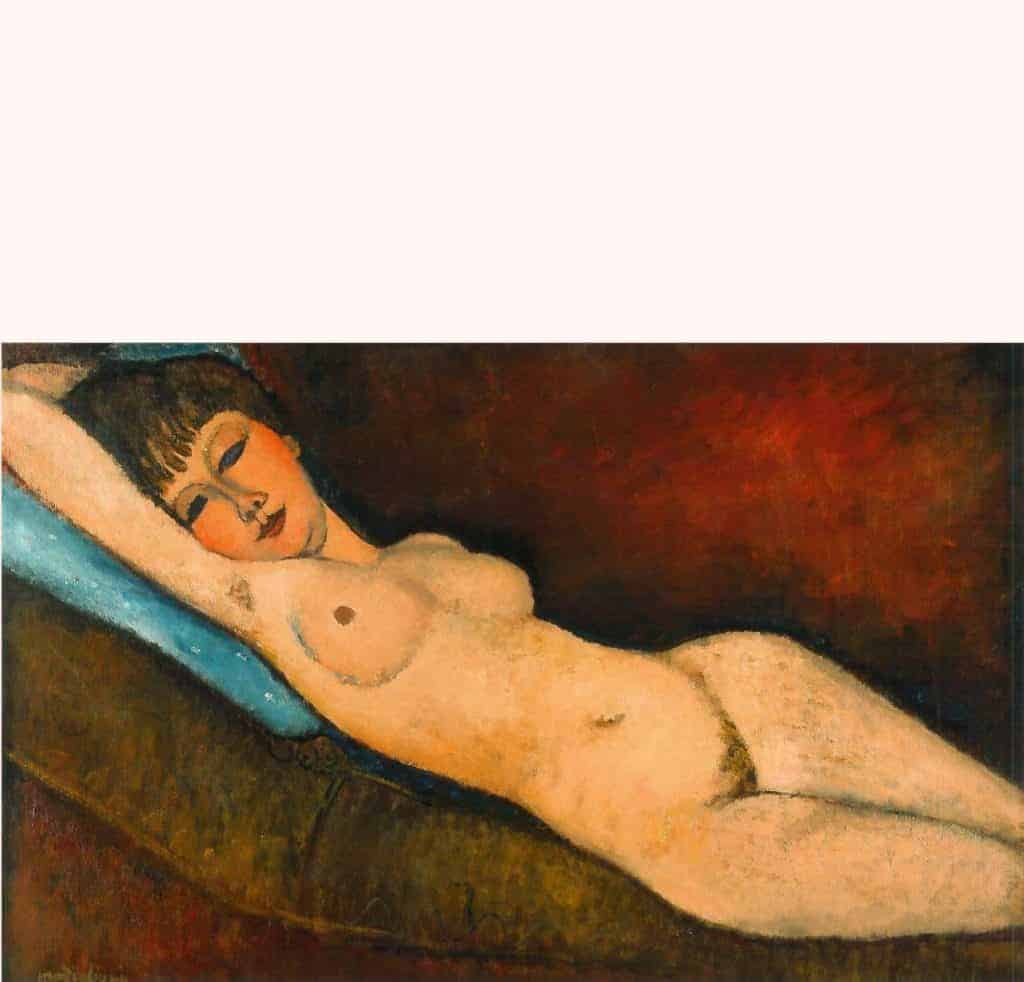 Amadeo Modigliani, Reclining Nude with Blue Cushion, 1917, $118m.

One of the few occasions when New York hedge fund titan Steven Cohen is listed as a seller rather than a buyer. Sold to a Russian billionaire based in Monaco, Dmitry Rybolovlev, also the owner of the AS Monaco Football Club, and brokered by Swiss businessman Yves Bouvier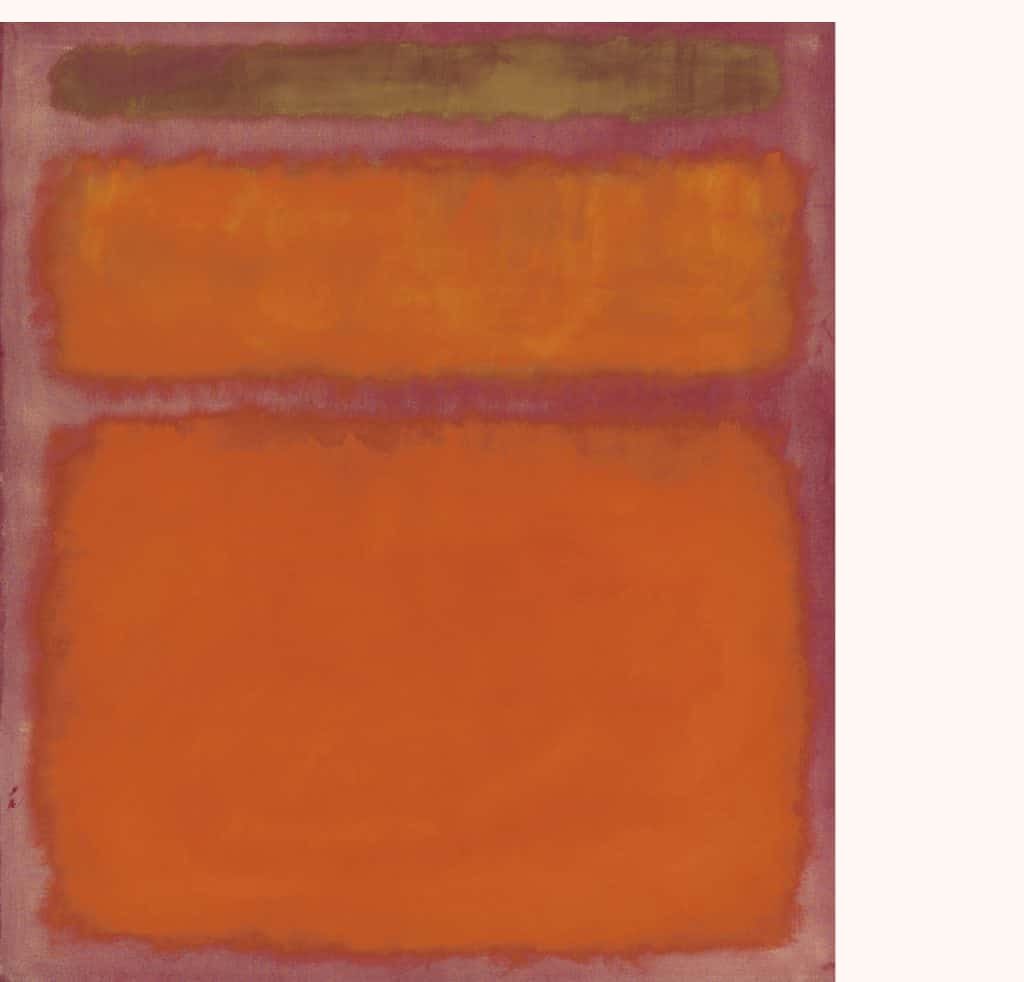 Mark Rothko, Orange, Red, Yellow, 1961, $87m.

Sold at auction from the Estate of textile manufacturer David Pincus, who with his wife Geraldine, assembled one of the more notable collections of Abstract Expressionist paintings in the mid-century period.
2013: Gustav Klimt, Wasserschlangen II, 1904-7, $184m.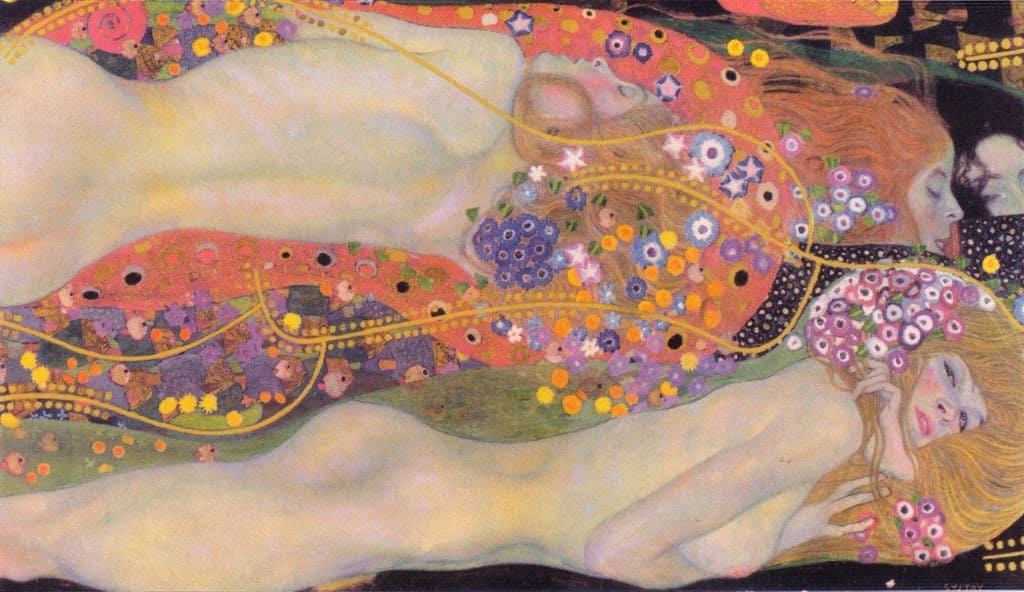 A bumper year for outrageous prices, 2013 is topped off by this Klimt masterpiece. Dmitry Rybolovlev was also the buyer of this work as he sought to assemble one of the greatest privately held collections of early modern masterpieces in the world. An early depiction of same-sex relationships, some say it was a portrait of a lesbian relationship disguised as mythological figures.
Picasso, La Reve, 1932, $155m.
One of the most famous of many works portraying Picasso's 22-year-old lover Marie-Therese Walter. Sold by Las Vegas casino billionaire Steve Wynn to Steve Cohen for $155m, but not without a lengthy drama. In 2006 Wynn had already agreed to sell the work to Steve Cohen for $139m, but while Wynn was showing the painting to his friends he put his right elbow through the canvas, causing a significant tear. After a $90,000 repair, the painting was re-valued at $85 million. Wynn filed a claim to recover the $54 million perceived loss from his Lloyd's of London. When the insurers refused, Wynn sued them. The case was settled and Cohen eventually bought the painting from Wynn in 2013 for $155 million.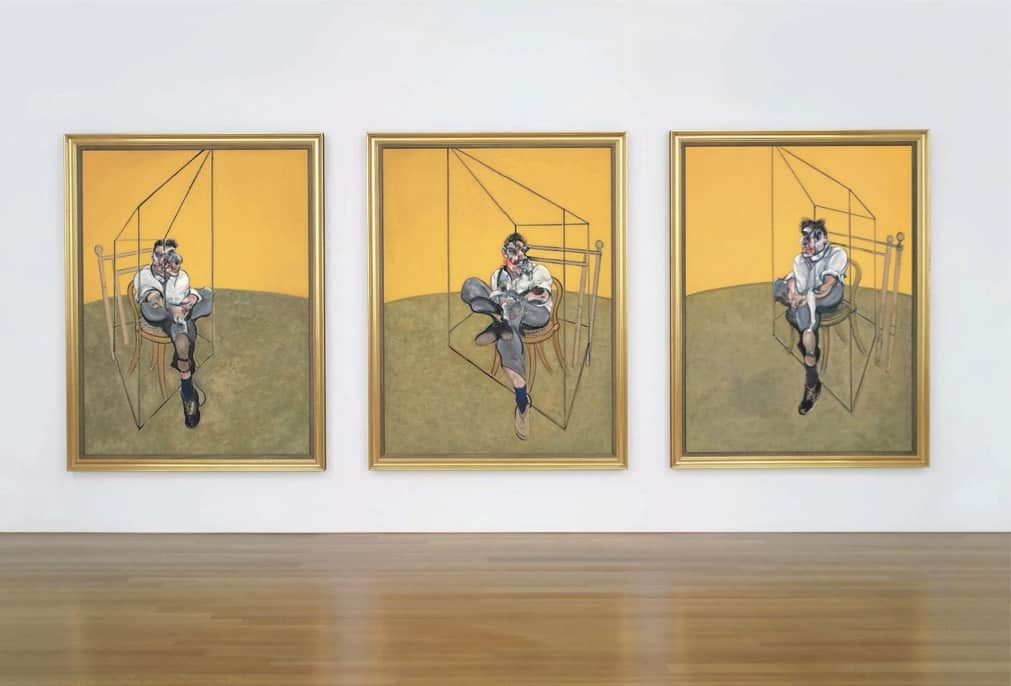 Francis Bacon, Three Studies of Lucian Freud (triptych), 1969, $142.4m.

Introduced in London by fellow painter Graham Sutherland in 1945, Bacon and Freud, the two great pillars of figuration in modern British art, began as rivals and became close friends. They painted each other numerous times. When sold, this triptych of Freud became the most expensive work of art ever sold at auction. Acquired by Elaine Wynn, the former wife of Steve, and the co-founder of Wynn Resorts.
2014: Paul Gauguin, Nafea Faa Ipoipo (When will you marry?), 1892, $210m.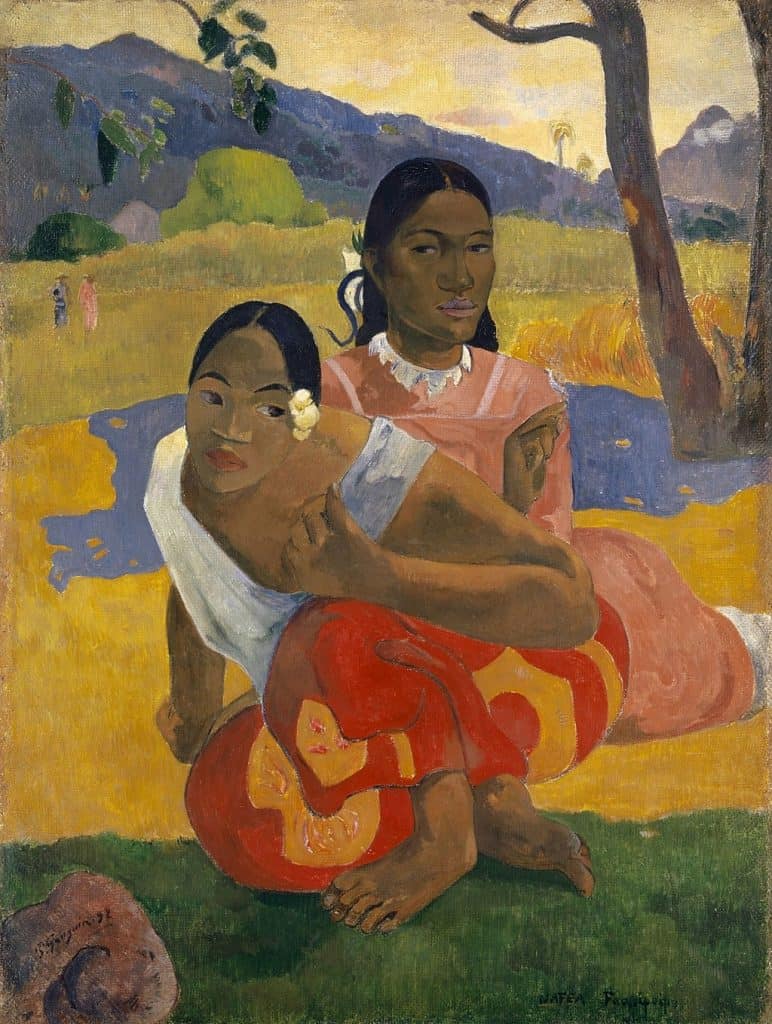 On loan to the Kunstmuseum in Basel Switzerland for almost half a century, the work was actually owned by Swiss businessman and art collector Rudolf Staechelin. After traveling to Tahiti for the first time in 1891, the work is considered one of the greatest of his masterpieces from Gauguin's time spent there. It was acquired by the State of Qatar in a private sale arranged with Staechelin's heirs.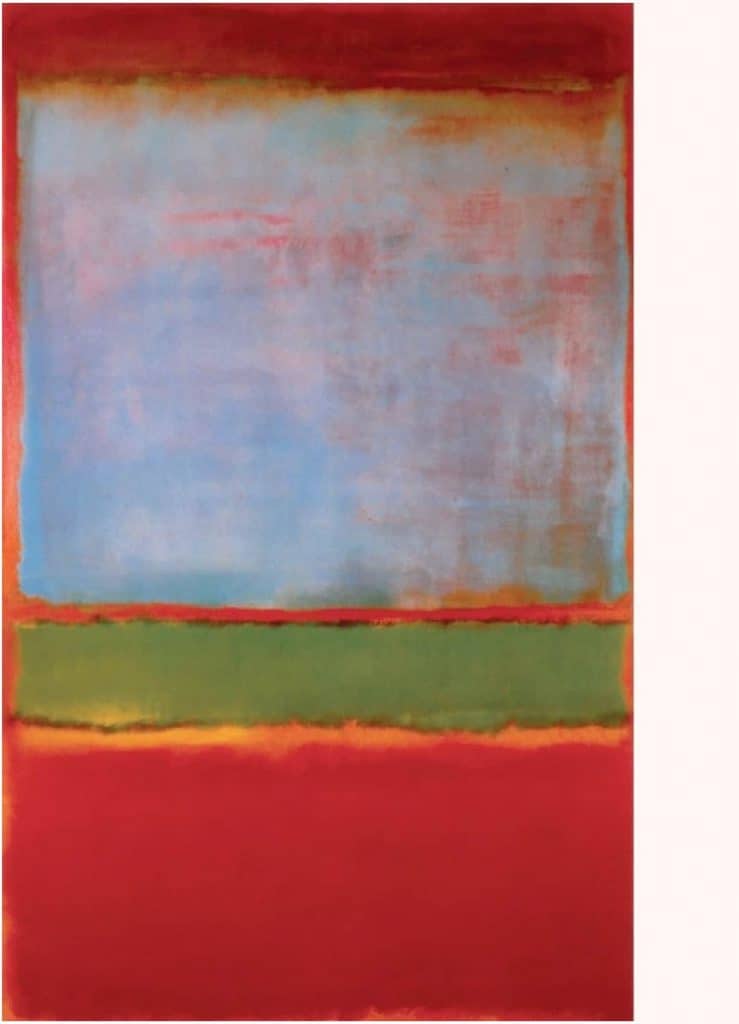 Rothko, No.6, (Violet, Green and Red), $186m.
Other notable sales of the year include the market stalwarts Mark Rothko and Andy Warhol, both of whom have several works sold in the rarefied air above $50m. Rothko's No.6, (Violet, Green and Red) remains among the handful of most expensive artworks of all time, selling for $186m to Dmitry Rybolovlev by Yves Bouvier. However, this work is one of a number implicated in the infamous Bouvier Affair. Rybolovlev learned that Bouvier had actually bought the painting (rather than simply acting as a dealer) for around $80m before selling it to him for €140m. He subsequently launched lawsuits in multiple countries to freeze the assets of Bouvier, claiming that he had been defrauded through cost misrepresentation and overcharged by up to $1bn.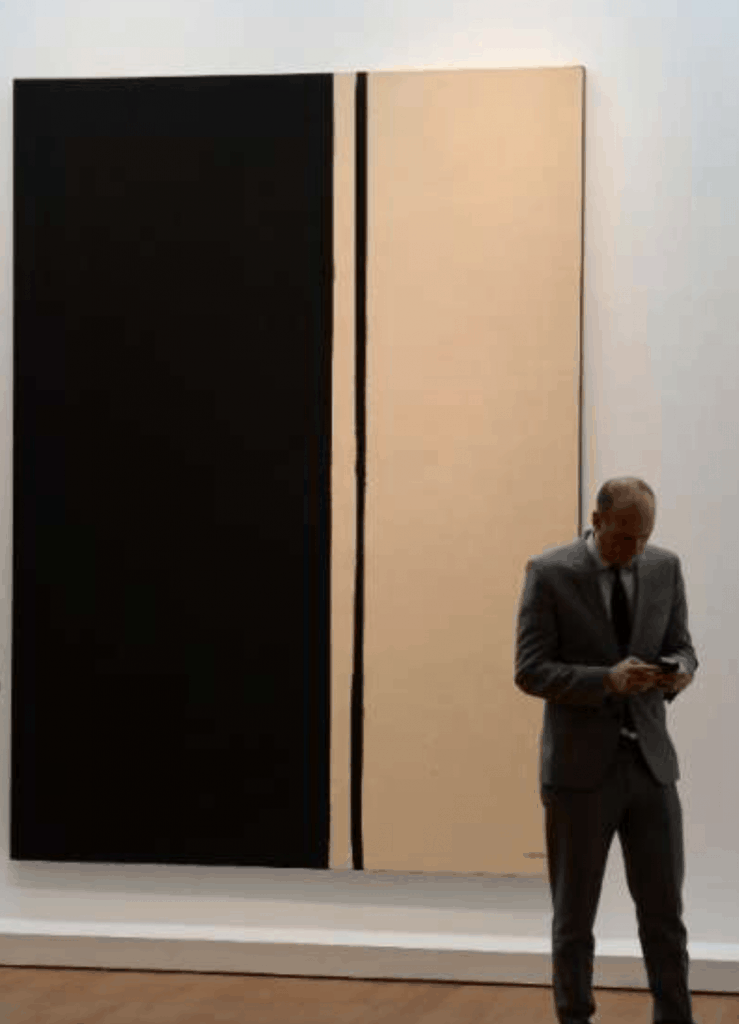 Barnett Newman, Black Fire I, 1961, $84m.
Barnett Newman, Black Fire I, 1961, oil on canvas. This work was sold by a private collection for $84m at a Christie's NY auction. A masterpiece by one of the great Abstract Expressionist artists, the work is notable for being emblematic of Newman's 'zips' but also for heralding in the transition from Abstract Expressionism to Color Field Painting.

2015: Willem de Kooning, Interchange, 1955, c.$300m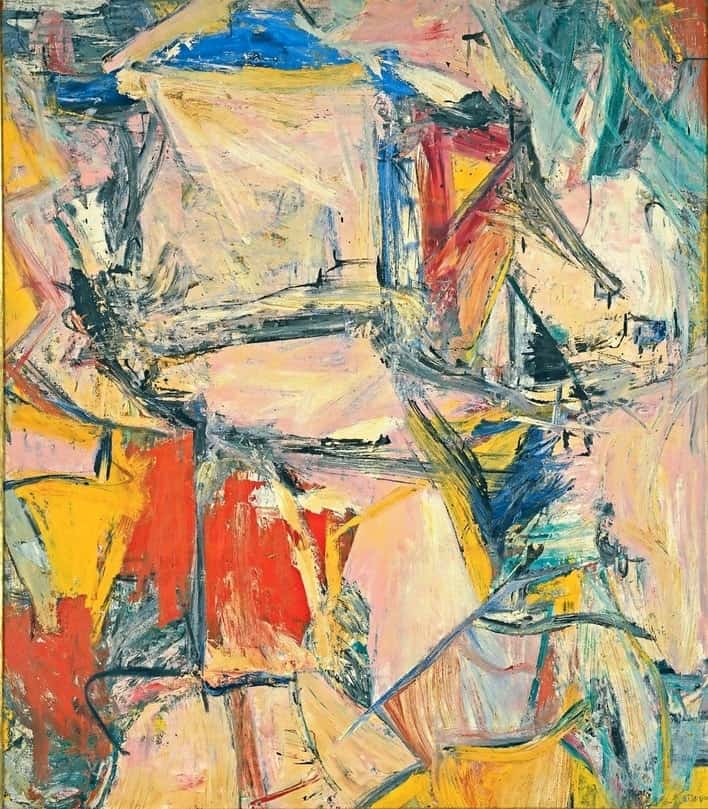 2015 boasts an incredible sale, made by the entertainment mogul David Geffen to Chicago hedge fund billionaire Kenneth Griffin. Long considered one of the high watermarks of Abstract Expressionism and among the greatest masterpieces of De Kooning's first mature, fully abstract period, the painting had already been the highest-ever priced contemporary artwork for a living artist at auction in 1989 when it sold at auction at Sotheby's in NY for $20m.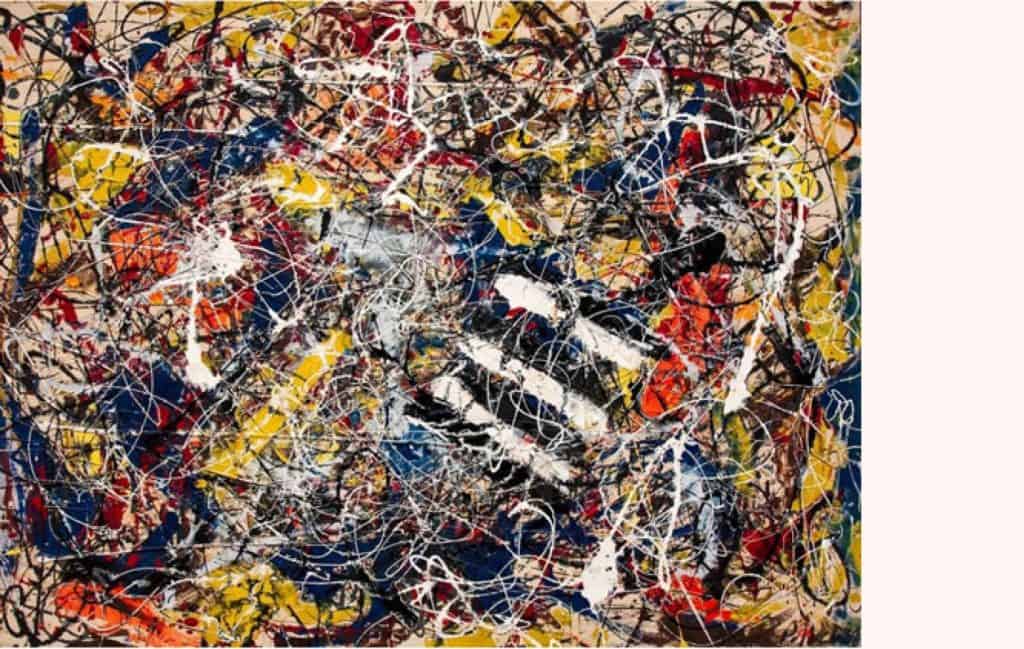 Jackson Pollock, Number 17A, 1948. $200m.

Part of the same sale as de Kooning's Interchange from Geffen to Griffin, a 'package' deal of half a billion dollars, thus valuing the Pollock, one of the key works of the mature drip painting period, at a cool $200m.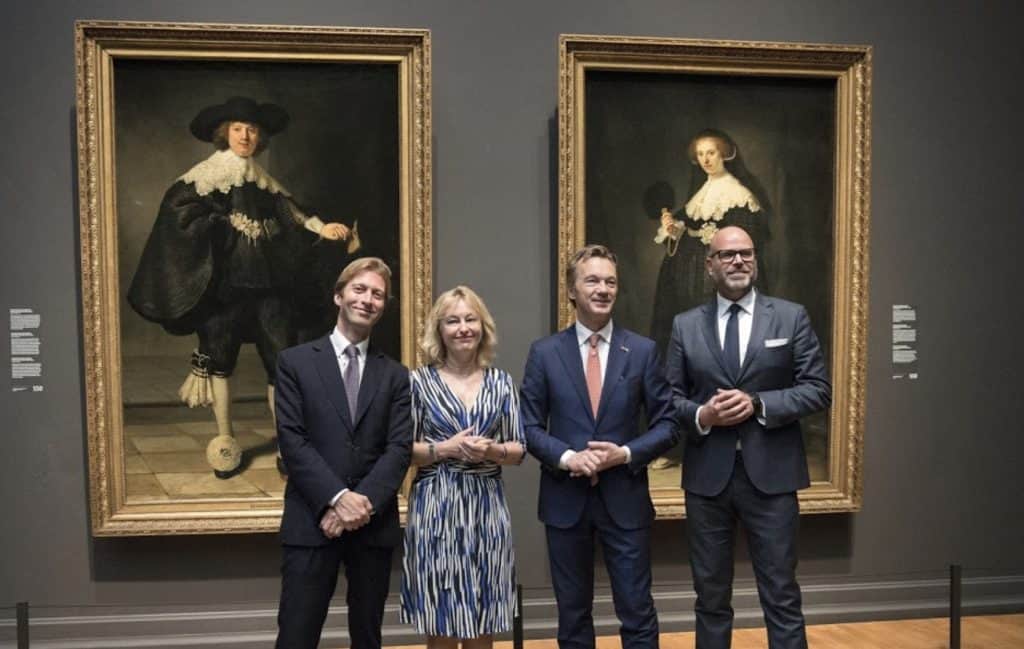 Rembrandt van Rijn, Pendant portraits of Maerten Soolmans and Oopjen Coppit, 1634, $160m
A pair of full-length wedding portraits of wealthy Amsterdam patrons by Rembrandt from the Baroque Dutch Golden Age. Somewhat unusually the paintings show their subjects as full-length figures and had been kept together since their creation. Formerly owned by the Rothschild Family, they became jointly owned by both the Rijksmuseum and the Louvre after each institution managed to contribute 50% of the acquisition cost.
2016: Gustav Klimt, Portrait of Adele Bloch Bauer II, 1912 $150m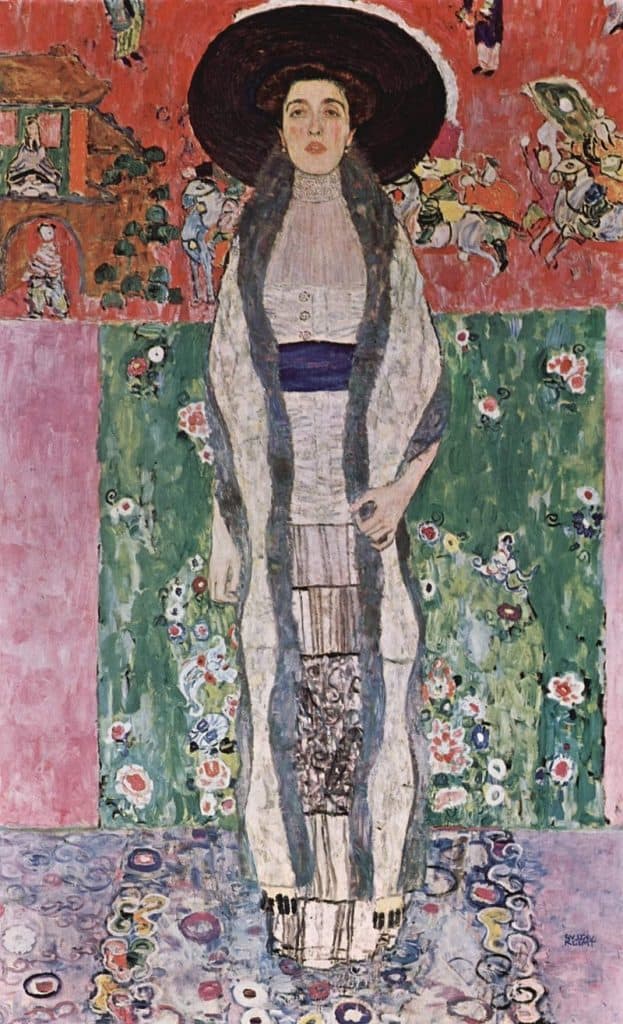 The subject of the portrait, Adele Bloch Bauer, was a wealthy member of the Viennese salon society, a close friend of Klimt's and the wife of Ferdinand Bloch Bauer an industrialist and patron of the artist. She is the only subject who was painted twice by Klimt. Seized by the Nazis during the war, it was subject to a protracted ownership battle, eventually being returned to Bloch Bauer's niece and heir, Maria Altmann, but only after the Austrian museum that refused to relinquish them was legally compelled to do so. The work was eventually sold by Altmann at auction in 2006 for $80m, where the buyer was Oprah Winfrey, who subsequently sold it on to an unidentified Chinese buyer in 2016 for $150m.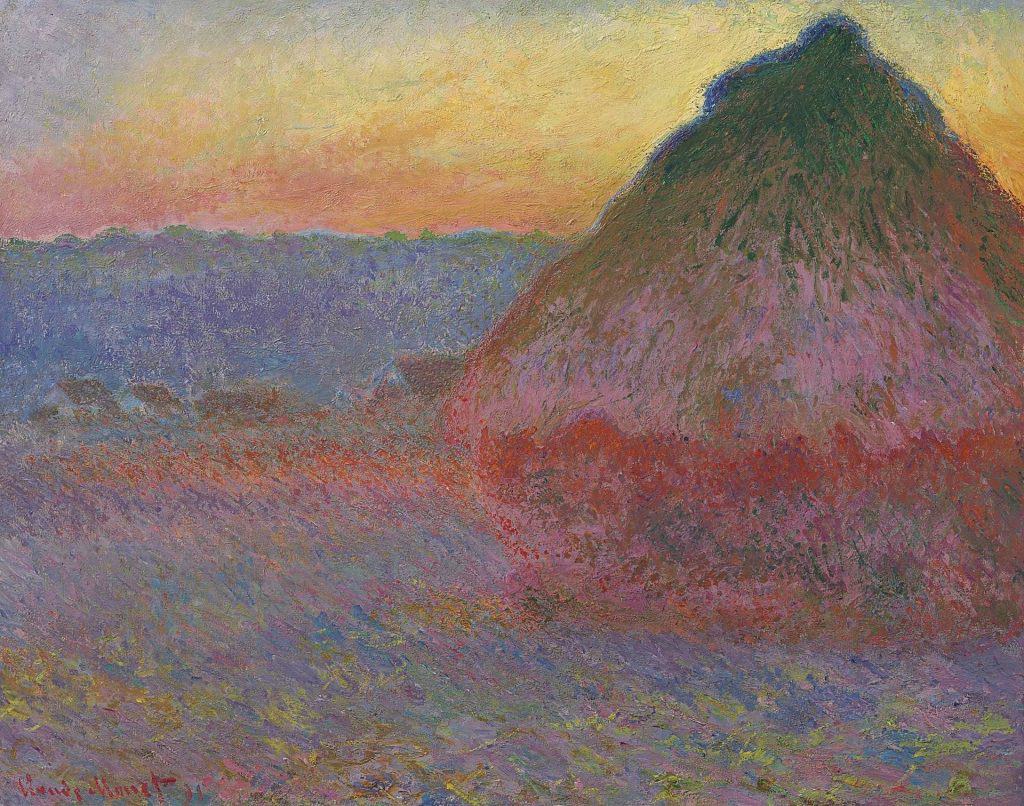 Claude Monet, Meule, 1891, $81.5m
Monet's 'Meule' series, known as the 'haystacks' in English is one of the most iconic series of his paintings, and emblematic of his incredible attention to the changing light conditions of plein air panting. An almost exhaustive series of 25 paintings showing the haystacks in all times of day, weather and seasons, the individual works of the group are core representations of Impressionism and mainstays of many of the world's leading museum collections.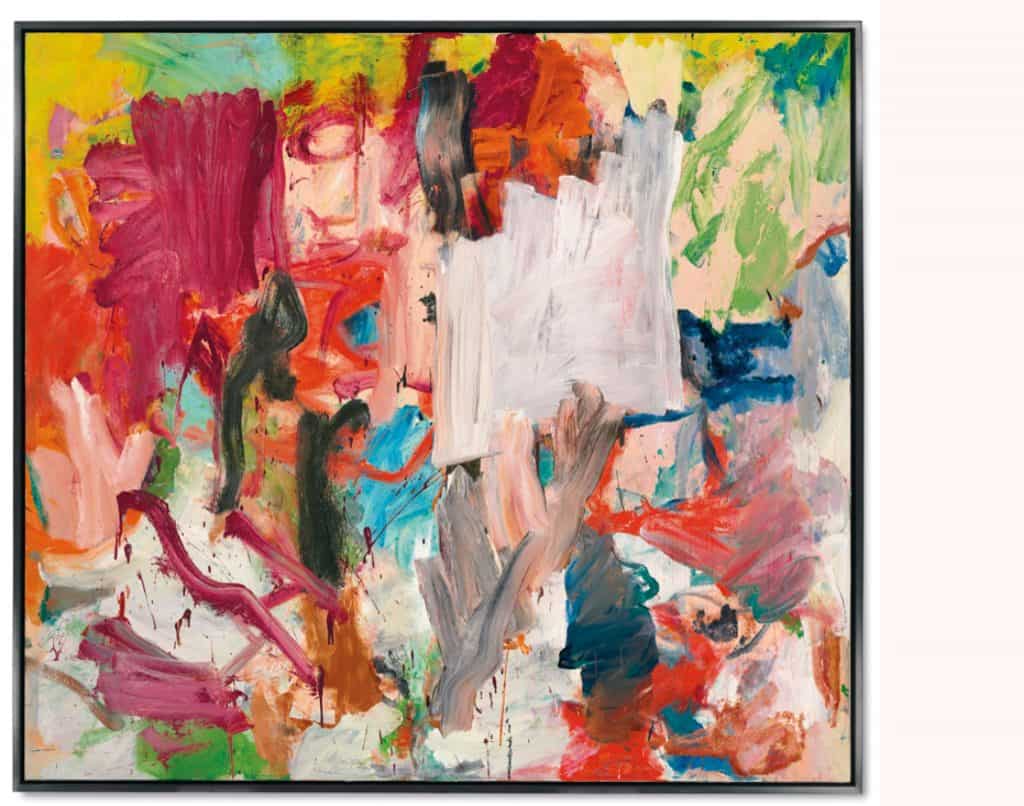 Willem de Kooning, Untitled XXV, 1977 $66.3m
From the artist's body of work during the 1970s, a period of work that has gained huge popularity in the last decade. The 1970s was the decade when Abstract Expressionism was mostly overlooked and considered largely obsolete, but de Kooning prefigured his late 'ribbon' paintings with the works and led the way for the explosion in expressive painting during the 1980s. A masterpiece that smashed through its pre-sale of estimate of around $40m.
2017: Leonardo da Vinci, Salvator Mundi, c.1500, $450m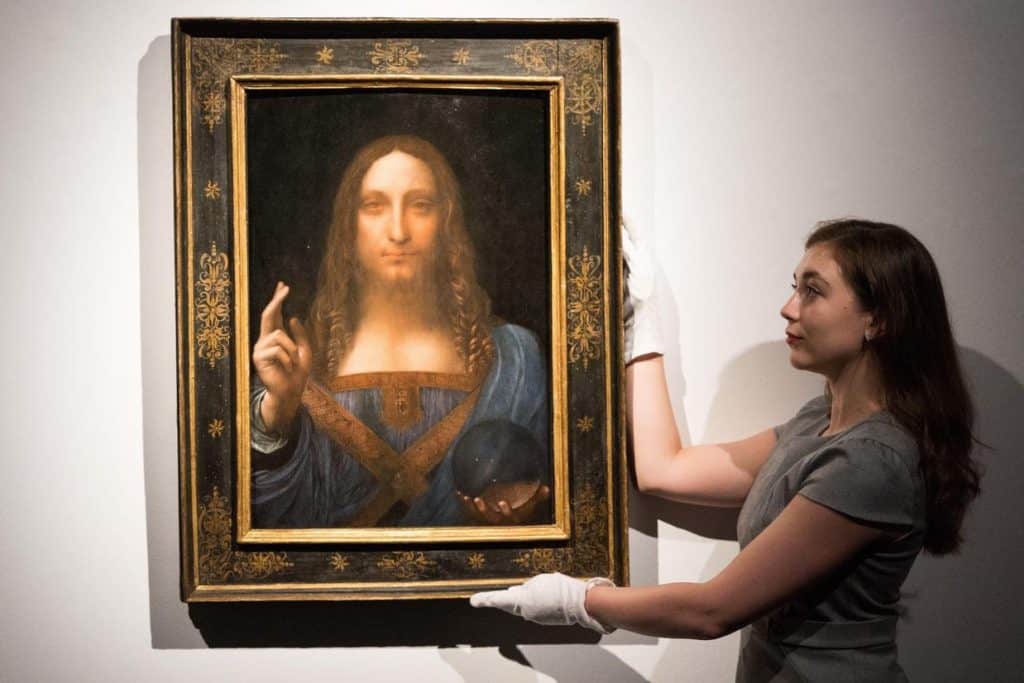 To date, the most expensive painting of all time, the auction of Leonardo's Salvator Mundi was a salesroom sensation and front page news the world over when it went under the hammer in 2017. Sold by renowned Russian billionaire Dmitry Rybolovlev to the Royal Family of Saudi Arabia, it was 'rediscovered' in 2005. Long considered a copy and a mess of bad restoration and overpainting, the work was acquired by a consortium of dealers in 2005 for the princely sum of $10,000. After a lengthy restoration process and substantial scholarship, the work was declared an original da Vinci. Since there are fewer than 20 known works by Leonardo in existence, this being the only one to remain in a private collection is the key driver for this extraordinary price. In a further twist, the painting was excluded from the blockbuster 2019 Leonardo show at the Louvre because of lingering doubts over its authenticity—to this day experts remain divided.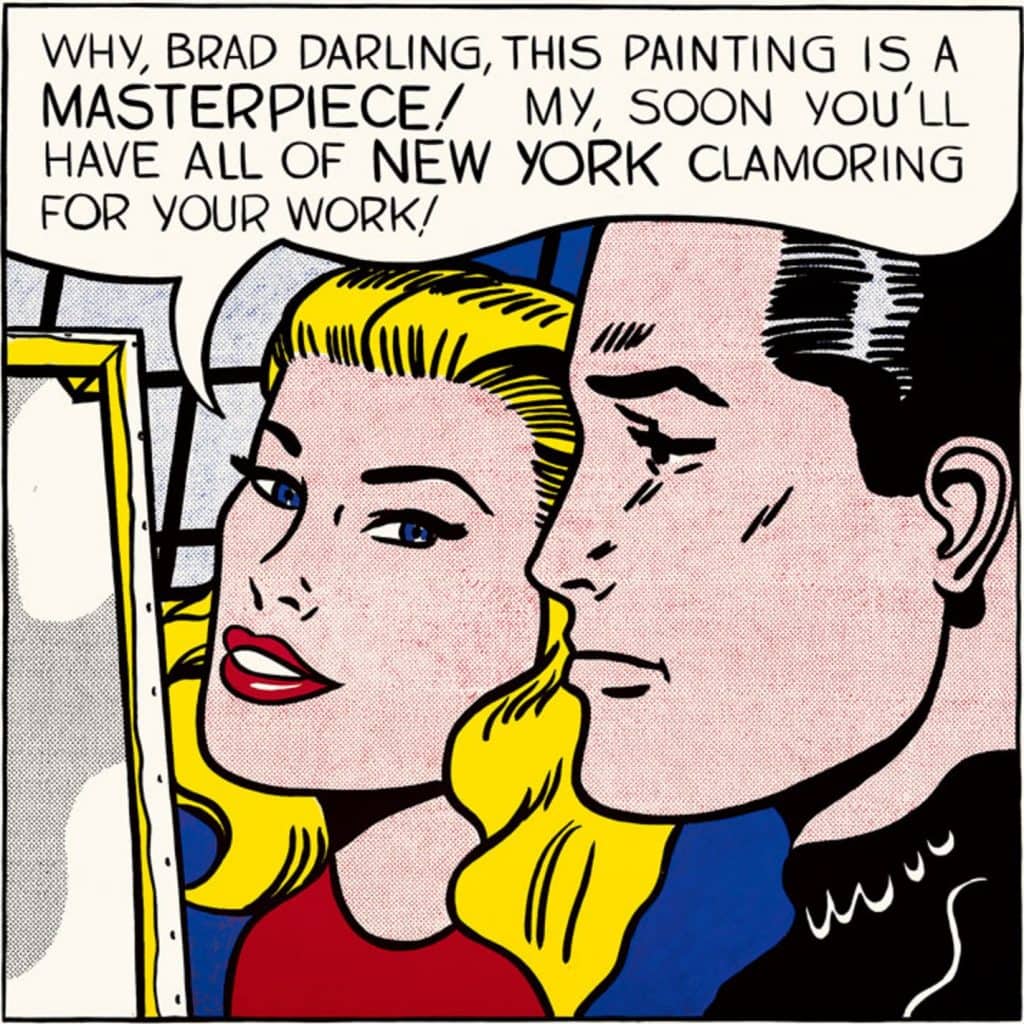 Roy Lichtenstein, Masterpiece 1962, $165m
A Classic early Lichtenstein that ticks all the boxes for the most sought-after works by the Pop Master—a comic book frame, the artist's signature bendy dots and a speech bubble text. Not only that the work was included in the artist's first-ever solo exhibition at the fabled Ferus gallery in Los Angeles, and better yet, references the art world in the subject matter, adding a knowing and amusing slice of irony to the work's content and message. The work was owned by Agnes Gund, the long-time President of the Board of Trustees of MoMA, and hung over the mantelpiece of her NYC residence for decades. With such an iconic work, and with such a prestigious provenance, it is no surprise that Hedge Funder Steve Cohen paid such a steep price for this trophy.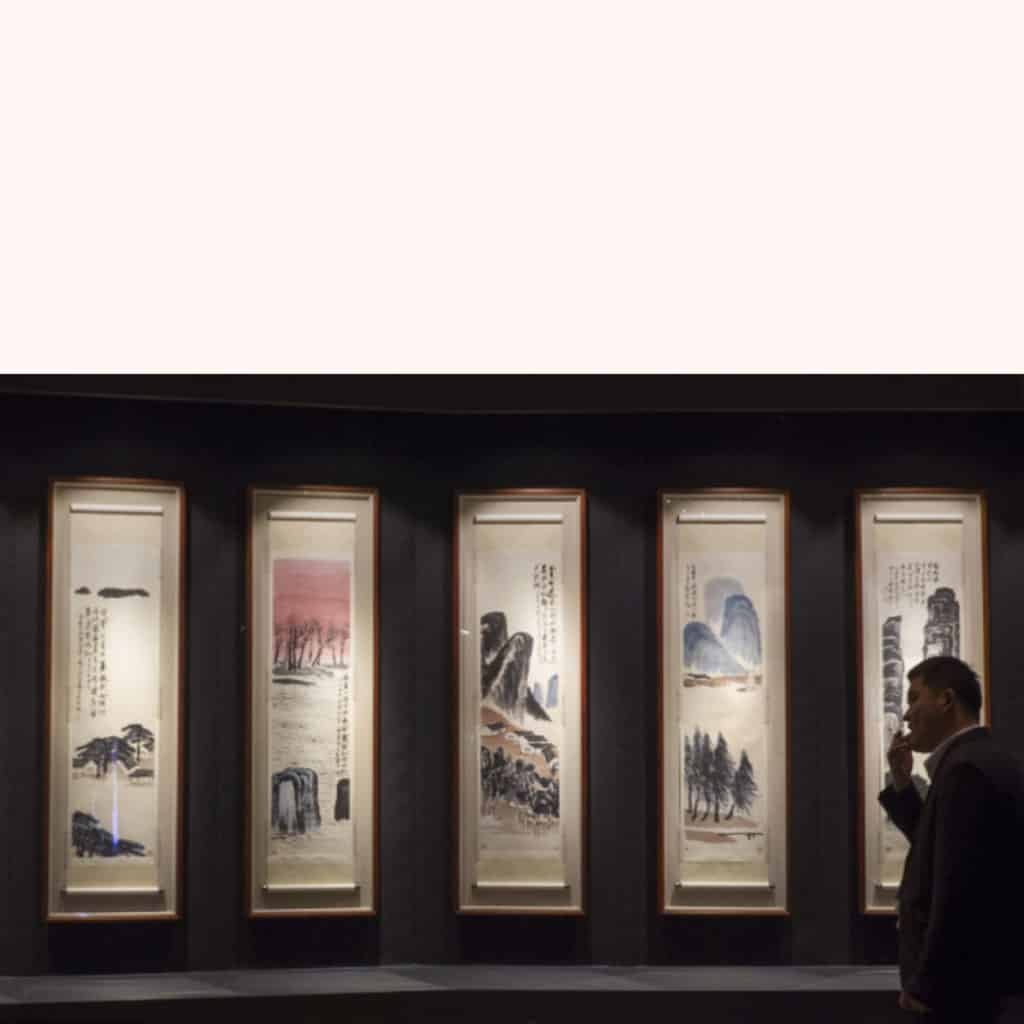 Qi Baishi, Twelve Landscape Screens, 1925, $141m

Another masterpiece by the noted Chinese artist, famed for his whimsical watercolors that further evolved the classic Chinese calligraphic tradition. The world was stunned in 2017 when this work, the largest known piece by the artist, defied expectations and catapulted the artist into the rarefied '$100m club'. Sold at auction in Beijing to an unidentified bidder after frenzied bidding, the work is indicative of the market trend that sees Chinese artwork overwhelmingly bought and sold within the country, with Chinese painting and calligraphy representing around 80 percent of that market.
2018: Amadeo Modigliani, Nu Couché (sur la côté gauche), 1917, $157m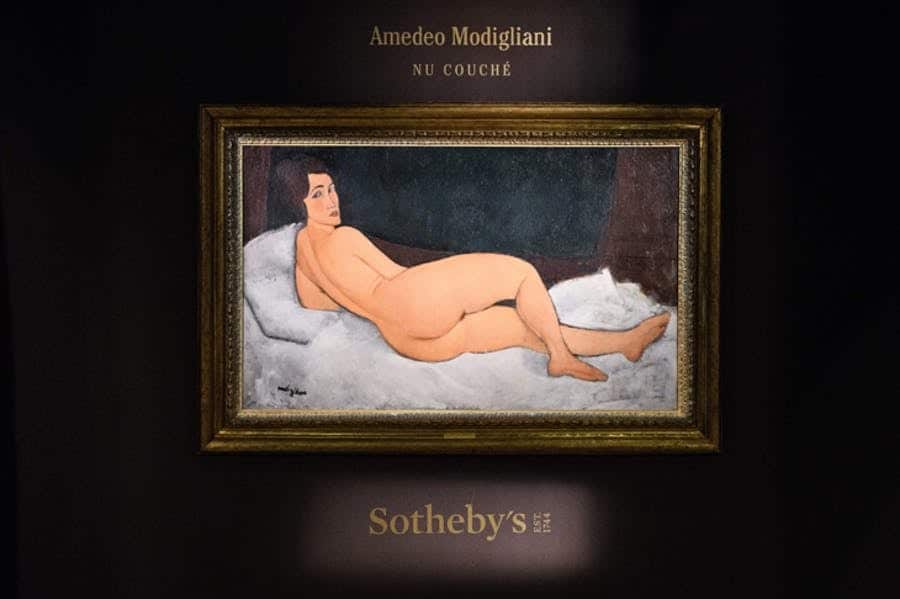 Made in the most sought-after period of the late nineteen-teens, after Modigliani shifted his practice from sculpture to the almost exclusive painting of the female nude, Nu couché is part of a prized series of nude paintings, produced between 1916 and 1919, that caused a scandal when they were first shown in Paris. When exhibited in Berthe Weill's gallery, for what would be the only one-man exhibition that Modigliani experienced during his lifetime, a sizable crowd outside raised the curiosity of the police, who shut down the show after two days. By January 1920 Modigliani was dead from meningitis, and a career that went nowhere during his 35-year lifespan was set to take off posthumously, reaching today's incredible levels for one of early modernism's most iconic artists. Sold by the powerful Nahmad family at auction. At Sotheby's in NY.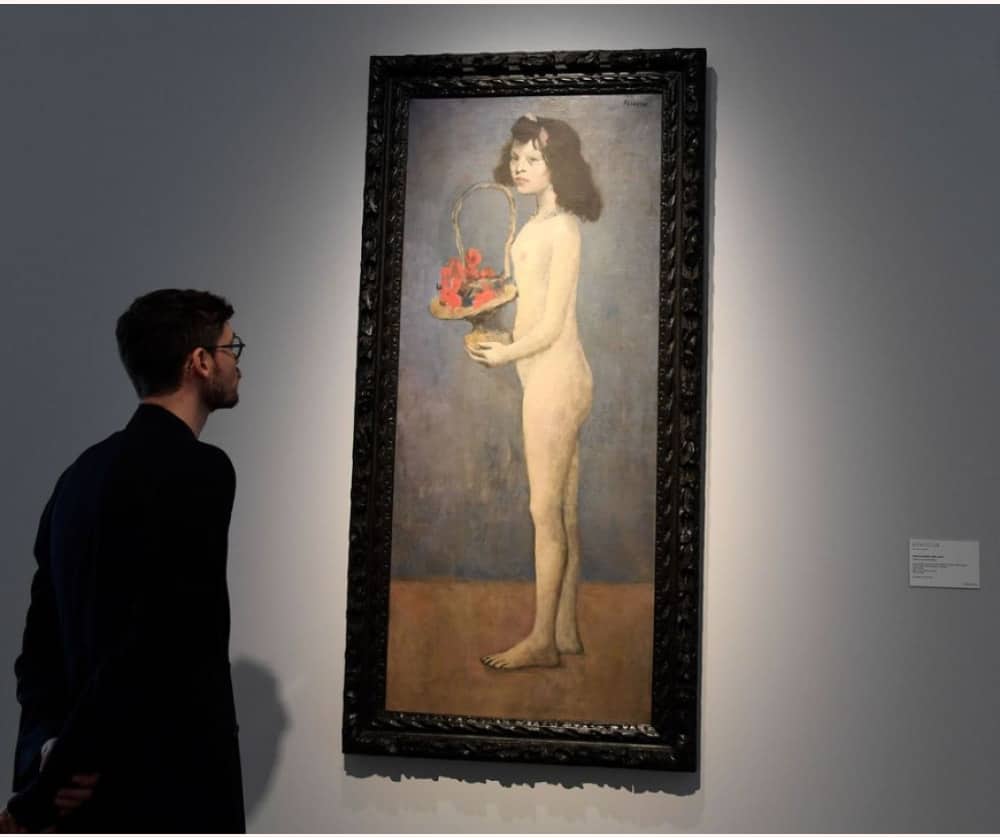 Pablo Picasso, Young Girl with a Flower Basket, 1905, $115m
Young Girl with a flower basket is a first-rate example of a work from Picasso's rose period, a key transitional phase for Picasso—at the outset of 1905 he was a destitute bohemian but by the end of 1906, he was becoming well established and well on his way to his stellar career. The impeccable provenance, often a key element to underpin a big price, includes Gertrude Stein, MoMA, and David and Peggy Rockefeller.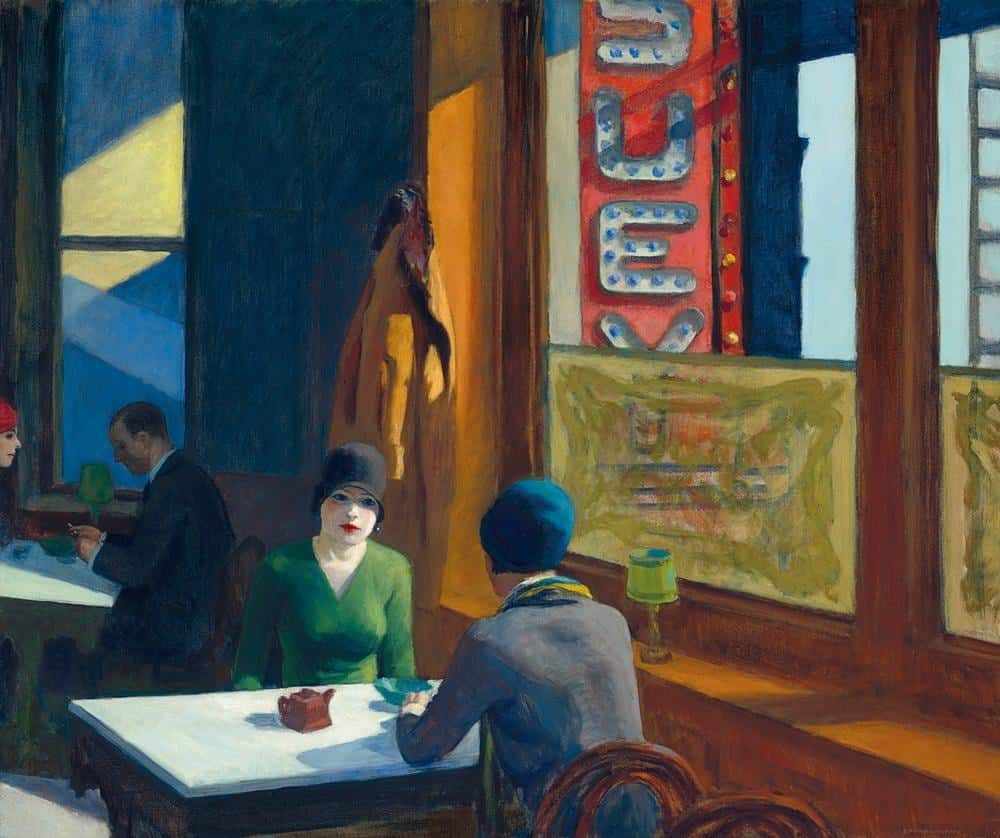 Edward Hopper, Chop Suey, 1929, $92m
Chop Suey is a key painting by Hopper and the achiever of a record price for the artist. Even though the work depicts two subjects together in a restaurant the familiar feeling of isolation in Hopper's most famed works is strongly pervasive. The art deco period scene and the dramatic effects of lighting are also key components of Hopper's best works. Owned by Barney Ebsworth the work was originally promised to the Seattle Art Museum, but on the occasion of his death ownership transferred to his heirs who instead elected to sell the work.
2019: Claude Monet, Meules, 1890, $110m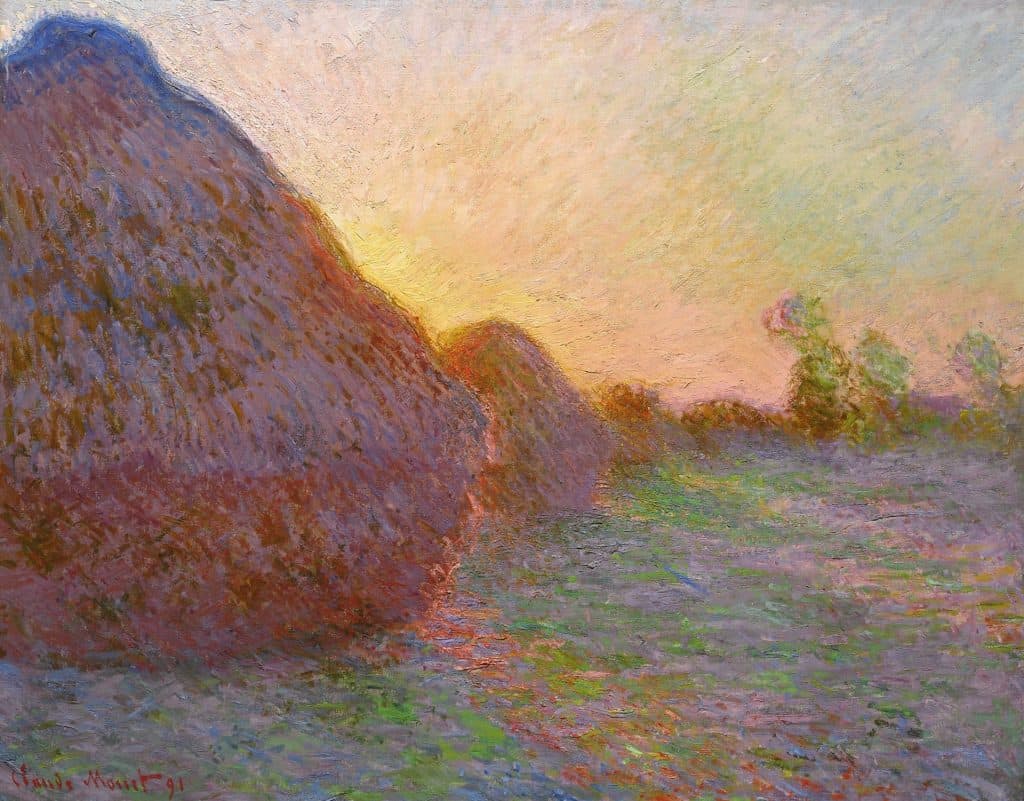 Another of Monet's 'haystacks' works, the present example is a more developed and fuller example than the similar work sold in 2016 shown above. Depicting the similar pinks, purples, and elongated shadows of a sunset glow, this example is one of the more fully rendered landscapes in the fabled series. The work was originally acquired from one of the most influential galleries in the history of modern art, Monet's Parisian dealer Paul Durand-Ruel. After a lengthy bidding battle consisting of at least eight bidders and continuing for almost ten minutes, the work was eventually hammered down at double its presale estimate to hearty applause in the auction salesroom, becoming the most expensive work of art sold in 2019.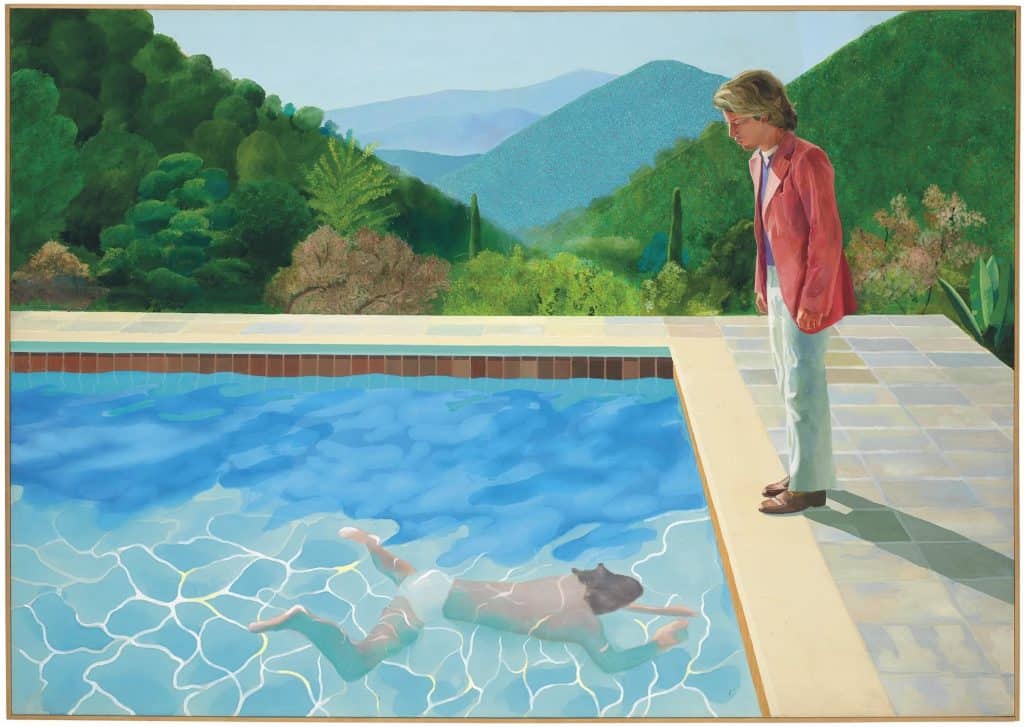 David Hockney, Portrait of an Artist (Pool with two figures), $80m
Hockney's paintings of the California lifestyle became one of the defining idioms of figurative painting in the 60s and 70s. The landscapes of the Hollywood Hills, the Pacific Ocean of Malibu, and swaying palms all became synonymous with his works of this period. But transcending all these motifs were Hockney's depictions of dappled sunlight on the rippling surface of azure blue swimming pools—his unerring ability to capture light and motion in his otherwise flat swathes of color being the most remarkable characteristic. The current example boasts an archetypal depiction but also evokes the complexity of human relationships. Owned by British ex-pat billionaire Joe Lewis, a Bahamian resident, the sale of the work for a correctly estimated and predicted $80m became the most valuable work by a living artist ever sold at auction when it sold at Christie's in NY.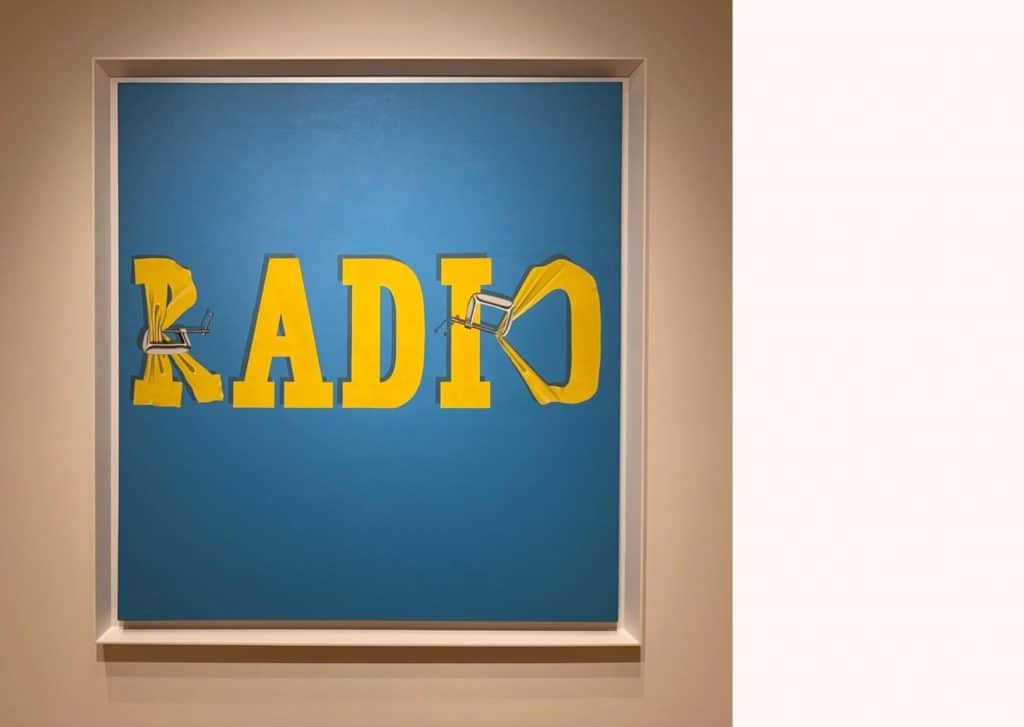 Ed Ruscha, Hurting the Word Radio #2, 1964, $53m
An early example of Ruscha's text paintings, a body of work that made the artist one of the most innovative of the 1960s and a key figure in both west coast pop art and an early precursor of conceptual art. With this innovation he more or less invented a genre of work all by himself—paintings whose only 'image' consists of words and phrases. Hurting the Word Radio #2 was first exhibited at Los Angeles's Ferus Gallery in 1964, a venue that had swiftly established itself as a hotbed of Pop art. Two years earlier, Ferus had staged the first-ever show of Andy Warhol's Campbell's Soup Cans. In November the work sold for $53m, also at Christie's in NY, marking a new auction record for the artist.

Relevant sources to learn more
Meet the Next Gen collectors: who are they and how are they changing the art market?
See the top artists working with Trompe l'oeil in contemporary art
See the top pioneers of the shaped canvas
Discover & Buy Paintings for Sale