The Transcultural Art and Life of Njideka Akunyili Crosby
By Shira Wolfe
Nigerian-born Njideka Akunyili Crosby is only 34 years old, and has already passed some incredible art world milestones. Not only that, but in recent years, the price for her work has gone up dramatically, from around $100.000 to $3 million.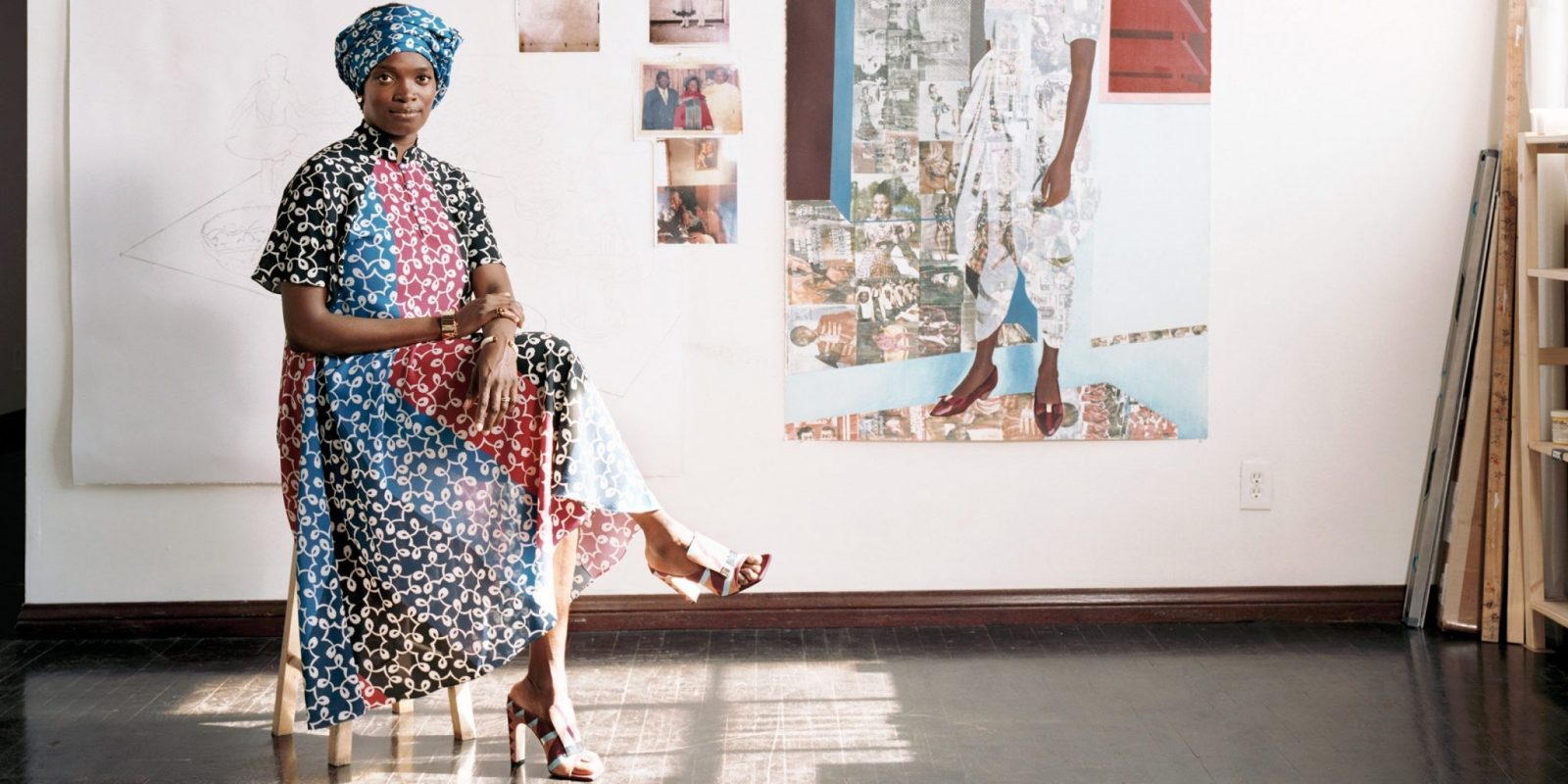 This timeline sums up some big moments in the artist's career:
2011: Njideka Akunyili Crosby is awarded the Studio Museum Harlem residency the year she graduates from her MFA at Yale
2014: She wins the Smithsonian American Art Museum's Contemporary Artist Prize
2015: She wins the Studio Museum Harlem's Wein Prize and the New Museum's Next Generation Prize
2016: Her first solo show in Europe, at the Victoria Miro in London. Her work is so popular that the gallery only sells her work to public institutions like Tate Modern and Metropolitan Museum of Art
2016: Whitney Museum of American Art acquires her 2016 diptych _Portals_ and presents it in its April 2016 show "Human Interest"
2017: Named a 2017 MacArthur "Genius" Fellow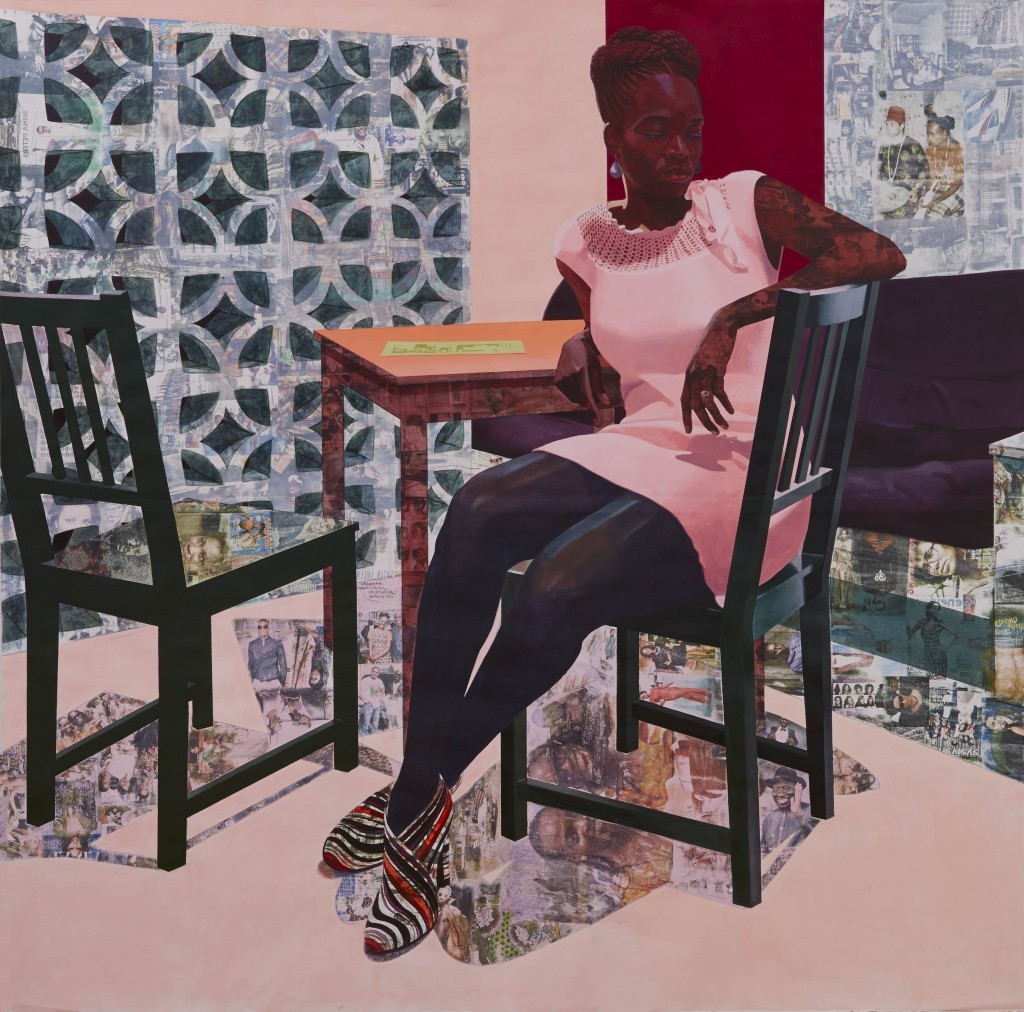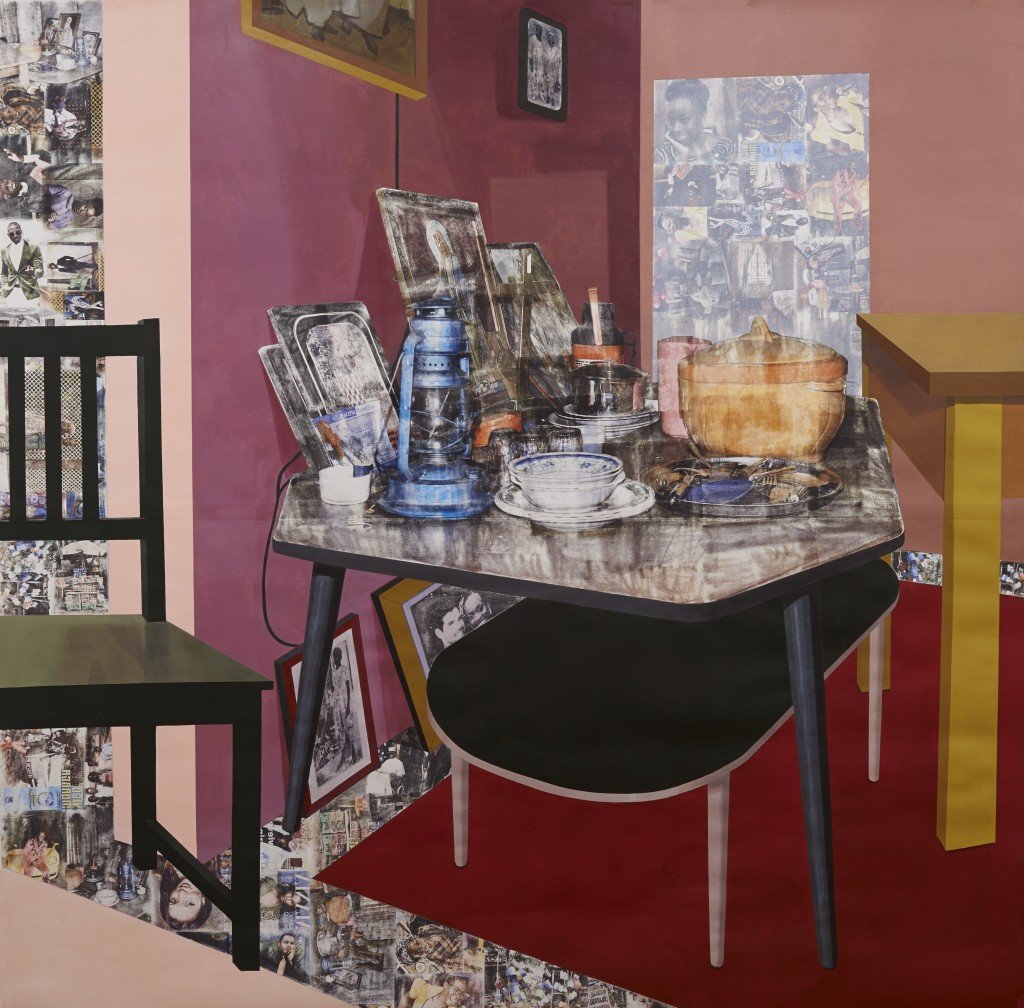 Born in Enugu, Nigeria, Akunyili Crosby was just 10 years old when she moved to the capital, Lagos, to attend one of the country's most prestigious boarding schools. Lagos presented her with her first taste of a multicultural place, and made her hungry for more. At 16 years old, she moved to the United States, after her mother won the U.S. green card lottery, allowing each of her children to go to the States.
Akunyili Crosby took her first painting class at a community college in Philadelphia, where she was advised to look into colleges with an art program. When she did not get accepted to Johns Hopkins to study medicine like her family wanted, she studied biology and art at Swarthmore College, where she met her future husband, fellow artist Justin Crosby. She pursued her MFA at Yale, which is when her artistic breakthrough occurred. At Yale, she discovered the artist Kerry James Marshall, who used the language of Western painting to depict black identity and intimacy. After Yale, she found mentorship in Kenyan-born, New York-based artist Wangechi Mutu. During Akunyili Crosby's time at the Studio Museum in Harlem, Mutu helped her see that an image could be composed of many others.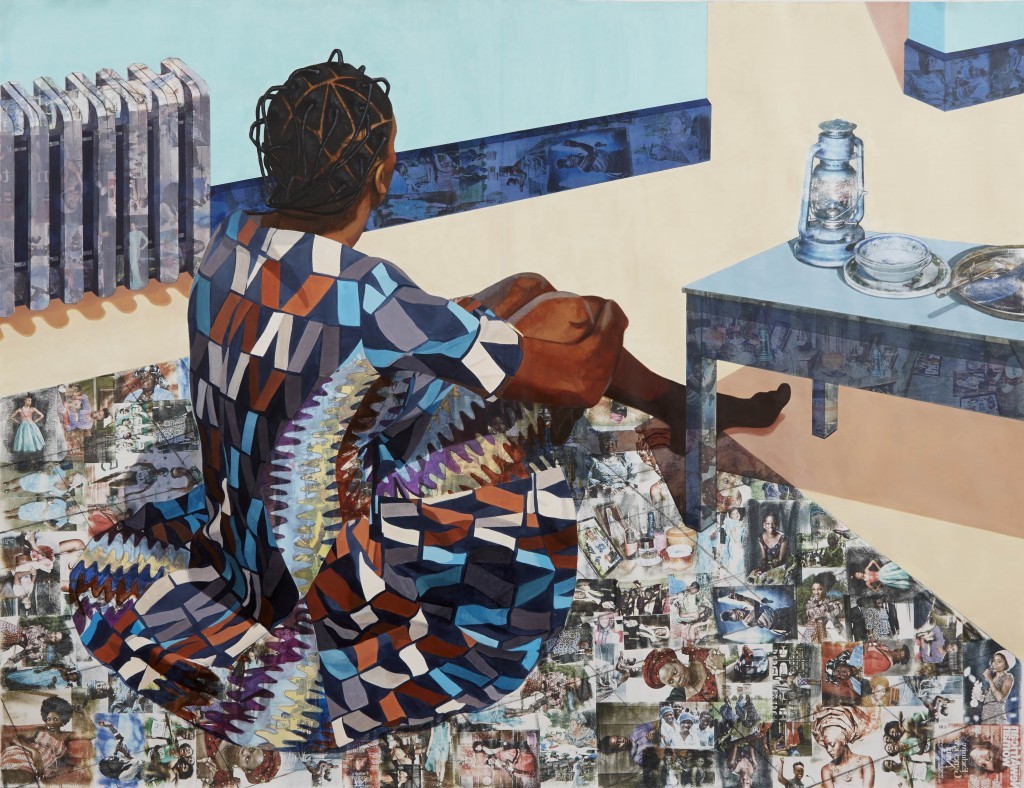 Akunyili Crosby, like Kerry James Marshall, began to use the language of Western painting to tell her hybrid stories. She adds colourful paint, fabrics, acrylic, photos, cut-outs from Nollywood films, advertisements, and Nigerian fashion magazines, to create vibrant paintings and collages that dance across the borders of her different identities. In an interview with W Magazine, Akunyili Crosby explained that she uses an approach similar to Nigerian author Chinua Achebe, who sometimes portrays characters speaking in their own dialects, which remain untranslated, as though to say to the person who does not speak the dialect: "This is not for you." Western audiences may find that they cannot decipher everything in Akunyili Crosby's work right away, while Nigerian audiences will be able to interpret symbols more easily.
Her paintings explore the post-colonial identity of the country where she grew up, and also portray the place that she and other immigrants occupy, a hybrid identity that does not fit into any box. She wants to depict the Nigeria that she knew and experienced, to show people that life exists in these places, that people thrive and love and talk just like anywhere else – in order to let people connect more to these places and people. As she told W: "It's hard to think people matter if you don't feel connected to them. And so it's about making that connection."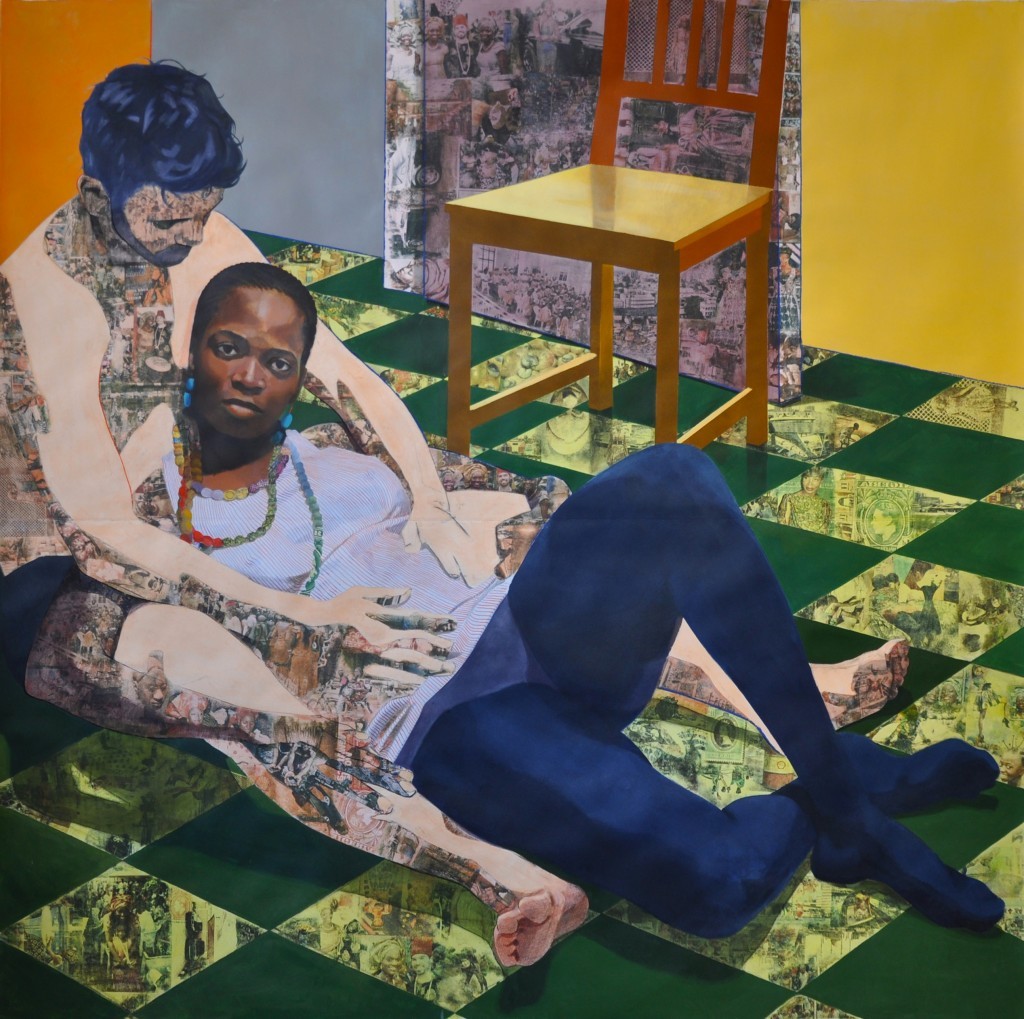 Akunyili Crosby's usual themes are private social gatherings, transcultural daily life, and intimate domestic situations (her relationship with her husband often features in her art, and she believes he is so deeply linked to her art because it was a big rebellion on her part to be in a serious relationship with a white man). Besides these themes, she is starting to move more towards darker topics such as casual everyday racism and racially loaded objects. With her paintings, she wants to hold a mirror up to people to make them aware of these problematic issues.
It usually takes the artist about three months to finish a painting. The process often starts with photos she takes of herself and her husband standing in for others. She then changes the faces, creating, in her words, a "fiction that could be true." The result is a stunning body of work which makes you desperate for more. Don't miss a chance to see her work in person.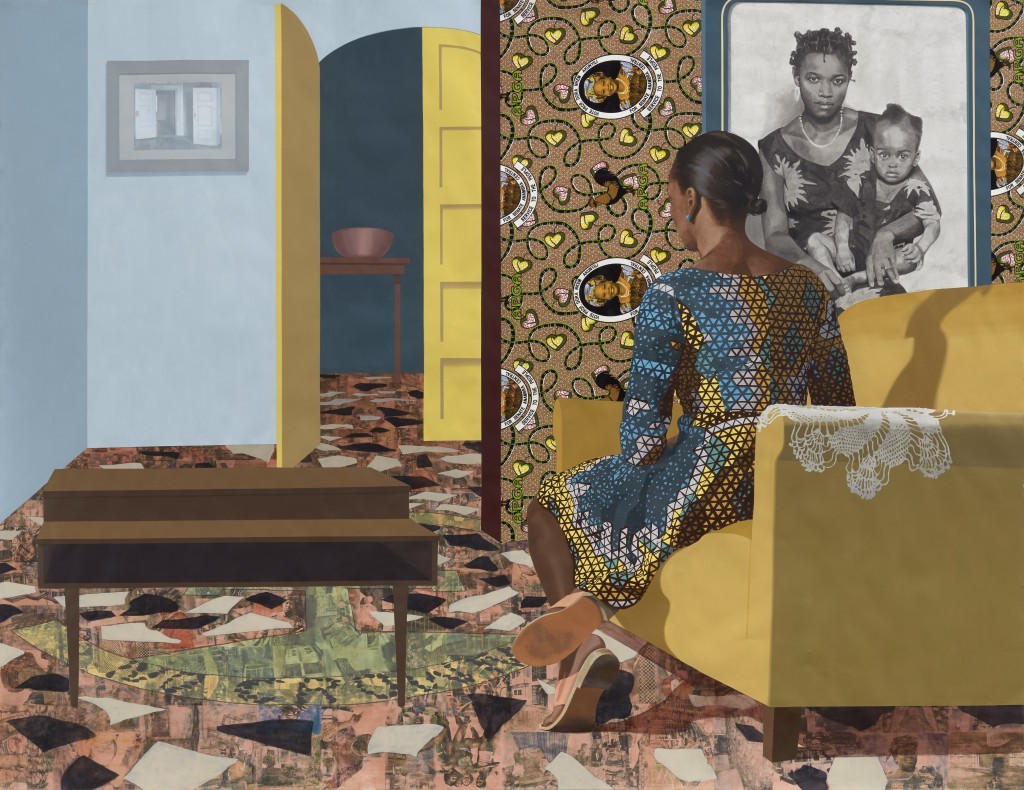 Recent and current shows include: "Opener 30: Njideka Akunyili Crosby: Predecessors" at the Frances Young Tang Teaching Museum and Art Gallery, Saratoga Springs, New York, December 2017; "Prospect New Orleans" in November 2017; "Front Room: Njideka Akunyili Crosby | Counterparts" at the Baltimore Museum of Art, October 25, 2017 – March 18, 2018; MOCA Mural – on view until December 2018; Hayward Gallery Billboard, on view till February 2019.
Artist website:
www.njidekaakunyili.com