Top 10 Light Art Artists in Modern and Contemporary Art
The use of light as a medium in the production of art has a long and varied history. Usually, in light art works, light is the main medium of expression—an art form in which either a sculpture of some form produces light, or where a kind of disembodied sculptural presence is created through the manipulation of light, colours, and shadows. These kinds of experiential installations can be temporary or permanent, and can exist in two distinctive spaces: indoor, such as gallery or museum exhibits, or outdoors at events like festivals. Light art can also be an interaction of light within a specific architectural space and can be tailored to interact with the architecture itself. We have chosen a selection of seminal contemporary artists—those that devote the majority or all of their creative experimentation to light— in order to trace a lineage of milestones through this distinctive medium.
---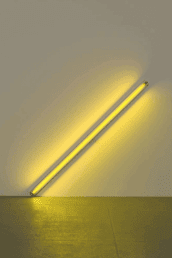 1. Dan Flavin
Flavin was an American minimalist artist famous for creating sculptural objects and installations from commercially available fluorescent light fixtures. In the summer of 1961, while working as a guard at the American Museum of Natural History in New York, Flavin started to make sketches for the first sculptures that incorporated electric lights, his 'Icons' series, consisting of eight colored shallow, boxlike square constructions made from various materials such as wood, formica, or masonite, and with incandescent and fluorescent bulbs attached to their sides. The Diagonal of Personal Ecstasy (the Diagonal of May 25, 1963), a yellow fluorescent tube placed on a wall at a 45-degree angle from the floor and completed in 1963, was Flavin's first mature work. Thereafter his work consisted of various configurations of single or multiple tubes, executed in a palette of hues including red, blue, green, pink, yellow, ultraviolet, and four different whites. In the decades that followed, he continued to use fluorescent structures to explore color, light and sculptural space, in works that filled gallery interiors. By 1968, Flavin had developed his sculptures into room-size environments of light, and in 1992, Flavin's original conception for a 1971 piece was fully realized in a site-specific installation that filled the Solomon R. Guggenheim Museum's entire rotunda on the occasion of the museum's reopening.
---
2. Robert Irwin
Irwin is an American artist who explores perception, most often through site-specific, architectural interventions that alter the physical, sensory and temporal experience of space. He began his career as a painter in the 1950s, but in the 1960s shifted to installation work, becoming a pioneer whose work helped to define the aesthetics and conceptual issues of the West Coast Light and Space movement, a loosely grouped collection of artists whose work is characterised by a focus on perceptual phenomena, especially light, volume and scale, and the use of (often technologically new or advanced) materials, including glass, neon, fluorescent lights, resin and cast acrylic. Whether by directing the flow of natural light, embedding artificial light within objects or architecture, or by playing with light through the use of transparent, translucent or reflective materials, Light and Space artists made the spectator's experience of light and other sensory phenomena under specifically controlled conditions the focus of their work. Since the late 1960s Irwin himself has focused on the siting of his work (as opposed to studio practice) by creating installations in rooms, gardens, parks, museums, and various urban locales, determining to pushing the boundaries of art and perception—the objective being an experience created by manipulating the context of environment rather than remaining with the confines of an individual work of art.
---
3. James Turrell
Turrell is an American artist, also associated with the California Light and Space artist movement. In 1965 he received a BA degree in perceptual psychology, and also studied mathematics, geology and astronomy, after which he enrolled in the graduate Studio Art program at the University of California, Irvine. In 1966, whilst there, he began experimenting with light in his Santa Monica studio by covering the windows and only allowing prescribed amounts of light from the street outside to come through the openings. In doing so he created his first light projections. In Shallow Space Constructions (1968) he used screened partitions, allowing a radiant effusion of concealed light to create an artificially flattened effect within the given space. That same year, he participated in the Los Angeles County Museum's Art and Technology Program, investigating perceptual phenomena in conjunction with the artist Robert Irwin and psychologist Edward Wortz. From 1969 – 1974 The Mendota Stoppages were developed by Turrell, and are considered a pivotal development of his oeuvre. He used several rooms in the former Mendota Hotel in Santa Monica which were sealed off, with the window apertures controlled by the artist to allow natural and artificial light to enter the darkened spaces in specific ways. Turrell is perhaps best known for his monumental work in progress, Roden Crater. He acquired an extinct cinder cone volcano located outside Flagstaff, Arizona, in 1979. Since then he has spent decades moving thousands of tons of dirt and building tunnels and apertures to turn this crater into a massive naked-eye observatory for experiencing various celestial phenomena in the clear desert sky overhead.
---
4. Mary Corse
Corse is an American artist whose work focuses on perceptual phenomena and the idea that light itself can serve as both subject and material in art. Her practice can be seen as existing at a crossroads between Abstract Expressionism and American Minimalism. She has often been associated with the male-dominated Light and Space art movement of the 1960s, although she was not actively involved or engaged with those artists during the inception of their era, and her role in the development of themes associated with this aesthetic has only been fully recognised in recent years. In the mid 1960s Corse developed an interest in white monochrome paintings, gravitating towards a controlled, geometric style of Minimalism. At the same time, she made shaped canvas paintings as well as three-dimensional works, for which she assembled columns out of plywood and joint compound that were then painted with white acrylic paint and sanded to remove any trace of her brushwork. In 1966, Corse started a series of works that encased fluorescent bulbs in Plexiglas boxes, and in 1968, she became interested in attempting to move these light boxes away from the wall without cords, necessitating the use of a Tesla coil, which supports wireless electricity. Corse completed courses in quantum physics at the University of Southern California in order to earn certification to handle large Tesla coils for increasingly ambitious works of this type. Nowadays, she is best known for her experimentation with radiant surfaces in conjunction with her minimalist painting aesthetic, incorporating materials that refract and reflect light in particular ways, especially glass microspheres, the tiny reflective beads commonly used to brighten highway lines.

Lost (and Found) Artist Series: Mary Corse
---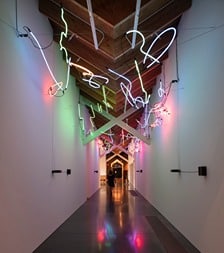 5. Keith Sonnier
Sonnier is an artist whose work developed in parallel to the minimalist generation of the 1960s, and in the generation immediately. Spanning postminimalism, performance, video and light art, Sonnier was one of the first artists to use light in sculpture in the 1960s, and has been one of the most successful and enduring with this technique. Sonnier was also a part of the Process Art Movement, where the end product of art and craft—the actual work itself—is not always the principal focus. The 'process' in process art refers to the various steps leading to the formation of art: the gathering, collating, and arranging actions and procedures of the constituent elements of an artwork. Process art is concerned with the actual doing and how these actions, as performed by an artist, can be defined as a work of art through their intentions. During the mid 1960s Sonnier became known for his radical reinvention of sculpture through his innovative and novel use of use of materials—media as varied as latex, satin, bamboo, found objects, satellite transmitters, and video were employed. In 1968, the artist began working with neon, which quickly became a defining element of his work. The linear quality of neon allowed Sonnier to draw in space with light and color, adding a performative and lyrical element to his signature use of light, while the diffuseness of the light enables his work to interact on various architectural planes in tandem with the physical environment.
---
6. Anthony McCall
McCall is a British-born, New York based artist renowned for his 'solid light' installations, a series that he began in 1973 with 'Line Describing a Cone', in which a volumetric form composed of projected light slowly evolves in three-dimensional space. Highly dramatic in their execution and unfolding, McCall's works occupy a unique space spanning cinema, sculpture, and drawing. McCall was a key figure in the avant-garde London Film-makers Co-operative in the 1970s. His earliest films are documents of outdoor performances that were notable for their minimal use of the elements, most notably fire. After moving to New York in 1973, McCall continued his fire performances and developed his 'solid light' series, beginning with the aforementioned Line Describing a Cone, in 1973. The 'solid light' series is largely premised on simple, animated line-drawings of rudimentary geometric or linear forms. The light is projected in these forms and strikingly emphasizes the sculptural qualities of the beam itself. This effect is augmented or emphasised by taking place in darkened, haze-filled rooms, where the projections can create highly illusory three-dimensional shapes, ellipses, waves and flat planes that gradually expand, contract or sweep through space. In these works, the artist sought to deconstruct cinema by reducing film to its principle elements of time and light, and by replacing the screen as the prescribed surface for projection with the three dimensional environment itself. The works also shifts the relationship of the audience to film, as viewers transition into participants, their bodies intersecting and modifying the transitory forms as the light passes over and around them.
---
7. Leo Villareal
Villareal is an American artist whose work combines LED lights, often in enormous quantities, with encoded computer programming to create illuminated displays. The work is premised on stripping systems down to their essence, often in a reductive way to focus on lowest common denominators such as pixels or the zeros and ones in binary code. As Villareal builds and layers the arrangement of LEDS, he programs them to move, change, interact and ultimately grow into complex organisms that are inspired by mathematician John Conway's work with cellular automata and the Game of Life. Thus his work explores not only the physical but adds the dimension of time combining both spatial and temporal resolution. Central to his work is the element of chance. The artist's goal is to create a rich environment in which emergent behavior can occur without a preconceived outcome. He is an active participant in the process through the careful selection of compelling sequences. These selections are then further refined and layered through simple operations such as addition, subtraction and multiplication. Parameters like opacity, speed and scale are also manipulated through the artist's custom software, creating compositions that are displayed in random order and for a random amount of time. Ultimately, the visual manifestation of code in light is at the core of Villareal's interest.
---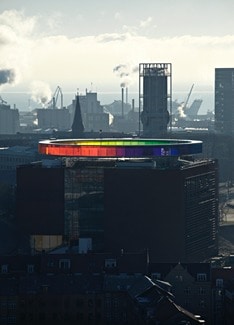 8. Olafur Eliason
Eliasson is a Danish-Icelandic artist known for sculptures and large-scale installation art employing the elements as materials, such as light, water, and air temperature in order to shape the viewer's experience and phenomenological responses, often to the natural world. In 1995 he established Studio Olafur Eliasson in Berlin, a laboratory for spatial research. He has represented Denmark at the 50th Venice Biennale in 2003 and later that year installed The Weather Project in the Turbine Hall of Tate Modern, London. His practice has been diverse, spanning a multi-disciplinary approach to art making, often incorporating collaboration with scientific or technical experts in various fields in order to add specific expertise or empirical exactitude to his work. His light installations include Room For One Colour (1998), a corridor lit by yellow monofrequency tubes, where the participants find themselves in a room filled with light that distorts the perception of all other colours. Another installation, 360 degrees Room For All Colours (2002), is a round light-sculpture where participants lose their sense of space and perspective, and experience being subsumed by an intense light. The work Your Rainbow Panorama consists of a circular, 150 metres (490 ft) long and 3 metres (9.8 ft) wide corridor made of glass in every colour of the spectrum. It has a diameter of 52 metres (171 ft) and is mounted on 3.5 metres (11 ft) high columns on top of the roof of the ARoS Aarhus Kunstmuseum in Aarhus. Visitors can walk through the corridor and have a panoramic view of the city. At night the artwork is lit from the inside by spotlights in the floor.
---
9. Ivan Navarro
Navarro is a Chilean artist, born during the Pinochet dictatorship, the politics and government of which have had a profound impact on his work, both in his choice of media, and in the meaning and thought process applied to his works. His experience growing up under the oppressive martial law of the Pinochet regime has inextricably shaped his artistic practice. His early conceptual works reflect the collective psychological trauma of his native country, combining mundane and domestic symbols with the visual language of power. During his childhood Navarro was used to electricity being shut off to keep citizens at home and isolated; "All the pieces that I've made make reference to controlling activity, and electricity was a way to control people." Navarro works extensively with light and infinity mirrors, in which viewers lose themselves in an apparently infinite space, as neon phrases or structures loom out, and suggest what lies beyond. These abyss-like works have been suggested to link back to Navarro's fear of being abducted as a child. The recurrent use of electricity in his works allude to the torture and human rights violations inflicted upon the Chilean population under Pinochet's reign. Similar themes are applied in a global context visiting ideas such as capital punishment, migration and propaganda as key points. Best known for these socio-politically charged sculptures of neon, fluorescent and incandescent light, Navarro's works activate both the sensorial and psychological experience in his viewer.
---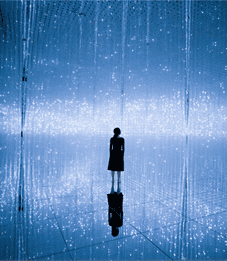 10. teamLab
Founded in 2001 in Japan, teamLab is a collective of artists, programmers, engineers, animators, architects, and mathematicians who seek to explore, through interactive light sculptures, how art, science, technology and design fit in with the natural world. They have been greeted by a mix of scepticism and rejection from the fine art and contemporary art community, who have perceived their efforts as being more akin to technology based entertainment. However, their work has met with extraordinary enthusiasm by the general public. The permanent museum called teamLab Borderless, and a temporary experience, teamLab Planets, opened last summer in Tokyo's Odaiba and Toyosu neighborhoods. General admission to each venue is $30, making the art experience a ticketed entertainment. Visitors to the teamLab Borderless museum interact with constantly shifting light sculptures, which move around the space, offering visitors the experience of a "museum without a map." Recently, it has been claimed that teamLab's Tokyo Museum has become the world's most popular single-artist museum destination, surpassing the Van Gogh Museum in Amsterdam in attendance numbers, and purportedly double the numbers posted by the three Dalí museums in Spain combined. In its first year of operation, teamLab Borderless in Tokyo attracted 2.3 million visitors, an astonishing box-office success boosted by a further 1.2 million visitors who enjoyed the collective's temporary immersive light experience in Japan's capital. While Japan has long been known to stage blockbuster-type shows, the attendance statistics demonstrate the appeal of immersive experiences, especially among millennials and members of Gen Z. According to the team, visitors came from more than 160 countries to experience the Tokyo installations, with nearly a third coming from the United States.
Discover & Buy Contemporary Art