Articles and Features
Unveiling Renée Stotijn's Hidden Art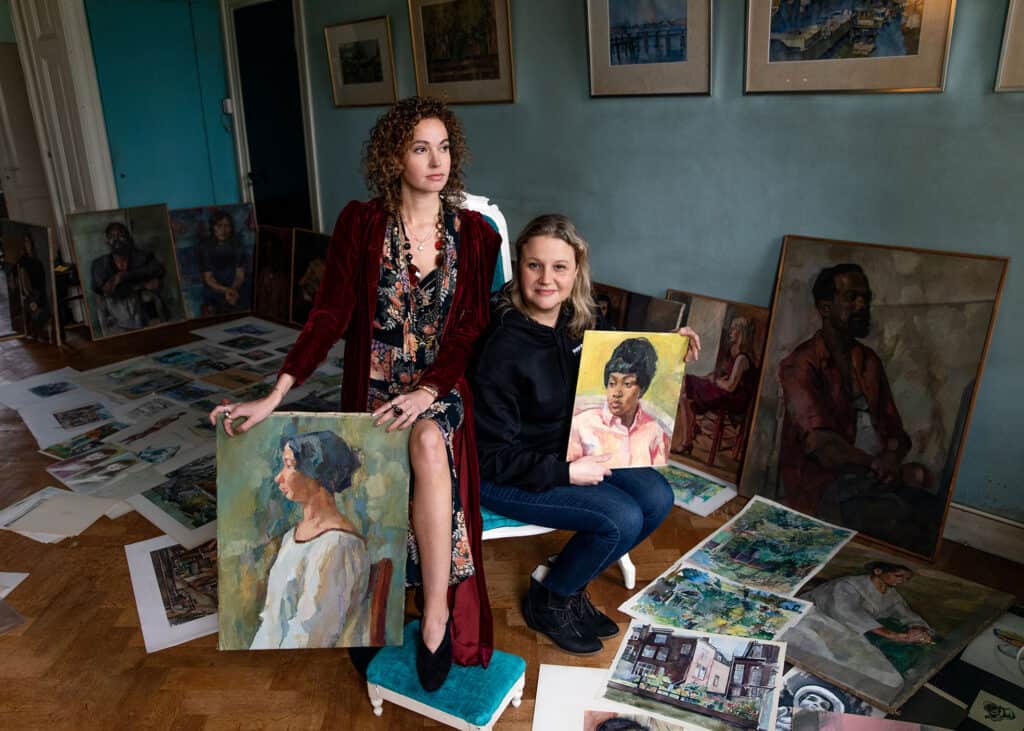 By Shira Wolfe
"What was particularly surprising for us was our discovery of her oil paintings of people, all these portraits of different characters. They really touched us. She truly managed to capture entire personalities on canvas, and I had no idea that she was capable of that. That's a huge talent, to be able to touch people so deeply."

Zaphira Bor
This week, we share the incredible story of Renée Stotijn (1940-2020), a Dutch artist from Amsterdam who passed away in June 2020 and left behind a treasure trove of artworks, hidden behind secret panels around her apartment. When her two daughters, Esmee and Zaphira, were clearing out the apartment, they stumbled upon around 2000 artworks they had never seen before. The artworks will be on display in the summer in an exhibition at the Beurs van Berlage, the former headquarters of the Netherlands Philharmonic Orchestra and Netherlands Chamber Orchestra. An extremely fitting venue, since Renée Stotijn comes from a family of well-known Dutch classical musicians, and her husband, Dick Bor (1944-2007), was the concertmaster of the Netherlands Philharmonic Orchestra for many years.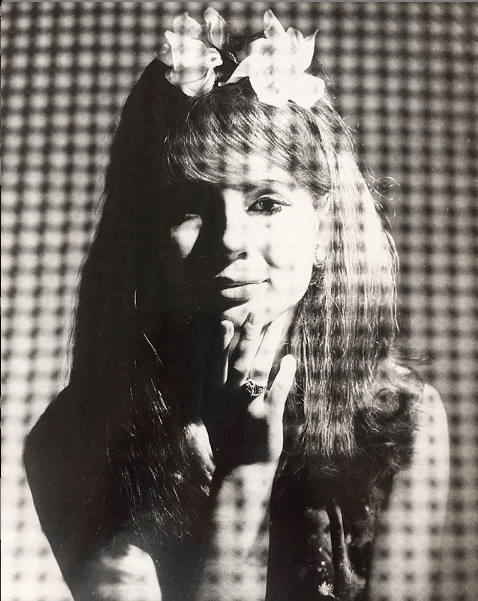 Who Was Renée Stotijn?
Renée Stotijn grew up in Amsterdam in a well-respected Dutch family of musicians – her father was the solo oboist at Amsterdam's lauded Concertgebouw Orchestra. She was also musically talented, singing and playing the piano, but her real passion lay with painting. In the 1960s, she studied at the Rijksakademie van Beeldende Kunsten (State Academy of Fine Arts) in Amsterdam. Her talent was soon recognised and she was given her own studio in the building, a privilege reserved for the most excellent students. It is during this period that she painted some of her most powerful works: the arresting oil on canvas portraits of (mostly anonymous) models, and soulful cityscapes of Amsterdam.
After the academy, Renée continued to paint and worked as an art restorer at the Rijksmuseum. She also gave tours at the Van Gogh Museum and the Stedelijk Museum in Amsterdam. However, as her daughters Esmee and Zaphira explained, this all stopped when she was diagnosed with breast cancer in 1972. She had to undergo a severe operation which made it very difficult for her to paint with oil paint as she used to. The process was too physically taxing, which led her to work with other, lighter materials such as watercolours and pastel.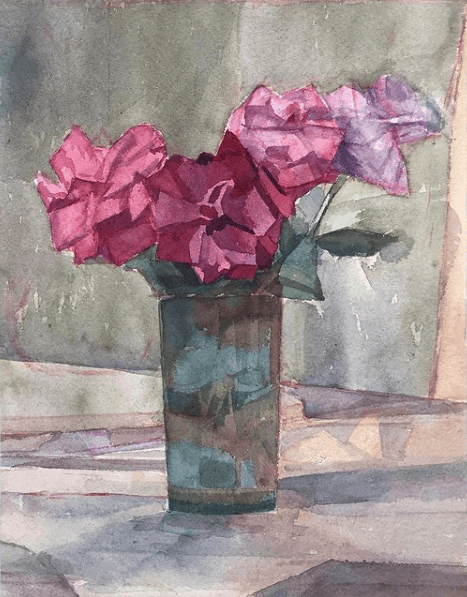 When asked to describe their mother and her life as an artist, the sisters talk about her strong-mindedness and eccentricity. She didn't abide by the conventional social niceties, and everything in their family was very different from how the average Dutch household was run. "If you'd have known my mother, everything went so slowly," explains Esmee. "A morning ritual would easily take 5 hours, and I'm not exaggerating. So it all took so much time and she had such a complicated, personal way of doing the daily things." Renée was married to the violinist Dick Bor, and the couple are known for being among the first people in the Netherlands to have a relationship while living separately. Both needed space for their creative development, careers, and singular characters. Renée's sister Marion lived in the lower part of her building and had a very similar living arrangement with her husband. The two sisters were extremely close all their lives, but even Marion was not aware of the art her sister had been hiding for all those years.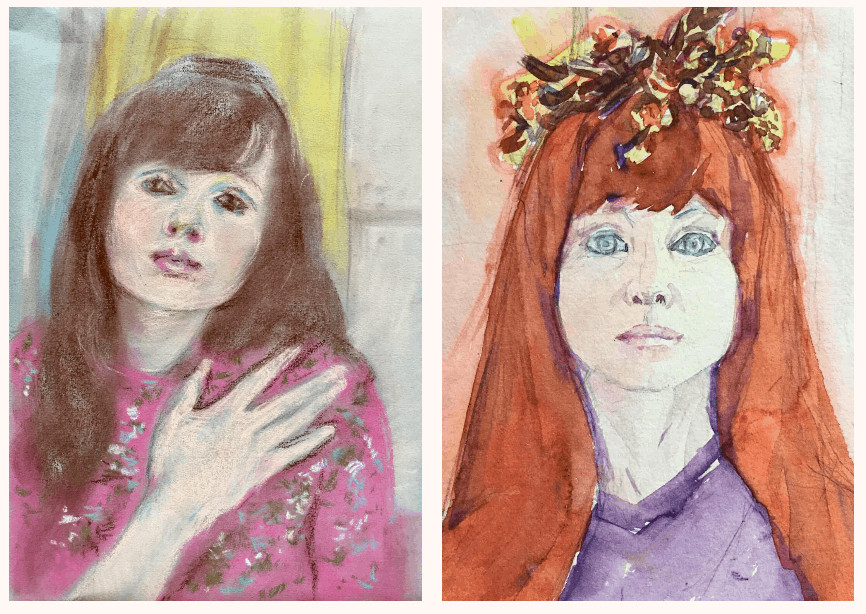 And Esmee and Zaphira, though they spent most of their childhood and teenage years living with their mother, also had no idea. Renée was very protective over her things and wouldn't let them touch her art. In the last years of her life, Renée became obsessed with painting peony roses. Therefore, the image the sisters had of their mother's art was mostly of watercolour flowers and some paintings of dolls, which Renée collected.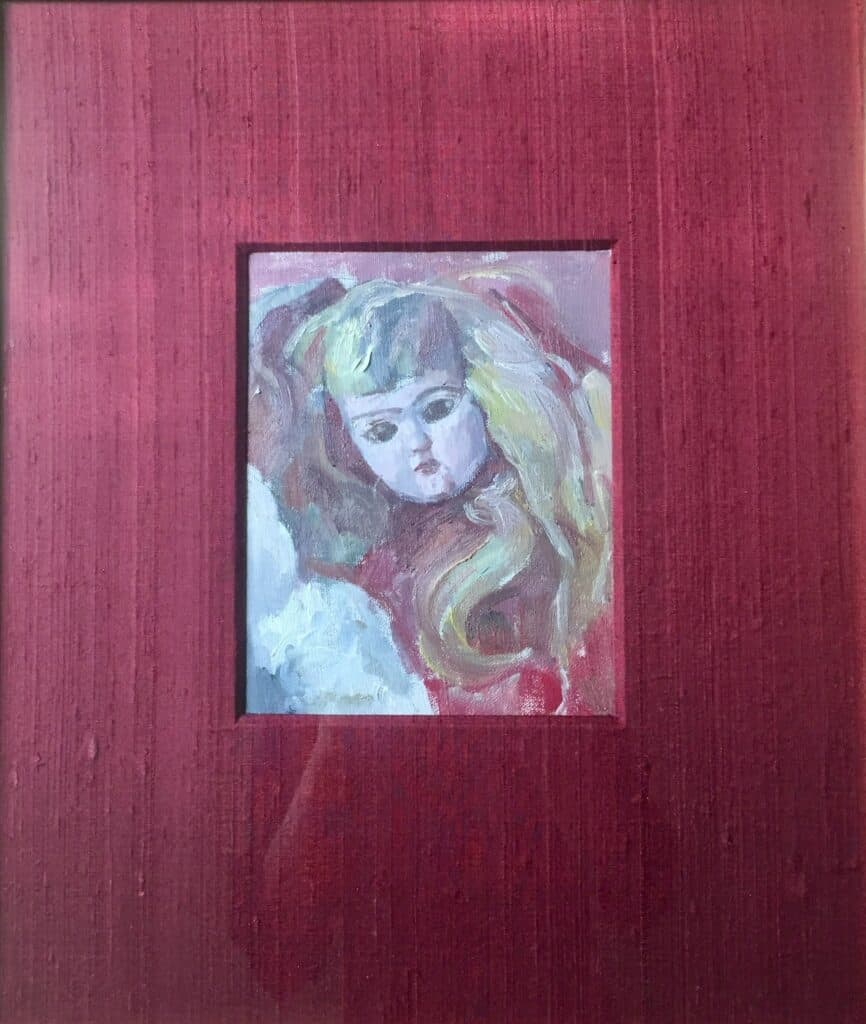 "If you'd have known my mother, everything went so slowly. A morning ritual would easily take 5 hours, and I'm not exaggerating. So it all took so much time and she had such a complicated, personal way of doing the daily things."

Esmee Bor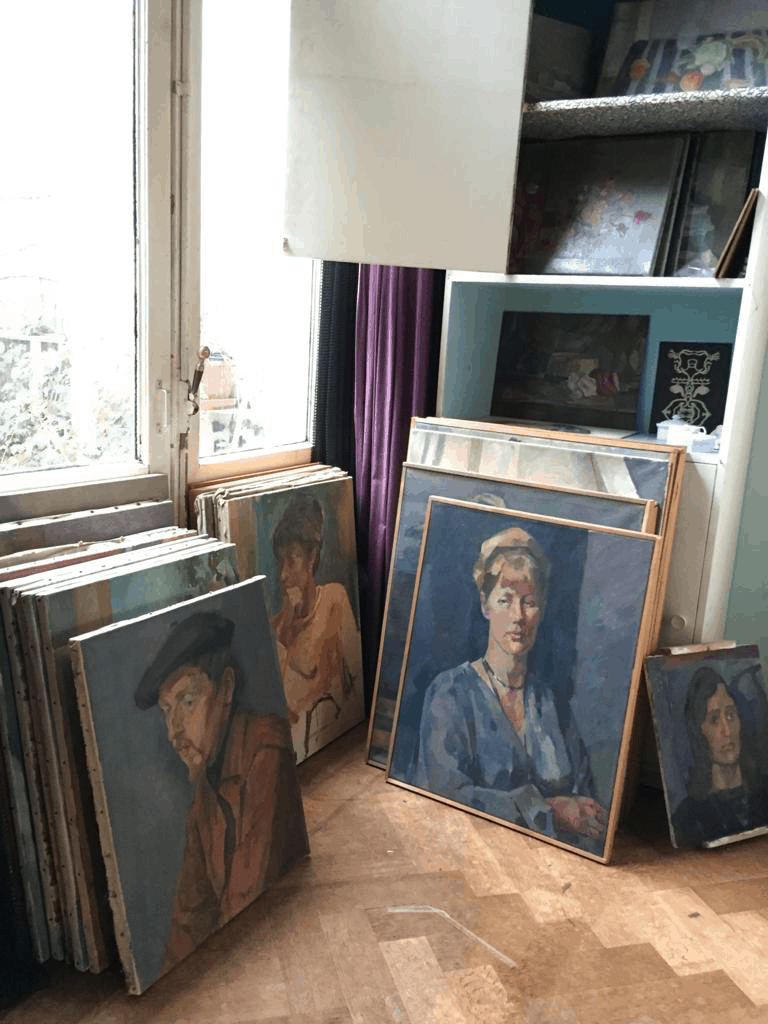 Discovering the Hidden Artworks
Renée passed away in June 2020, after another fight with breast cancer. While clearing out their mother's home, Zaphira, Esmee and their aunt Marion stumbled upon artworks hidden behind secret panels in the ceilings and cupboards. All in all, there are about 2000 works. Struck by the powerful portraits and faces of Amsterdam, Zaphira created an Instagram page for Renée and started posting photos of her paintings there. Within no time, the page started attracting many followers, art lovers and connoisseurs from around the world. "What was particularly surprising for us was our discovery of her oil paintings of people, all these portraits of different characters," explains Zaphira. "They really touched us. She truly managed to capture entire personalities on canvas, and I had no idea that she was capable of that. That's a huge talent, to be able to touch people so deeply."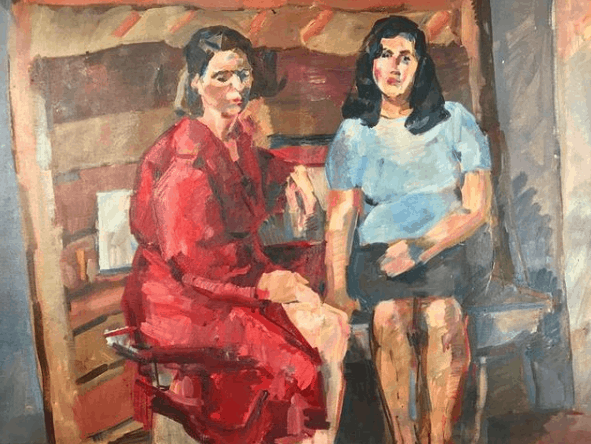 Several works have been exhibited in a digital exhibition at M.A.D.S. Gallery in Milan. Since, the sisters received an offer from the Beurs van Berlage to do an exhibition of Renée Stotijn's discovered art. The historic building in the centre of Amsterdam was designed by architect Hendrik Petrus Berlage and initially housed the stock exchange. Between 1985 and 2012, the Netherlands Philharmonic Orchestra and Netherlands Chamber Orchestra had their headquarters in the Beurs, and rehearsals took place there. The exhibition will be on view from 31 July till 19 September 2021.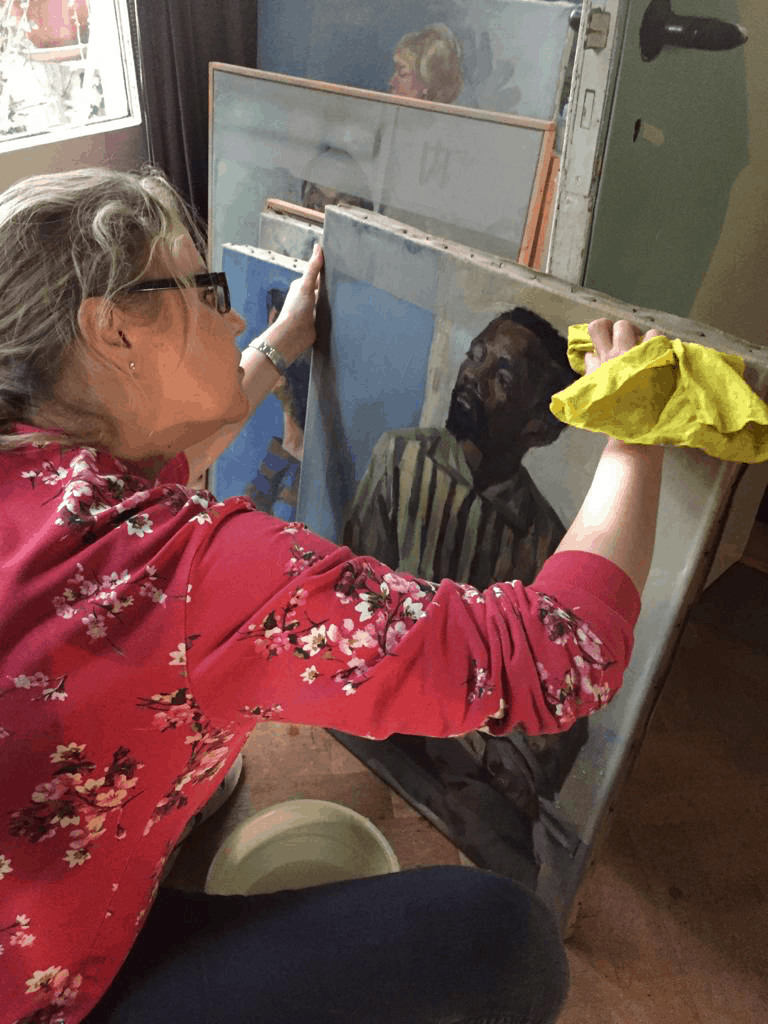 When asked what their mother would have thought about this attention and the exhibitions, Esmee and Zaphira agree she would have been thrilled about what they achieved and how people are responding to her art. On the other hand, she probably would have been in a state if she had seen how they were handling her works, since she had always been so sensitive about letting other people near her art. And why did she choose to hide all these works of art from the world, and even from her closest people? Nobody knows for sure, but they can only speculate that she was too afraid something bad would happen to the art if she showed it to others, and that she may have been upset that she could no longer paint oil on canvas paintings like before. She was also quite a perfectionist.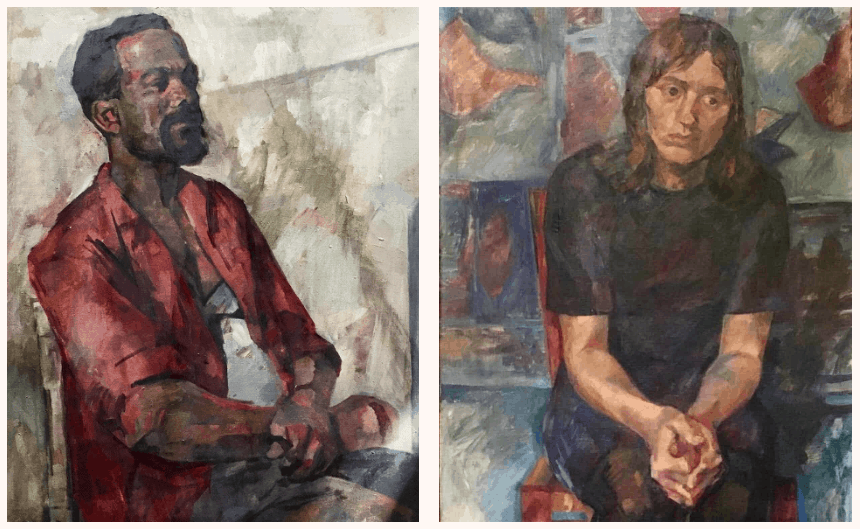 Portraits and Cityscapes
Renée rarely gave her artworks titles, and almost all her models are anonymous. They were probably models who came to sit for the artists at the art academy. Zaphira and Esmee are therefore naming the works themselves, diving into their mother's world and vision and reconstructing how she experienced people and the world around her. "We found a beautiful portrait of a man, I kind of fell in love with him, that's no secret!" laughs Zaphira. "We called him The Longing Man/Oedipus, and made up this whole story around him."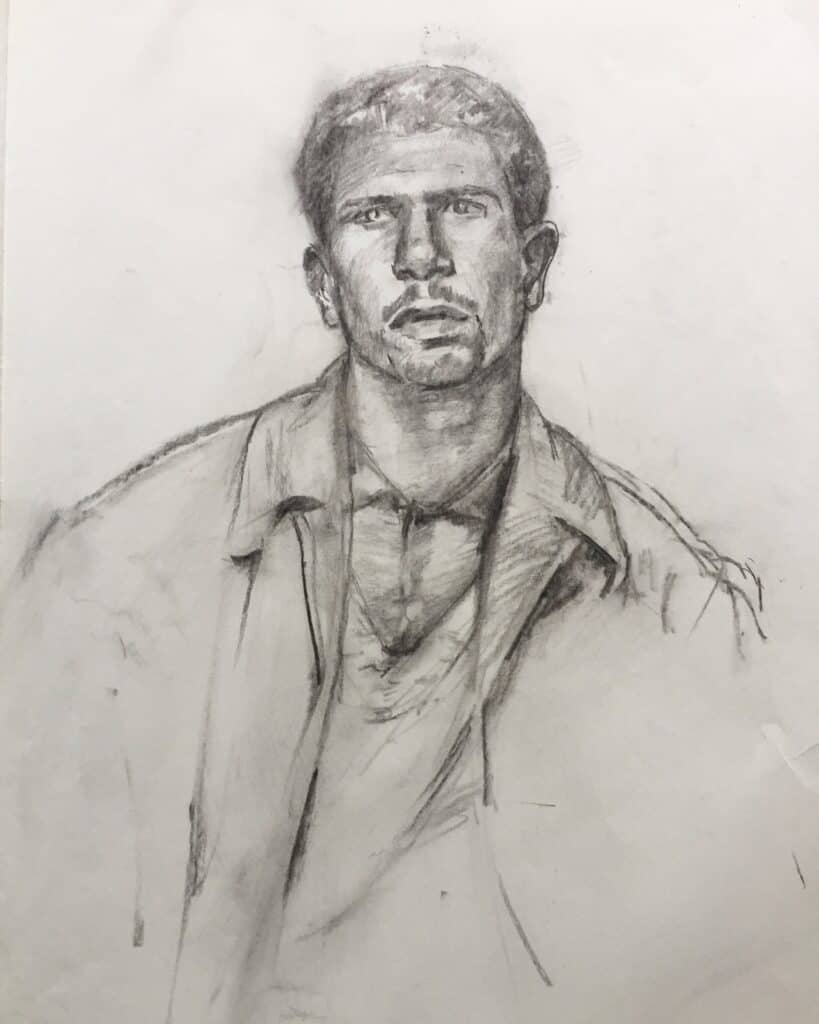 The portraits capture something of the essence of Amsterdam in the '60s – the style, the expectation of the times, and the carefree pride of being an Amsterdammer. The sisters believe their mother truly knew how to capture the inner world of her subjects. It also seems she was searching for a certain moment of stillness and reflection in the people she painted. In each portrait, there is something about the expression which makes you feel like these people found a moment to meditate on their lives while sitting for Renée.
Renée was a true Amsterdam spirit, who cared a great deal about the city's monuments and heritage. She fought to save various cultural heritage sites in the city, and her love for these buildings and places is reflected in her beautiful cityscapes. One of the strongest works in this series is Winter Weesperzijde from 1966, a view of the Amstel river from her home on the Weesperzijde in winter. Her cityscapes are largely done in watercolour, yet reveal the same excellent technique, composition and vision as her oil on canvas portraits.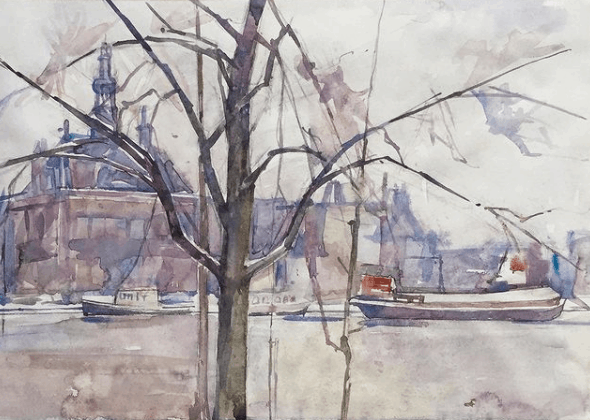 What's Next for Renée Stotijn?
For now, Zaphira and Esmee are focused on the upcoming Amsterdam exhibition at the Beurs van Berlage. With this, they are connecting their mother, her legacy, and the Amsterdam of the past with the present-day. Renée's art, and her unique story, are a valuable addition to the city, and to the art world at large.
Relevant sources to learn more