The 10 Most Powerful Players in the Art World Today
By Shira Wolfe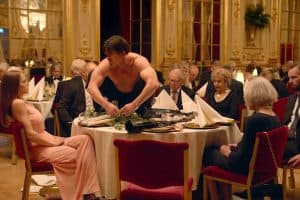 There's that scene in Rüben Ostlund's 2017 film The Square where a fancy dinner party at the contemporary art museum is disturbed by brutal performance artist Oleg, who terrorises the helpless and totally lost rich and beautiful with his animalistic rage. Neither suave museum director Christian, nor the celebrity artist invited to the dinner, nor any of the attendees are able to cope with this total loss of control and raging chaos. This hilarious and painfully uncomfortable scene satirises the rich and powerful art world elite. We all secretly love to wonder about what goes on in the worlds of contemporary art's most powerful and fabulous. So let's have a look at the most powerful players in the contemporary art world today, and sneak a peek into their worlds! (Note: the harsh reality of the white male-dominated art world is reflected in this list, following from Art Review's Power 100, as 7 of these gallerist superstars are white men).
1. Hans Ulrich Obrist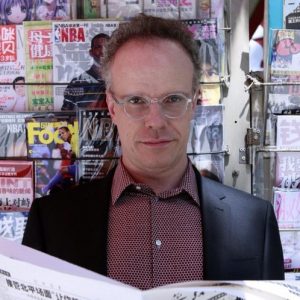 In 2016, Hans Ulrich Obrist was voted the #1 most powerful person in the art world according to Art Review. Somehow HUO, as he is commonly referred to, manages to combine his job as director of London's Serpentine Gallery with curating cutting-edge shows all over the world, giving lectures, and writing books. He is also on the advisory team of Luma Arles, the foundation supporting artistic projects focusing on environmental issues, human rights, education, and culture. Oh, and have we mentioned his eccentricities? He employs an assistant to transcribe and edit his hundreds of interviews, between the not-so-modest hours of midnight to 6am!
Fun facts about HUO:
He speaks a million miles a minute, loves to quote everyone from science fiction writer J.G. Ballard to postcolonial scholar Homi Bhabha, and is obsessed with unfinished or unrealised projects. Oh, and then there's the yearly Marathon he organises at the Serpentine Gallery, which is a festival that combines what HUO has learned from his travels, his reading, and his interviews, with a mixture of exhibitions, performances, and panels. After the first Marathon in 2006, during which he and Rem Koolhaas co-hosted a 24-hour rolling interview session, he was so exhausted he checked himself into the hospital! Now he jogs every morning in Hyde Park to stay fit.
2. Adam Szymczyk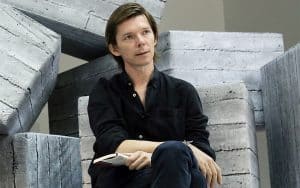 Adam Szymczyk quickly made a name for himself as the enfant terrible of the art world. This Polish curator and director of Kunsthalle Basel is not an easy guy, but his brilliance lies in his anti-politically-correct, boundary-breaking approach. The artist director of documenta 14, Szymczyk curated a phenomenally controversial documenta in Athens in the midst of the migration crisis, which got accused of encouraging disaster tourism and was notoriously vastly over budget. The New York Times has called him a curatorial rock star and his reputation for his avant-garde approach to contemporary art makes him extremely high in demand. What makes him stand out in particular is his promotion of unknown artists – he always brings a powerful element of surprise to the table.
Best Adam Szymczyk quote:
"I am not a tiger with two heads, I am a human being, and so are all my colleagues, more or less. We had one dog in the team but it left…"
3. David Zwirner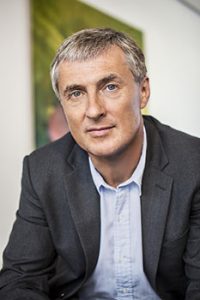 David Zwirner is the head of a New York, London and Hong Kong gallery empire. His galleries represent over 40 artists and estates and have been showcasing innovate and pioneering exhibitions in various media and genres since 1993. Artists the likes of Chris Ofili, Jeff Koons, Yayoi Kusama, Donald Judd, Marlene Dumas and Richard Serra have all had exhibitions at David Zwirner's galleries. From 2000 to 2009, he also partnered with Iwan Mirth, our next power figure in art, for their gallery Zwirner & Wirth on the Upper East Side. Their impressive exhibition cycle included exhibitions such as Gerhard Richter: Early Paintings, Bruce Nauman, Cy Twombly: Letter of Resignation, Claes Oldenburg: Early Work, David Hammons, Joseph Beuys: Sculpture and Drawing, and Dan Flavin: The 1964 Green Gallery Exhibition.
Fun facts about David Zwirner:
He's not afraid to speak his mind, which doesn't always make him super beloved – like when he openly praised billionaire collector Steven A. Cohen at Art Basel Miami Beach, whose hedge fund is under federal scrutiny for insider trading. His relationship with the artists he represents is like one between family members – read: lovingly dysfunctional! But he always stays loyal to his artists, no matter how big the disagreement or fight is they've had.
4. Iwan and Manuela Wirth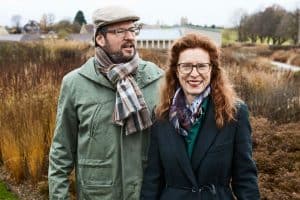 These gallerists own spaces in Zurich, London, New York, Los Angeles and Somerset. These two not only have an expert eye for important artists, but also understand art collecting as a lifestyle like no other. For example, they're renovating a boutique hotel in Braemar, Scotland which will be filled with works by the artists they represent. They also run an art-filled guesthouse at their gallery in Bruton, Somerset. And like all art-world power figures these days, they're opening up a gallery in Hong Kong and have offices in Beijing and Shanghai.
Fun facts about the Wirths:
Apparently, Iwan Wirth was so flustered after meeting Manuela for the first time that he drove his car into a fence, while her first impression of him was less than positive as she found him arrogant and young. Nowadays, the couple throws fête-style parties at their countryside abode to which they invite the entire village.
5. Gavin Brown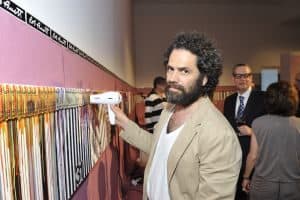 This British-born gallerist is now working between New York and Rome and has made some bold decisions during his career. He chose to locate his second New York gallery in Harlem, which is not your usual New York City gallery neighbourhood. He staged Arthur Jafa's debut gallery show there just after the US elections, tackling the importance of the matter of black life in the US. His other galleries are located in New York's Chinatown and in Rome. He also hosts talks aimed at formulating a response to the changing political and cultural landscape in America. Fun fact – Brown has been called a 'punk anarchist' gallerist. He first made waves in New York in 1993 when he rented out Room 828 at the Chelsea Hotel to present the work of then still unknown painter Elizabeth Peyton. He invited people by postcard invitations and drew around 50 likeminded spirits.
Best Gavin Brown quote:
In answer to the question 'what are gallerists?': "We are Charon, ferrying artists safely across the river Styx to the afterworld."
6. Larry Gagosian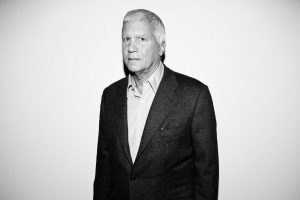 Larry Gagosian is kind of the monster gallerist of the art world. With 16 venues worldwide putting on museum-quality exhibitions Gagosian, who is responsible for $1 billion in art sales annually, is like an omnipresent god-figure. Gagosian is widely regarded as the most powerful art dealer in the world, to the extent that other gallerists often feel the need to dissociate from him, claiming they refuse to become like him (David Zwirner, for example, said that "it's silly" to have so many galleries all over the world). Some of his exhibition highlights include solo exhibitions for Cy Twombly, Ed Ruscha, and Helen Frankenthaler. And then he turns around and whips out a bunch of Picasso shows because, you know, he can.
Fun facts about Larry Gagosian:
He lived with Jean-Michel Basquiat and Madonna for a while in LA, and Madonna used to chauffeur them around after Gagosian lost his driver's license. He was also the one who decided to put on a show of Andy Warhol's oxidation paintings (or as Andy called them, his 'piss paintings'). They were having lunch and Andy said nobody liked them, so Gagosian took a look and said he thought they were pretty cool. The rest is history.
7. Maria Balshaw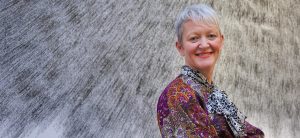 After 11 years of being the director of the Whitworth, as well as being the director of Manchester City Galleries since 2011, Maria Balshaw became the new director of Tate Galleries. This makes her the very first female director of the Tate, taking over from none other than Sir Nicholas Serota, who had held the post for nearly three decades. She's a strong politician and bureaucrat, which will come in handy while running the Tate's four sites. The first exhibition to open on her watch is Soul of a Nation: Art in the Age of Black Power. This exhibition questions what it means to be a black artist in the US during the civil rights era, and at the beginning of the Black Power movement.
Fun facts about Maria Balshaw:
She tweets on everything, from her Christmas gold brogues to her broken wrist "from a big man falling on me in yoga class". Close friends include rock star artists such as Marina Abramović and Cornelia Parker.
8. Marian Goodman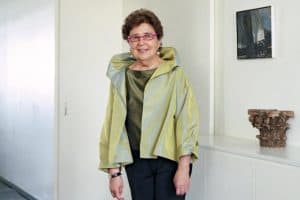 Marian Goodman owns galleries in New York, Paris and London and celebrated the 40th anniversary of her 57th Street gallery last year. She may be 90 years old but she's still going strong: representing the likes of Pierre Huyge (Art Review's 2017 Power 100 #1), Yang Fudong, Adrian Villar Rojas, David Goldblatt, William Kentridge and Julie Mehretu. She's been called the most respected dealer in New York, and has represented heavyweights Gerhard Richter, Steve McQueen and Joseph Beuys. In fact, she is one of the people responsible for Richter's huge success. In the 1980s as an up-and-coming New York gallerist, she recognised Richter's greatness, in the midst of all the loud expressionists of the time, and decided she had to represent him. She wrote him a letter telling him how much she loved his work and wanted to support him. Now he's the world's most expensive living artist.
Best Marian Goodman quote:
"Some people are born naturally confident, I wasn't. I wasn't part of the daily dialogue. I just felt like I had my own instinct. It's not just about having an eye."
9. Monika Sprüth & Philomene Magers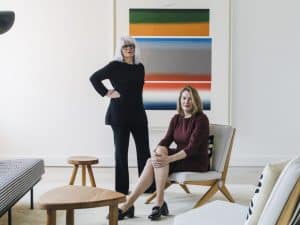 Sprüth & Magers merged their galleries in 1998 and started out in Cologne, but they soon expanded into international territory with other galleries located in Berlin, London, and Los Angeles and an outpost in Hong Kong. They have a solid list of blue-chip artists like Cindy Sherman, Barbara Kruger, Kraftwerk, Jon Rafman and Analia Saban. The tireless gallerists work with over 60 artists and estates and boldly tackle extremely important but difficult topics that some museums still hesitate to take on, such as their 2017 show Power in Los Angeles, which was a survey of African-American female artists from the nineteenth century to the present day.
Best Sprüth & Magers quote:
"We do sometimes disturb one or other of our male colleagues. They don't understand how it can work the way we are. They are irritated. Which is nice, to irritate them a little bit."
10. Marc & Arne Glimcher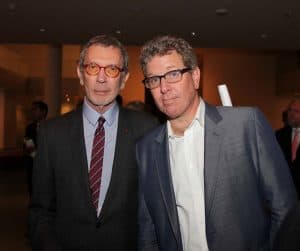 And then there are the Glimchers – the first father, then son-run Pace Gallery, one of the leading galleries in the contemporary art scene. Pace was first founded in Boston in 1960 by Arne Glimcher. Son Marc Glimcher is the current President and CEO. Today, Pace Gallery operates three spaces in New York City, and other spaces are located in London, Beijing, Hong Kong, Palo Alto, Seoul and Geneva. And on top of this, there is Future\Pace, which offers a pioneering approach to commissioning art 'in the public realm'. Pace represents contemporary stars like Adrian Ghenie, one of today's highest-selling artists, Nigel Cooke and Tara Donovan, but also represents the estates and careers of 54 leading artists ranging from Mark Rothko to Willem de Kooning and Jean Dubuffet. No small feat!
Best Arne Glimcher quote:
"Why would I want to be the guy with $85 million when I could be the guy with the Barnett Newton?"