The Visual Activism of Zanele Muholi 
By Shira Wolfe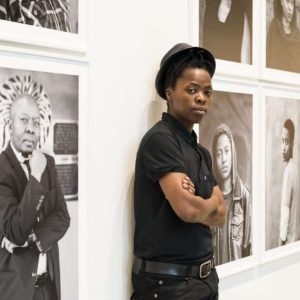 Zanele Muholi does not define themself as an artist, but rather as a visual activist. Growing up in a Durban township in South Africa in 1972, Muholi struggled with the homophobic and violent society surrounding them. Photography came into their life thanks to the Market Photo Workshop, a photography school started by famous South African photographer David Goldblatt in Johannesburg. The school was meant as a place of creative development and possibilities for young students without financial means. According to Muholi, photography saved their life. As they told The Guardian: 'I use art as my own means of articulation. And it heals me. When I really needed therapy and I wasn't willing to sit with a shrink, I started to take photographs.'
When Muholi began with photography, one of their goals was to start compiling and recording a visual history of LGBTQI communities in South Africa. For this purpose, they set up Inkanyiso ('Light'), a multimedia Internet platform meant to educate and empower queer black women to tell their own stories.
Photos: Zanele Muholi, via Medium.com                 
One of Muholi's most impressive projects is called Faces and Phases, a series of portraits of South Africa's lesbian and transgender community, commenced in 2006 and which Muholi considers to be their life's work. In 2006, South Africa legalised same-sex marriage, yet discrimination and violence against LGBTQI people remain widespread. Faces and Phases is a collection of striking, bold portraits of South African lesbians as they have chosen to be portrayed. The portraits are often of Muholi's close friends or friends of friends, creating images that are as intimate as they are arresting – Muholi's visual activism brings these faces and their right to determine their own lives into the collective subconscious.
In a country where LGBTQI people are constantly discriminated against and violently harassed and attacked ('corrective' rapes and murders of lesbians are a brutal reality in South Africa), Muholi's work is a deeply necessary and immediate response to these horrific acts. Muholi has lost many friends to hatred and violence, and has themself been threatened and sometimes worries about their safety. At one point, someone broke into their house and stole hard drives containing photographs. But they refuse to back down. As they told The Guardian, 'This work needs to be shown, people need to be educated, people need to feel that there are possibilities. (…) We cannot be denied existence.'
Somizy Sincwala, Parktown, Johannesburg, 2014  and Yaya Mavundla, Parktown, Johannesburg, 2014 – Photos: Stevenson
Muholi is steadily gaining recognition in the art world as they tirelessly continue to document and empower the LGBTQI community in South Africa. In 2013, they won the prestigious Dutch Prins Claus Award; that same year, their photographs were exhibited in the South African pavilion at the Venice Biennale; in 2015, the Stedelijk Museum in Amsterdam purchased four of Muholi's works; and in 2017, the Stedelijk Museum hosted an important solo exhibition of Muholi's photographs. The exhibition included works from their most recent series Somnyama, Ngonyama (Hail the Dark Lioness), and selections from two other important series, Faces and Phases and Brave Beauties (2014-present), a photo series about the South African transgender community.
1. Zanele Muholi, Bester I, Mayotte, 2015 2. Faniswa, Seapoint, Cape Town, 2016 3. Zanele Muholi, Bester V, Mayotte, 2015 © Zanele Muholi. Courtesy of Stevenson, Cape Town/Johannesburg, and Yancey Richardson, New York. Stedelijk Museum Website
Somnyama, Ngonyama is an ongoing series of 365 self-portraits of the artist. "You live as a black person for 365 days, there are a lot of events and experiences that you go through in a year. I wanted to map those important or specific moments," they told The Guardian. Muholi's fascinating, deeply evocative black and white self-portraits are based on their own experiences, as well as on friends' experiences and media reports of hate crimes. Recreating the emotions from past experiences and impressions for their self-portrait series is a painful affair for Muholi, but one that is necessary to show people: "We are here, we exist, we resist, we persist."
Somnyama, Ngonyama is currently on view at New Art Exchange in Nottingham, UK until 24 June 2018. Muholi's first institutional solo exhibition in Argentina runs until 27 May 2018 at Museo de Arte Moderno de Buenos Aires. For other current exhibitions of their work, see here.
f