Interview
Art and Technology That Connect Us: In Conversation With Artist-Curator Yuge Zhou
By Adam Hencz
"I observe pseudo communities, groups of people that get together and drift away, especially in urban environments."

Yuge Zhou
Beijing-born, Chicago-based artist Yuge Zhou is tapping into territories where art, technology and science entangle. Her video installations enclose the audience within an immersive experience of urban sprawls where she finds meaning and affiliation in the mundane moments of city life. She draws on her own experience as a hybrid of two cultures to explore the underlying fabric behind human interactions and connections, playing with concepts such as isolation and longing across urban and natural environments.
Yuge holds a master of Computer Engineering from Syracuse University and another in Fine Arts from the Art Institute of Chicago and has exhibited across the United States, Japan, Hong Kong and beyond, including the Ars Electronica Festival in Linz, Austria. She is also the director and curator behind Chicago's unique public art installation project, the 3300-square-foot 150 Media Stream, having worked with over forty established and emerging media artists and institutions to create innovative programming each month that engages a cross-section of diverse communities. In our conversation with Yuge Zhou, the artist-curator shared her experience between two cultures and gave an insight into her creative process and artistic mission.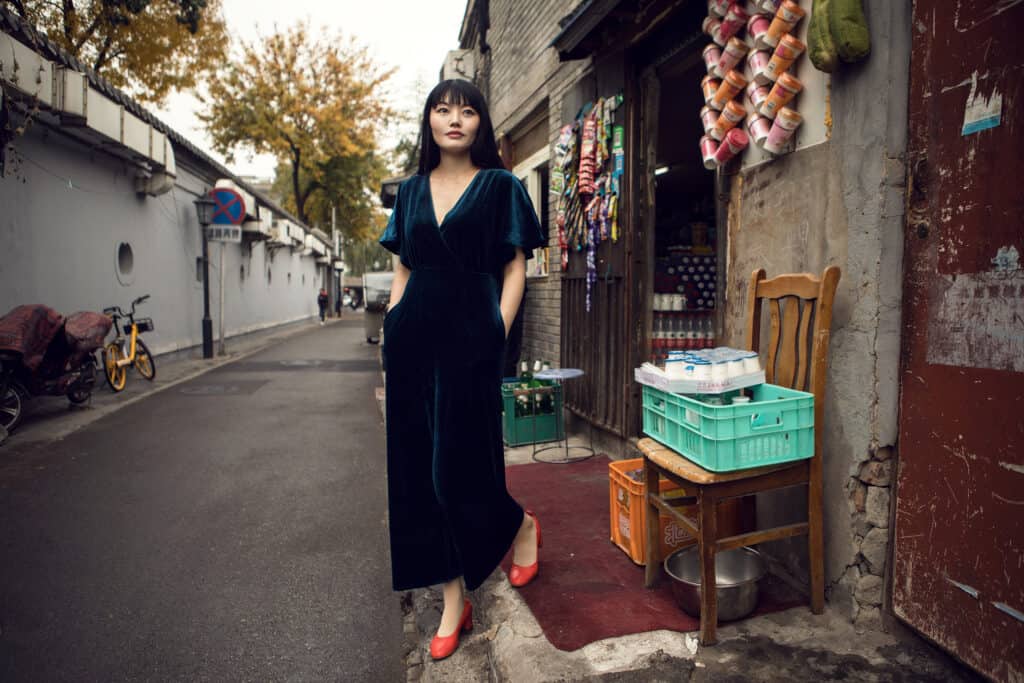 You are currently based in Chicago, were born and grew up in Beijing, and once said that you thrive "to explore and transform yourself into a hybrid of two cultures." What fascinates you most in Chicago and what do you miss from Beijing?
One of the most intriguing aspects of Chicago or any major city in the US is that it has a variety of neighborhoods with diverse populations. In Beijing, the cities are more homogeneous and congested. Another significant difference between the two cities is that Beijing is enclosed, meanwhile Chicago lies by Lake Michigan, which itself gives an openness to the urban environment which I really like. Because of these elements, the cities have very different dispositions. Beijing is my hometown where I have a certain comfort level, as I was born and raised there. I have been in the US for the past thirteen years, so it is really starting to feel like home here too.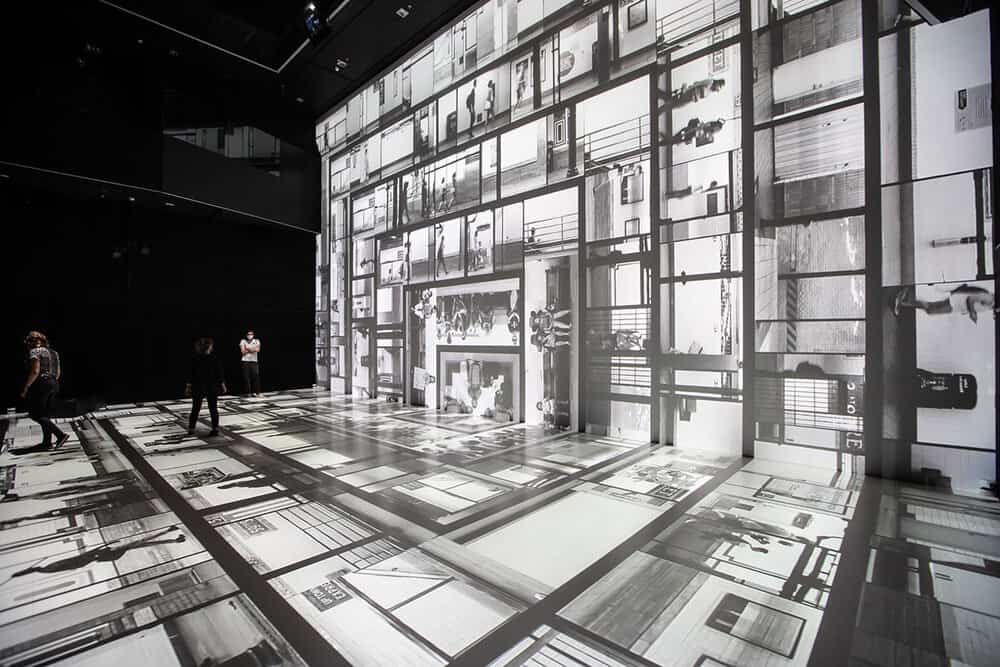 Who was an important mentor for you that had a deep impact on you artistically?
There are a lot of professors, mentors and peers that have inspired me and my work, but in terms of the person who made the biggest impact is definitely my father. He is one of the first generation of Chinese musicians, who founded his own production company and has been in the industry for over 40 years now. Even though we work in different creative fields, I deeply appreciate the strong entrepreneurial spirit that comes from him. I love the fact that he keeps moving forward and is not afraid of failure. That is something that I also learned by being an artist, by being my own boss and not giving up on my passion.
How did you first come across artists creating videos and video installations?
Moving to the US, suddenly being unfamiliar with the culture and feeling disconnected in the public spaces, made me even more sensitive to my surroundings. At that time, I was observing a lot. While I was studying computer science, I was taking photography classes at a community college. I was really inspired by street photography, especially by works of Walker Evans or Henri Cartier-Bresson. Inspired by them, I wanted to document daily rituals embedded in micro-narratives and architectural elements. First, it was about capturing a decisive moment, and later it was in grad school at the School of the Art Institute of Chicago, when I slowly moved towards video art because I also wanted to explore the concept of time in relation to space. Artists working with video art whom I admire is Bill Viola, who is one of my early inspirations. I am fond of his use of classical elements like water and fire to represent the spiritual.
Yuge Zhou, Green Play (2016) is part of The Humors, a four-part video collage series exploring urban dispositions.
"The Humors" series explores how individuals unconsciously form communities in their environments. Once you also said that you "observe pseudo communities, groups of people that get together and drift away, especially in urban environments." How did you decide on what public spaces and activities to document? What was the creative process behind the pieces of "The Humors"? How did you select footage for each piece?
The beginning of the process was unintentional and merely an improvisation. I was generally intrigued by public spaces in American cities at that time, so I would just stop at locations collecting raw footage without an agenda, without a particular mission. Once I captured these sequences, I would go back to my editing room and start looking for patterns, commonalities, interesting themes that emerge from the footage. During that process, I found interesting relationships and more pronounced juxtapositions. I would sometimes go back to the location with a more determined focus to collect more samples. "The Humors" was a series where I positioned myself as an observer, an outsider, who is away from the action and isolated from the scene. Even though I felt disconnected from those activities, I was interested in capturing the underlying connections between people, communities and the patterns in different scenarios.
An ongoing video project of yours, a two-video diptych titled "when the East of the day meets the West of the night" reflects on how personal relationships can be emotionally challenged by physical distance. The work deals with your connection to your mother in particular, whom you have not seen in person since the beginning of the pandemic. Can you share more thoughts about this work? How and where do you want to see the two parts displayed once the second part video is finished?
It is a very important and personal project for me. When talking on the phone with my mother who lives in Beijing, an image came to mind. It was two figures standing on the opposite sides of the Pacific Ocean, looking out towards each other at the same moment, and feeling a connection despite the physical distance. The first part of this idea was filmed in the fall of 2019 with two continuous takes from the opposite sides of the Pacific, one taken from near Beijing and the other one from California. The camera moves very slowly as the sun rises and sets in the two skies, creating an arch-shaped trajectory of the sun setting on the American side and rising on the Chinese side. There is something really powerful about looking over the water's edge. The second part of the series will revolve around the moonrise and moonset. Because of the travel bans that were placed due to the pandemic, and also the politics between China and the US, I was not able to travel back to China to film the second part of the project as of now.
I would like venues to show the project on a large scale, creating an immersive environment. Ideally, it would be in an institutional setting. The other important element of the piece is the sound, which was designed by Japanese sound designer Kikù Hibino. Therefore the future venue should accommodate that multichannel soundscape that accompanies the video footage. The soundtrack is a layered combination of ambient nature sound and electronics, as a cosmic reflection of melancholy and nostalgia in the waning warmth of the sun. Eventually, with this piece I am hoping to provide a moment of meditation, peace and reflection. People will be immersed in the colors and the sound in this space, along with the concepts of longing and belonging. In my works, I am trying to make the technology invisible so that the viewers don't think too much about how it was created but are more intrigued by the aesthetics and the concept behind it.
Yuge Zhou, Love Letters (summer, excerpt), 2021.
Another current video series "Love Letters", responds to the collective emotional experiences of isolation and separation felt during the quarantine. You are finishing this project as part of a residency program at NEW INC, which is the New Museum's art and technology incubator. Can you share a bit more about your time at the residency?
"Love Letters" is a manifestation of my love for the city of Chicago. It explores themes of isolation and belonging, but on a smaller scale compared to the "when the East of the day meets the West of the night" project. "Love Letters" is a four-part video series with each episode filmed during one season in different iconic locations, mainly near the Chicago River. For example for the "Summer" episode, we filmed two dancers on the opposite banks of the river as they were communicating with each other by gesturing. I have been developing the last episode of the project at a New York-based residency NEW INC. Through the program, I have been working with mentors and peers to explore new possibilities in incorporating computer immediate performances in my work, specifically in the final episode of "Love Letters". The episode is about building a relationship between two individuals over this period of the pandemic when they cannot physically touch each other. To accompany that dance, in a collaborative effort at the residency program, we are developing computer graphics that would interact with the dancers' movements. It has been the first time I have added so many technological aspects to my work and it has been a very fruitful period, especially with the help of my dedicated mentor, James George. He is experienced in making visual effects and immersive media that fuses filmmaking with computation and even video games. Currently, I am also thinking that the project can eventually be put on a stage, as a live performance piece. I would love to explore different venues and technologies to be able to transform that project from video art into a stage-based project that has a live and interactive component to it.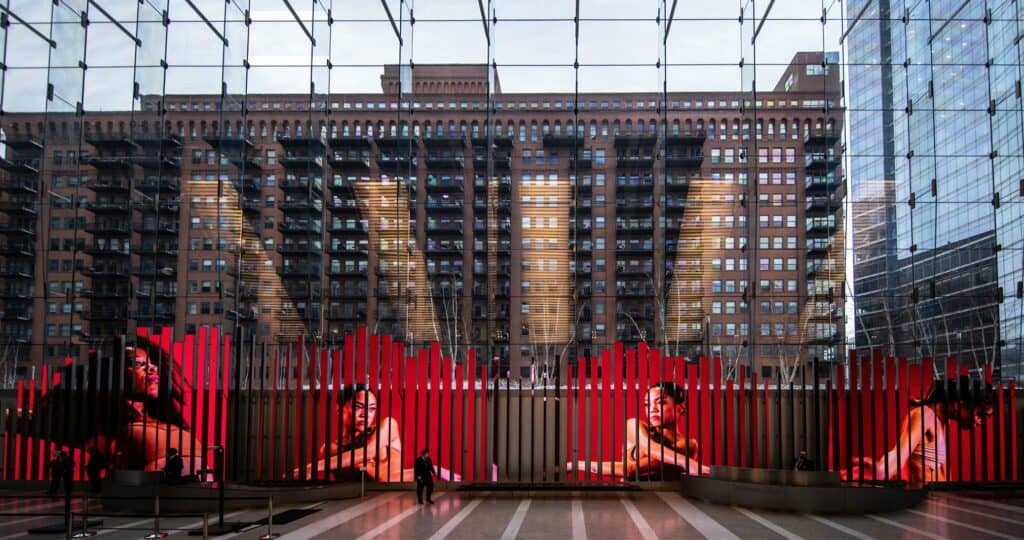 Our core mission for 150 Media Stream is to feature artists with a wide range of backgrounds, from high school art students to international artists, as we want to be a democratic public art space, where anyone has the opportunity to be featured.

Yuge Zhou
As a curator you have been directing 150 Media Stream, and have worked with over forty established and emerging media artists and institutions. What does the practice of curating mean in an urban arts program like 150 Media Stream? What are the greatest challenges facing curators today?
For the 150 Media Stream arts program, we have been working with both established, upcoming artists and local cultural institutions since 2017. The installation is very unique in its structure, as it has 89 individual sculptural panels that add up to a very large screening surface. All artworks we show are site-specific, so all artists are utilising this unique sculptural canvas to create something that is of their expression. Our core mission for this program is also to feature artists with a wide range of backgrounds, from high school art students to international artists, as we want to be a democratic space, where anyone has the opportunity to be featured. We are a public art installation that aims to expand people's sensitivity towards artworks.
Currently, we are featuring an animated version of the renowned American fiber artist Bisa Butler's "Southside Sunday Morning." The feature is in conjunction with Butler's solo exhibition "Portraits" at the Art Institute of Chicago. Meanwhile, we are also showing a performance video art piece in collaboration with The Joffrey Ballet. For an upcoming project, we have actually selected a student work from the School of the Art Institute of Chicago from its video installation class that will be launched in May. As an artist and curator, I am compelled to showcase works that are created by less established artists, or even offering artists their first time commission. I am very grateful for this project and I want to use it as an opportunity to give back to the art community.
"Southside Sunday Morning" by Bisa Butler at the 150 Media Stream. Curated by Yuge Zhou.
Learn more about Yuge Zhou:
Yuge Zhou's artistic and curatorial works
150 Media Stream homepage
150 Media Stream Vimeo channel
Yuge Zhou recently received an honorary mention for the Prix Ars Electronica 2020, and her project Underground Circuit was featured in their Cyberarts 2020 exhibition in Austria. She is part of the ongoing group exhibitions Altered Light, at Currents 826 in Santa Fe, NM and Please Form a Straight Line, at Blue Star Contemporary in San Antonio, TX.
"when the East of the day meets the West of the night" is currently showing at the Congress Center Basel in Switzerland until Sept 12, 2021 and the project "Love Letters" will be shown in 2022 at Art on theMART, the largest permanent digital art projection program in the world. A couple of earlier works are also on display at a corner screen in Times Square (41st St. & 7th Ave.) until April 30, 2021 as part of the ZAZ 10 program "Ren Zhi Chu", curated by Sean Capone and Limei Wang.