Articles and Features
Joseph Beuys: Healing a Wounded World
By Adam Hencz
"To be a teacher is my greatest work of art."

Joseph Beuys
Who was Joseph Beuys?
The world was set to celebrate the centenary of the birth of one of the most significant 20th-century artists, Joseph Beuys, on 12 May 2021 with numerous museums, cultural institutions and cities focusing on the Rhineland-born artist throughout 2021. Over the course of his career, contemporary artist Beuys, who has been acclaimed as the founder of the Fluxus movement in the 1960s, refused to fit his practice into any defined category. He blurred the lines between life and art, extending their definition, believing and advocating that spiritually and socially engaged artists had the power to change the world for good.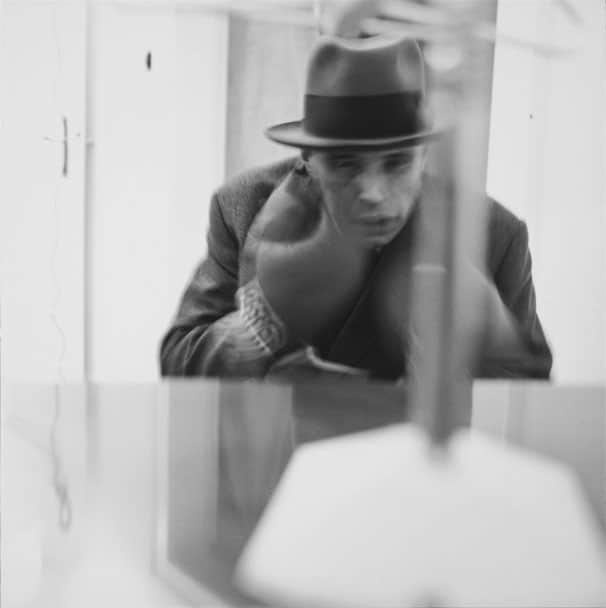 Biography of Joseph Beuys
The turmoils of World War II
Beuys grew up in the small village of Kleve, during the period when Hitler came to power and turned Germany into a dictatorship. In 1940, at age 19, he joined the German air force and for five years of World War II, he served as a fighter pilot. He was wounded several times and interned in a British prisoner-of-war camp. Three years into the war, his plane was hit and crashed in a snowstorm in Crimea, between the German and the Russian fronts. Beuys claimed that he was found in the wreckage and rescued by a clan of nomadic Tatars, who covered his body in animal fat to help it regenerate heat, and wrapped it in felt, as an insulator to keep the warmth, that eventually saved his life. The story explains his use of common materials such as fat and felt in his work. He saw art as a magical, transformative force and believed that a powerful myth contained more truth than everyday reality.
The healing power of art and teaching
After the turmoils of the war, Beuys dedicated his life to art. He returned home in 1946, but overcoming his involvement in the war would require a self-healing process that was central to his art, and to the rest of his life. At the end of 1947, he went to the Düsseldorf Art Academy and studied there until 1951, in a time when Düsseldorf was still rubble and its citizens emotionally depleted. After the Art Academy, Beuys set up his own studio in Heerdt, a suburb of Düsseldorf, and rented a small loft in an old bakery, working under the roof. He would spend much time recuperating on a friend's farm as well, where he made hundreds of drawings and small sculptures. In 1961, he became a professor at the Düsseldorf Art Academy.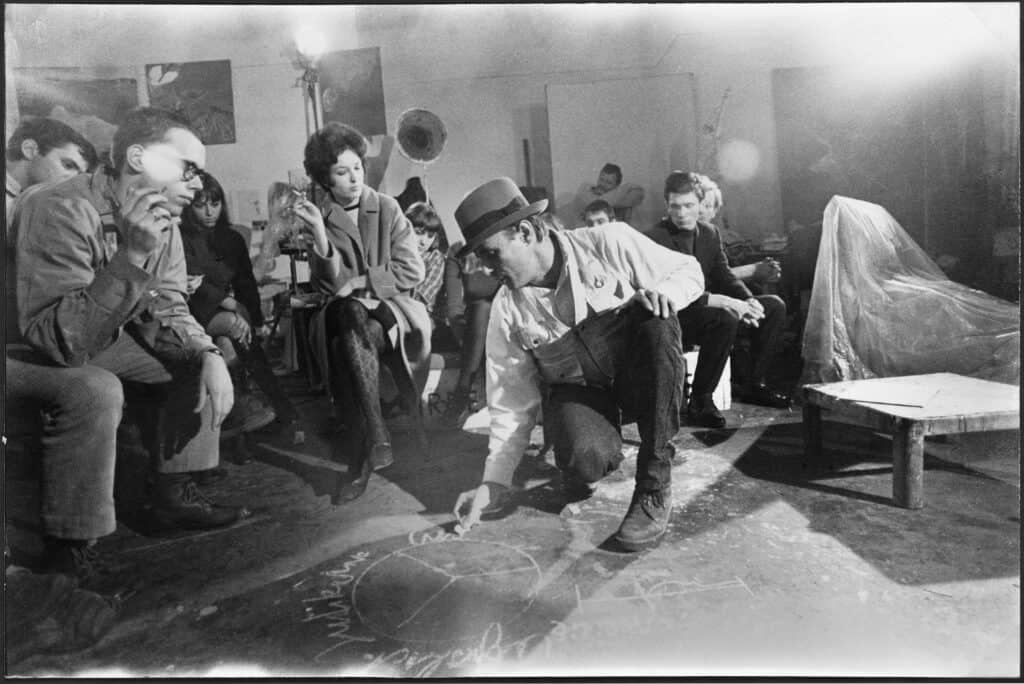 Beuys saw his role as an artist as a teacher or shaman who could guide society in a new direction. For Beuys, education was also intimately tied to politics, and his students often discussed current issues besides his thrilling lessons about art-making. In educating his students in such a visionary way, Beuys helped foster a whole new generation of German artists. Among his students were Lothar Baumgarten, Anselm Kiefer, Jörg Immendorff, and Blinky Palermo. He continued teaching at the Kunstakademie until 1972, when he was dismissed without notice after getting into a standoff with the school's leaders over admissions policies. At the same time, he began to develop his sculptural practice, creating works that rank among his best-known pieces. Such objects present surreal combinations of seemingly unlike objects and unconventional materials. During this period he developed his artistic agenda, exploring metaphorical and symbolic connections between natural phenomena and philosophical systems. Yet during his day, he was best known for his performances, many of which only survived him in the form of documentation.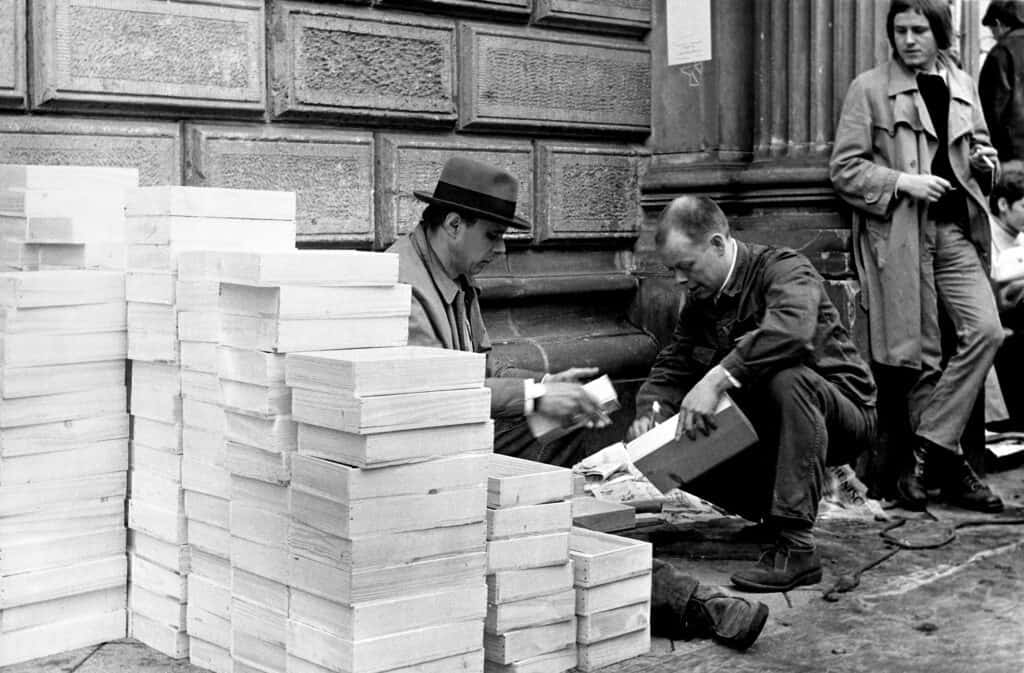 "I myself determine history—it is not history that determines me. Economic circumstances do not determine me, I determine them. Every man is a potential provocateur."

Joseph Beuys in conversation with Willoughby Sharp in 1969
Most famous works by Joseph Beuys
How to Explain Pictures to a Dead Hare
How to Explain Pictures to a Dead Hare (1965) would become one of Beuys's best-known actions. In this ritualistic art performance, Beuys locked the spectators out of Galerie Alfred Schmela in Düsseldorf. Inside, with his head and face covered in honey and gold leaf, a slab of iron tied to one boot, a felt pad to the other, the artist cradled a dead hare, whispering to the lifeless animal.
I Like America and America Likes Me
Felt and fat became therapeutic symbols for Beuys and both would play a key role in his seminal work, I Like America and America Likes Me in 1974, where Beuys would spend three consecutive days living, communing and forming a relationship with a coyote. The coyote was one of the most important symbols in Native American mythology, but European settlers saw it as a pest to be eradicated. With this action, Beuys believed he was helping to heal America's racial and economic wounds. This performance was one example of what he called his 'social sculptures,' actions intended to change society for the better and was one of his first actions to use his artistic practice as forums for his political and environmental beliefs. "Each one of us has a creative potential, which is hidden by competitiveness and success aggression," said Beuys. "Environmental pollution advances parallel with the pollution of the world within us. Hope is denounced as utopian or illusory and discarded hope breeds violence."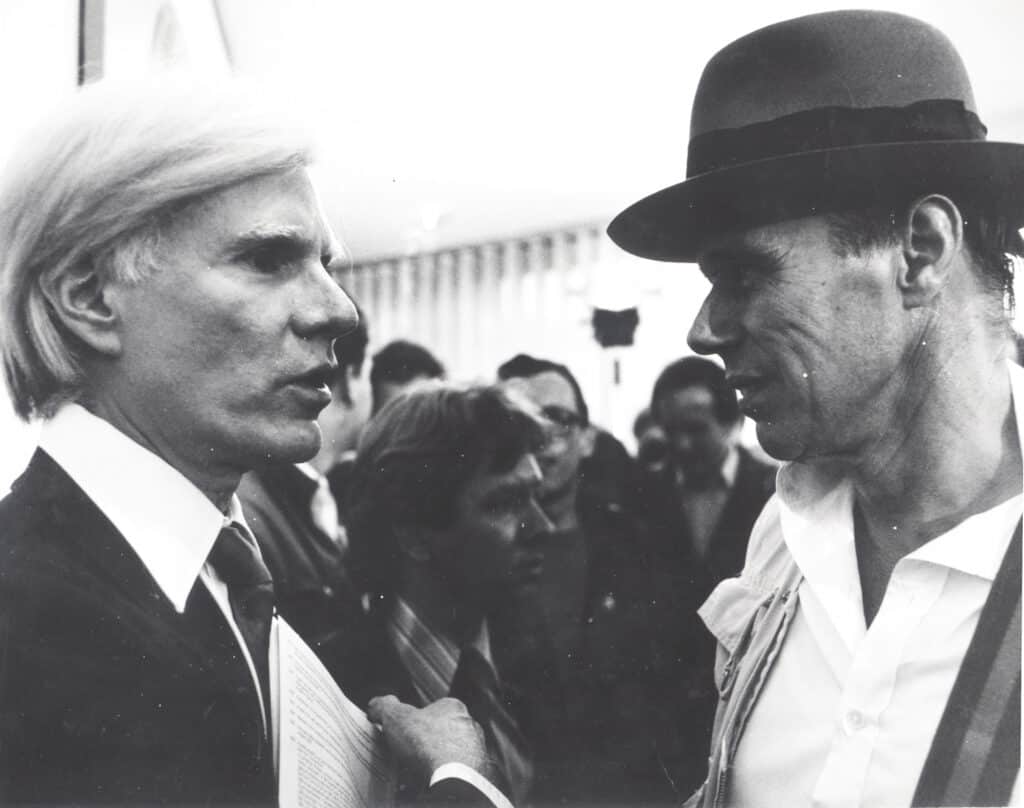 7000 Oaks and environmentalism
His well-known slogan, "Everyone is an artist," was meant to suggest that social transformation could be achieved if every human applied his or her creative energies toward positive change in cooperative activities. The year 1982 marked the creation of a pinnacle project among Beuys' 'social sculptures'. He proposed a massive reforestation project to plant 7000 oaks throughout the city of Kassel at documenta 7, each paired with a basalt stone. 7000 Oaks was fundamentally a time-based, or 'process work' of environmentalism and eco-urbanization with its central gesture spreading all over the world.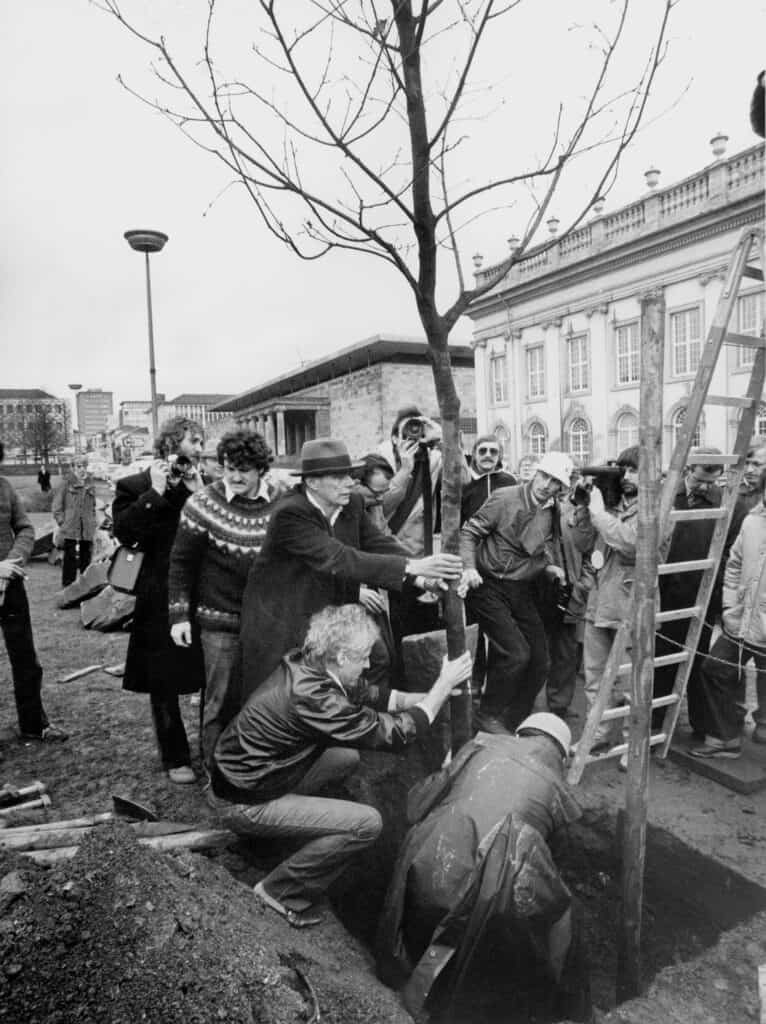 In his final creative period, Beuys devoted much thought to shamanism, which for him was a natural philosophy that invoked a world where all beings lived in harmony. Beuys continues to have a significant influence upon artistic and political agendas and nevertheless remains a polarising figure and force in contemporary society.
Relevant sources to learn more
Please find the complete beuys 2021.100 years of joseph beuys programme with all participating museums and institutions here and tourist advice here or read the 1969 interview on Artforum.
Read more about Joseph Beuys on Artland: The Other Joseph Beuys: The Drawings of the Myth-Making Action Artist
For an excellent documentary covering the oeuvre of Joseph Beuys, watch Arte Documentary: Beuys online.
Explore the work of other contemporary artists whose ideas and practices have greatly influenced the times we live in:
Louise Bourgeois
Constantin Brancusi
Sophie Calle
Dan Flavin
Damien Hirst
Yayoi Kusama