Articles and Features
Damien Hirst: the 'Enfant Terrible' of the Art World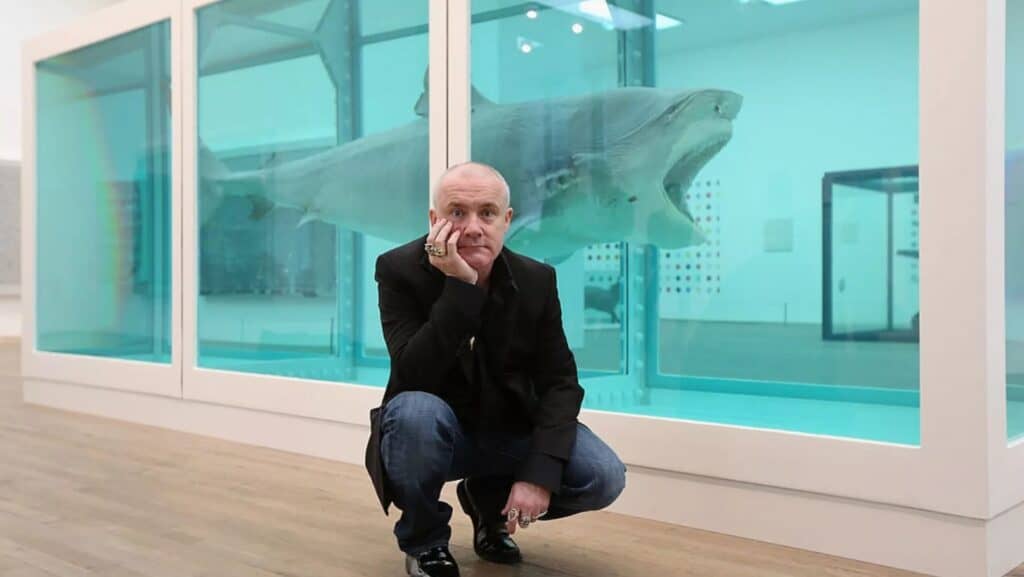 By Shira Wolfe
"Everything in the whole world is worth what anyone else is prepared to pay for it. And that's it. Simple."

Damien Hirst
Who is Damien Hirst?
Damien Hirst is the most prominent of the Young British Artists (YBAs), a loose group of British artists that came to fame in England in the 1990s. The group became famous when British advertising magnate and art collector Charles Saatchi discovered their art at Freeze, an exhibition curated by Hirst in 1988, and started buying and showing their work in his galleries short after. Hirst is responsible for some of the most controversial artworks of the past decades, confronting themes including life, death, science and religion. We trace the career of the 'enfant terrible' of contemporary art.
Damien Hirst: Biography and Most Famous Works
The YBAs emerge with Freeze
Damien Hirst studied at Goldsmiths College in London in the late 1980s. While studying, he curated Freeze, an exhibition in three parts featuring his work as well as the work of fellow students. The show was the sensational debut of the group of artists who would come to be known as the Young British Artists (YBAs). These artists combined an interest in shock and spectacle with entrepreneurial skills and oppositional attitudes.
Hirst gathered both the money needed for the exhibition and sponsorship for a professional catalogue. His contribution to the show amounted to painted boxes stuck to the wall in a pattern and his first "Spot painting", which he painted on the wall and which remained there for two years. The Spot paintings are multicoloured spots on a white background, painted by hand in glossy house paint. They are named after controlled substances, raising questions about art and drugs. With these works, Hirst wished to paint like a machine, while allowing for the subtle imperfections of the human hand.
Freeze was a success, and Charles Saatchi, who visited the show, started taking a serious interest in these Young British Artists, and Hirst in particular. As the recession lifted, Hirst's in-your-face, unabashedly money-centred approach to art, fit in perfectly with the wealth-infused culture of the times. In his words: "Everything in the whole world is worth what anyone else is prepared to pay for it. And that's it. Simple."
Art goes on in your head… If you said something interesting, that might be a title for a work of art and I'd write it down. Art comes from everywhere. It's your response to your surroundings."

Damien Hirst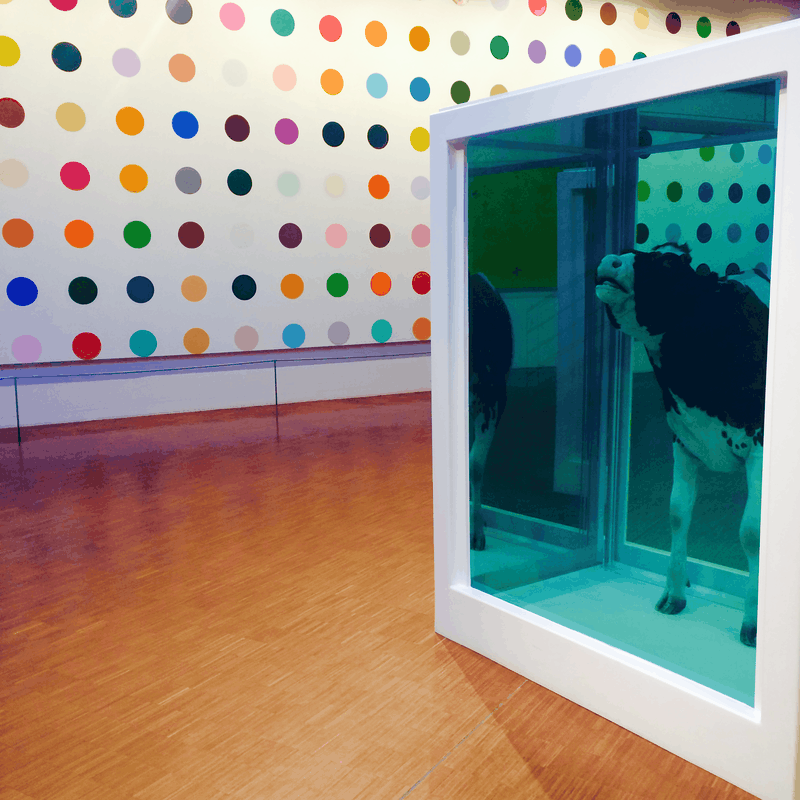 The Physical Impossibility of Death in the Mind of Someone Living
In 1991, Hirst made his notorious piece The Physical Impossibility of Death in the Mind of Someone Living, a tiger shark floating in formaldehyde in a glass tank. The piece was funded by Charles Saatchi and was shown in the first Young British Artist exhibition at the Saatchi Gallery in 1992. The piece sold for £50.000 and became a landmark of contemporary art, lauded and criticized alike by stunned critics and audiences. Many people were infuriated and refused to see Hirst's formaldehyde shark as art, while others claimed it was a genius reflection on life and death.
The work was the first in Hirst's Natural History series (1991-2013), which includes other taxidermy animals such as sheep, cows, a zebra, a dove, and a unicorn (a foal with a long white horn emerging from its forehead); a series that expresses Hirst's fascination with presenting shocking, unapologetic images of death.
In 1991, the same year he created The Physical Impossibility of Death in the Mind of Someone Living, Hirst presented In and Out of Love (White Paintings and Live Butterflies). Here he exhibited real pupas glued to white canvases, which then hatched in the gallery space, releasing live butterflies. Flowers and sugar water allowed the butterflies to survive, fly around, mate and lay eggs until they died.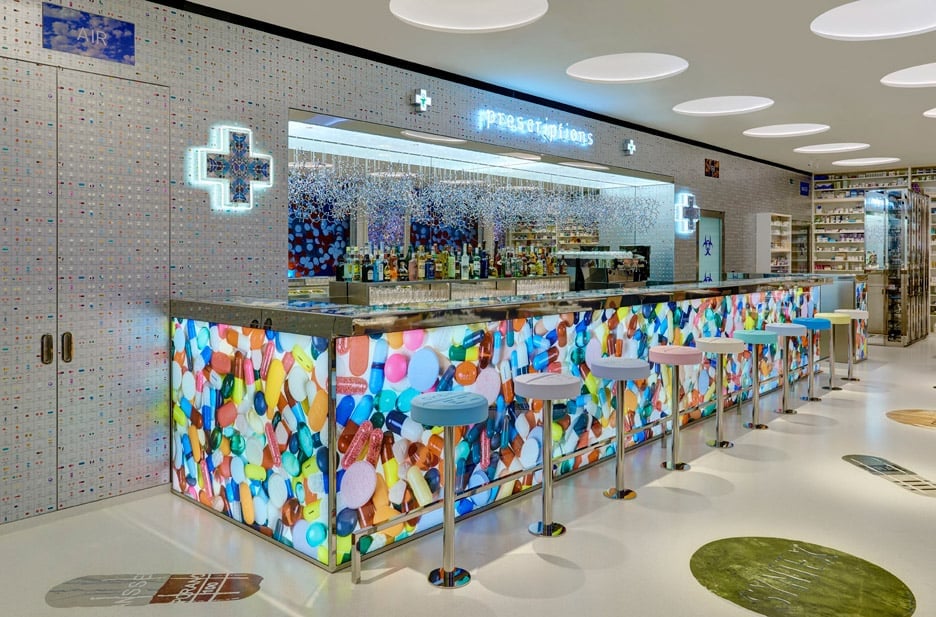 Pharmaceutical paintings, Medicine Cabinets and Visual Candy paintings
Another preoccupation of Hirst's is the role of the pharmaceutical industry in society. In his Pharmaceutical paintings (1986-2011), a subseries of the Spot paintings, Hirst created evenly spaced, multicoloured circles. His Medicine Cabinets (1988-2012) and Visual Candy paintings (1993-1995) similarly consider the cultural role of prescription drugs, how they are advertised, and the way they impact consumers. The Medicine Cabinets are filled with empty medication packaging, while the Visual Candy paintings are colourful paintings with overly euphoric titles such as Happy Happy Happy (1994), pointing to the notion of false promises of happiness made by prescription drugs.
In 1998, Hirst extended his interest in pharmaceuticals into the restaurant world, when he collaborated on Pharmacy Restaurant and Bar in London, designing the interior with pill bottles and medical items on display. It was succeeded in 2016 by Pharmacy 2, the restaurant in Hirst's own Newport Street Gallery, which shows rotating exhibitions alongside permanent works from Hirst's personal art collection. The restaurant is decorated with Hirst's art, ranging from his Medicine Cabinets and butterfly Kaleidoscope paintings to a floor with pill designs embedded into it.
For the Love of God
In 2007, Hirst created For the Love of God, a platinum cast of a human skull set with 8601 diamonds. The piece went on display in an illuminated glass case in a dark room in London's White Cube gallery, with heavy security attending at all times. The following year, the skull was exhibited at the Rijksmuseum in Amsterdam, alongside an exhibition of paintings from the collection of the Rijksmuseum, selected and curated by Hirst himself. A great deal of public controversy followed, with many people disgusted by the artwork and angry that it was placed in such an esteemed museum filled with the Old Masters. However, in the words of then-director Wim Pijbes: "The exhibition will attract people—and give a new aspect to the image of the Rijksmuseum as well. It boosts our image. Of course, we do the Old Masters but we are not a 'yesterday institution'. It's for now. And Damien Hirst shows this in a very strong way."
Treasures from the Wreck of the Unbelievable
One of Hirst's more recent projects, Treasures from the Wreck of the Unbelievable (2017) filled the Palazzo Grassi and Punta della Dogana in Venice with a series of large, fantastical sculptures made out of precious metals and stones covered in barnacles. He created the pieces with the illusion of having fished them out of the depths of the sea, treasures from the ancient shipwreck of the ship The Unbelievable. The story went that they had been the collection of Aulus Calidius Amotan, a freed slave better known as Cif Amotan II and that they had been destined for a temple dedicated to the sun. Hirst also funded the creation of a mockumentary by the same name, telling the story behind this fictional, long-lost treasure. This project was his most ambitious one to date and took almost 10 years to execute.
The Big Ideas
The controversial artist is all about ideas, with execution being absolutely secondary, even boring to him. He works with a large number of assistants who are often almost fully responsible for the practical aspects of his artworks, and Hirst is unapologetic about this. According to him: "Art goes on in your head… If you said something interesting, that might be a title for a work of art and I'd write it down. Art comes from everywhere. It's your response to your surroundings. There are ongoing ideas I've been working out for years, like how to make a rainbow in a gallery. I've always got a massive list of titles, of ideas for shows, and of works without titles." Hirst is the richest artist in the United Kingdom, with a total net worth of $384 million.
Where to find Damien Hirst's work?
Damien Hirst's work is displayed in prestigious collections including MoMa, the British Museum, Tate Modern, the Victoria and Albert Museum, the Stedelijk Museum, the Yale Center for British Art, Fondazione Prada, and Museo Jumex, among many others.
The artist's first major retrospective, The Agony and the Ecstasy, was presented by the Museo Archeologico Nazionale in Naples, Italy, in 2004, and a large retrospective followed in 2012 at Tate Modern in London. In 2015 Hirst opened the Newport Street Gallery in London, following his long-term aim to share his private art collection with the public.
Relevant sources to learn more
Find out more about Damien Hirst on Artland
Damien Hirst website
You may also like:
Art Media: What Happens When Artists Experiment with Unusual Materials
10 Controversial Artworks That Changed Art History
Explore the work of other contemporary artists whose ideas and practices have greatly influenced the times we live in:
Joseph Beuys
Louise Bourgeois
Sophie Calle
Christo
Guerrilla Girls
Jenny Holzer
Anish Kapoor
Yayoi Kusama
Yoko Ono