Articles and Features
Female Iconoclasts: Jenny Holzer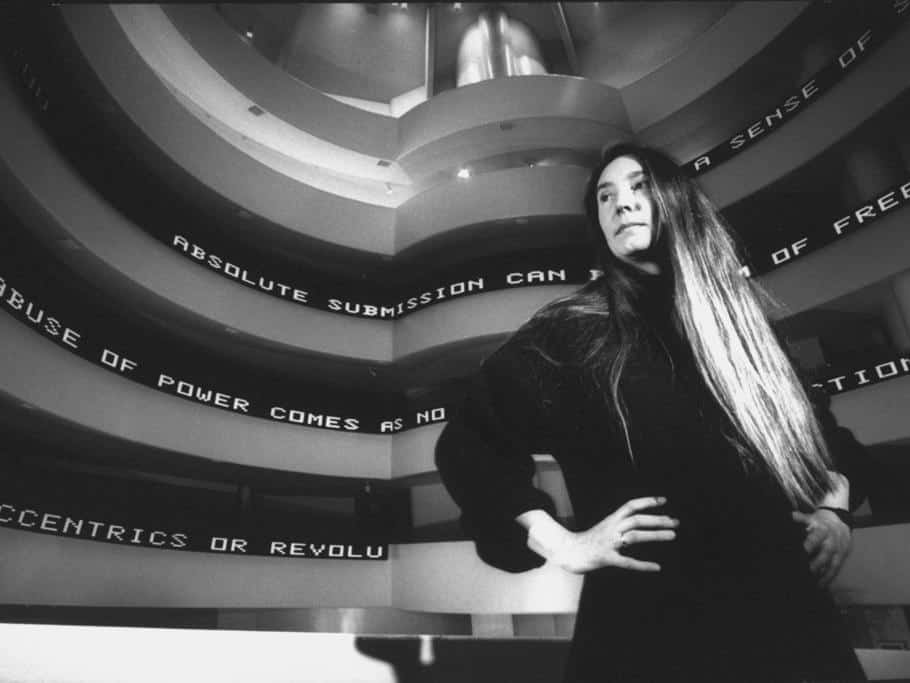 By Tori Campbell
"I really wasn't – and I'm not – a writer. The only way I could write was by pretending to be any number of people. That gave me enough shelter to show what inevitably was personal, but also to have the content be for and about others—since I was busy being somebody else."

Jenny Holzer
Who is Jenny Holzer?
Our "Female Iconoclasts" series highlights some of the most boundary-breaking works of our time, crafted by women who defied conventions in contemporary art and society in order to pursue their passion and contribute their unique vision to the world. This week, we will focus on Jenny Holzer, an American neo-conceptual artist known for her deployment of words and statements in public spaces.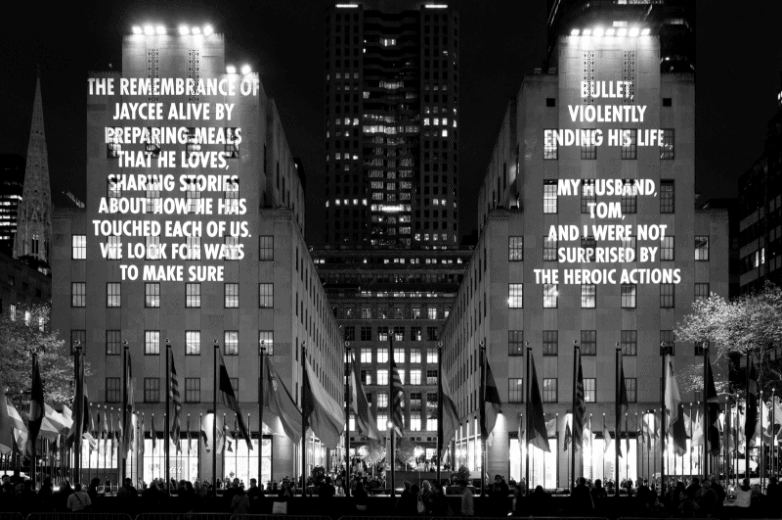 Biography of Jenny Holzer
Born July 29th, 1950 in Gallipolis, Ohio, Jenny Holzer originally wanted to become an abstract painter. She took numerous art classes at Duke University in Durham, North Carolina, and the University of Chicago, ultimately receiving her Bachelor of Fine Arts from Ohio University, Athens in 1972. She later obtained a Master of Fine Arts at the prestigious Rhode Island School of Design before moving to New York City to join the Whitney Museum's independent study program. While at the Whitney Museum, Holzer would begin to experiment with language, public art, and installation, moving away from her roots as an abstract painter and printmaker.
"I went to Europe early. It was the first place I was 'officially' an artist, because in New York I was working in the streets all the time, and had questionable standing, if any."

Jenny Holzer
Artistic Work
Truisms
Arguably, Holzer's earliest work, theTruisms series, is also one of her most famous productions. Inspired by her exploration of philosophy and the written word, Holzer began to simplify the large concepts she had delved into, distilling them into simple, concise phrases and statements. From 1977-1979, she put posters showing her quotes and observations up around Manhattan – on the sides of telephone booths, buildings, and advertisements – cementing herTruisms in the public sphere. Her work was intended to reach everyone, and by creating a larger audience than that typically found within the confines of traditional art institutions, Holzer aimed to arouse a wide range of reactions and make people challenge common biases and beliefs. These statements, typeset in alphabetical order, have been exhibited in innumerable formats around the world since the 1970s, from the Spectacolor board in Times Square to stickers, t-shirts, and baseball caps, showing that art can often say more about the audience than the artist.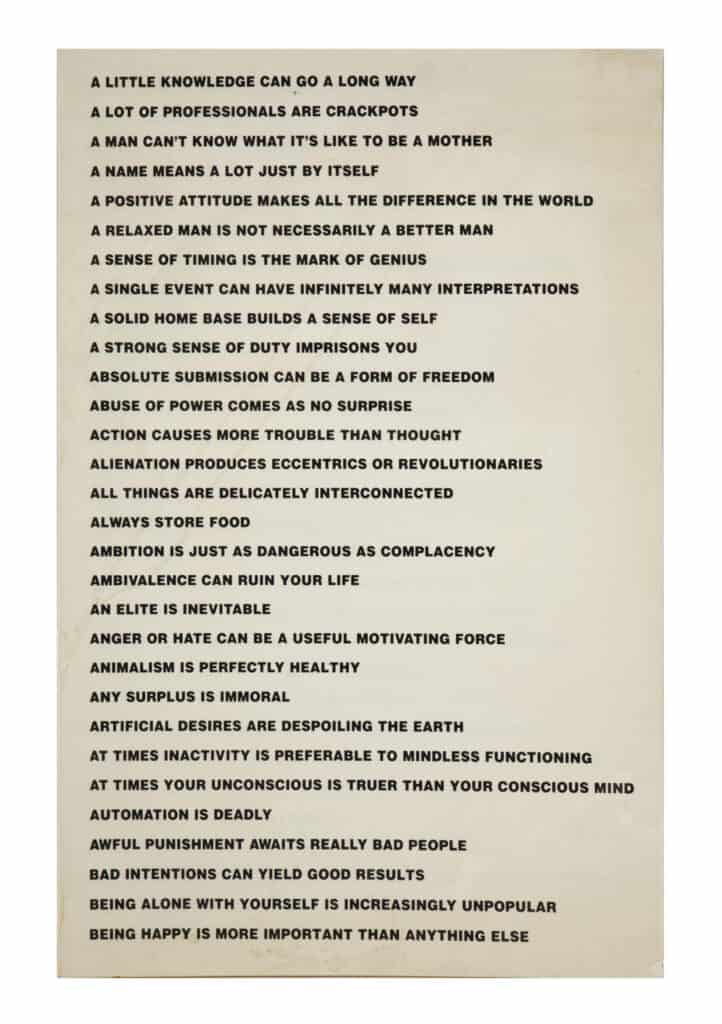 Inflammatory Essays
Furthering her investigation of the power of language in the public realm, Holzer delved into her Inflammatory Essays series. Ranging from 1979-1982, the series consisted of an array of provocative statements on posters inspired by political and folk figures including Vladimir Lenin and Mao Tse-tung. By sticking to a rigid format where each essay is exactly 100 words in twenty lines, she explored extreme ideas and questioned the viewer by exhibiting these posters within the public space of New York City. The series has been revisited time and again, most recently – and of note – pop star Lorde wore a gown to the 2018 Grammy's that excerpted one of Holzer's Inflammatory Essays referencing the Times Up movement against sexual assault and harassment. It proclaimed: "Rejoice! Our times are intolerable. Take courage, for the worst is a harbinger of the best. Only dire circumstances can precipitate the overthrow of oppressors. The old & corrupt must be laid to waste before the just can triumph. Contradiction will be heightened. The reckoning will be hastened by the staging of seed disturbances. The apocalypse will blossom".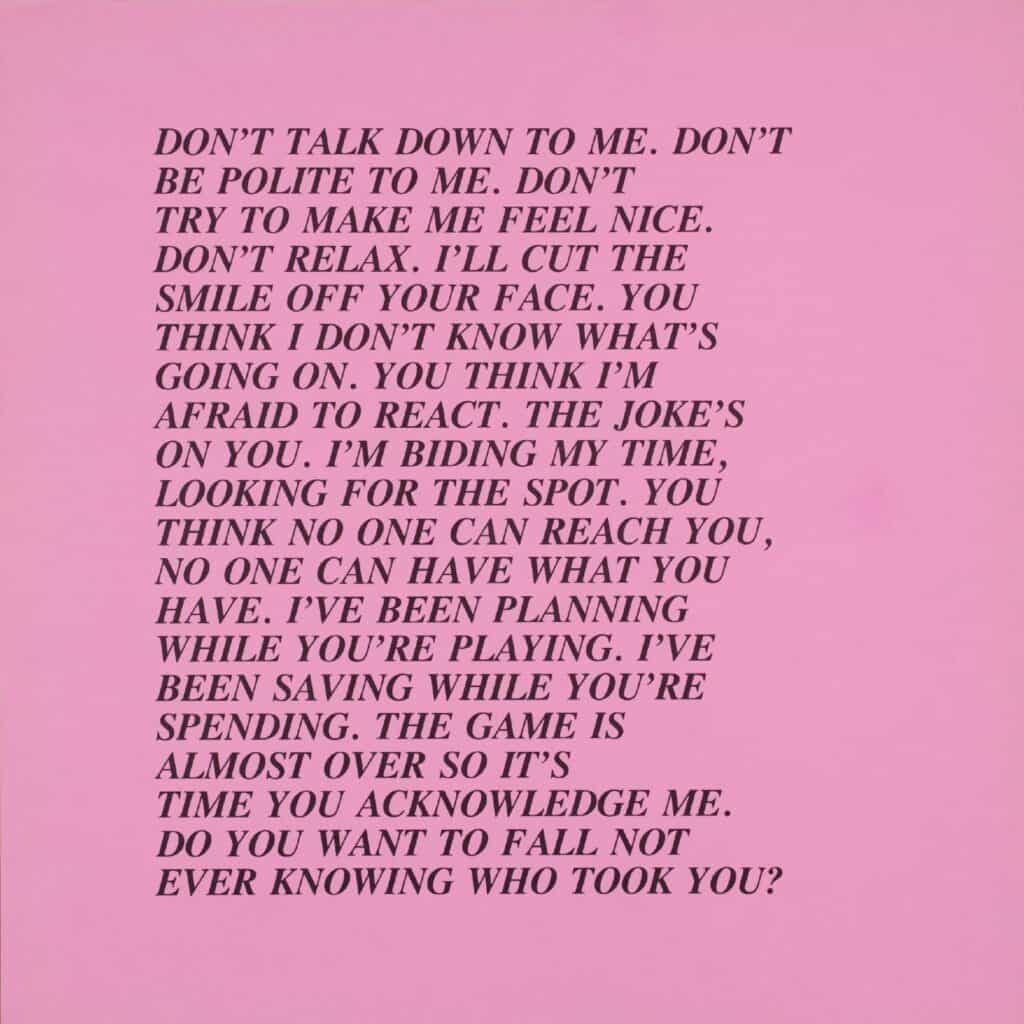 The Times Square Show
Though many of Holzer's contemporaries were also using the power of language to communicate their ideas – Barbara Kruger, Richard Prince, Louise Lawler, among others – they did so always in tandem with imagery. In contrast, the power of Holzer's work resided in her vision of treating text as an image in itself, therefore appreciating the immediacy of the use of language with no additional adornment. In 1982, sponsored by the Public Art Fund, Holzer installed her first large-scale electric sign in New York's Times Square as part of the Colab art collective's famed The Times Square Show. The installation sparked interest in a new medium for Holzer: the modern computer system. Allowing myriad ways of reaching large audiences, it would become an important component of her artistic research.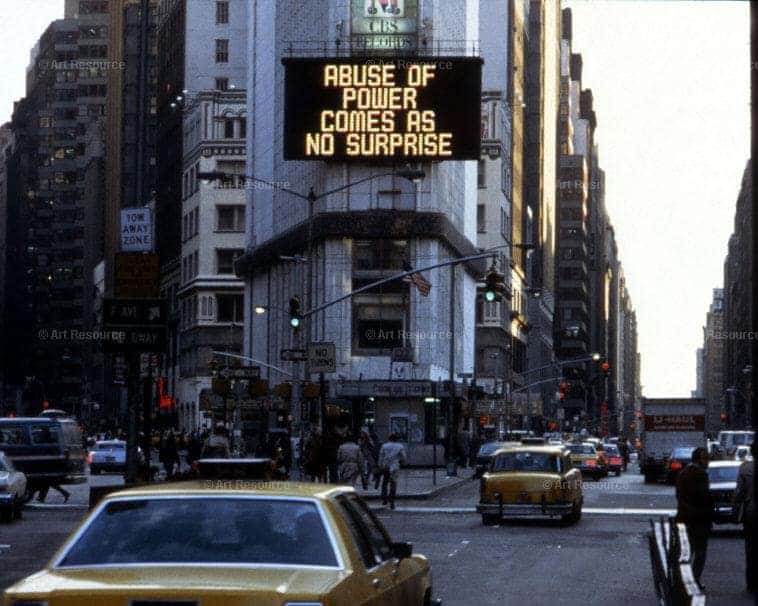 Survival
Holzer's subsequent Survival series (1983-1985) dutifully explored this new medium with sombre and urgent statements that illuminate or question the way people respond to their political, physical, social, or psychological environments on electronic media like LED light boards. What would become a trend with her work, Holzer extended this computerised series into the physical realm, in printed and illustrated posters as well as carved granite benches.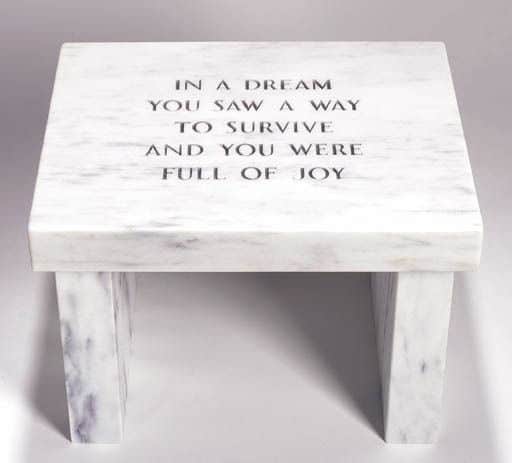 Lustmord
After a brief break from the art world, Holzer returned in 1993 with Lustmord (from German: 'sex murder') a response to methodical rape and murder of women during the Bosnian War. The series has taken many different forms, though they all focus on retelling the sex crimes that were perpetrated during the war through three poems from different perspectives, with the aim of bringing attention to these atrocities. In contrast to her earlier work, since the early 1990s Holzer has mainly been using texts written by others, from Nobel laureates to government documents. The latter represents the starting point for her recent series of paintings and screenprints titled Top Secret, involving the use of redacted United States government documents, namely from the war in Iraq and the human rights violations committed by American soldiers at Abu Ghraib prison. The artist replaced the censored sections in these declassified documents with blocks of colour, thus drawing attention to political crimes, and exposing the violence and oppression at power in war.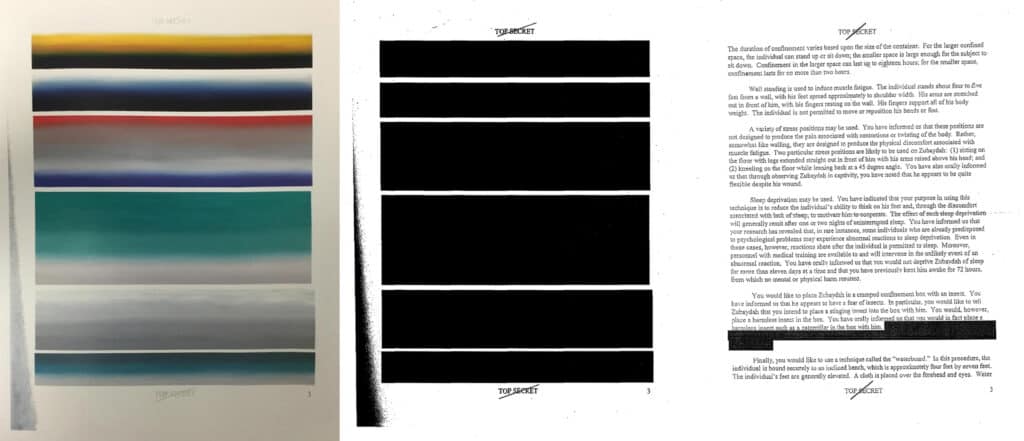 Exhibitions and Legacy
Holzer's work has been exhibited all over the world. In 1989, she became the only second female artist to represent the United States at the Venice Biennale – Diane Arbus did so posthumously in 1972 – where her installation Mother and Child at the American Pavilion won the Leone D'Oro. Holzer has enjoyed solo exhibitions at some of the most notable institutions in the world including but not limited to the Whitney Museum of American Art, New York; Museum of Contemporary Art, Chicago; Guggenheim Museum, New York and Bilbao; Barbican Art Gallery, London; and Neue Nationalgalerie, Berlin.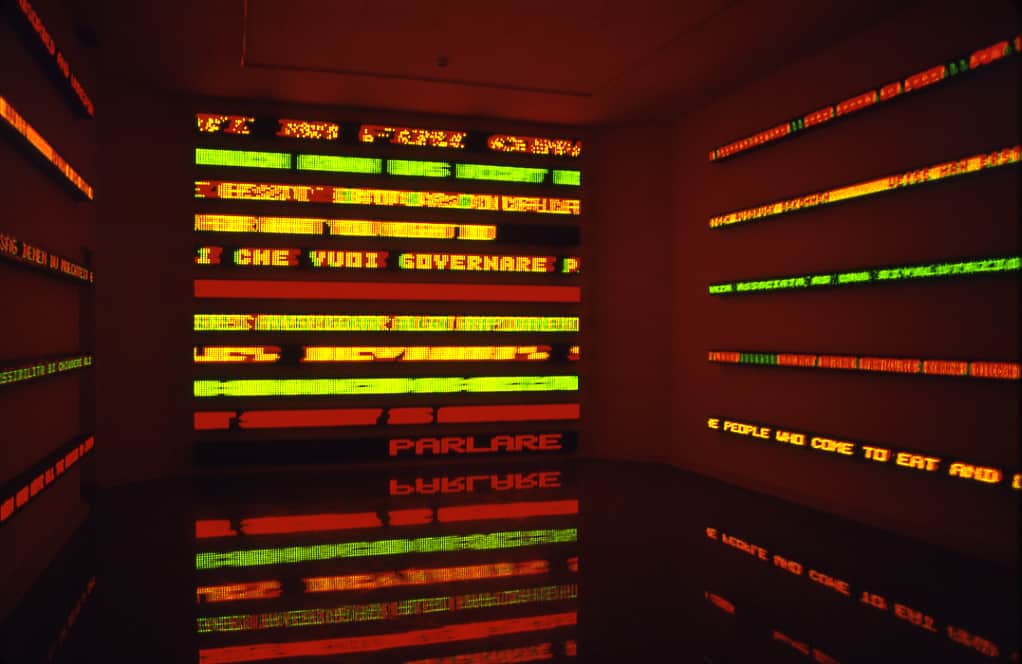 Through the employment of multiple mediums – from the powerful posters plastered throughout 1970s New York City to the projected light installations illuminating the exterior walls of institutions in over fifteen countries around the world – Holzer has harnessed the power of the written word to alter the assumptions and attitudes of the public for nearly half a century. Addressing the themes of feminism, sexuality, power, war, violence, and death, Holzer has become the voice of multiple generations, bringing to light that which is often thought but rarely spoken. Her work has been referenced and reproduced many times over by musicians, dancers, visual artists, and the public, with certain Truisms cited so often, they have come to be part of the general lexicon.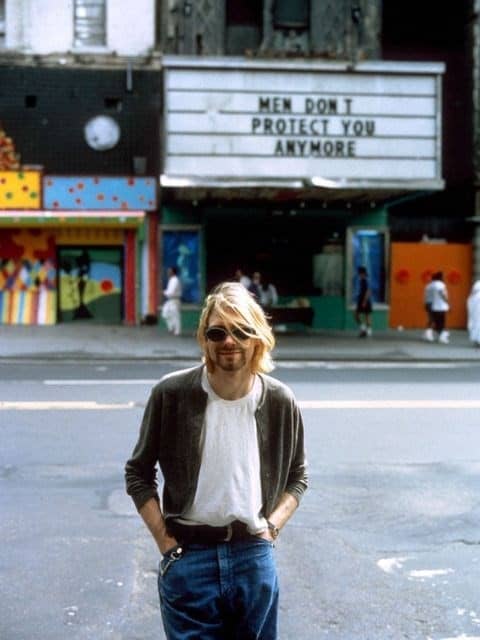 Relevant sources to learn more
Check out Jenny Holzer's solo exhibition at Kukje Gallery: It's crucial to have an active Fantasy Life
Take a look at Jenny Holzer's work on her website
Hear a staff member from the Tate talk about why they love the Inflammatory Essays
Read an interview with Jenny Holzer from Interview Magazine
For previous editions of our "Female Iconoclasts" series, see:
Lousie Bourgeois
Sophie Calle
Marlene Dumas
Yayoi Kusama
Niki de Saint Phalle