Articles and Features
Anish Kapoor – Ritual and The Void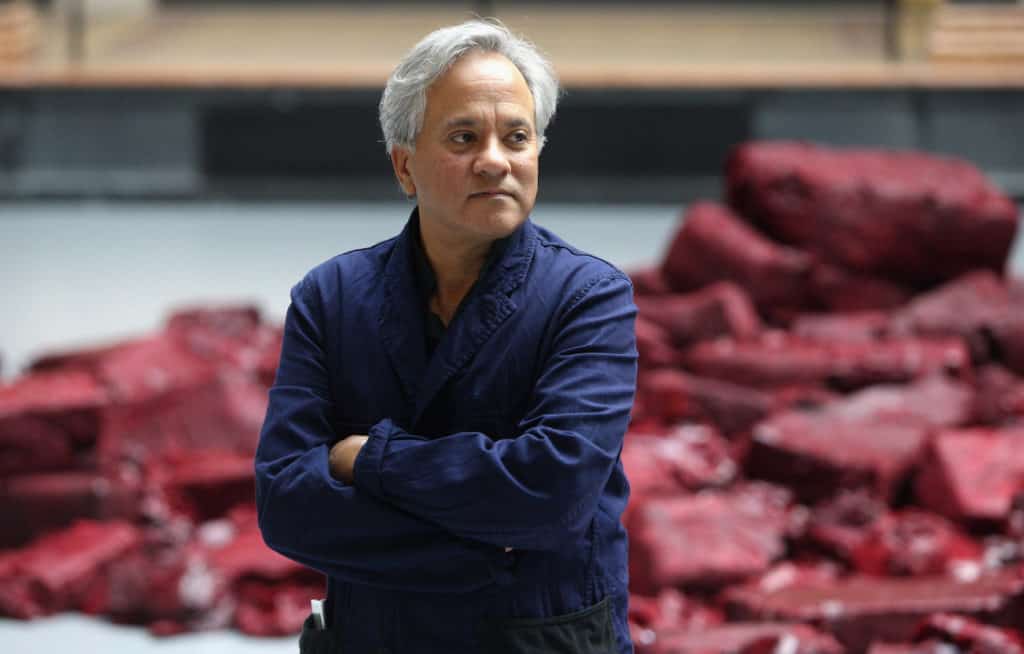 By Shira Wolfe
"That's what I am interested in: the void, the moment when it isn't a hole. It is a space full of what isn't there."

Anish Kapoor
Who is Anish Kapoor?
Boundary-breaking sculptors are those, who in his or her own way pushed the medium of sculpture forwards into new, unique territories. Anish Kapoor is a leading contemporary artist best known for his large-scale public abstract sculptural works like Cloud Gate (2006), a monumental public installation known locally as "The Bean", in Chicago's Millennium Park. Working in a variety of materials including mirrors, stone, wax and PVC, Kapoor is interested in exploring biomorphic and geometric forms, with a particular focus on negative space, the void. Kapoor frequently plays with holes, reflection, perspective and gravity-challenging structures.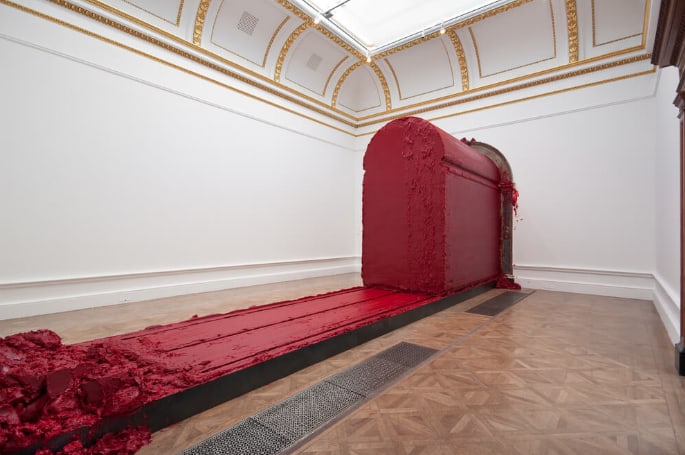 Biography of Anish Kapoor
Anish Kapoor – Objects About Doing and Ritual
Born in 1954 in Mumbai, India, the son of an Iraqi-Jewish mother and a father who was a hydrographer in the navy, Kapoor moved to Israel when he was 17, mostly because the plane ticket was to paid for him. Whilst living there in a Kibbutz, the notion of being an artist first occurred to him, an ambition he felt strongly he could do something actively about. He moved to London to pursue this dream, where he studied at Hornsey College of Art and Chelsea School of Art. During his time at art school, he created a lot of performance-based pieces that were deeply symbolic and most usually involved interaction between two people. The pieces were non-narrative, but process-based. An epiphany came in 1979, two years after Kapoor graduated from art school. While visiting his native India, Kapoor was hit by the realisation that the art he had been making had a relationship to what he saw in India. It had to do with a certain attitude towards the object. Kapoor was making objects that were about doing, about ritual. And this aspect of doing, of ritual, he saw everywhere around him in India. As though he had received a kind of affirmation, Kapoor continued to follow his impulses regarding the representation of ritual in his art and from this his first significant works emerged, known as his pigment pieces, consisting of bright shapes on the ground covered in pure pigment.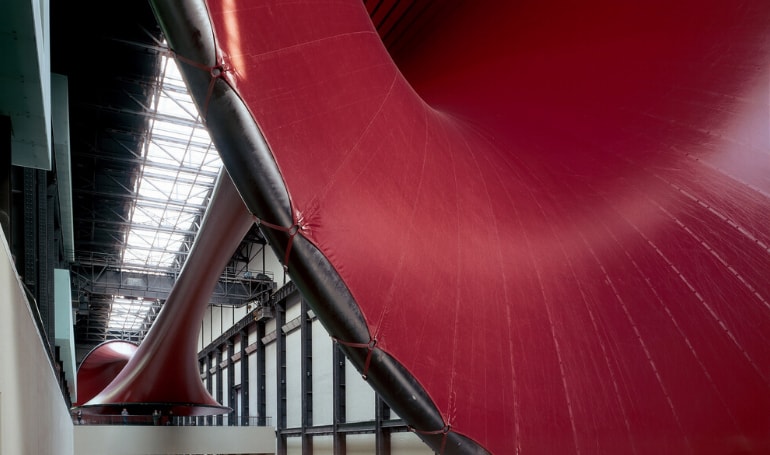 Scale as a Tool of Sculpture
One of Kapoor's most famous sculptures is Marsyas, the 10-story-high, 150-metres-long trumpet-shaped structure that occupied Tate Modern's Turbine Hall in 2002. In Kapoor's words, "Every idea has its scale. Marsyas wouldn't be what it is if it were a third of the scale. The pyramids are the size they are because they are. Scale is a tool, a tool of sculpture." When creating Marsyas, the most important idea for Kapoor was that the viewer could never have a complete view of the sculpture. As such, it would remain mysterious, somehow incomprehensible and unfathomable, and therefore, crucially unobtainable. Visitors experienced the sculpture in a series of different encounters, each time taking in a part of the whole. Another famous Kapoor sculpture is Cloud Gate (2006) in Chicago, nicknamed "The Bean" due to its kidney bean form. This shiny stainless steel sculpture, reflecting and distorting its surroundings whilst also vast enough to allow people to walk underneath its arch, measures 10 by 20 by 13 metres. Kapoor notes the importance of perception and context in its shifting scale: close to the object, it seems very large, while moving away enables a perspective to include the Chicago skyscrapers which tower high above it.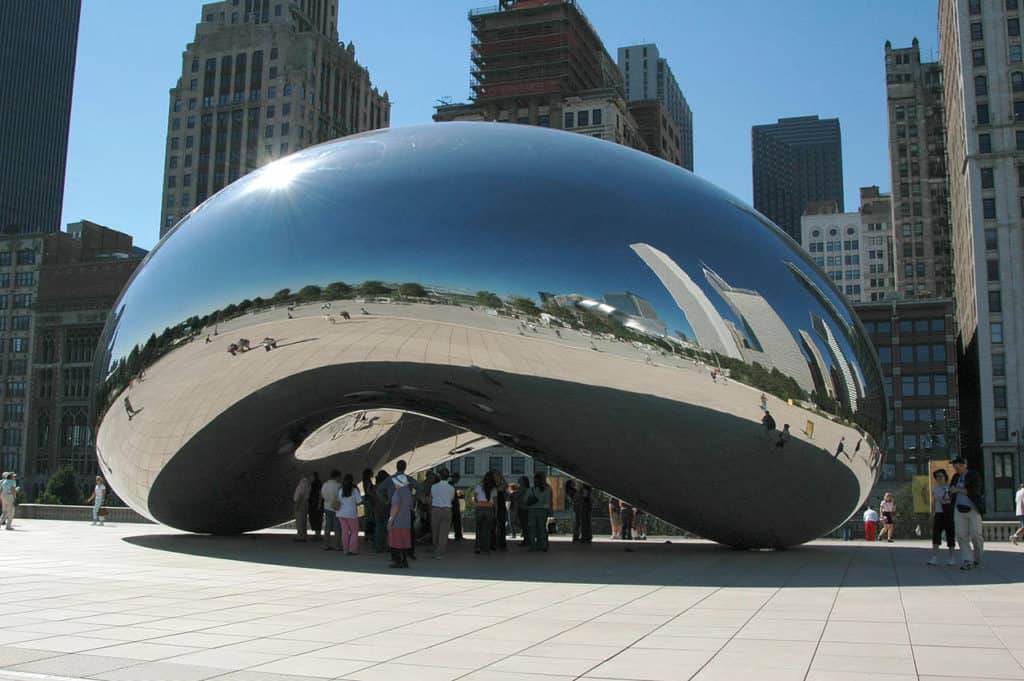 "I don't want to do what I did before, I want to do what I just don't know how to do."

Anish Kapoor
Anish Kapoor and The Void
One of Kapoor's key themes is the void, the moment in his sculpture when the opening isn't just a hole but a space full of what isn't there. He began exploring the theme of the void in large-scale stone works, at times defining the insides and outsides, at other times clearly delineating empty spaces. He describes the void as being a state within, a potential space, not a non-space. With his exploration of the void, Kapoor approaches psychology, fear, death, and love in as direct a way as possible, yet avoiding direct storytelling or meaning. Significantly, Kapoor asserts that he has nothing to say as an artist, no message for the world. As such, he explains, meaning arises because it must, not because he puts it there.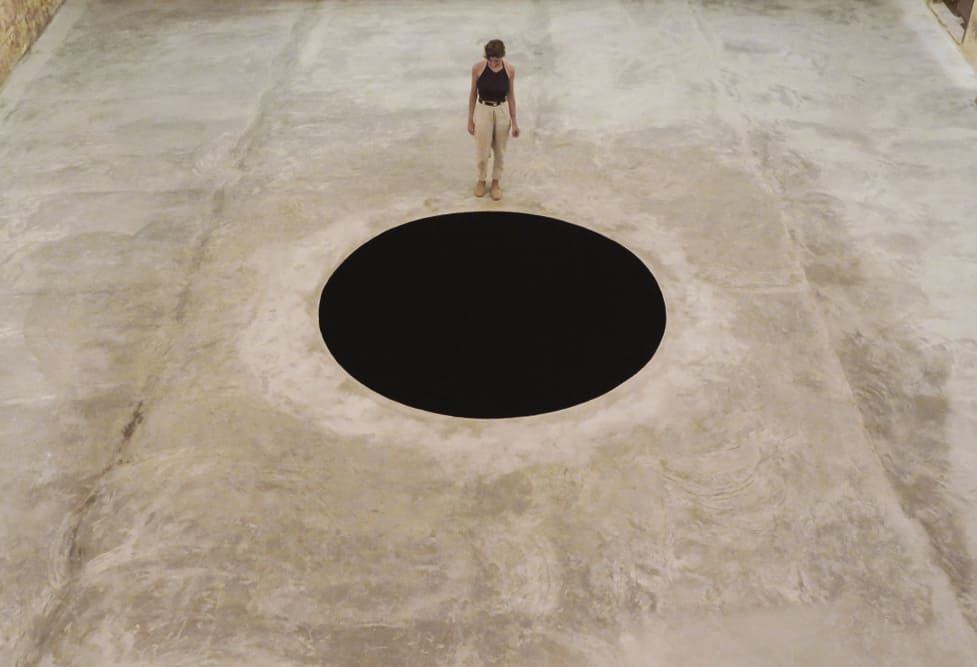 Anish Kapoor on a Smaller Scale
Although he is famed for his impressive large-scale works, Kapoor also continues to create smaller scale works, making pieces that fit in the context of the gallery space. Just as is the case with Kapoor's larger public works, these smaller works invite viewers to interrogate their relation to space. With their often sumptuously saturated colours, potential to evoke physical and emotional depth, and invocation of the profundity of the sublime, Kapoor confronts the viewer's expectation of optical perception, pushing for a re-examination of phenomenological experience – whether through a seemingly infinite black hole, an impossible reflection or mysterious, semi-reflective hues.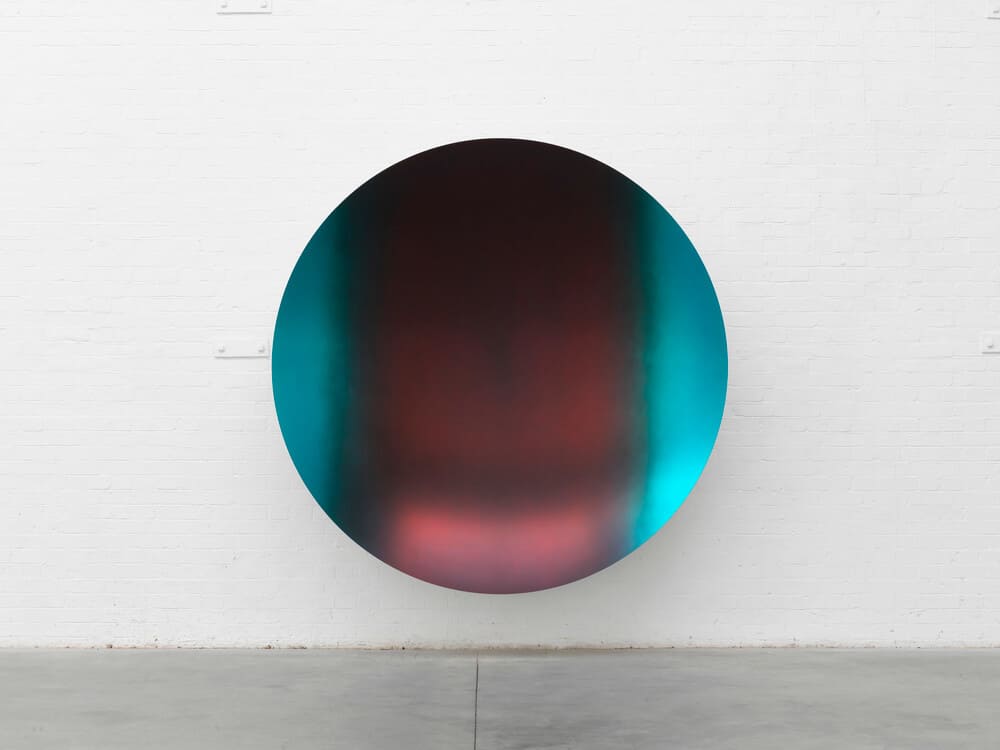 Anish Kapoor and Vantablack
One of Kapoor's more recent fascinating undertakings is his work with Vantablack, the blackest synthetic material in the world that absorbs 99.96 % of light. Developed by British researchers for aerospace, engineering, optics, and military and defence, Kapoor heard about their development and eagerly reached out to Surrey NanoSystems, the company manufacturing Vantablack, to collaborate. Kapoor bought an exclusive license to use the material, making it impossible for other artists to experiment with this blackest black, and causing quite the uproar in the art world. Among the most incensed was Stuart Semple, who, out of spite, developed the production of the "world's pinkest pink" and glitteriest glitter. Kapoor is set to unveil his first works using Vantablack at the 2021 Venice Biennale.
Kapoor once said, "I don't want to do what I did before, I want to do what I just don't know how to do." His exploration with the complex Vantablack material might be the very peak of this approach to life and art.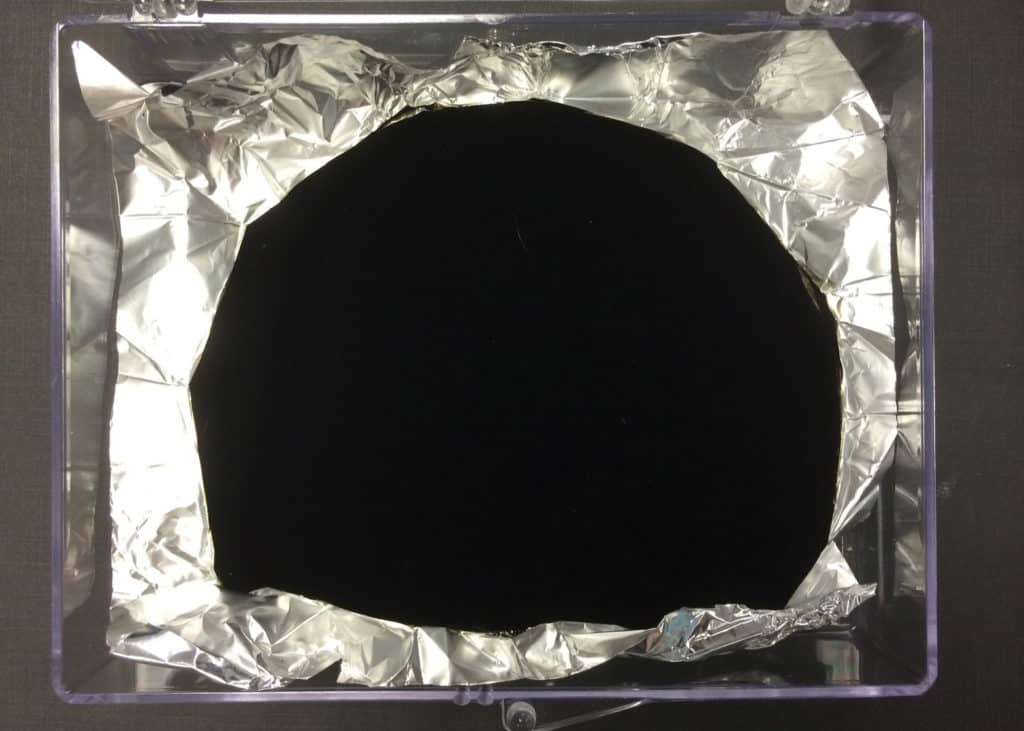 Where to find Anish Kapoor's work?
Kapoor's work is part of notable collections worldwide, from the Museum of Modern Art in New York City, Tate Modern in London, and Fondazione Prada in Milan to the Guggenheim in Bilbao, the Moderna Museet in Stockholm and the 21st Century Museum of Contemporary Art in Kanazawa, Japan.
Relevant sources to learn more
Anish Kapoor Official Website
Lisson Gallery
Guggenheim
Explore the work of other boundary-breaking sculptors:
Constantin Brancusi
Alberto Giacometti
Henry Moore
Discover & Buy Sculptures for Sale