Articles and Features
Boundary-Breaking Sculptors of the 20th Century. How Louise Nevelson Redefined The Materials of Sculpture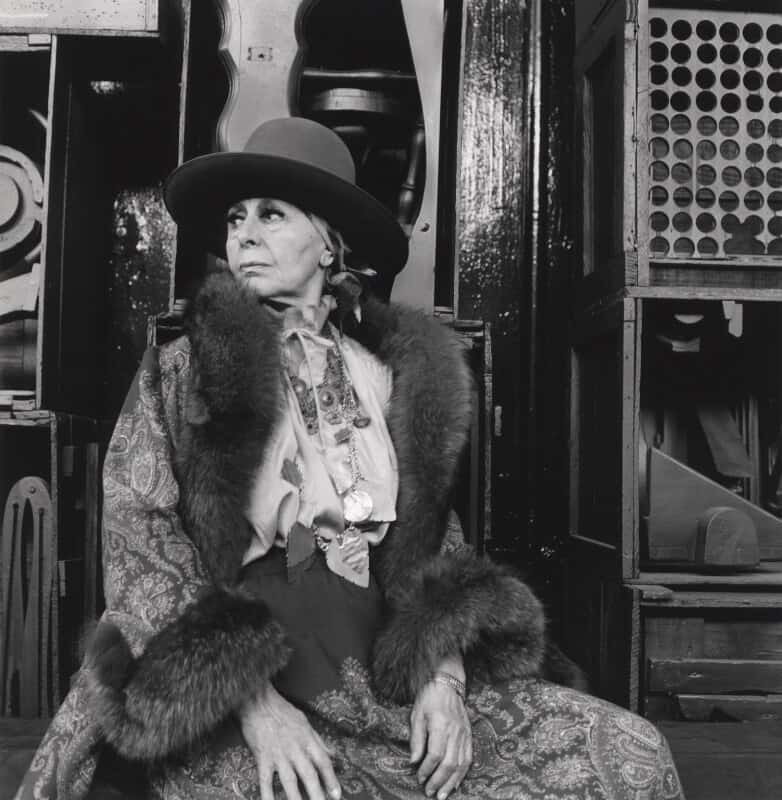 By Shira Wolfe
"My theory is that when we come on this earth, many of us are ready-made. Some of us – most of us – have genes that are ready for certain performances. Nature gives you these gifts. Picasso was drawing like an angel in the crib. You're born with it."

Louise Nevelson
Who was Louise Nevelson?
Boundary-breaking Sculptors are those who in their own way pushed the medium of sculpture forwards into new, unique territories. This week, the striking sculptures of Louise Nevelson take centre stage. A pioneer in contemporary art, Nevelson created works characterised by puzzle-like nature, often made from scraps of wood found on the street and painted in monochromatic colours to emphasise the effects of light and shadow.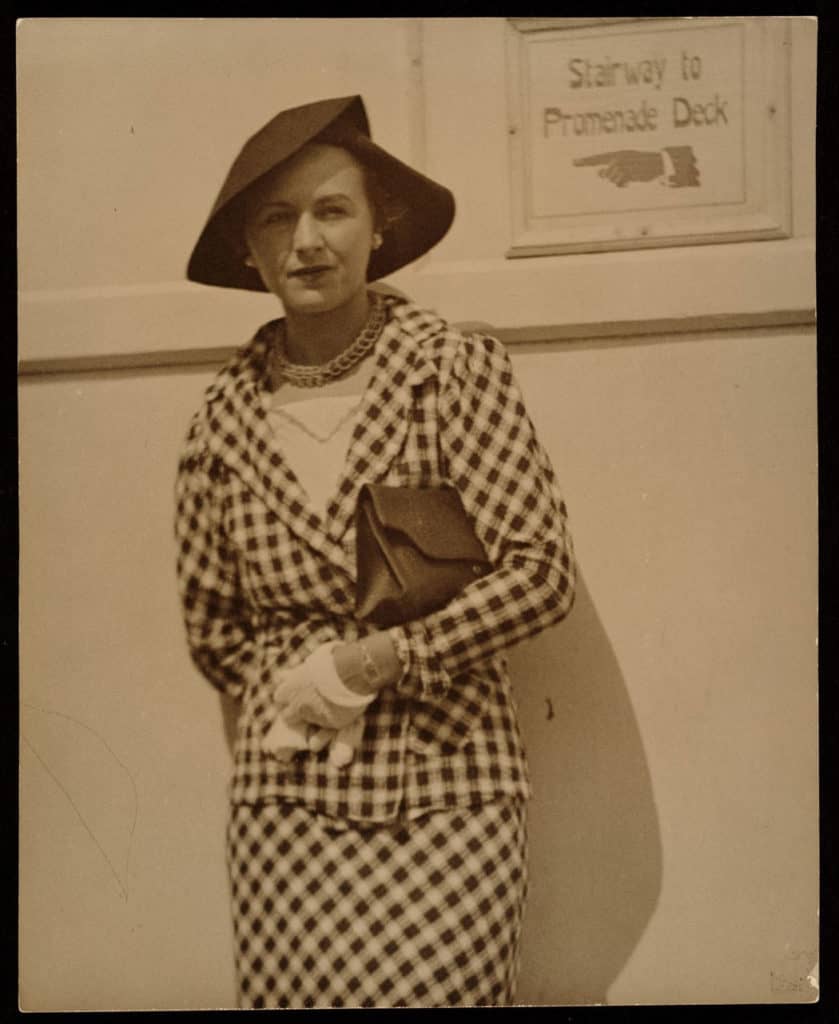 Biography of Louise Nevelson
Beginnings in Art
Louise Nevelson (1899-1988) was born in Russia as Leah Berliawsky and brought to the United States, Maine, in 1905. In 1920, she moved to New York City with her husband Charles Nevelson, the city where she would reside for the rest of her life. She once described New York as her mirror. It was a place of endless inspiration for her. In her early New York days, Nevelson studied voice and drama and later attended the Art Students League in 1929 and 1930 where she studied painting and drawing. Her marriage did not last – she realised she was not at all cut out to live the conventional life of a wife and mother and made the bold decision to travel to Europe in 1931, where she studied briefly with Hans Hofmann in Munich. When she returned to New York from Europe, she was energised to get to work there. She saw much more potential for the development of her work in the United States, saying: "I could be a leaf on the tree in Paris, but I could be the whole tree in America."
Upon her return in 1932, Nevelson started working as an assistant to Diego Rivera, helping him with the murals he was executing under the WPA Federal Art Project. Rivera also introduced her to pre-Colombian art. It was shortly after this work that Nevelson turned her attention towards sculpture.
As Nevelson recounts, she had always known somewhere that sculpture would be her main medium. One of her most famous quotes reads: "I remember going to the library one day, I couldn't have been more than nine, and the librarian asked me what I was going to be. And I replied: 'I'm going to be an artist.' 'No,' I added. 'I am going to be a sculptor, because I don't want colour to help me.'"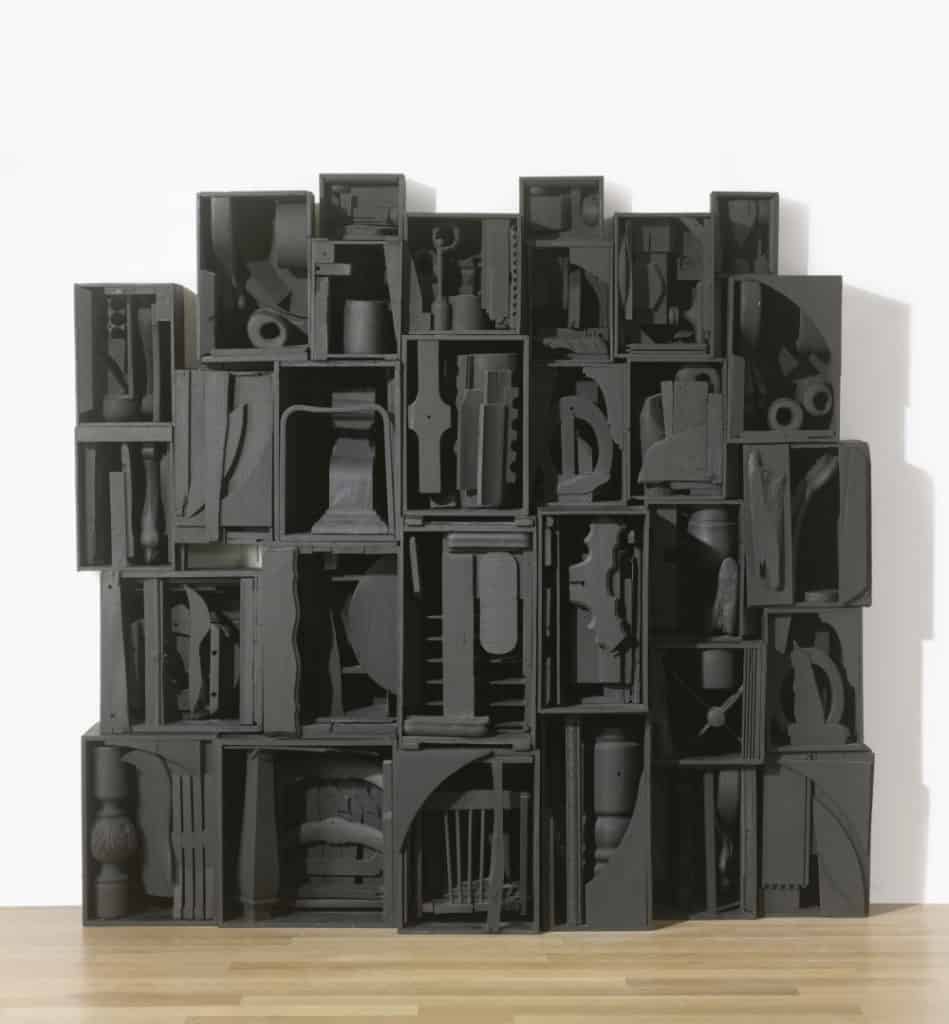 Signature Style and Approach
Nevelson's early work from the 1930s was mainly composed of small, semi-abstract figures modelled from clay. Her works were shown for the first time in a museum exhibition at the Brooklyn Museum in 1935. In 1941, Nevelson marched right into the prestigious Nierendorf Gallery, demanding an exhibition from the gallery director. After visiting her in the studio, Karl Nierendorf agreed to represent her and she had her first solo show in his gallery that same year, which featured terra-cotta and wood sculptures based on Mayan and other primitive imagery. She continued to show at his gallery, greatly increasing her visibility, although a lack of sales proved discouraging. When Nierendorf died unexpectedly in 1947, so soon after Nevelson had lost both her parents in the years prior to this, she became withdrawn and exhibited rarely. In her artistic practice, this period was defined by small black boxes with velvet interiors. The three themes that were to be central to Nevelson's artistic practice also emerged in this period: royalty, marriage and death.
Two trips to Mexico, made in 1949 and 1950, deeply affected Nevelson as she found a great deal of inspiration in the monumental and totemic Mayan artworks. She started incorporating these elements into her own sculptural works.
In the mid-'50s, Nevelson really started to come into her own, developing the dramatic and dreamlike sculptural constructions which she became best known for. After struggling for many years to receive recognition, she finally started achieving widespread success in the 1950s. She was extremely interested in ideas, and in the concept that art can be found everywhere. She would walk through the city and see scraps of old wood on the street, and instead of regarding these as junk, would see immense artistic potential in them. From her found wood pieces, Nevelson built boxes and walls, striking puzzle-like sculptures with many intricately cut pieces forming a whole. She liked to paint them in monochrome colours, favouring black above all, to emphasise the effects of light and shadow. In a time when most of her contemporaries were sculpting with steel and aluminium, Nevelson was engaging in a completely unique form of sculpture, exploring the living quality of wood and using the rough, imperfect nature of her found objects as an extremely subtle source of expression within the rigidity of her built environments.
Eventually, in the 1960s, Nevelson also started working with plastics and Formica, and in the 1970s she created pieces in aluminium and steel. However, she never gave up her passion for working with wood and found, discarded objects.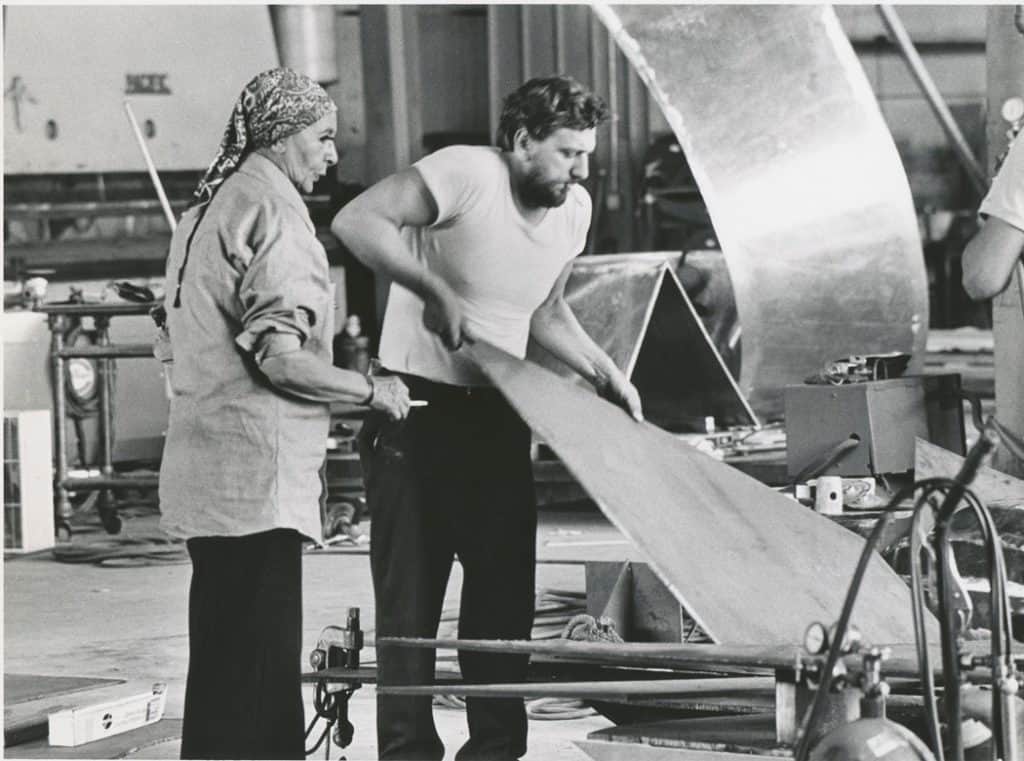 "For me, the black contains the silhouette, the essence of the universe. But the whites move out a little bit into outer space with more freedom."

Louise Nevelson
Most famous works by Louise Nevelson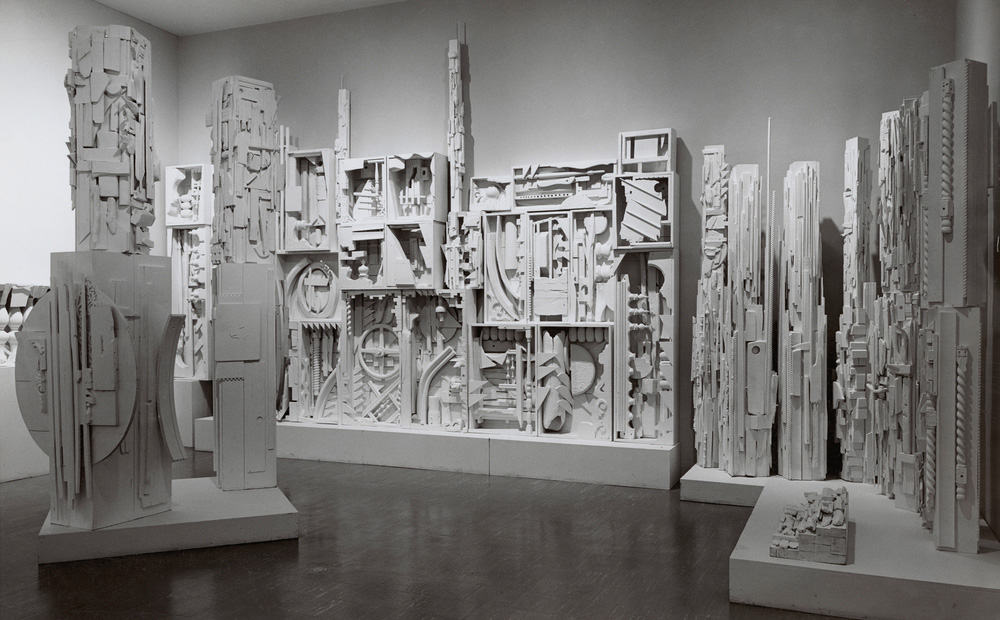 Dawn's Wedding Feast
In 1959, Nevelson created her majestic all-white sculptural installation or "environment" for the MoMA exhibition Sixteen Americans, entitled Dawn's Wedding Feast. The installation filled an entire 14 x 24 x 22-foot space. According to Nevelson, this piece symbolised her marriage with the world. The installation consisted of various abstract wooden sculptures, representing different elements of a wedding party. The sculptures of Dawn's Wedding Feast were subsequently dispersed into many different collections, yet the unified display of elements established Nevelson as a pioneer of sculptural installations. Up until Dawn's Wedding Feast, Nevelson had almost exclusively used black paint in her works. Regarding her use of the colour white, Nevelson explained: "For me, the black contains the silhouette, the essence of the universe. But the whites move out a little bit into outer space with more freedom."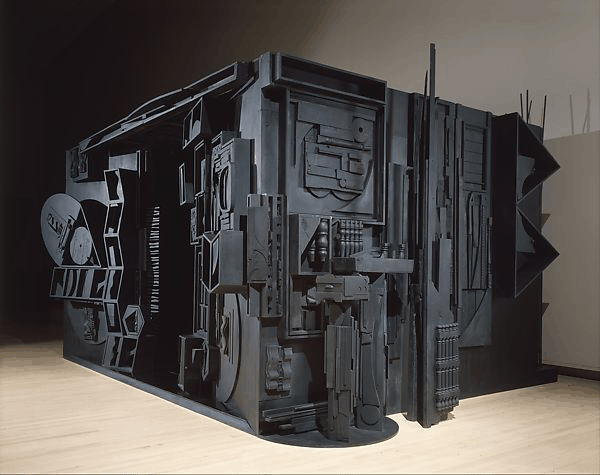 Mrs. N's Palace
Mrs. N's Palace (1964-1977) is considered to be Nevelson's magnum opus and is her largest work. It took no less than 13 years to complete and was unveiled on her 80th birthday. The "Mrs. N" suggested by the title is Nevelson herself, the grand monarch of this structure that is both environment and monument, recalling the ancient sepulchres of the Egyptian pharaohs. The piece is monumental but also feels almost like a small house with private, intimate spaces. It is composed of over a hundred interconnected objects which emanate the spirit of Nevelson, and of her beloved New York City, her "mirror".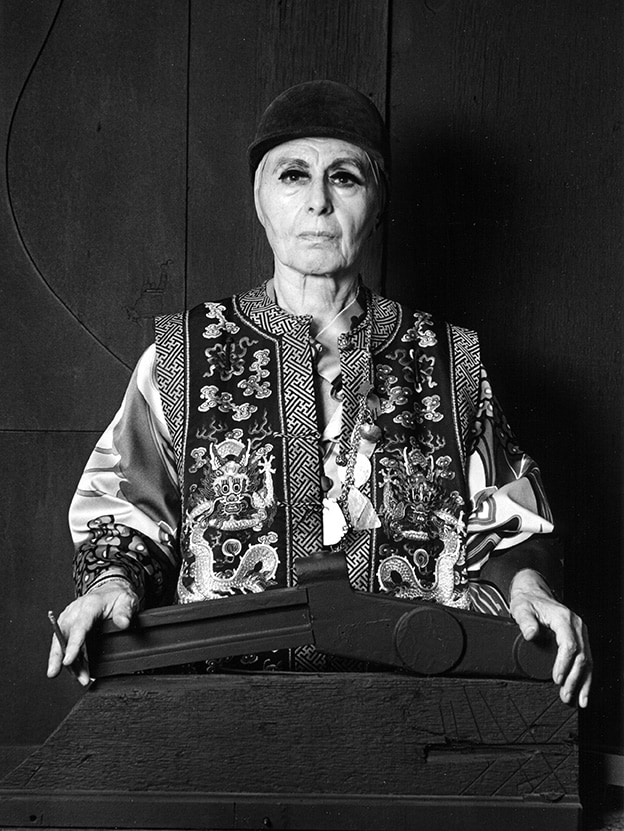 Fame and Legacy
Louise Nevelson loved to be seen. She revelled in the recognition she received and had always known she deserved – it took until she was in her 60s for real widespread recognition and acclaim, and she enjoyed every minute of it. The charismatic artist herself exuded a sense of royalty with which she imbued her sculptures, parading around New York in her eccentric, luxurious outfits.
Nevelson represented the United States at the Venice Biennale in 1962 and 1976. She received a retrospective exhibition at the Whitney Museum of American Art in 1967, and one after her death in 1998. Throughout her life, Nevelson exhibited regularly across Europe and the United States, and her works are held in major museum collections. In 1973, she had a major international travelling retrospective. Nevelson has been represented by Pace Gallery since 1963 and is also represented by Locks Gallery.
The great Louise Nevelson died in 1988, leaving behind a legacy that continues to inspire artists today. In the words of her biographer, Laurie Lisle, "she really overturned any stereotypes about the nature of the work of women artists."
Where to find Louise Nevelson's work?
Nevelson's works are held in the collections of the Tate Gallery in London, The Museum of Modern Art in New York, the Art Institute of Chicago, and the Walker Art Center in Minneapolis, among many other prestigious institutions across the globe. But one of the largest collections is housed at The Farnsworth Art Museum, in Nevelson's childhood home of Rockland, Maine,
Moreover, a sculpture garden dedicated to the artist in Manhattan features a collection of works by Nevelson. Many of her papers in several instalments from 1966 to 1979 have been fully digitized and are now part of the Archives of American Art.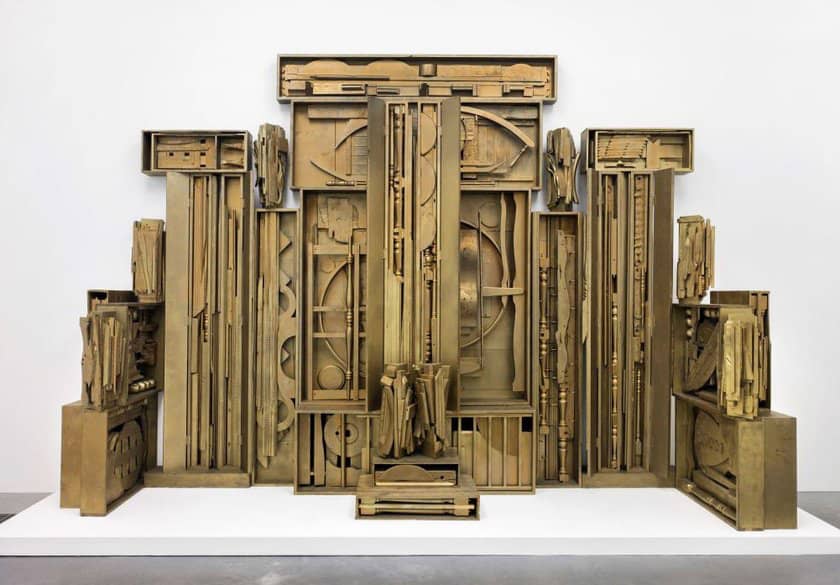 Relevant sources to learn more
National Museum of Women in the Arts
Locks Gallery
Pace Gallery
The Village Voice
Explore the work of other boundary-breaking sculptors:
Constantin Brancusi
Anish Kapoor
Alberto Giacometti
Henry Moore