Articles and Features
Dan Flavin – Pioneer of Minimalism Through Light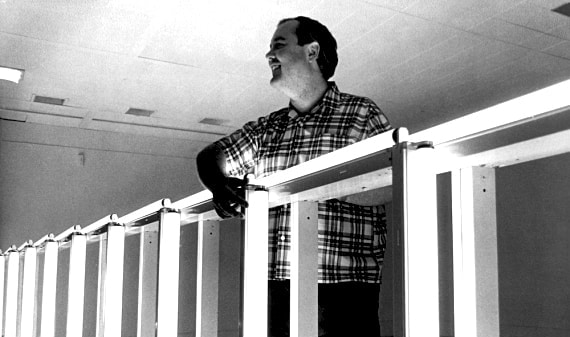 By Shira Wolfe
"One might not think of light as a matter of fact, but I do. And it is, as I said, as plain and open and direct an art as you will ever find."

Dan Flavin
Who was Dan Flavin?
Boundary-breaking sculptors are those, who in his or her own way pushed the medium of sculpture forwards into new, unique territories. American minimalist artist Dan Flavin (1933-1996) dedicated most of his artistic career to pursuing the artistic possibilities of fluorescent light. By radically limiting his materials to commercially available fluorescent tubing in standard sizes, shapes and colours, Flavin extracted everyday hardware from its usual context and inserted it into the world of high contemporary art. What resulted was a body of work that was at once breathtakingly straightforward in its simplicity but profound for the phenomenological implications of receiving a work of art it precipitated.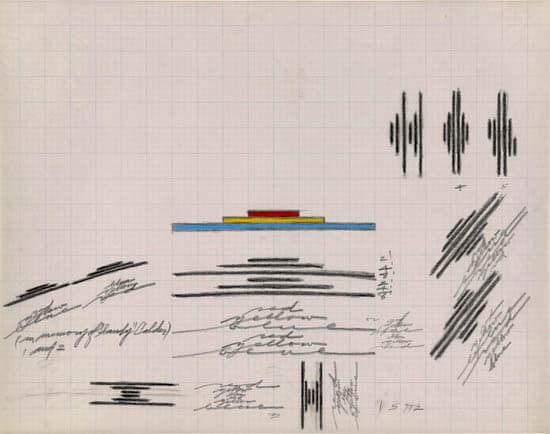 Biography of Dan Flavin
Priesthood, Military Service, and Discovering Art
Dan Flavin, born in New York in 1933, did not start out by pursuing an art career. Between 1947 and 1952, he studied to become a priest, before enlisting in the United States Airforce in 1954. During his military service in Korea, Flavin came into contact with art through an adult study programme organised by the University of Maryland. When he returned to New York in 1956, Flavin briefly attended the Hans Hofmann School of Fine Arts and studied art history at the New School for Social Research. In 1959, he took drawing and painting classes at Columbia University and began working on a series of collages and assemblages in addition to his Abstract Expressionism-inspired paintings. He presented his first solo show of collage works and watercolours in 1961 at the Judson Gallery in New York. That summer, while working as a guard at the American Museum of Natural History in New York, Flavin began making sketches for sculptures, incorporating electric lights.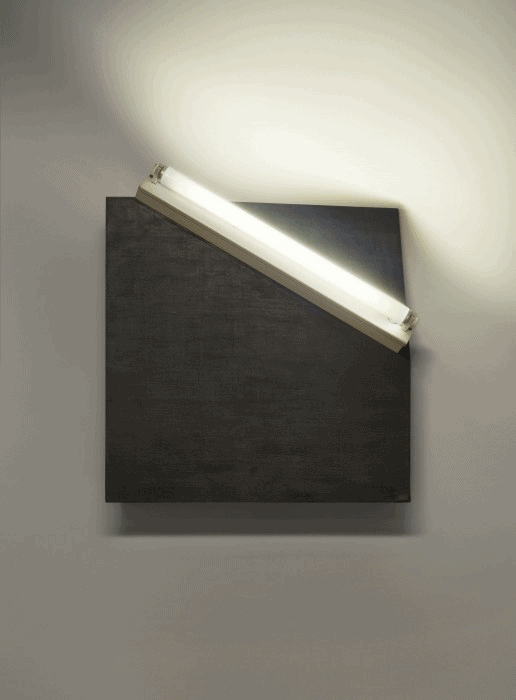 Brought Into the Light
After these initial sketches, Flavin next moved on to translating them into assemblages, a group of works he called "icons." For these works, he juxtaposed lights with monochromatic canvases. According to Flavin himself, each "icon" possessed a "hierarchical relationship of electric light over, under, against and with a square-fronted structure of paint 'light.'" Whilst working through this relationship in 1963, Flavin experienced something of an epiphany, occurring when he constructed the first sculpture made entirely of fluorescent light, in the process removing the canvas altogether and beginning a lifelong obsession with his signature fluorescent tubes. The piece in question was titled The Diagonal of May 25, 1963 (to Constantin Brancusi). The "icons" series thus formed a sort of bridge between painting and sculpture for Flavin, linking his early-career works to the minimalist abstract art he is most remembered for.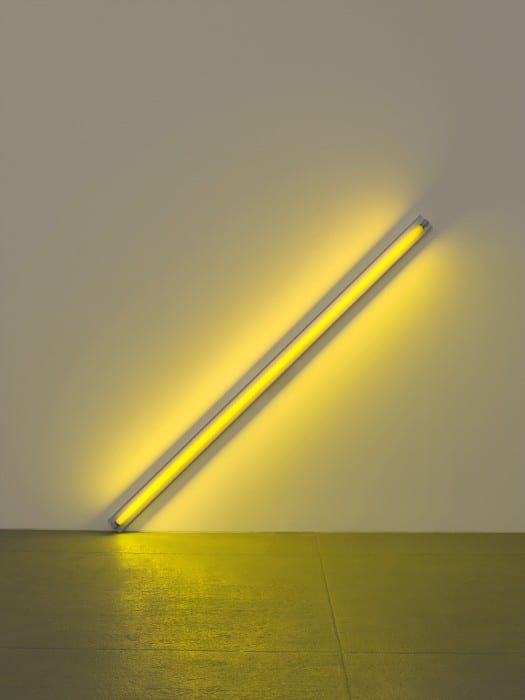 Dan Flavin's Groundbreaking "Situations"
By 1968, Flavin had pushed his process even further, developing his light sculptures into ambitious room-size environments of light. He liked to refer to his pieces as "situations," which aimed to highlight the architecture of a space or structure by flooding it with coloured light. That same year, he filled a gallery with ultraviolet light at Documenta 4 in Kassel.

In the '70s and '80s, Flavin began to create more complex figurations of fluorescent tubes, consisting mostly of more complicated arrangements of elements. More and more, his work began to concentrate on the relationship between his sculptures and the spaces they inhabited. With his so-called "corridor" pieces, a series of parallel fluorescent tubes extended across the width of a hallway, he blocked the conventional access of the processional space, forcing visitors to find a different pathway and thus both experience space and sculpture from multiple vantages and in different ways. In the first such corridor, Untitled (to Jan and Ron Greenberg) (1972-1973), Flavin made a corridor obstructed by bars of light – yellow on one side, green on the other. A small gap between the last fluorescent tube on each side reveals the glow of the other colour, tingeing the primary colour with the effects of the light spilling in.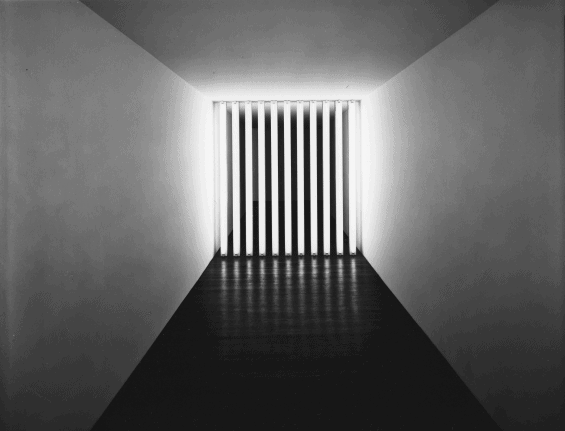 Where to find Dan Flavin's work?
In the '90s, institutions started offering larger gallery spaces to Flavin as both his art world status and the scale of light installations increased. His large-scale light "interventions" found their way to institutions such as the Guggenheim Museum, the Hamburger Bahnhof in Berlin, and the Dia Bridgehampton, a fire station-turned-church-turned-museum which opened in Bridgehampton, New York as the Dan Flavin Art Institute; but also the Chianti Foundation in Marfa, Texas, and the church of Santa Maria Annunziata in Chiesa Rossa in Milan. Visitors to this church can still admire Flavin's deeply moving site-specific artwork Untitled (1996) there today, permeating the space with green, blue, pink, golden and ultraviolet light. For this piece, one of Flavin's last works before he died, he created a natural "night-dawn-day" progression of light.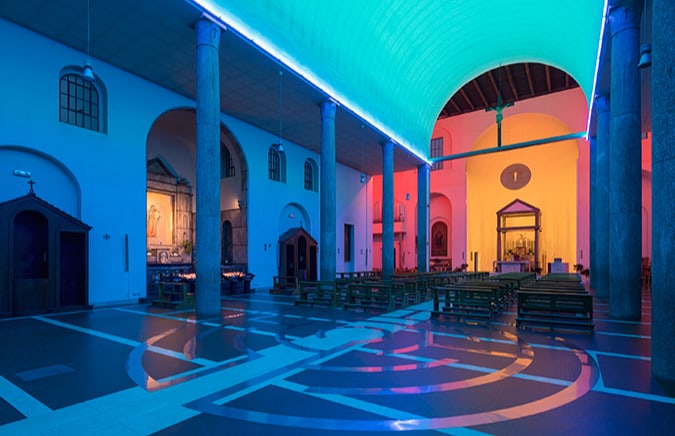 "It is what it is and it ain't nothing else."

Dan Flavin
A Subtle Sense of the Spiritual
Although Flavin denied the existence of any symbolic or spiritual meaning in his art, there is nevertheless an undeniable hint of spirituality that subtly permeates his light installations and the spaces they inhabit. Spirituality in the sense that they transcend our everyday realities and offer illumination. Flavin once said of his art: "It is what it is and it ain't nothing else." And while this is an apt description by an artist who knew exactly what he was doing and did not want to cloud his works with too many suggestions and too much set meaning, there is something telling about the fact that Flavin began his career with pieces he called "icons," and ended his career and life with a project illuminating the interior of a church.
Relevant sources to learn more
Read more about Dan Flavin and his light sculptures here:
Bastian Gallery
National Gallery of Art
Castelli Gallery
Fondazione Prada
Explore the work of other boundary-breaking sculptors:
Constantin Brancusi
Anish Kapoor
Henry Moore
Louise Nevelson