Articles and Features
Art History In The Age Of TikTok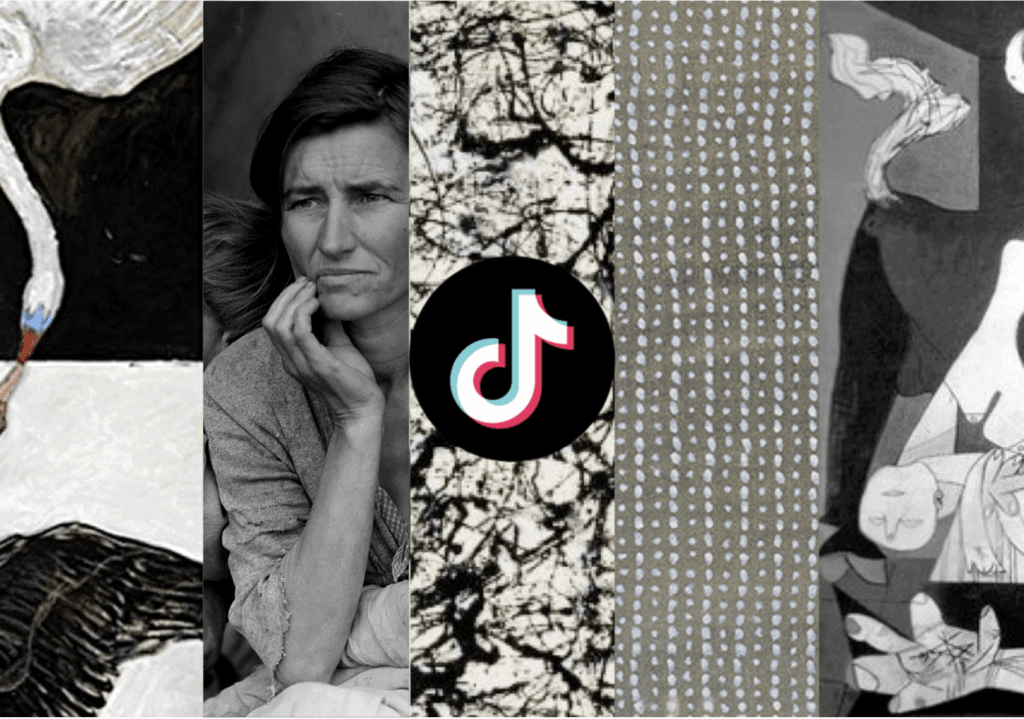 By Tori Campbell
"Visual literacy is the way in which we read images. The only way I can explain is that, we learn how to read poems, we don't just give someone a play by Shakespeare and expect them to understand it completely. The same goes with art."

TikTok user @umeboi
Depending on who you talk to, it is either perfectly expected or entirely out-of-the-ordinary that there is a thriving community centred around art history on TikTok.
In spite of the political scandals surrounding the popular social media application in the fall of 2020, the negative perception largely came to pass, and, in recent months, more and more young (and not-so-young) people have flocked to the app.
With most of the world on some level of lockdown, the video-sharing platform has amassed an average of one million videos per day, with users sharing everything from recent news to the mainstay of the internet, cat videos.
Innumerable subcultures emerged on the app, and users often exclaim their joy in unknowingly stumbling upon vague or, conversely, hyper-specific types of videos such as 'frog TikTok', 'sea shanty TikTok', and – most relevantly – 'art history TikTok'.
A new generation of TikTok art historians is, in fact, using the platform as a place to share ideas and knowledge about art and art history while also establishing themselves in a world that is, by necessity, almost fully digital.
Art History TikTok
While many are home with their schooling conducted online, these content creators have capitalised on this moment to grow a presence and establish themselves as experts within their field, freely providing information on art history, contemporary trends, and critiques to a global audience of (mostly) young people. In the short video clips, which are at most a minute long, they explain to their audiences why we should be interested in canvases that are painted entirely one colour, or look like they were drawn by children.
Often holding fine art, art history, or architecture degrees, these TikTok art historians also use the platform to cover topics not often discussed in the more established spaces within the art industry like galleries and museums: shedding light on the misogyny, racism, colonialism, and xenophobia that has been prevalent in the personal lives and works of big-name artists.
Art history on TikTok is brought directly to the viewer, and tells stories and viewpoints that offer them an alternative entry point into the industry. This approach, combined with the tangible effort from the creators to craft inclusive and accessible content; give art history, cultural and visual analysis, and contemporary art trends the wider audience it deserves. By operating on TikTok, and in the thoughtfully conversational way that these users do, they are able to cultivate an entirely new community of art patrons, bringing cultural critique out of the ivory towers of museums and galleries onto screens around the world.
Of course, museums have hopped onto TikTok as well, with the best social media teams scrambling to keep up with the grassroots movement that began before they had even considered downloading the app. However, their institutional content differs considerably in both tone and content; and while they offer insights and behind-the-scenes looks into their collections, some of the most diverse and democratising art history TikTok content is still created by individuals.
Explore some of the most popular individual art history TikTok accounts below!
TikTok user Evan, @evan.hart, cheekily proclaims their mission in their account description: 'welcome to sapphic art history tiktok'. Following popular TikTok audio trends they also pave their own way by asking users to respond to a video by explaining the historical misconceptions that bother them. Most popularly Evan offers a seven-part series of 'Queer Female Artists' and a broader 'Badass Women in History'.
Currently on track to receive his BFA in Fine Arts from the California Institute of the Arts in 2021 TikTok art history buff known as @umeboi has, as of publication date, 213.8k followers amassing over six million total likes on his videos. With a wide focus for his videos, sometimes using trending audio for short clips, he tends to most often enjoy shedding light on misconceptions or discriminatory attitudes within the industry. Recently, he created a video explainer about how the distinction between 'arts and crafts' comes from a history of sexism and racism and has also touched upon the importance of art in creating a cultural identity. Like other TikTok art history accounts, his most popular videos often jokingly refer to the abhorrent personal lives of some of the most famous artists of all time.
Art history Tiktok creator Olivia, known as @arthistoryminutes provides quick, diverse lessons about current events, contemporary artists, and artistic movements. Covering everything from cultural appropriation in impressionists works, to the era in which painters used pig bladders to hold their paint; she covers a wide range of topics and time periods. Incorporating some of the nuance in critique that is often lacking from her contemporaries, Olivia explores the fine line between inspiration and theft as well as museums' involvement in discussions around repatriation.
Mary, also known as @_theiconoclass graduated from the University of Melbourne with degree in Art History and has recently taken to TikTok with the tagline of '👁 art history is just old memes 👁'. With an aim of making visual culture analysis more accessible she provides her audience with the tools to view and understand a piece of art. By combining her academic background in research with her social media prowess she hopes to act as a resource for visual literacy and critical media theory in a fun and accessible way.
With an account description of "Artist on a mission to make Art History accessible" TikTok user @artistcolette provides pithy and informational videos on everything from how to see more art in daily life, to how to understand why a Mark Rothko could have been purchased for 87 million USD. Take an art history TikTok field trip with her to the Metropolitan Museum of Art's 'About Time' exhibition and learn more about accessibility in art museums.
The Future of Art History TikTok
A recent video posted by @artistcolette muses on if and how the content created on TikTok will have a lasting impact on the video-creators' careers. As she and many of her contemporaries are due to graduate later this year, it will be interesting to see how formalised cultural institutions respond to these guerrilla educators entering the workforce. With any hope, established institutions will acknowledge the value in the creators' efforts to establish new, wider, audiences of art appreciators – something they have been attempting to achieve for decades – in order to collaborate to craft more accessible and inclusive ways of communicating art and culture.
Relevant sources to learn more
See more at the #arthistory on TikTok
The BBC covers how TikTok will be formalising educational content