Articles and Features
From Graffiti to Gallerist. We interview Morten Halborg-Møller of Bricks Gallery, Copenhagen
"It happens that people come in looking for a print but end up walking out buying their first original piece."
For six months Bricks gallery and it's sister business, Limited Works, have occupied side-by-side red brick storefronts in the heart of Copenhagen's energetic Nørrebro. We talked to founder and owner Morten Halborg-Møller about his journey to his current occupation, via a subculture route through graffiti, zines, and DJing at legendary Copenhagen nightspot VEGA.
Hi Morten, who are the artists you most admired when you were discovering your interest in art?
As a kid I got introduced to one of the most radical contemporary art movements of them all, Graffiti. My first artist idols where pioneers from New York like Seen, Lady Pink and Blade (R.I.P). A big chunk of my youth was spent on painting graffiti and releasing home made zines and it quickly acted as a springboard for my interest in other art movements. Soon I became fond of Basquiat, Warhol and Robert Rauschenberg – Rauschenberg's collages fascinated me especially. I was also really into the crazy world of Marcel Duchamp. The absurdity and provocative expression of Dadaism appealed a lot to my young and rebellious mind. Later on when I became a DJ and busy night club promoter, I even named one of my nights at VEGA "Club Dada".
What prompted you to open a gallery space to represent and exhibit artists?
In 2011 I took the first steps into the art scene as a possible livelihood. I did so with Limited Works – an affordable art project whose purpose was – and still is – to get original editions and paper pieces on regular customers' walls. Thus, I drove a web shop and store for several years, published editions and books and arranged small exhibitions with the artists – many of whom were my friends already. Even if it succeeded for me to make a living from it, it was clear that something had to happen if I weren't to get stuck with daily management and excel sheets.

I realized that what really drove my passion was the close collaboration with the artists. I wanted to make amazing exhibitions with them and help them evolve, rather than be running a small shop. To find a bigger venue was therefore inevitable, but if I was to be able to see myself as a gallerist, I had to shake things up and think outside the box. I wanted to stay in Nørrebro, the Northern Borough of Copenhagen, where I already had built up something sustainable, so when my friend from SUPERFLEX asked me if I was interested in taking over their former headquarters a stone's throw away, I took the chance and haven't looked back since.
Did you have a particular mission or theme in mind for the gallery?
I want to contribute by making it more comfortable for those who are drawn to art, but maybe also feel a little intimidated by the white cube, and the jargon dominating the art world. The fact that BRICKS is set in the center of Copenhagen's three gallery enclaves: The Meatpacking District, Bredgade and Northwest, makes us stand out, which actually fits me perfectly. I also consciously chose to reopen Limited Works in the new space, to achieve a synergy and a different energy than you usually would experience when entering a gallery.

In BRICKS there is space for innovative thinking and inputs. We want to encourage the international collectors as well as the local young art enthusiasts, and here I really think that we are in an excellent position:

If an exhibition in the gallery didn't make a big impression, maybe there will be something in the shop you will find intriguing, and the other way around. It happens that people come in looking for a print but end up walking out buying their first original piece.

We are literally a gallery at eye level. Outside our windows you find Blågårdsgade – one of the most vibrant spots in town. I want BRICKS to contribute to the street by hosting one-off happenings in between exhibitions such as film screenings, performances and small concerts.
"That's also why I have called the gallery BRICKS, exactly because I see the artists, the artworks, the employees and guests as a pile of bricks which – if you collaborate well – can be built into a strong unit. "
I understand that you have a residency or studio practice so that works can be made on site for the shows. Is this the case for every exhibition?
Currently the studio is permanently occupied by two of our in-house artists: Luca Bjørnsten and Mathias Malling Mortensen who both come in daily and work on their pieces. So far it's working out great and I really appreciate having them as colleagues and consulters in the daily life of the gallery.
This is quite a unique idea – how do you feel it influences the artists and the way you put exhibitions together? Does it make it more collaborative?
Definitely! I can feel that it motivates the artists to come into the gallery everyday and it also works out as a reminder for me of what an artist's life is like – something gallerists often forget when they are running a business and only meet the artist sporadically or prior to an exhibition. The close collaboration with the artists affects the shaping of the exhibitions in a positive way, but it also affects the general development of the gallery. That's also why I have called the gallery BRICKS, exactly because I see the artists, the artworks, the employees and guests as a pile of bricks which – if you collaborate well – can be built into a strong unit.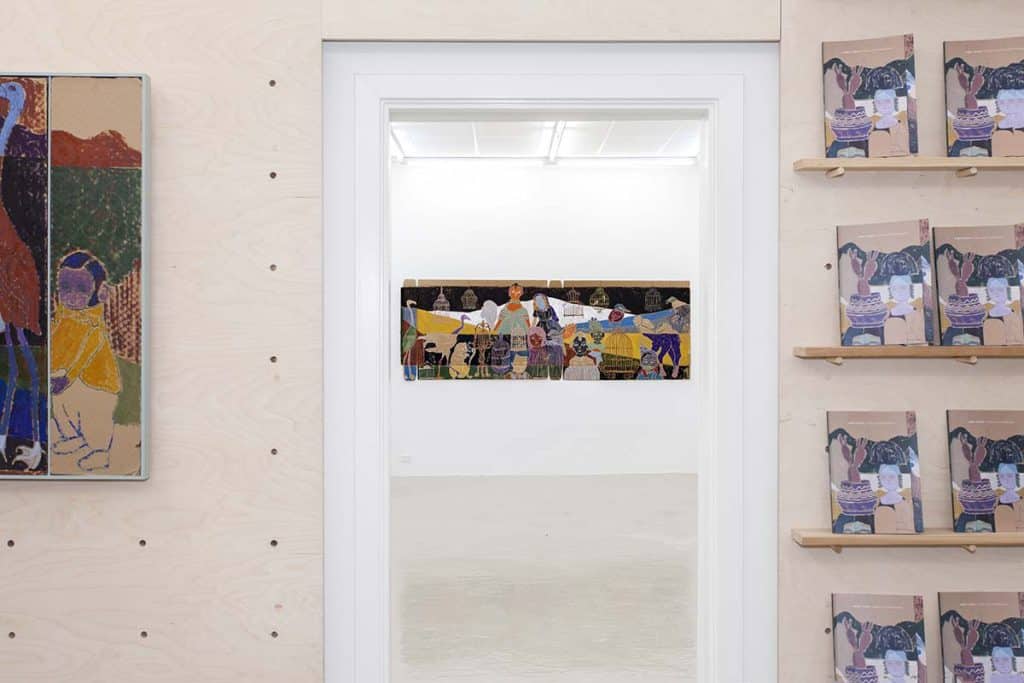 How are you coping with the COVID-19 closure of physical gallery spaces?
First we closed down completely as everyone else and moved a couple of solo exhibitions until later on this year. It is tough to be forced to close down when you've recently invested everything in opening a gallery, so I was a little paralyzed the first days to be honest. Then Luca and Mathias (the two in-house artists) proposed that they wanted to make a pop up exhibition along with Anne Torpe and so they did. The title of the exhibition "The Show Must Go On" fit perfectly with the feeling we agreed was necessary to fight our fear of the future.

We have actually had all our exhibitions filmed in 3D since we opened the gallery last year, and the technology gives the international followers a good opportunity to experience the exhibitions without having to hop on a plane to Copenhagen. Now the technology also came in handy with our local audience, and we could easily open the exhibition digitally via Artland.

Next up is the group show "Tales of Mirrored Existence" curated by artist Søren Arildsen, a first year student at the academy in Copenhagen. Søren has invited a handful of both Danish and international artists – of which the majority are academy students currently without access to their studios. They will all contribute with "quarantine drawings" and it is going to be very exciting to see how they each have transferred their frustrations onto paper.
Do you think that galleries are able to innovate to move into the digital realm?
A good share of galleries have been ready for a while. They understand the importance of strong and consecutive presence on social media and other digital platforms where the new generation of young art collectors especially seek out and shop from. The actual crisis is definitely going to accelerate this tendency, and we are already seeing now how everyone suddenly is busy establishing web shops and making online exhibitions. Luckily technology is becoming so good that it actually can be totally ok and quite fun to experience art from the comfort of your sofa.
What is your sense of the digital sphere and how do you use it?
A decade ago when I started my web shop there were many people who didn't understand what I was doing – but I saw great potential in making art more accessible by using the internet, and I still do. As a young gallery, the reach we can access through instagram and online platforms such as Artland is invaluable – and we use them very constantly both for sharing information regarding the gallery's activities and in regards to specific sales.
What are your ambitions for the gallery? A certain ideal space, taking part in fairs, how will you measure your progress and growth?
At BRICKS we will allow ourselves to do things a bit differently, as long as we make an effort! Right now our main focus is building up our identity by putting together good exhibitions and creating strong relationships with the artists we wish to work with. We have only existed in a little over six months, but have already hosted great solo exhibitions with Anne Torpe, Morten Buch, Jakob Steen, Luca Bjørnsten and a group show featuring Bertrand Fournier, Jenny Brosinski, Alina Vergnano, Struan Teague and many more.

For summer we are participating in ENTER art fair with four artists, and the rest of the year is otherwise fully occupied with soloshows by Morten Plesner, Matilde Duus and Mikkel Ørsted. From 2021 we are going to be starting to show more international artists.
Relevant sources to learn more
Bricks Gallery Website
Bricks Gallery profile on Artland
Michael Bevilacqua Studio Visit and Interview