Articles and Features
Michael Bevilacqua
Studio Visit and Interview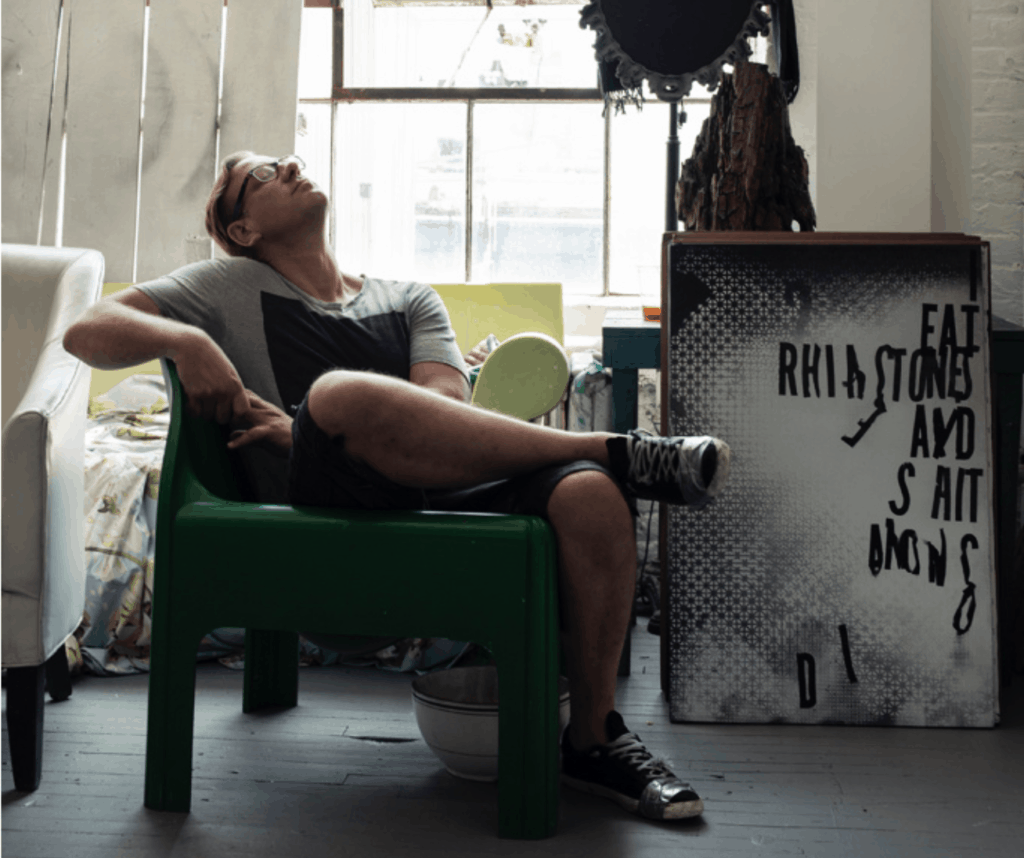 "Even though I don't own a computer my mind works like one "


– Michael Bevilacqua
For more than twenty years Michael Bevilacqua has been at the forefront of the type of painting that emerged after the various genre distinctions the art world used to cling to dissolved and forever merged together. Referencing rock lyrics, fashion labels, consumer products, graffiti and street art, as well as the tropes of minimalism, abstract expressionism and Pop Art, Bevilacqua's work is a riotous collage of the type only a true painting polymath could make. Typically the works are simultaneously accessible and esoteric, slick and raw, high and low—a seemingly effortless blend of elements jostling for primacy on the surface, where truncated snippets masquerade as cryptic aphorisms and co-exist with crisp graphics and passages of lush painting. They glow and pulse with the rival energies of the street and the museum, reconciling and resolving each in paintings that could be the very definition of contemporary. We paid a vist to Michael in his his studio as he prepared for his current two-person exhibition 'In My Room' at The Flat-Massimo Carasi in Milan and sat down with him to discuss his work.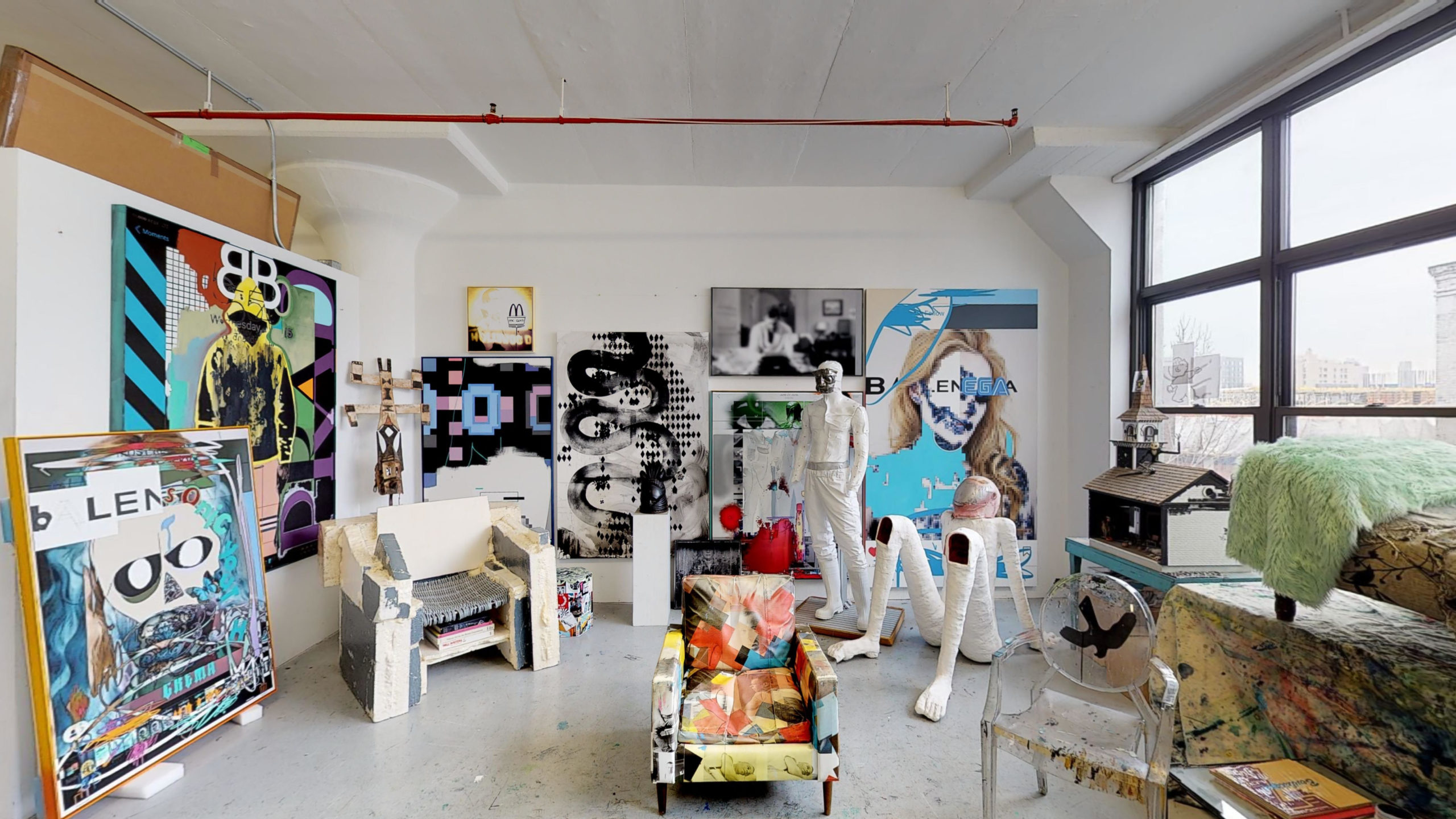 Is there an artist or particular movement that first captivated and inspired you to make art? Give us a potted history of what got you started.
First of all I'm not a textbook artist. I grew up around race cars and 60s rock art posters. Logos, fast graphics, and posters made of juxtaposed colors. I took classes in college but didn't amount to much of a degree. The thought of going to the right college was not a plan … there was no plan other than moving to NY and try and make a career out of painting and not house painting.
I lived in LA and attended the epic exhibition "Helter Skelter" with Jim Shaw and Raymond Pettibon. Mike Kelley helped me understand that art can be about anything. Both Hi and Lo !! And they all loved music too. It was a lot of fun but NY was for me.
Tell us about the body of work that you're making for your forthcoming/current exhibition. Is there a prevalent theme you're exploring?
Andrea Carpita is a young Italian artist and together we came up with the idea 'In My Room'. There is a certain hermetic quality to our work. I have never had an assistant and don't believe in it. This body of work was made mostly sitting on a small carpet in my studio with various art supplies with in reach. Andrea really dove deep into the psychology of Kurt Cobain and his various iconic photographic images. He made a series of completely obsessed abstractions based on the photographs. My work for the exhibition is inspired by the sort of music being played in the studio now. Digital, muted poetic portraits of Lana Del Rey, black cryptic paintings thinking about Kenneth Anger (thinking about Anger is an energy), self portraits wearing a Hoodie (Urban Jungle) covered in leaves and other forms of nature, with drawings on. A canvas from the "You draw like a girl series" – it's crazy mix up Marilyn Manson, Patti Smith, Minor Threat and evening Die Golden Zitronen.
Your works have always jumped around to include a riotous blend of references, including such diverse things as Abstract Expressionist painting, brand logos, video games, graphic design, music, graffiti – many high and low brow elements combined in a single coherent work or series of works? Tell us how you're able to synthesise these disparate things and what they all might mean to you?
Even though I don't own a computer my mind works like one–devouring and compiling images on my phone and absorbing popular culture. And I set it all to a soundtrack.

Instagram was made for me … I absolutely love seeing it all, and everything all in one and sharing it. I use insta as a personal diary of what is going on in and around the studio and then it's funnelled directly into the work.
There always seems to be both darkness and levity. To what extent are these various elements autobiographical, diaristic, or reflective of what is going in your life and around you?
Every single painting is what's going on in my life at that given moment. My family, friends, nothing is off limits. Even the highs and lows of my personal. Life for me is a manic crazy and unpredictable work, because I don't paint the same thing over and over and over. Life moves me and it changes. Imagine if Picasso never moved beyond Cubism? Life effects a good artist.
How do you gather the source elements together for your works? What catches your eye and is there a particular quality you look out for in the visual culture around you? Do you take a lot of photos to gather images to refer back to? Do you trawl the web and various SoMe apps to drink it all in?
Screen shots, Instagram. Things found on the street. I have an insatiable appetite for sound and vision. I try to document markers (memories) that are interesting to me personally and culturally. I never know what's going to inspire me. I'm the pack rat of images.
"It's the idea of making work with no central image but always engaging the eye the same way music makes us feel. "


-Michael Bevilacqua
Your works have often appeared to capture the qualities of digital imagery, animation and media, even long before the internet was a truly widespread thing. I would say that you are a true pioneer in the way you have incorporated these kinds of source images into your paintings. Is it fair or accurate to say that this onslaught of visual stimuli is something that has always fascinated you?
The early works … most people thought I made them on a computer but I didn't even own a cell phone back then. I started working with digital aspects 20 years ago but the technology and the printing was not there. The technology is there now so I do a lot of digital mixed with painting and works that are pure data moshing.
Images move me but not necessarily art stuff. I'm not into looking into art history and copying it … I wanted to take the idea of a stock car with all the graphics and stickers/ sponsors and smash it into a canvas and tell a story as if it happened in a single brushstroke. It's the idea of making work with no central image but always engaging the eye the same way music makes us feel.
Which emergent artists do you think have the greatest affinity with what you do? Do you recognise yourself as a source of inspiration?
There is a young artist Iain Ball from London; Isaac Lythgoe; Steffen Bunte from Berlin is one of my favorite artists, and also Rebecca Ackroyd who are both sculptors … amazing work !!

I'm not sure if I'm a source … haha but I do get a lot of young artists contacting me and I'm always available and some of them come by the studio when in town.

This idea of annihilation is very prominent in these new young guns. A lot of digital and future, geo-political and Japanese comics manga etc.
Since your works often appear to be a complex amalgam of elements do you plan each work extensively? Do you figure it out with preparatory drawings etc?
Nothing is planned. I get to the studio and see what happens.

The digital work goes from computer to canvas. I could never make something like a drawing and then duplicate on a canvas … that seems redundant.

But I will embellish or react to a printed canvas.

A friend of mine who has a computer puts the stuff in it and then I tell him how to manipulate it. We mosh many layers and it's always an unpredictable result. There is a way to use the computer to allow chance and random access.
There seem to be a lot of differing techniques at play. Can you tell us a bit about your process and how you address a new work?
Images are compiled from various sources. Digitally moshed, mutated and then printed—a sort of futuristic sense of cleanse, fold and manipulate. I don't have tons of numbered paint pots but I do have a mess of pens, paint and pencils in no particular order on a big table and littered on the floor. I go to actual art stores myself and buy supplies.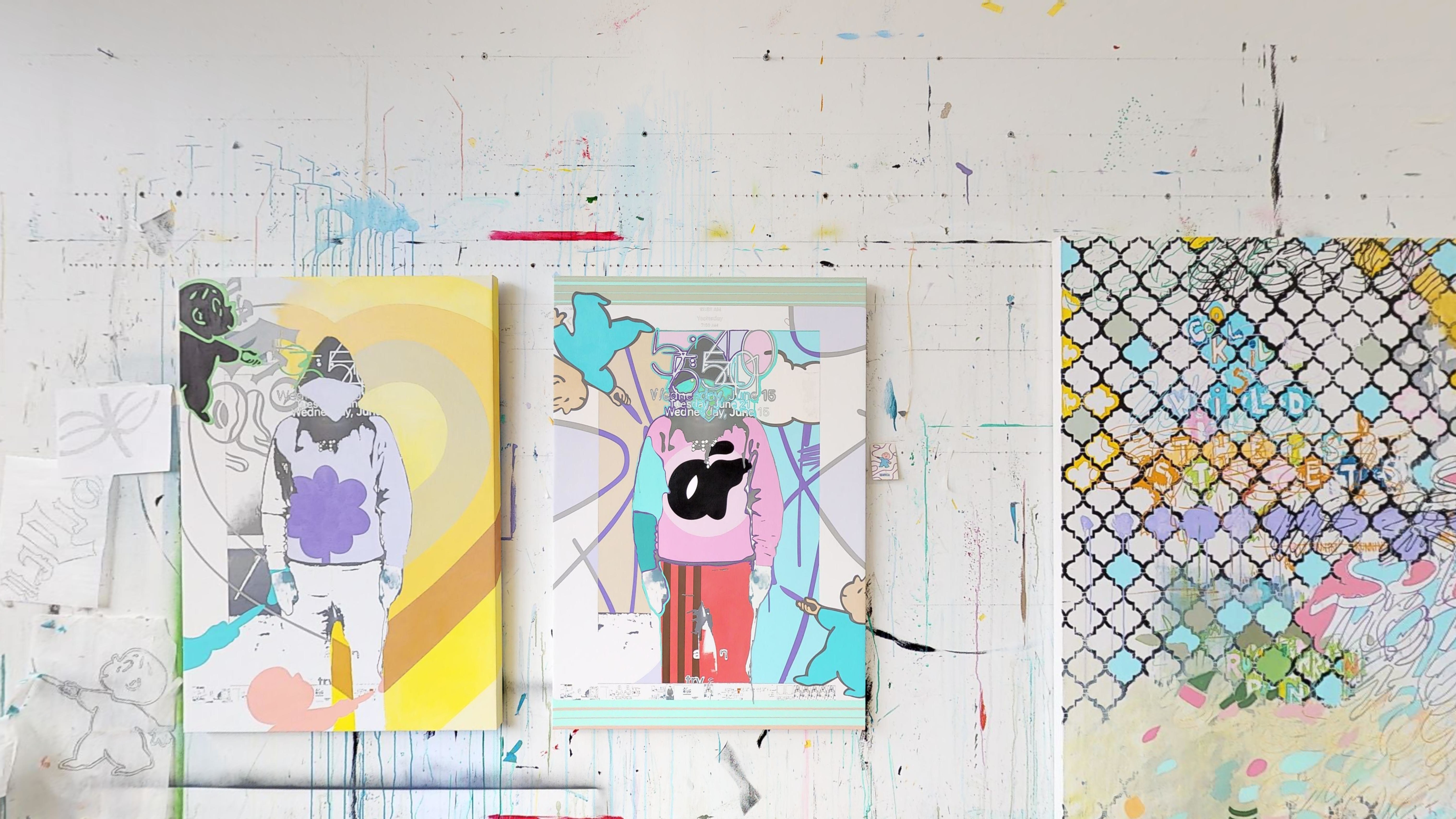 Is it easy for you tell when a work is completed? Are you a tinkerer?
A work is finished when there is a certain sense of balance … sometimes I paint over things but not often. I might put something away if it's not working and hope it works out at some point
Finally, what is your view of the art world's digital future? Is there one and what does it look like?
The digital future is very cool and closer to photography for painting. I see how these young artists who have lived post-computer and their approach to sculpture and painting. There's a lot of cool stuff in 3D printing and moshing but you have to start with engaging and interesting images.
Relevant sources to learn more
Available Michael Bevilacqua works on Artland
Available Andrea Carpita works on Artland
The Flat-Massimo Carasi Gallery Website
Read our interview with Giuseppe De Mattia