Articles and Features
The Checklist, Vol. 2: Duane Hanson's 1978 Survey at the Whitney Museum of American Art
---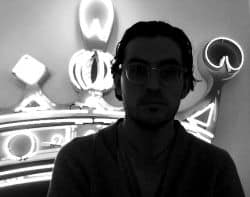 William Pym, The Checklist, Volume 2
Art history, like world history, looks different depending on where you're standing and what matters to you. The monolithic western canon has been chiseled into a prism, absorbing and reflecting new narratives and new histories. This is a good thing. Fashion, a sexy blur, drives the conversation about contemporary art in culture, and consensus is rare and temporary. This is a fine thing. Money and the art market tie us in knots and cloud our judgement, because the latter is easily manipulated by the former. This is a bad thing. Mush all these factors together, and a solid art history seems both more elusive and more necessary than ever. This column, The Checklist, looks at an exhibition from the past via facts that cannot change: artwork, space, audience, a moment in time. The goal is to cut through the noise, and to remember that art is a gift.
---
Duane Hanson
Whitney Museum of American Art
New York
8 February – 16 April 1978
Duane Hanson's sculptures of everyday people — formed from life casts, poured in bronze or a plastic, skilfully oil-painted down to the pores, tufted with hair, dressed in clothes, given accessories — make for uncanny experiences. They earn the term, as uncanny things must, by hot-wiring the brain. Every time you enter a room with a Duane Hanson sculpture inside it, there is a moment when it could be a real person. It doesn't matter how many times you've seen it before. In the spring of 1978, at the age of 43, Hanson mounted his first retrospective at the Whitney Museum of American Art in New York. This exhibition broke attendance records for the museum. People loved it. And it whipped up a strong consensus in the press, who hated it. This month's checklist is about understanding the curious dissonance of that hit show.
*
Duane Hanson's 1978 Whitney survey was the culmination of a ten-venue tour over 14 months in which a few dozen of the artist's figures from the early to mid-'70s had travelled from Kansas to Nebraska, Oregon, Missouri, Colorado, Virginia. It had been a blockbuster at every stop, delighting regions of America considered secondary to art discourse, then igniting New York City. And while the 297,000 visitors and extended opening hours at the Whitney remain the first historical headlines from this show, it is surely more extraordinary that 98,000 visitors came to see it in Des Moines. Fewer than 200,000 people lived in Iowa's capital at that time.
The Whitney show wasn't complex. The works didn't require fancy staging to do their thing — quite the opposite. All they needed was to be there. The only curatorial quirk of the exhibition was the lack of wall labels. Unusual for the time, this decision was made, according to the xeroxed handout where the works names and dates were printed, to avoid distraction. But the show also didn't need placards in the first place — the titles say exactly what the sculptures are. Artist with Ladder; Repairman; Drug Addict; Tourists. This was Hanson's milieu. People whose existences can easily be distilled. People with lives that, though they may lack excitement or glamor or particular nobility, are still being lived. Hanson does not depict anyone extraordinary. There are no lead characters. His subjects are people of modest means going through life and carrying everyday burdens. In his review a few weeks into the show's run, New York Times critic John Russell breezily noted a sculpture of the 'archetypal drug addict' as if he spent a lot of time around burnouts shooting up and nodding out. The pathos and panic of someone desperate risking their life may be archetypal in narrative, but it is far from archetypal, in sensation, as you stand next to them and stay with them, stay in their moment. To encounter one of Hanson's people is to face them, and commune.
The reviews were a bloodbath. After a perfunctory runthrough of the content and a purple bit about wax museums (as was seemingly mandatory for all writing on Hanson at the time), Russell's Times piece eventually concluded that this work was for people who can't handle the 'more demanding forms of art', who just wanted something to talk about, and who, in fact, represented the 'lowest common denominator of human curiosity.' Russell saw a lack of sophistication in Hanson's work, churlishly complaining that it wasn't Anton Chekhov or Eugene O'Neill. He had no interest in the experience of Duane Hanson, or the actual way Hanson made many people feel. Robert Hughes in Time seemed personally offended by the work, as if it smelled bad, describing a 'sourness' and a general distaste for the subject matter as something grotesque he didn't want to see. Hughes' review was pissy enough that Time reader Larry Wallingford of Chicago wrote a stinging letter to the magazine, published in the March 13, 1978 issue. "In his unwillingness to see beyond the obvious," said Mr. Wallingford, with a certain pity, "Mr. Hughes has eaten the recipe instead of the cake." Hanson made Hughes grouchy, and for grudges entirely his own. There was no convincing the gatekeeper critical class of Hanson's worth, and this had always been the case. Modernist eminence — and close friend of John Russell's — Hilton Kramer had set the tone four years earlier, describing Hanson's oeuvre as 'banal figures I would scarcely call sculpture.' Hanson would not have a real shot at critical favour until the late 1990s, in reappraisals after his death.
*
At the time, the press reactions seemed like intellectual classism or simple dumb 1970s bigotry. As we look back at the critical establishment's disdain for Duane Hanson at that moment in time, however, we may now also see a group of thinkers desperately clinging on as their world, a world of ideas they invented, was changing. American high Modernism was in the business of making big, adventurous statements that signaled a clear purpose and highlighted the heroism of the artist. This hero, in the eyes of the critics of the New York school, was both an eternal hero and an American hero, conquering the cultural landscape. Postmodernism, a movement that was technological, theoretical and international, would rock the '80s with its lack of definitive statements and its openness to new pathways of expression. Duane Hanson, an accidental postmodernist, was not interested in the grand gestures of Modernism that telegraphed American might and certainty. He didn't want to show the power of his expression, because he didn't need to. His work performed a collective expression of humanity simply by existing with viewers. This is a fact. It is proven every time you encounter one of his works.
In The Uncanny, a dense and quickly moving essay about all forms of peculiarity around the body written in 2004, Mike Kelley proposed that, as recently as Christianity of the Middle Ages, 'all sculpture was dangerous and linked to idolatry; it was seen as a proud attempt to compete with God's creation of man in His own image.' Sculptures of us were too much for God-fearing people to see. So it goes with Duane Hanson in 1978. His sculptures were realism, and the critical establishment was not interested in American reality. It did not fit the world they wished to see, and the world of art they wished to maintain. Their words suggest that they wished to destroy these idols. Thus, per Mike Kelley, we may do well today to consider Duane Hanson as relics that survived. Simple reminders, then as now, of how challenging it is to look at ourselves as we are.