Interview
Exploring Parallel Universes: Interview with Chinese Digital Artist Liu Di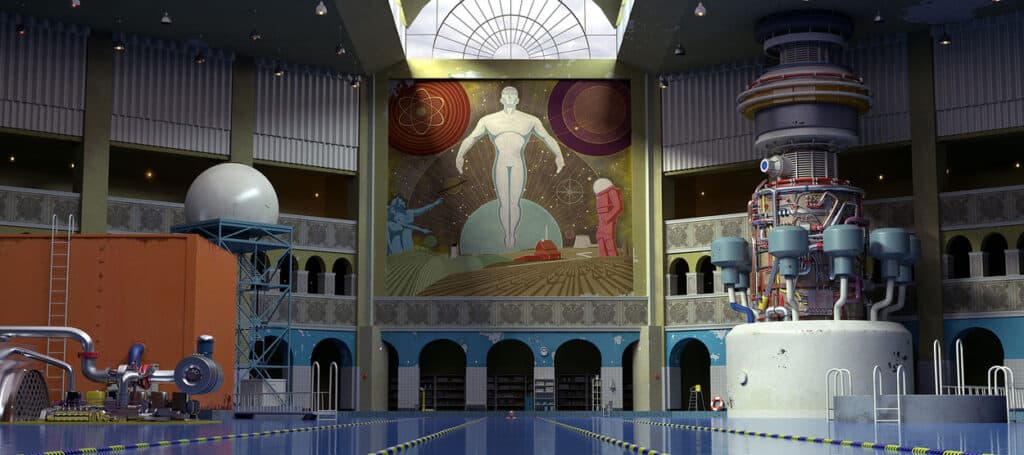 By Adam Hencz
"I have no position to go into what a perfect world could be or judge the worlds I create. Whether they are good or bad worlds, whether you want to live in it or not."

Liu Di
From pieces of the Marvel comic universe, through Soviet architecture and Turkish baths, to space exploration and to the Last Generation, the rich symbols and virtual imagery of Liu Di reveal their fluid meanings over time, generating momentary crises of disillusionment. The atmosphere of science-fictional but very realistic cinematic worlds deliberately break a familiar reality and evoke existential questions and feelings of surprise. There is always a surprising element in the familiar, something that suddenly makes us question our reality, all of what we thought we already knew, and have ever experienced.
We had a conversation with Chinese concept and digital artist Liu Di, in the company of Migrant Bird's Space Gallery Director Lu Mei, on the occasion of their recent collaboration, inheriting the title of the multi-dimensional piece, A Stubbornly Persistent Illusion. The exhibition looks back on the past decade of Liu Di's artistic practice while showing his ongoing projects, recent motion pictures and bold aesthetics.
Before accomplishing the aforementioned visions of future worlds, Liu Di explored the investigative potential of digitally manipulated photographs, departing from documentary-style photography. He graduated from the Photography Department of the Central Academy of Fine Arts in Beijing in 2009 and received the Lacoste Elysée Prize for photography in 2010, first gaining widespread recognition for his Animal Regulation series. The series features giant, cartoon-like wild animals in the midst of deserted, decaying urban settings, creating surreal scenes as well as critiquing the dissonant relationship between nature, humanity and its widespread urbanisation. "This work is about the conflicting relationship between nature and human society, which is created by the phenomenal rate of Chinese urban development," Liu Di shared. The Animal Regulation (2010) series was developed throughout his years at the Academy, but continued to expand throughout the following years.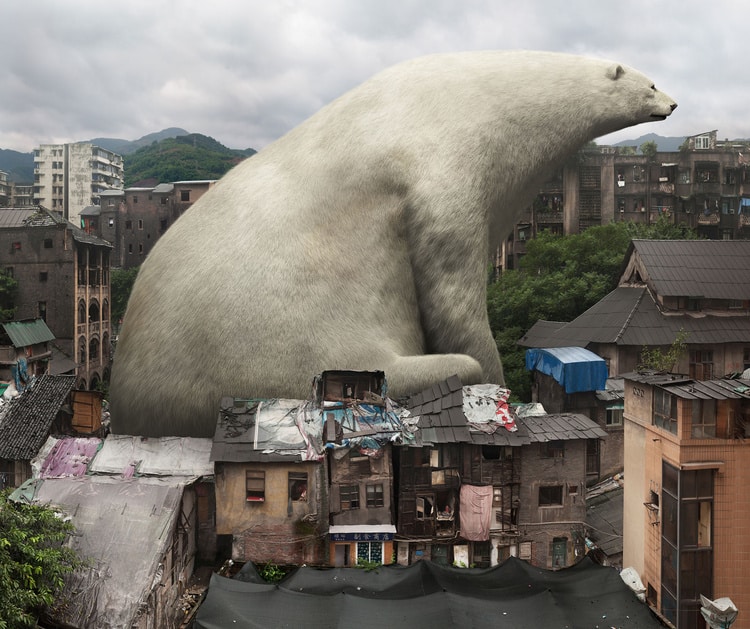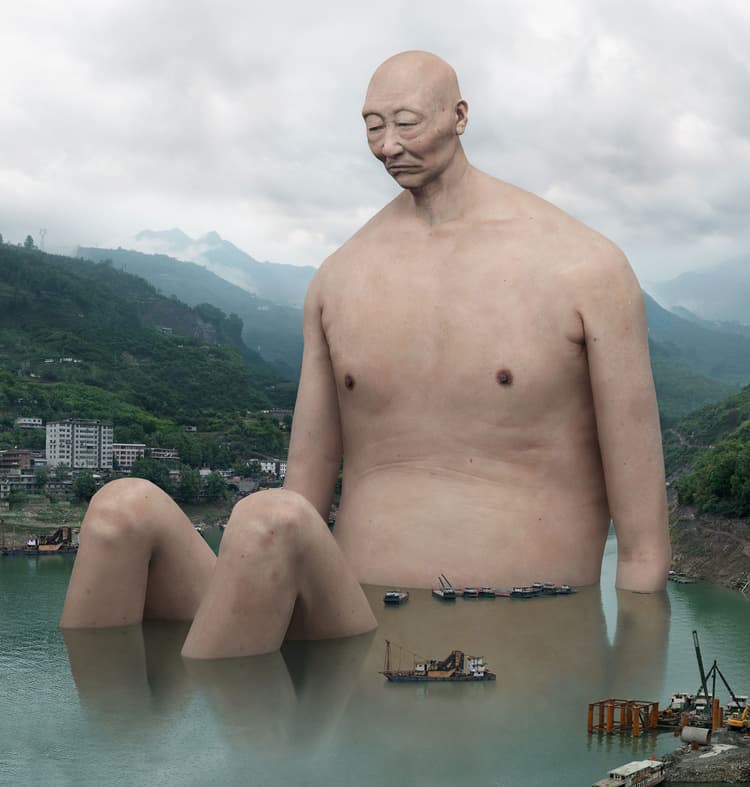 After growing up in the northern Chinese province of Shanxi, Liu Di moved to Beijing to study at the Art Academy. The stark contrast between his home and the burgeoning capital began to profoundly influence his early visual language. Besides the freeing feeling of living in the city and living in the centre of vibrant urban arenas, he was at the same time shocked by the destroyed residential neighbourhoods and the alarming and high human cost of urban decay. Liu Di found himself surrounded by public and living spaces vandalised by the endless urbanisation that went hand-in-hand with China's extraordinary economic boom – often showing no mercy to clean air, bearable living conditions, and lively architecture. The artist recalls how from very early on in his childhood, he has always felt closer to nature and the animal kingdom, as opposed to the constructed human world. Combining this raw approach with the soreness of urban life eventually led to the continuous creation of his famed series.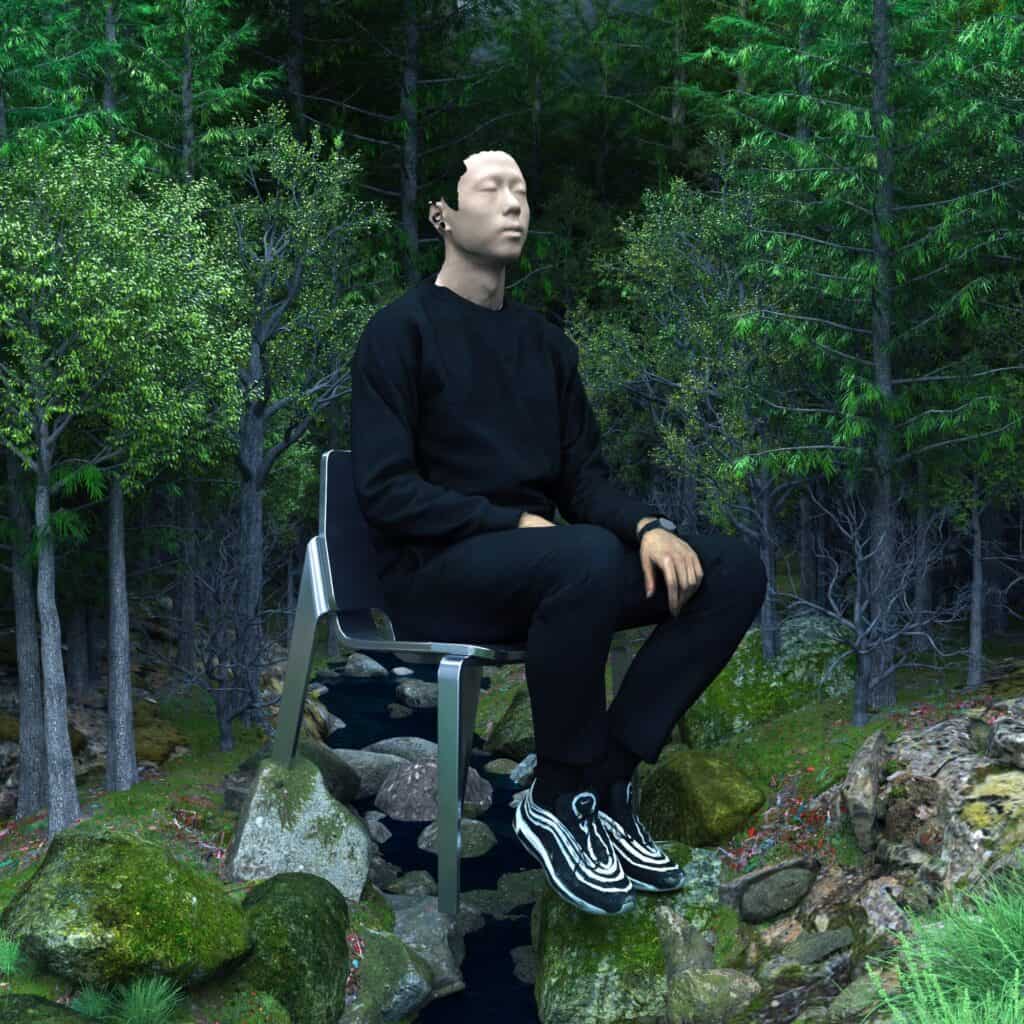 As a child, Liu Di was deeply interested in painting and obsessed with finding and developing his own visual language. However, at first, he dreamed of becoming a doctor, as he spent nights and days at the hospital, where his mother worked as a nurse, flipping through medical books and examining encyclopedias of human anatomy. He was mesmerised by the detailed illustrations that offered a complicated but elaborate look into the human body structure, hospital appliances, and equipment for special treatments. Many of these anatomical elements would appear in the surreal company of robotic surgical machines with taxidermied wild animals surrounding a sentinel protagonist centred on a floating island in the artist's latest series titled LEM (2019). This series continues on the path of Animal Regulation and expands its horizons to the investigation of macro and micro-worlds. The visual language of the LEM series draws on both traditional images of Chinese Buddhism and classic science fiction literature. It expresses the Buddhist concept of sentient beings by gathering together while also vivifying a character displaying clairvoyance and telekinetic powers from the Last Generation of Arthur C. Clarke's novel Childhood's End.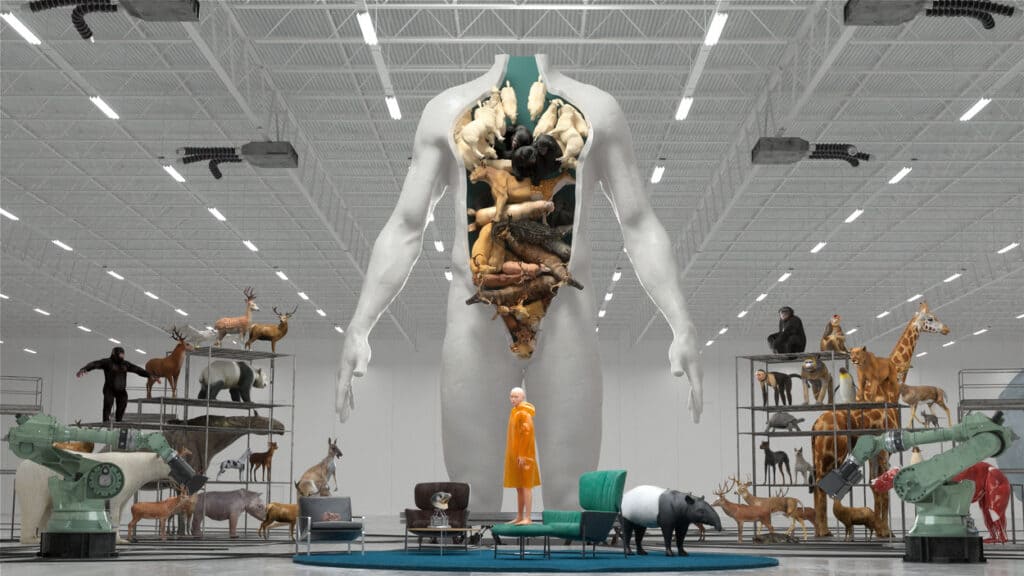 As a teenager, Liu Di became interested in reading about planets and studying the universe beyond Earth's atmosphere. In high school, he would pick up books from sci-fi authors like Isaac Asimov, Arthur C. Clarke, Stanisław Lem or Douglas Adams, at a time when Chinese novelists were actively reimagining science fiction and authors like Liu Cixin, Han Song and Wang Jinkang came into prominence. Inspired by the lasting impressions of these great authors, Liu Di began to build his own visions, crafting these influences into novel universes grappling with philosophical and spiritual themes. His visual language and distinctive cinematic style emerge from the essence of sci-fi cinema classics like Stanley Kubrik's 2001: A Space Odyssey and Andrei Tarkovsky's Solaris. Besides reminiscences of hard science fiction, Liu Di's worlds are told as soulful poetry, with a slow flow of enigmatic imagery and a sense of quest. To realise his vision, buckled down by elaborate post-production processes, in 2017 Liu Di started developing a 3D animation-triptych, a three-part video series, from which currently two videos, The Weight of Oneself (2017) and A Stubbornly Persistent Illusion (2017) are complete, with the third one still under production. The artist refers to this series as "three sentences with the same grammatical structure."
Each piece of the trilogy follows a similar pace, structure and dramaturgy. As Liu Di explains, they all use the same kind of language, but each of the films highlights a different idea. All of the videos are based on a different story, each of them simultaneously being a visual interpretation of a particular existential philosophy. The Weight of Oneself is inspired by a philosophical insight from Witold Gombrowicz, who also influenced Milan Kundera's exploration of the concept of Lightness by the novel titled The Unbearable Lightness of Being. "The weight of each of our selves," Gombrowicz mused, "depends on the size of the population on the planet. If humanity's weight is constant, then each individual's weight is equal to one divided by the number of people living at that time."
The second part of the video series, A Stubbornly Persistent Illusion, on the other hand, is his personal interpretation of Albert Einstein's quote: "The distinction between past, present, and future is only a stubbornly persistent illusion." Each video opens with a still-life in an almost meditative state, without a particular beginning, spanning ten minutes, building a slow rhythm with panning up then down or zooming out and back in before fading into the possibility of re-entering the narrative from the very beginning. "If you constantly repeat this structure, but keep changing the actual story, it enhances the meaning of the piece," Liu Di tells us. "On one hand there is change, and on the other hand, there is a solid, static foundation: a feeling of completion. It is an entire work, where each piece is unique but still part of the same world. Once the third piece is done, the series will be complete, it will be a whole body of work."
"Even though we cannot define these worlds that we are looking at, it does not mean that in theory, they can't exist. There is a possibility that they could, even if only in our minds."

Liu Di
"The final episode will be about the Moon. Asimov wrote an article before the landing of the Moon, joining a scientific debate and predicting that the Moon would have hundreds of meters of dust on its surface, therefore space crafts would sink in the dust if they landed." Liu Di revisited this concept and found it thrilling as it shows one of many forecasts by the human race that proved to be wrong. "Needless to say, this scientific prediction was false, because we eventually found out that the Moon has no atmosphere and dust particles do not have air pockets in between them, therefore our spaceships landed on solid ground. This revelation prompted me to conclude the series with a film about the surface of the Moon and Moondust."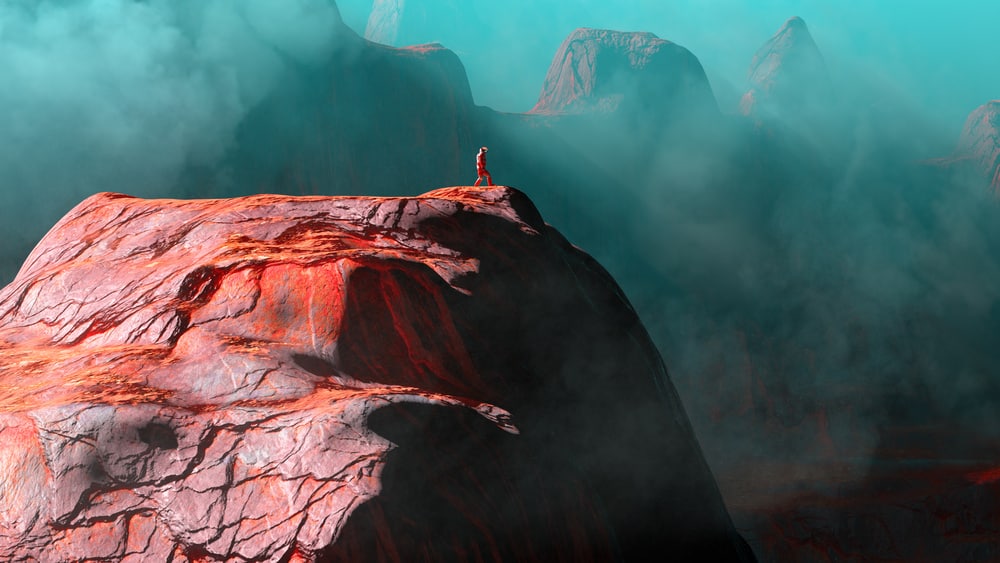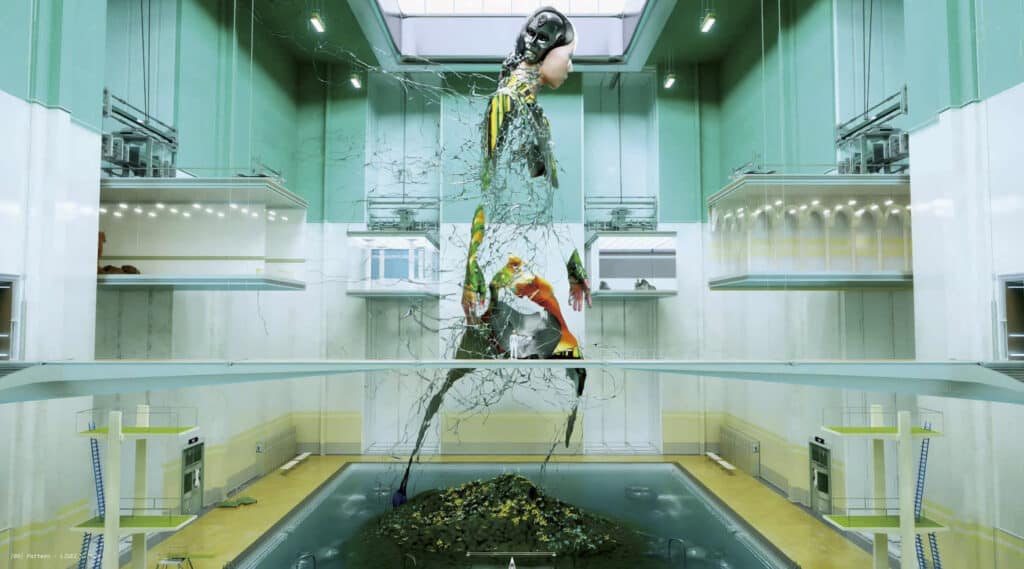 Liu Di continues to build magically realistic worlds, creating mosaics of futuristic but familiar universes. On the contrary to his animation-triptych, his short videos are fast-paced with exaggerated, fantastic elements. To the question of whether these are depictions of ideal worlds or possible dystopian societies, Liu Di wisely steps back. "For me, the most important thing is to evoke strong feelings in the viewers. I also want them to receive a different kind of view and information that has never been seen before, like creating a new space that is derived from imagination but is still realistic. I feel that I have no position to go into what a perfect world could be or judge the worlds I create. Whether they are good or bad worlds, whether you want to live in it or not. It is more about not being able to define what is good or bad that is interesting, as we as human beings are not able to decide whether something is genuinely good or bad shows how complex this and also imagined worlds can be. Even though we cannot define these worlds that we are looking at, it does not mean that in theory, they can't exist. There is a possibility that they could, even if only in our minds. They seem so realistic, that you think that there is a possibility for them to actually be out there."
Relevant sources to learn more
Migrant Birds Projects is a Berlin- & Beijing-based contemporary art foundation providing a showcase for artists and services in the cultural industries. Visit Liu Di's homepage for more videos and works.
Artland's ongoing virtual exhibition Urban Country features pieces from Liu Di's Animal Regulation series, along with artworks by five other exciting Chinese artists: Zhai Liang, Zou Sijin, Lu Xinjian, Gao Yuan and Fu Wenjun. The theme of the exhibition revolves around the complex relationship between city and country life, as well as our perceptions of what is urban and what is rural.