Articles and Features
The Digital High Five: (AV17) Gallery, Vilnius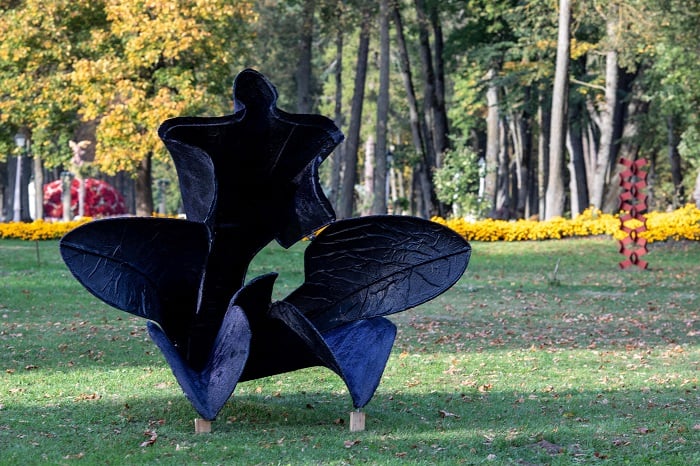 The Digital High Five is Artland's interview series featuring one of our partner galleries. We have created this series to connect with galleries, share insight, and shed light on initiatives taking place within our community.
This week, we have the pleasure to speak with Kristina Mizgirytė, gallery owner and director of (AV17) gallery in Vilnius, to talk about the local art scene, the past year's challenges, the use of technology and digital platforms, and much more.
Established in 2011, (AV17) gallery is one of the few Lithuanian galleries exclusively focusing on contemporary object, sculpture, and installation art. Transcending the traditional gallery concept, (AV17) explores creative ways and alternative locations to showcase contemporary art while also promoting educational activities such as informal meet-ups with artists, workshops, lectures inside and outside the gallery to introduce contemporary art to the general public.
---
(AV17) gallery exhibits exclusively contemporary object, sculpture, and installation art. How would you define the vision of your gallery?
The main vision of (AV17) gallery is to popularize contemporary art among different audiences and increase the interest in it through various creative ways. The gallery collaborates with well-known conceptual sculptors, both Lithuanian and foreign, and also introduces the work of young, emerging artists. Furthermore, (AV17) represents the works of Lithuanian artists abroad, thus helping them achieve recognition in the international arena. (AV17) is always open to new collaboration opportunities and is on the look for unusual ways to present contemporary art.
Have there been certain initiatives taking place in the Lithuanian art community that you as a gallery are excited to see develop and/or to be a part of?
Within the last few years, we have seen quite a lot of works of contemporary art appearing in the public spaces of Lithuania. This is highly important, as more and more people can get acquainted with it. One of (AV17) gallery's main goals is to introduce sculpture to the widest audience possible through exhibitions, education programs, artists talks, etc. Certainly, quarantine forced artists and galleries to look for various non-traditional ways of exhibiting art. In this light, (AV17) gallery has presented several projects in unconventional spaces, one of them is still on view in the wild park located at the centre of Vilnius. The exhibition, titled "Waiting," introduces ten Lithuanian sculptors of different ages contemplating contemporary reality. The list of selected artists accurately represents the Lithuanian sculpture scene; some of the artists are already celebrated, while others are young and emerging. This project has created an opportunity to explore the unique relationship between contemporary art, city and nature.
The past year has massively transformed the way cultural institutions approach digital resources and technologies. Do you think that digital platforms and tools can prove to be an enabling opportunity for galleries? What considerations should galleries undertake in such art and tech crossovers?
Recent years have indeed encouraged art institutions to go digital and virtual. Digital resources are a big facilitator in the pursuit of a wider audience composed of international, more diverse viewers and art collectors. However, since (AV17) gallery's focus is on spatial art – sculptures, installations and objects – we cannot rely solely on the digital presentation of works. We believe that live and virtual presentations should go hand in hand, and all opportunities of exhibiting and presenting art should be exploited.
What excites you the most when it comes to the use of 3D technology being used in your gallery? What is your greatest concern? Greatest surprise?
The use of 3D technology in the gallery has become a really important tool, especially during the quarantine period. As I have mentioned before, three-dimensional works predominate in (AV17) gallery's exhibitions, so 3D technology helps to convey the works in the exhibition best. It is often difficult to convey the atmosphere of the space in photographic documentation, but this technology is very helpful in doing so. Perhaps the biggest concern would be that after viewing the exhibition on a computer or phone screen, one will not feel such a great necessity to see the works in person any longer. But, after all, the works are best appreciated through live experience.
Targeting and generating audience engagement is at the top of the agendas of most galleries. What tools or methods are you incorporating to reach and engage with your audience? Has there been a way you found the most effective?
Both the visitors of our gallery and its projects are very diverse: from the general public – students, elderly persons, or passersby – to art professionals, creators, or collectors. We use different methods to reach different groups. In order to contact art professionals and collectors abroad, we participate in international art fairs and use various online platforms. While to attract the general public, next to the exhibitions at the gallery, we organise special projects in other spaces, unconventional places, artist workshops, schools, etc.
Certainly, nowadays, the majority of information is accessible online and each of our project has communication, social network management and advertising plans. However, throughout ten years of the gallery's existence, we concluded that face-to-face communication works the best. That is why we pay a lot of attention to the accompanying events, such as artist talks, education sessions, tours at the gallery, etc. When a close connection is established with the audience, its members will definitely return to see other projects. Probably all of these methods are necessary to generate effective audience engagement today.
How, as a gallery, have you encouraged the growth amongst your roster of artists and staff over the last few months? As a gallerist, how have you personally maintained your motivation?
Our gallery is very close to the artists it represents. The gallery has been cooperating with most of the creators for almost a decade since its establishment. We believe that continuous open conversation and close collaboration with the artists can help them to maintain focus on an efficient and fruitful process of creation. Last year, we tried to find alternative ways to display the works of the artists we present, either it is an online platform or a window showcase at the centre of Vilnius. And of course, we always listen to our artists and discuss future plans related to exhibitions abroad, participation at art fairs, festivals, residencies or group exhibitions. Our gallerists are involved in very different projects that include constant generating of new ideas, issue solving, researching, communicating and various other challenging activities that help keep the pace. Energy, progress, a great atmosphere at work, and positive feedback from visitors are the best things that motivate us on a daily basis.
Can you tell us a bit about your current and upcoming projects?
On June 8, (AV17) gallery has opened a solo show of Estonian artist Kristel Saan, "Paradise – I Already Went and Came Back". This exhibition is part of an exchange project with Kogo Gallery in Estonia, where we presented the solo show "Barry Walking Himself" by Lithuanian artist Anastasia Sosunova. We believe that such exchange not only facilitates collaboration opportunities for galleries but also helps artists grow and reach a wider audience. At the end of the summer, in August, we will host an exhibition by another Estonian artist, Ivar Veermäe. Both these Estonians artists are very interesting and promising, so we are proud to have the opportunity to present them in Vilnius. Autumn will be much more intense, in addition to the exhibitions at the gallery, we plan to participate at the Positions Art Fair in Berlin and the Volta Basel Art Fair in Switzerland.
What are your main objectives and expectations for the future?
In the near future, we will continue developing deeper relations with artists and art organisations in the Baltic countries, as we share a similar history and cultural background. One of our primary objectives is to present more Lithuanian artists abroad by reaching new foreign markets and audiences as well as introducing more international artists in Lithuania. This will include the search for possible collaboration opportunities and the development of new exchange projects. And of course, we will continue creating new ways to present contemporary sculpture at its best.