Art Collecting Insights
Private Art Collections in VR
Fals & Prates – Collector Interview
"We prioritize the emotions and stories that art evokes rather than focusing solely on whether or not it aligns with our personal taste. "

J.B. Fals
Artland caught up with Danish art advisor, curator, and collector J.B. Fals on the occasion of the recent Virtual Reality release of the contemporary art collection he shares with his partner R. Prates. Read on to learn more about how the collection started, where it is heading, and several points in between.
Explore a selection of works from the Fals & Prates Collection in VR here.
What first drew you to contemporary art and how did you become an art collector?
Ever since I was young, I have been captivated by the creativity, authenticity, and courage of artists. In my mid-twenties I realized that my ability was not to create art but to help artists facilitate their unique skills. Through Original Paper Works and curating art shows, I have now found the way to best express my ability, and I couldn't be more pleased. I started my collection in my twenties by myself, but later in life I joined forces with my significant other, and we now share the passion for art collecting.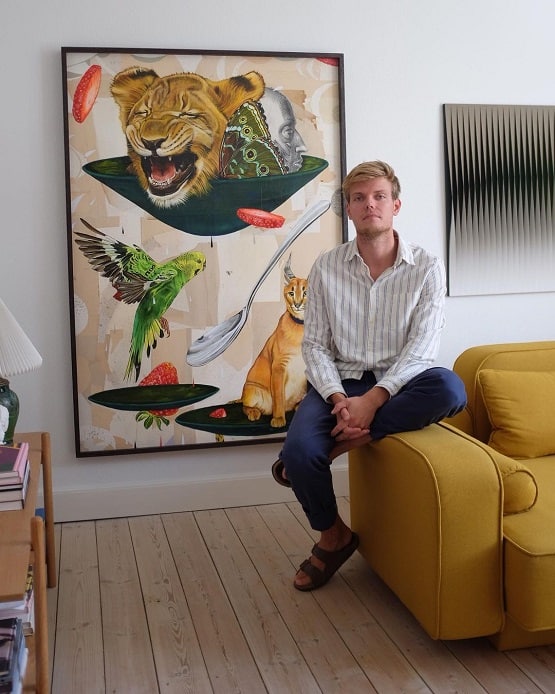 Describe your art collection in three words.
Artists We Admire.
Is there a common thread within the Fals & Prates collection (a particular style, medium, theme, historical period…)?
Our collection is mostly divided into two main sections. The first one features artists who currently reside or work in Denmark. Living in Copenhagen makes it convenient for us to interact with local artists. The second one focuses on contemporary artists in and around the city of London. London is a special place and the amount of creative forces in the city is unbelievable. We have been fortunate to cultivate friendships and connections in London over the years.
Is there any piece of art in your collection that plays a significant role to you? Can you tell us why?
Each piece of art holds a unique story and a special place in our hearts. I would love to share the stories of all of them, but if I had to choose one, I would highlight "Boat trip from Hoxton to Wick" by Igor Moritz. This painting was featured in a group show that I curated in Copenhagen and as soon as I unpacked it, I was hypnotised by it. I later had the opportunity to visit Igor in his Hackney studio and saw the same canal and houseboats that were depicted in the painting. It was an extraordinary moment for me as both a collector and a curator.
Has your taste changed since you started collecting art?
Others may argue that we have a specific taste when it comes to collecting art, but that is not how we view it. We prioritize the emotions and stories that art evokes rather than focusing solely on whether or not it aligns with our personal taste. Art would lose relevance over time if we were to choose based solely on aesthetics and personal taste.
While if the selection is based on the emotions and stories art excites, we can be sure that that specific artwork will always hold a special place in our hearts.
What aspects do you take into consideration when buying a work of art?
Are you touched by the artwork? Are you moved by the artist?
Does it evoke something within you, be it positive or negative? Art is all about emotions, and not all emotions are pleasant, but they are all still very meaningful.
Can you tell us the names of three inspiring artists currently under your radar?
Currently, I am particularly drawn to the work of Austrian artist Anna Rettl. She is inspired by accomplished female artists such as Miriam Cahn and Anne Kollwitz, yet still manages to make her paintings entirely her own. I am also eagerly looking forward to Shuo Hao's solo exhibition later this year. I am drawn to Hao's art as it takes inspiration from both Western and Eastern cultures. Lastly, I would like to mention Danish artist Tomas Leth. I acquired my first artworks from Tomas in 2019. His abstract paintings and paper works are truly remarkable; they possess an immense depth while still being delicate. I believe our collection could benefit from more abstract artworks like his.
Looking ahead, what are your main objectives and expectations for the Fals & Prates Collection? Anything in particular that you look forward to?
We are eager to expand the diversity of our collection. We hope to acquire more artworks from artists who worked all throughout the past century. Currently, the collection has a strong focus on contemporary art, but in the next decade we hope to add more pieces from the second half of the 20th century.
What is the best advice you have been given about collecting? Any tips for aspiring collectors?
I try to avoid seeking advice, preferring instead to engage in meaningful conversations with artists. I am interested in the craft and thought process behind an artwork and not in the urge to collect.
My two pieces of advice for aspiring collectors would be:
First, curate a collection with purpose and significance rather than simply following current trends. Your collection should remain relevant and meaningful 20-30 years from now. Remember, collecting art is about more than just having something aesthetically pleasing to display in your home. To truly be a collector, immerse yourself in the art and develop a deep understanding of it.
Secondly, if you are committed to collecting, you have to be patient and disciplined. Galleries may tempt you with the latest and greatest, but stick to your plan and don't be afraid to say no if that doesn't align with the direction of your collection. Building a collection takes time and requires a mass amount of patience and discipline.
Relevant sources to learn more
Explore the Fals & Prates collection here
Follow J. B. Fals on Instagram here
Browse other private art collections and exhibitions in VR

Wondering where to start?