Articles and Features
Jeff Koons: The Artist's Blockbuster & Controversial Art Series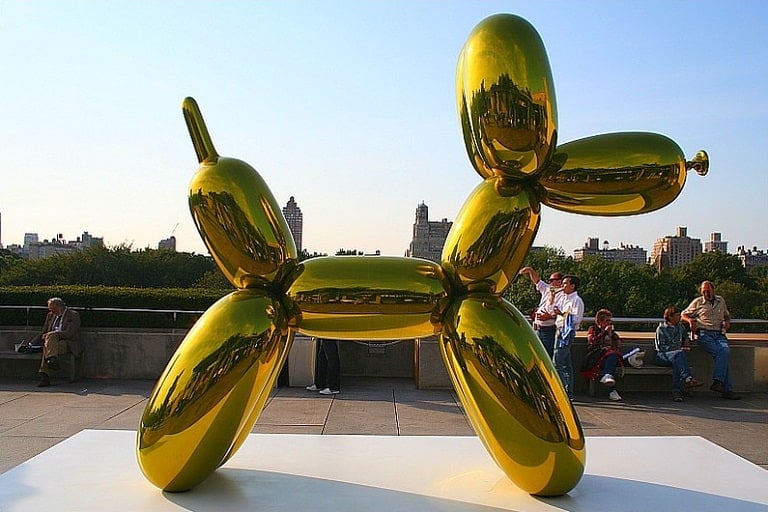 "Art to me is a humanitarian act and I believe that there is a responsibility that art should somehow be able to effect mankind, to make the word a better place."

Jeff Koons
One of the most well-known and polarizing neo-pop artists in the contemporary art world, American artist Jeff Koons focuses on transforming the everyday into art.
Growing up in booming America and its fascination with capitalism, mass production, and consumption, his work seeks to cast a light on commercial outputs and the multi-faceted quality of consumerism. Jeff Koons' art, while celebrated, has also received its share of criticism and controversy.
Read on to discover some of the artist's most famous and controversial artworks or visit our full guide about Pop Art if you want to know more about the movement.
The Most Celebrated and Controversial Jeff Koons Series
Let's dive into some of the most acclaimed yet contentious Jeff Koons' pop-art series.
Pre-New and The New
In 1979, Koons began working on his series entitled The New. After completing this work, he titled it Pre-New, as a precursor to The New. In Pre-New, he played with commercial objects such as appliances, manipulating them to create forms and shapes. Moving into the 1980s, Koons began working on The New, which displayed vacuum cleaners from well-known household brands. Interested in the commercialisation of society, as well as mass production, The New was a glaring display of the modern obsession with new, disposable items. Koons stacked the vacuums on top of one another and enclosed them in Plexiglass containers that he lit with fluorescent lights, giving the feel of what consumers look at in a store, rather than a high art setting.
Statuary
Koons began to create sculptures representing inflatable toys in the Seventies. One of the examples was a rabbit, which he decided to cast in stainless steel. The result was Rabbit (1986), one of Jeff Koons' most iconic pieces and the inspiration for his Statuary series. In 1986, he was invited to take part in a group collective show at the SoHo Gallery in New York. At the show, he presented Statuary, a series of stainless-steel sculptures based on historical figures and mass culture icons, from Louis XIV to Bob Hope, to represent different eras of Western European Art. The idea behind the series was to present the works as 'representations of representations', figures removed from their original meaning. In this sense, they are devoid of authenticity as mass-produced iconography.
Banality
Jeff Koons' controversial Banality series is the artist's honouring of both popular culture and the banal. The series features a range of porcelain, ceramics, and painted wood sculpture parodies of the Hummel figurines representing pop culture characters and animals, Saint John the Baptist to the Pink Panther, as a provocative commentary on consumer culture and the commodification of art. It is the depiction of Michael Jackson and his chimpanzee, Bubbles, that continues to be the most well-known piece from the Banality series.
Along with the sculptures, Koons produced a self-promotional ads campaign in major art magazines such as Flash Art and Artforum, as a way to both promote the series and also anticipate the art world's predictably hostile response. For the first time, these advertisements featured Koons himself, in staged, provocative settings.
Made in Heaven, 1989
The series 'Made in Heaven' featured works by Jeff Koons created with his then-wife Ilona Staller, an Italian porn star also known as La Cicciolina. These provocative works depicted the naked couple in sexually explicit poses referencing famous paintings to explore sexuality in art and culture. Koons employed Staller's regular photographer and backdrops to achieve the distinctive style of 'glamour' photography. Blurring the lines between fine art and pornography, Koons challenged conventions of artistic taste and encouraged audiences to make their own judgments about what they found acceptable.
Celebration, 1994
In 1994, Koons began to work on his iconic Celebration series, consisting of large-scale sculptures and oil paintings related to merriment and referencing milestones and events in life, such as balloons, cakes, ribbons, and Easter eggs. The objects and images he produced show Valentine's Day hearts, Easter eggs, play-doh, flowers and diamonds. Whilst happy in essence, this series is also imbued with a sense of nostalgia for childhood. Though not immediately obvious, the series was inspired by the ups and downs in Koons' personal life at the time, including his separation from his wife Ilona Staller and the loss of custody of their son. Some of the most famous works were created with the help of fabrication firms to Koons' precise specifications. Overall, the series was very expensive to produce and left the artist nearly bankrupt, but also reaffirmed Koons' controversial status and marked a transition to larger-scale works.
"I've always enjoyed balloon animals because they're like us … We're balloons. You take a breath and you inhale, it's an optimism. You exhale, and it's kind of a symbol of death."

Jeff Koons
Balloon Dog, 1994
No conversation about Jeff Koons is complete without mentioning his Balloon Dog series (1994). Made as part of Celebration, these sculptures are perhaps his most well-known and iconic artworks. Initially, he made 5 polished stainless steel sculptures inspired by the inflatable toy, each a different color – blue, magenta, orange, red and yellow – and measuring up to 10 feet tall, although over the years he later added more collectible artworks, in different vibrant colors and vary in size.
Often making news for its sky-rocketing prices, the series grabbed the headline once again in February 2023 when a shiny small Baloon Dog sculpture valued at $42,000 was shattered into pieces by a visitor at Bel-Air Fine Art gallery during the VIP-only opening of the Art Wynwood fair in Miami.
Other Projects
Aside from these series, the artist has worked on several other artistic projects throughout his lengthy career. Here are a few.
Floral Sculptures: Puppy and Split-rocker
With its whopping 43-foot-tall stature and around 60,000 flowering plants, Puppy is one of his most recognizable artworks. Made of stainless steel and covered in plants and flowers, Puppy is a giant representation of a West Highland terrier, a subject chosen, along with flowers, for their universal appeal and ability to make audiences happy, exaggerating their sentimental appeal and kitsch quality for theatrical effect and irony. Koons combined new and old, referencing both modern engineering and 18th-century status symbols such as formal gardens, but also Baroque cathedrals, playing with a balance of symmetry and asymmetry, eternity and ephemerality.
First exhibited in Germany in 1992, Puppy was rebuilt three years later in Sydney, and in 1997 The Solomon R Guggenheim foundation purchase it for its new museum venue in Bilbao.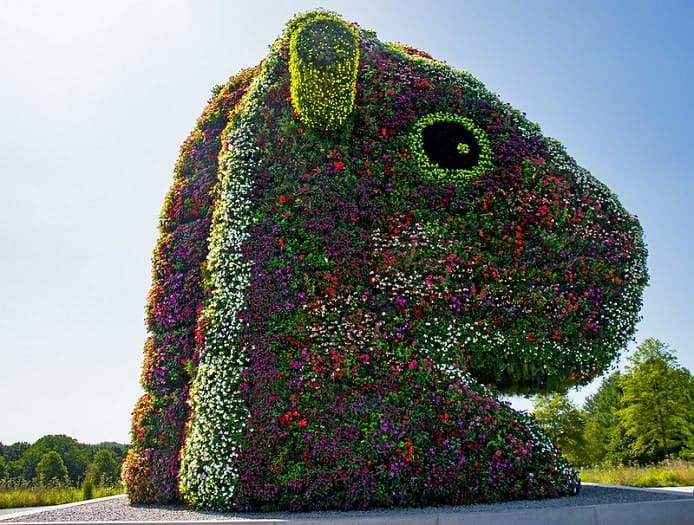 In 2000, Koons set out on an even bigger flower sculpture project and designed Split-rocker for the Glenstone museum in Maryland. Sitting 37 feet tall, the artwork is covered with approximately 27,000 flowering plants such as petunias, begonias, and marigolds. The sculpture combines two different toy rockers, each split in half and representing a pony and a toy dinosaur, respectively. Unlike Puppy, which is a closed, sculptural form, Split-Rocker is hollow and suggests the idea of an imaginary shelter. If you'd like to see the sculpture in bloom, head to Gladstone from May to October each year.
Artistic Collaborations
Throughout his career, Koons has collaborated with a number of other artists, designers and musicians. These collaborations have brought his distinctive style to new audiences and expanded his influence beyond the traditional boundaries of the art world.
Jeff Koons x Lady Gaga
One of Koons' most famous collaborations was with Lady Gaga. He worked with the singer to create her Artpop album cover in 2013. The cover features a shiny blue ball taken from Koon's Gazing Ball Series – Lady Gaga's favorite Koons work. For the background, he incorporated collage-like images taken from Birth of Venus (Botticelli) and Apollo and Daphne (Bernini).
Jeff Koons x Louis Vuitton
Although fashion house Louis Vuitton had worked with celebrities and artists before, the one with Koons was one of their most memorable and successful collaborations. In a nod to some of the most famous names in the history of art, Koons designed a handbag collection titled Masters for the luxury brand, featuring reproductions of artworks from each of the selected artists: Van Gogh, Titian, Monet, da Vinci, Rubens, and many others.
Jeff Koons in the Art Market: Controversies and Auction Records
Over the years, Koons has had his fair share of controversies. The most public of these includes his Made in Heaven series, which shocked the art world for being so provocative and sexually explicit. But the artist has also been accused of plagiarism on multiple occasions and, in some cases, lost the trials. For instance, he was found guilty of infringing copyright by a court in the US after having based a sculpture, called String of Puppies (1988) on a photograph taken by Art Rogers, entitled Puppies. One of the artist's most controversial moments was in 2008 when he produced an exhibition for the Chateau of Versailles, which included 17 disruptive pieces such as The Pink Panther (1988) which shows the well-known cartoon character draped around a half-naked woman.
Yet, none of these controversies shocks as much as some of the auction records Koons' work has broken. The most famous being his orange Balloon Dog which went at the price of $58.4 million in 2013 and held the record for the most expensive item to go at auction for five years. Then, there's his Rabbit which went for $91.1 million at Christie's in 2019 and was purchased by art dealer Robert Mnuchin. Due to these controversies and records, Jeff Koons' net worth is now estimated to be at around an eye-watering $400 million to date.
Wondering where to start?