Articles and Features
Remembering Claes Oldenburg: From The Store to the Colossal Pop Art Sculptures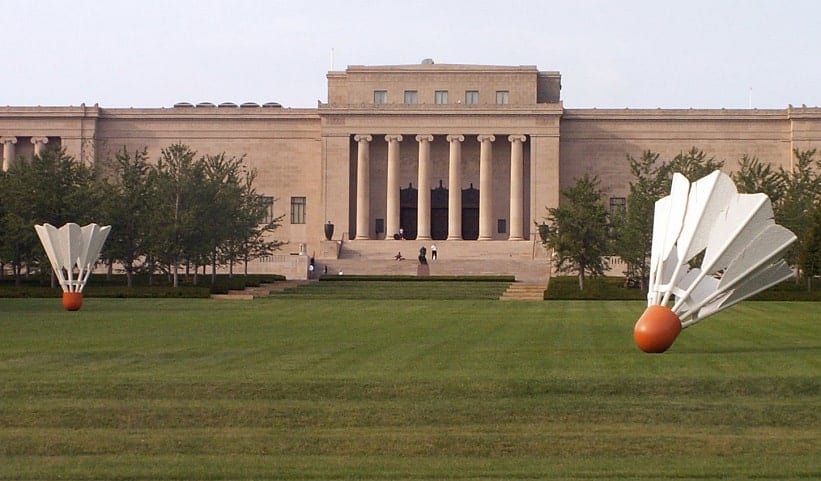 By Adam Hencz
American sculptor Claes Oldenburg was best known for his large-scale replicas of everyday objects. He believed that his colossal public art projects were more than mere celebrations of the mundane, as he is frequently associated with the Pop Art movement of the 1960s. Like Andy Warhol and other Pop artists, Oldenburg found inspiration in ordinary consumer objects, charging them with vigorous human connotations.
Oldenburg's sculptures and drawings blended a witty and satirical approach toward consumer products with rigorous construction details and proportion handling at massive scales. He was the creator of sculptures like the huge upside-down ice cream cone on the roof of a shopping gallery in Cologne; the Flying Pins in Eindhoven, the Cupid's Span along San Francisco Bay; the iconic 45-foot tall Clothespin in Philadelphia; and the baseball bat sculpture titled Batcolumn in Chicago – just to name a few remarkable sculptures of his.
On July 18th, 2022, Pace gallery in New York, which has long represented Oldenburg along with Paula Cooper Gallery, announced that the artist passed away that day at age 93.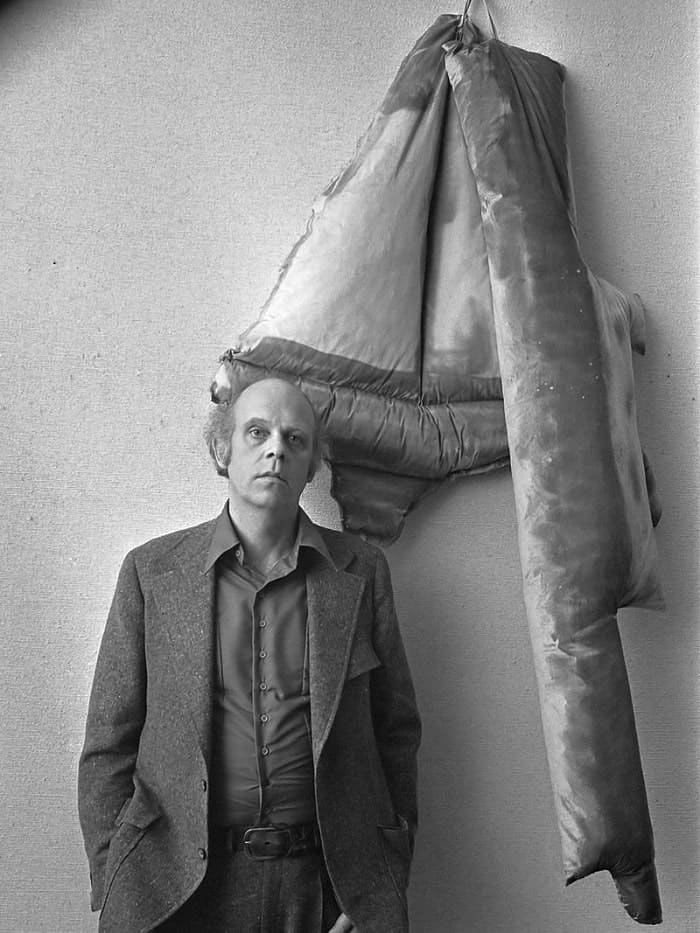 The Sculptures of Claes Oldenburg: From Happenings to Monumental Public Art
Claes Oldenburg, an American born in Sweden in 1929, was a genuine installation artist. Contemporary critics have described his early work as pop-surrealist or pop-expressionist. Raised partly in Scandinavia and partly in the United States, he grew up with the characteristics and temperaments of the harsh and melancholic Sweden and the exuberant and dynamic America.
In the late 1950s, Oldenburg entered the New York art scene, embracing the then-popular Happenings and pushing the limits of art by transforming ordinary-looking materials into blatantly expressive artworks. His early works included street signs, plaster garments, vinyl sculptures, and even an inflatable slice of pie. His approach to objects and performance would influence several generations of artists.
His first notable exhibitions in New York were The Street (1960), which included cars, traffic signs, and human figures constructed of cardboard and burlap, and The Store (1961), which featured a month-long sale of plaster and paint replicas of everyday items. These shows caught the attention of the prestigious Green Gallery on 57th Street where Oldenburg would exhibit his three signature sculptures, Floor Cake, Floor Cone, and Floor Burger.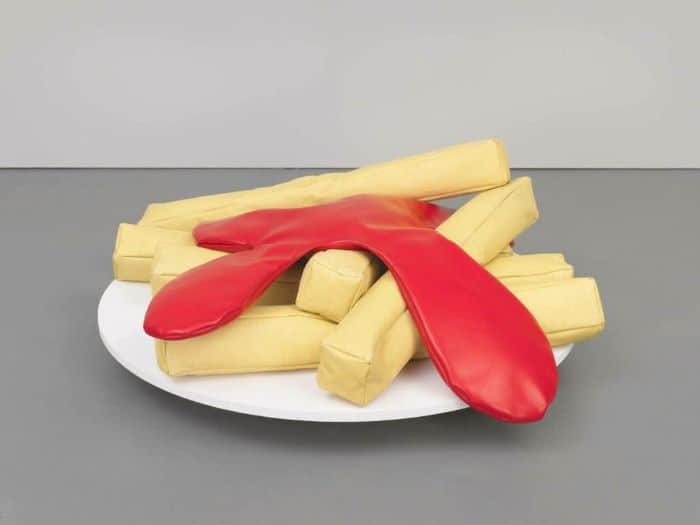 The Store
One of the first projects that brought Oldenburg under the spotlight, for the happening titledThe Store (1961-64), Oldenburg allowed visitors into his studio, a then-occupied storefront in East Village. The studio was filled with painted plaster versions of edible food and hardware – all of which were for sale during the 1961 show, hence the title of the project. Everyday objects for sale included hamburgers, sausages, cigarettes, and lingerie made of enamel-painted plaster constructed on wire armatures, in a unique and surreal combination of art and commerce.
Claes Oldenburg | The Store
Soft Sculptures
With artworks titled Floor Cake and Floor Burger, the second iteration of The Store involved early soft sculptures by the artist, which were constructed from canvas or vinyl and filled with foam. The majority of these garments were sewn by his then-wife Patty Mucha, using her husband's designs as a guide. The Store led to the expression for which Claes Oldenburg is famous today, and not long after his work quickly increased in scale.
Hand-sewn pliable objects created from supple materials including cloth, foam, canvas, vinyl, and paper, soft sculptures were his newfound method of altering quotidian objects. Early soft sculptures include Giant BLT (Bacon, Lettuce, and Tomato Sandwich) (1963), French Fries and Ketchup (1963), and Soft Toilet (1966).
Monumental Sculptures
As he became increasingly immersed in sculpture, Oldenburg expanded the dimensions of his work. He began with everyday items like hamburgers and domestic appliances and then magnified them to unusual, often overwhelming sizes. He seldom portrayed people, preferring to focus on objects strongly related to human desires.
Oldenburg began to create a significant body of drawings of fantasy architecture in the second half of the 1960s. These drawings eventually evolved into prints and, subsequently, public monuments. He also had a close friendship with renowned art dealer Leo Castelli in the late 1960s, who encouraged and supported him in his goal to create works of a monumental scale.
He started a remarkable creative collaboration with his wife, the curator and art historian Coosje van Bruggen in 1976, lasting more than three decades. The Whitney Museum has promoted their work for many years and has one of the most extensive collections in the world.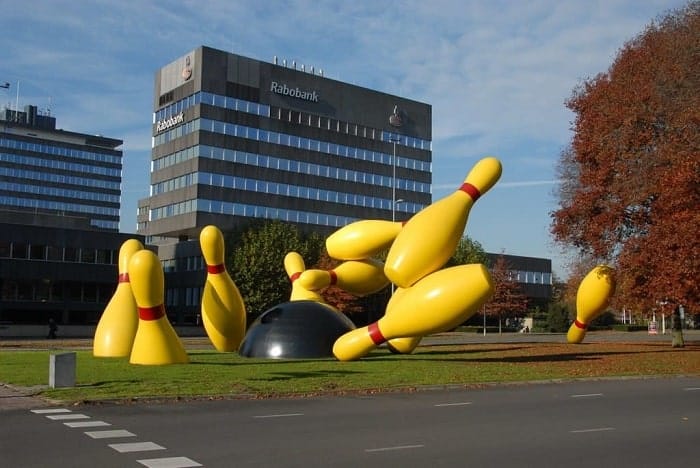 Legacy of Claes Oldenburg
For his significance in contemporary art and the radical nature of his work at the time, Oldenburg has also been referred to as the "missing link between Andy Warhol and Jeff Koons." Oldenburg's works, with their vivid color, exaggerated size, and undeniable appeal, influenced a generation of later contemporary sculptors, like Jeff Koons and Damien Hirst, who also worked with the scale, placement, and texture of everyday objects.
FAQ about Claes Oldenburg
Who is Claus Oldenburg?
Claes Oldenburg was a Pop Art sculptor renowned for his sculptures representing everyday objects like food and commodities, many of which can be seen at a monumental scale in cities around the world.
When did Claes Oldenburg die?
Claes Oldenburg died on July 18th, 2022 in Manhattan, aged 93.
What sculpture is Claes Oldenburg best known for?
Among his most famous three-dimensional works are his soft sculptures such as Floor Cake, Floor Cone, and Floor Burger, and his famous public art sculptures made in collaboration with Coosje van Bruggen, including
Shuttlecocks in Kansas City, Clothespin in Philadelphia, Ice-cream Cone in Cologne, and Spoonbridge and Cherry at the Minneapolis Sculpture Garden, among many others.