Interviews
Drifters of the Dreampond – Interview with Artist Buket Savci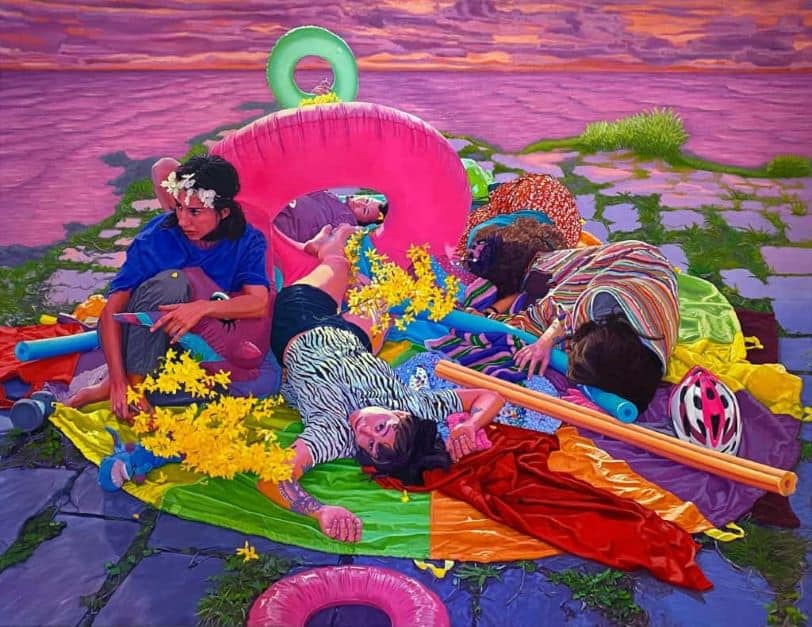 By Adam Hencz
"Even though my mind wanders into the past, I can let go as my hand keeps painting. When I get into that state, nothing can compare to it."

Buket Savci
As an immigrant from Turkey, having to create community and a sense of belonging in an unfamiliar place has inspired Buket Savci to convey radical love through paintings with an explosion of color, intimate scenes, and entangled figures. While the vivid props in her photorealistic paintings invoke a sense of weightlessness through their material qualities, they also represent a false sense of security. Her paintings also question our essential need for pleasure and our constant drive for satisfaction.
Savci uses toys and inflatables as metaphors for carefree, and trusted moments. But underneath the colorful and joyful settings, she conveys an unsettling feeling and marks the passing of these pure moments. She urges us to remember the hopes and struggles of the immigrants and refugees who escape their homelands and risk their lives to reach foreign lands for a better future and equal rights.
About the artist:
Buket Savci was born in Istanbul, Turkey, and lives and works in Brooklyn, NY. Her paintings constitute a part of private collections across the United States and have been exhibited in solo and group shows around the world like at Sotheby's in New York and at Flowers Gallery in Chelsea.
In Conversation with Buket Savci
For Buket Savci's first solo show in New York City titled Drifters of the Dreampond seven new works of her ongoing series on trust and togetherness are on view until the 23rd of October, 2022 at 5-50 Gallery in Queens. We sat down with the artist to talk about the works of her ongoing solo show, her journey from Turkey to New York, and the inspiration for her painterly practice.
You are based in the Bushwick neighborhood of Brooklyn, home to thriving artist communities and many artist studios that have taken up residence there. Can you share your impressions of Bushwick, and being a Brooklynite?
I have been living in New York for 16 years and have been based in Bushwick for almost 7 years now. I used to have a separate studio at Greenpoint for nearly another 7 years. Still, I lost it in 2019 because of gentrification. The neighborhood has changed a lot since then, and it became so expensive to work there. These days I am painting and working in my home in Bushwick. I love living in Bushwick because there are so many artists here and even when you just take a walk down the street, or hop into a local bar a block away, you always bump into other artists. Not just fine artists, but any kind of creatives live and hang out here. On top of that, it is also the party center of Brooklyn these days. But just like Greenpoint, Bushwick is changing very rapidly.
Some works from your series of all-new paintings also seem to draw upon the local party culture and conjure up the lazy and intimate moments of "post-rave" scenes. These works are on display for your first solo show in New York titled Drifters of the Dreampond at 5-50 Gallery. How did this show come to reality and how was the vernissage?
The opening was amazing, seeing people come and celebrate your art. I am very grateful for that and it was a happy experience. Daniel Sinclair, co-director of 5-50 Gallery, and an artist himself, first saw my works at my thesis exhibition when I was finishing my MFA at the New York Academy of Art in 2012. Then at SPRING/BREAK Art Show last year, we reconnected and, eventually, 5-50 Gallery offered me a show.
Can you tell us a bit about the paintings at SPRING/BREAK and the ones you brought to the 5-50 Gallery show?
At SPRING/BREAK, I created a fantasy space, which you could only reach through an installation. If you dared to cross the water with the help of the 'unicorn' or the 'dragon', you reached a free and safe space, which was also reflected in the paintings. I had a solo booth at the fair and brought all new paintings from the same series that I am showing at 5-50 right now. They might look like party scenes, but actually, they are not.
The series is about survival. It is about the longing and the hope that keeps us carrying on. I always ask myself what keeps me going on. My answer is always: love and being with loved ones. But love cannot be fulfilled without freedom. Freedom is what makes our inner drives possible.
The figures in the paintings seem to be in a perfect moment, in a safe environment, surrounded by loved ones and with people that they trust. They are in a safe space, without judgment and threat. But when you observe their expressions closer, you'll see that some of them are also aware that something is not right and that this perfect moment will not last forever. Like a balloon, it will pop soon, and that precious moment will be lost. I often depict balloons and inflatables in my paintings, as they are metaphors for the passing moments. They also symbolize the vivid facade of happiness and the "faking happiness" mentality. Coming from Istanbul, I was observing my surroundings and people all the time after I moved to the US. Everybody showed how happy their lives were, but at the same time, most of the people seemed utterly lonely. This is why I am drawn to painting works of intimacy, belonging, and connecting.
Drifters of the Dreampond evolved from my previous series Playground and Intimate Paintings. These private paintings featured couples and were much more personal since back then I depicted my very close friends from Istanbul. I had photoshoots with them, and I was using those photos as references for my paintings and to relive the moments spent together again and again. From there, my work evolved into including more figures and props, expressing a collective emotional state of coping with struggles and crises, rather than telling personal stories.
How do you compose your paintings?
I usually still ask my friends to pose for me, but the idea of including multiple figures in my painting occurred to me when I was taking part in an artist residency in Leipzig, Germany. At the residency, I asked all the other participating artists to pose for me for a photo shoot, which turned out to be an amazing experience for all of us. I only asked them to wear colorful outfits and I did not instruct them exactly what to do, so everybody could act and come as they were. I collected some fabric and inflatables to use as props and after all, took around 300 images. Just snap, snap, snap. I asked them to move all the time as I took the pictures. After the shoot, what I loved while skimming through the hundreds of photos, was that the scenes and the way they connect with and touch each other seemed so spontaneous and natural. The whole process was like a performance.
How did you find the strength to keep working during the lockdown, when you could not take such pictures and could not meet your friends and loved ones?
While the pandemic and the New York lockdown were challenging times, it was also a liberating period. It was because I had all the time I had never had before for myself and for my art. I had used to work part-time for other artists before the pandemic hit, but during the lockdown, I knew that I was not missing out on anything so I was able to spend more time painting and also producing more. There were paintings that took more time, for example, the balcony painting titled Not So Long Ago, took 6 months to make. But I was not worried that much about going out, and I knew that that was the time for me to work.
On the other hand, the lockdown was also difficult as I could not have anybody over to pose. Then finally, last year in April, I was able to go to the chaNorth residency in the Hudson Valley, Upstate New York. We were just 5 women artists, the first group working there after the lockdown. I instantly grabbed some props and toys from the local thrift store and asked the other participating artists to pose for me again. Two of the paintings on show at 5-50 Gallery are actually works from those posing sessions. And I am in the paintings too. I had a camera set up on a tripod and shot using a remote control. We just kept rolling and moving and I kept snapping with the camera without seeing what I was shooting. All happened so spontaneously. The characters of Strangers In A Strange Land for example are laying on a colorful parachute I grabbed from that thrift store. I changed the background and the horizon in the painting, so it feels like the characters have just been washed ashore and have arrived at an unknown place, not knowing what to expect.
Have you always translated your interests into painting? Are there any other mediums and forms of expression that you worked with?
Growing up in Turkey, as a kid I was always painting, but my parents never supported me to become an artist. I had to stop dreaming about it. They wanted me to become a doctor or an engineer. During all those years at school, it felt like I almost forgot how to paint and do art. I always felt that emptiness inside me, because I wanted to keep painting but I did not know how to do it anymore. I kept journals, and I started writing. I was writing short stories and making fanzines with friends at high school about fictional stories, music, and punk rock. So I tried to express myself non-stop, but not with painting yet. But I was still dreaming about painting one day.
Eventually, I went to study architecture because this was the closest discipline to art that I could study. I became a landscape architect and worked for 6 years in the industry. It was creative work, but I was still trying to find a way to paint and planned to move somewhere else and leave Turkey. I was planning to start my life over again to study art. In 2006, I could finally do that. I won the green-card lottery, which meant that I could move to the US. After one year of settling in, I applied to the Pratt Institute and got in. Finally, I was painting again.
I left everything in Turkey behind and started again from scratch. I was very determined when I moved here. I wanted to do whatever it takes to follow my dreams. I was fearless. I will never regret it. After I graduated from Pratt, I carried on with my MFA at the New York Academy of Art and graduated in 2012.
Is there any ritual that you use to get yourself to the place of painting a work?
I paint late at night until early in the morning and I always listen to music when I am painting. I have been listening to heavy metal since I was a kid so I still listen to it when I am painting. Music reminds me of how I felt when I was in my teenage years and I feel that force and that freedom again. Music also helps me concentrate on what I am doing. It is just like meditation for me. Even though I am focused, my mind wanders into the past, to memories, and has imaginary conversations, but I can let them go as my hand keeps painting. When I get into that state, that feeling is the best. Nothing can compare to it.
Where can we see your work in the future?
After the show Drifters of the Dreampond at 5-50 Gallery, which is still on view through the 23rd of October, I will be preparing for my next solo show in March in Nashville, Tennessee. The works will revolve around a similar theme as I am still very excited about it. It carries endless possibilities.
Relevant sources to learn more
Explore a unique selection of works by Buket Savci available for sale on Artland
Read the latest artist interviews on Artland Magazine
Artland Interviews: Jeffrey Gibson
Land of Dreams – Interview with Shirin Neshat
Of Hybrid Prints, Digital Colors, and Human Perception – Interview with Inma Femenia
Wondering where to start?