Interviews
Of Hybrid Prints, Digital Colors, and Human Perception – Interview with Inma Femenia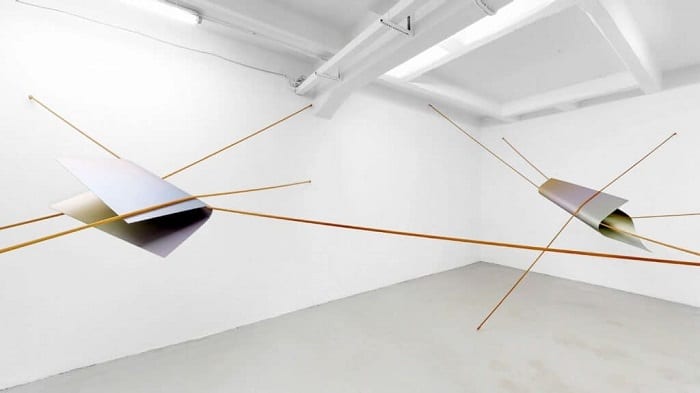 By Adam Hencz
"I would like to believe that behind technologies like NFTs and the metaverse there is something truly transformative and interesting, but for now, I don't see them capable of answering the most important questions."

Inma Femenia
Wherever we live on the globe, our culture is profoundly conditioned by monitors and screens. We have stared at them so long that ultimately we all accepted the ubiquity of digital images, the steady artificial light beams, their temporary reflections, and yielded to the phenomenon.
Valencia-based artist Inma Femenia perceives these technological changes as fundamental triggers of a transforming visual perception. She intensely experiments on its effects and renders the tensions and distortions of digital governance, while she morphs color and texture generated on-screen and bends their metallic prints into shapes reminiscent of glitching computer screens. Her sculptural works and installations are informed by virtual imagery, digital printing as well as the knowledge of tangible materials and physical workmanship. We sat down and talked with Inma Femenia about her works currently on show in Milan, at THE FLAT – Massimo Carasi as well as touched upon her meticulous creative and artistic process.
Born in Pego, Spain in 1985, Inma Femenia graduated with a Bachelor of Fine Arts and Masters in Arts Production from the Universitat Politècnica de Valènica. She currently lives and works in Valencia, Spain.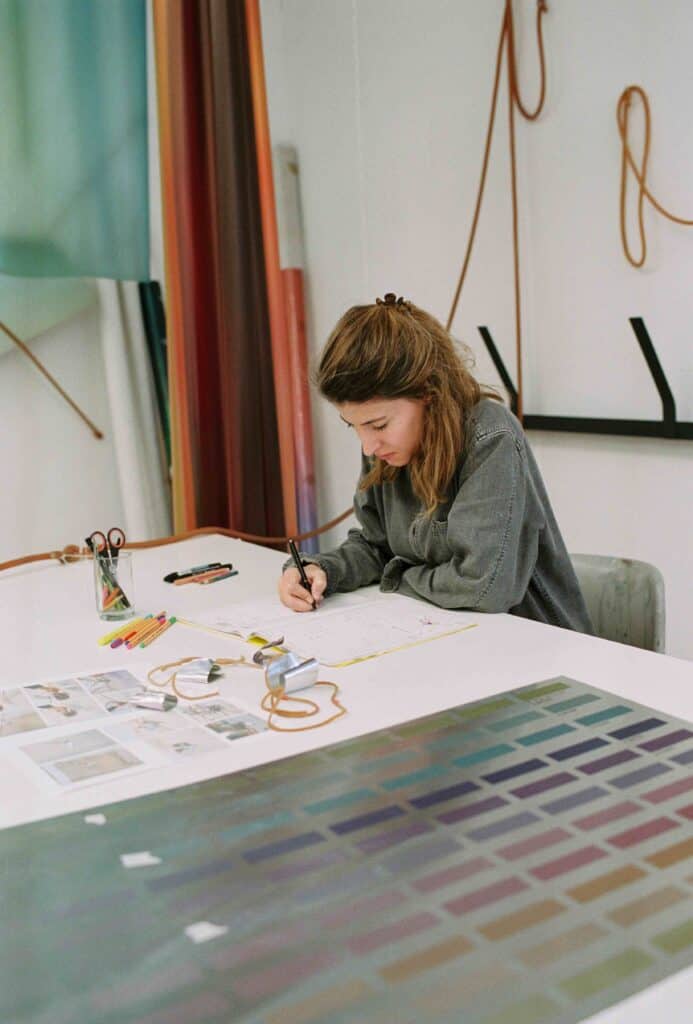 What is your earliest memory of an exhibition?
I remember visiting James Turrell's exhibition at IVAM (Institut Valencia d'Art Modern) in 2004. It was a show that took me to places I had never been before. It made me aware of the sensorial power of art and of the connections it is able to establish between our consciousness and the world we live in. This realization has accompanied me ever since.
You show a couple of works at the ongoing show at THE FLAT – Massimo Carasi titled Lovers in a Dangerous Time. Can you tell us about the works you brought to the show?
The series I have been working on for years, titled In Tension, investigates the possibilities and the limits of fusing the physical and the digital realms. I explore and manipulate the chromatic qualities of various materials by applying digital processes, in this instance I worked with UV printing. The processes I use to create my works are crucial in my research to create at the intersection of the tangible and the intangible. My exploration of digital printing manifests in the creation of new objects that embody everyday observations, but also memories.
My working process is the result of my observations of professionals working in the digital printing industry and in supply spaces. My curiosity drove me towards obtaining first-hand knowledge about manufacturing processes. I have been based in Valencia for many years, where I have built a strong network of suppliers whom I trust. They also allow me to dive deeper into their processes, explore materials and understand the production process. This also enables me to establish new collaborations and to work on more elaborate projects. It can be quite challenging to involve and coordinate different companies during artistic production. For example, in order to create In Tension, it was necessary to pull a team of several professionals together who could support the entire production process, starting with the selection of the material at the metallurgy company, through transportation and treatment by some sheet metal workers, all the way to printing in Barcelona. Even before bringing the pieces to my workshop, a sheet metal worker had to tamper with it once again, and only then I could apply the final touches in my studio. Involving various industries and manufacturers always requires the highest respect and clear communication between all parties, which makes it an exciting challenge.
The works of your Liminal series seem to balance between print, sculpture, and installation, while concentrating on formal elements like hanging or the manipulated rectangular ratio. How would you define these works? How does the series connect with your oeuvre?
Liminal was a series that I presented for my solo exhibition at The Flat – Massimo Carasi in 2019, titled In Between. The work evolved naturally from the In Tension series. I think I created it precisely this way for this exhibition because the gallery space determined a new approach to the relationship between the space and the viewer. Therefore, Liminal focused on transforming flat surfaces into three-dimensional pieces by shaping aluminum with my own body, which became an implicit performative part of the piece. This reference to the human body is not only reflected in the way the material is manipulated, but also in the use of rubber strings as a hint to the tensions under the human skin.
I combine colors and images to allude to tones we perceive in our everyday environments. I reproduce them through digital color scales like hexadecimal, RGB, and CMYK to create a dialogue between the real and its digital representation, consequently questioning the nature of our perception. Starting from the application of color onto transparent materials, I then moved to applying the colors typical of screens through a direct impression of the digital gradients that we can also find in a physical environment.
What does your studio and a day at your studio look like? Are there any rules you follow when in the studio?
In my day-to-day life, I usually have an extensive work schedule. I arrive at the studio in the morning and leave in the late afternoon. In the mornings I coordinate projects, have meetings, and observe or supervise the production process. I try to keep the afternoons free to find more time to reflect on my work.
I also need the support of professionals working at my studio. For example, right now I'm working on my next project called Arc al Cel at the CaixaForum in Valencia, where I'm working side by side with engineers, architects, and opticians. Thanks to projects like this, I realize that my work is more and more related to architecture and to spatial design, disciplines I am passionate about.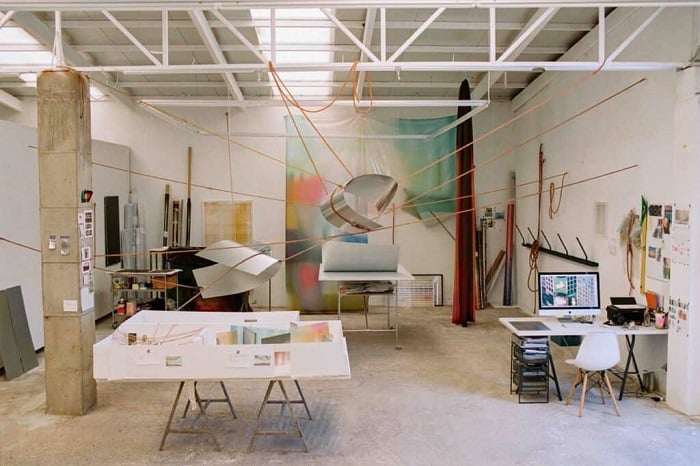 What is in your opinion the difference between a designer and an artist? Can the two be separated?
I don't think it is necessary to radically set them apart, although their functions are logically different. From my point of view, art provokes reflections on how we use our senses by exposing the spectator to a stimulus. Design is also a communication process, but on the other hand, it is always attached to solving problems under specific conditions or to simplifying tasks.
"My work has greatly benefited from digital art and its various components, especially digital interaction. […] Even so, I'm cautious about the possibilities of NFTs or the metaverse."

Inma Femenia
Humanity now feels the weight of the insane progress it has made to pursue comfort with the means of technological innovations. We see almost inevitable environmental consequences like climate change and changes in our behavior and social fabric. We are overwhelmed with information, and our attention has become the real currency of today. How do you avoid distractions, how do you filter out the noise of the world?
I believe that the role of the artist is to be committed to society and pay attention to what is happening all around us. You have to respond to the current situation. For my work and my artistic production, it is fundamental to observe what's happening around me and to be open to different ideas and fields. Just as it is important to understand progress and the problems we are facing.
What is your take on digital-only artworks and much-mentioned social phenomena like the spread of the metaverse?
My work has greatly benefited from digital art and its various components, especially digital interaction. This interest is reflected in my installation works and in the materials I use. Even so, I'm cautious about the possibilities of NFTs or the metaverse. At the moment, I have the impression that the general hype around these technologies is only due to their economic performance and their potential as markets. I miss the practical proposals on how to create a better world with this technology. I would like to believe that behind these media there is something truly transformative and interesting, but for now, I don't see them capable of answering the questions I'm interested in.
If you could choose any venue, space, or location, where would you love to show your works, and which ones? What is your current focus, what series or future work are you working on at the moment?
I am quite absorbed in projects right now, related to open, public spaces. I am very excited about what I learned along the process. I feel very motivated by the possibilities this project offers regarding exploring perception and interaction with viewers. It is also exciting to immerse into associated fields such as architecture and urban planning.
Currently, I am continuing my line of research, focusing on optics, light, and sensorial perception. I am particularly interested in the perception of natural light such as refractions and reflections, which are key aspects of the large-scale projects I am currently developing. I also collaborate with many specialists in these fields. This project marks one of the most nourishing and stimulating stages of my artistic career.
Relevant sources to learn more
Explore a unique selection of works by Inma Femenia available for sale on Artland
Read the latest interviews on the Artland Magazine:
The Shape Of Color: Robert Zandvliet on Color, Technique and Letting Go
Artland Interviews: Jwan Yosef
Interview With Artists and Creative Technologists Tin&Ed
Wondering where to start?