Articles and Features
Female Iconoclasts: Eleanor Antin
By Shira Wolfe
"If I don't have a self of my own, I can borrow other people's, and so I'll be an actor."

Eleanor Antin
Artland's "Female Iconoclasts" article series celebrates female artists who were among the most boundary-breaking iconoclasts of our time; women who defied social conventions in order to pursue their passion and contribute their unique vision to society.
This week we visit the world of Eleanor Antin, one of the world's leading feminist artists whose groundbreaking multidisciplinary work in conceptual art explores identity, gender, autobiography, class and social structures.
Eleanor Antin – From Acting to Conceptual Art
Eleanor Antin was born in 1935 in New York City and grew up in a Jewish-Polish family of immigrants. Her mother had been an actress in the Yiddish theatre in Poland, and became a businesswoman in New York, owning numerous hotels.
From an early age, Antin remembers thinking that she didn't have a self, a belief which led her to the decision of becoming an actor. In her words: "If I don't have a self of my own, I can borrow other people's, and so I'll be an actor." However, she soon discovered how silly she found the type of things she would be asked to do as an actor and returned to writing, which had been her first love. From that point onward, she started experimenting with many different art forms. When conceptual art started to appear on the scene, with the freedom of using different kinds of media and not being confined to one particular genre, things really fell into place for Antin. This is when she truly started her art career.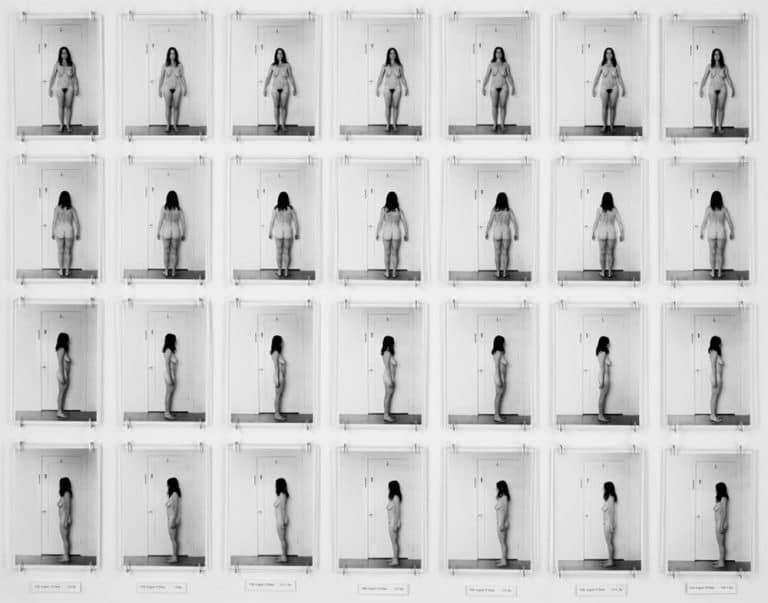 "I had a marvelous art-making machine: my personas. I never knew where it would go. I could always open up into something else, until I decided I didn't want to make art as somebody else. Until I decided it really was me."

Eleanor Antin
Performance and Role Playing
In the 1970s, Antin became widely known for using autobiography and impersonation in her artwork, always with her trademark transgressive humour. With countless art happenings around and Fluxus and Pop art opening up countless possibilities, Antin started collecting material from all over the place, transforming this into her own endless possibilities. In 1972, she photographed herself naked at various stages during a month of intense dieting, creating the work Carving: A Traditional Sculpture. That same year, she made The Eight Temptations, which was a collection of photographs showing the resistance to the temptation of junk food.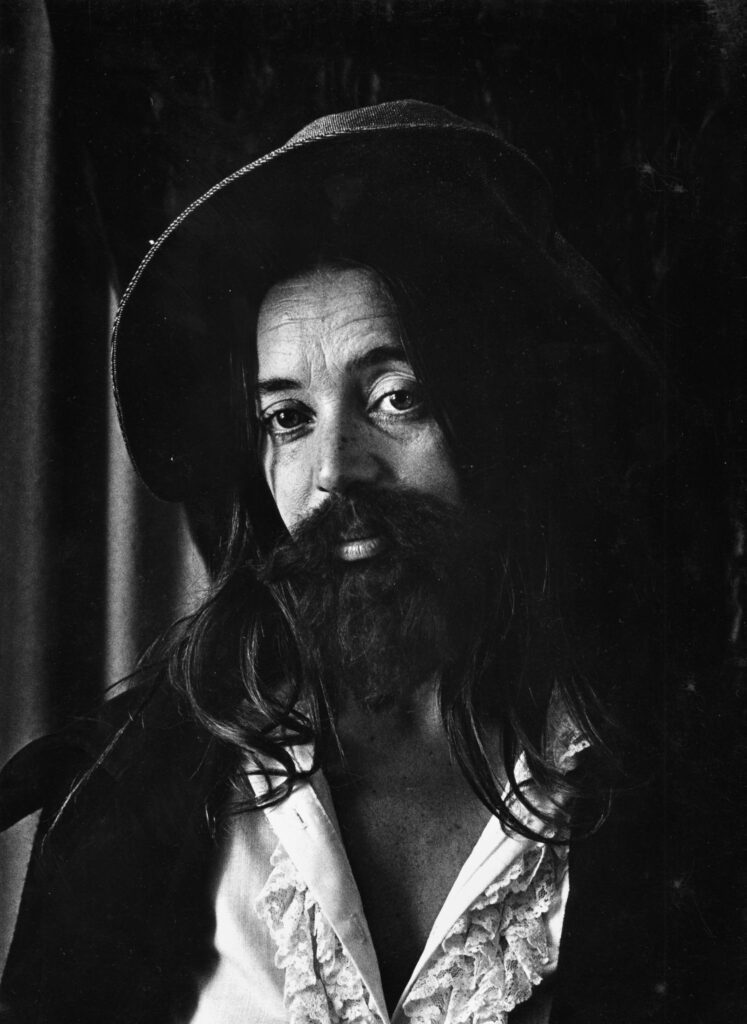 It was in this period that Antin also started working with role-playing: she developed several characters for herself, reminiscent of her feeling that she didn't have a self. Instead, she decided to borrow other people's selves. She also discovered that working with personas was a very good way of dealing with a lot of the political and social issues she was concerned with. One of her characters became the King, her male self, through whom she, as a young feminist, could tackle political issues.
Another character, her most glamorous and probably most famous one, became the Ballerina, Eleanora Antinova. This character was a ballerina from Sergei Diaghilev's Ballets Russes: a ballerina with a beautiful figure who nevertheless lacks the ideal ballerina body-type. Antin's work Recollections of My Life with Diaghilev details Antinova's fictitious life through various mediums including film, memoir, photographs, performances and drawings. Antin explores the deep layers of this character as well as her own Jewish identity in The Hebrews, a ballet choreographed by Eleanora Antinova.
Antin explains how her personas allowed her the freedom to delve deep into topics and issues that interested her, saying: "I had a marvellous art-making machine: my personas. I never knew where it would go. I could always open up into something else, until I decided I didn't want to make art as somebody else. Until I decided it really was me."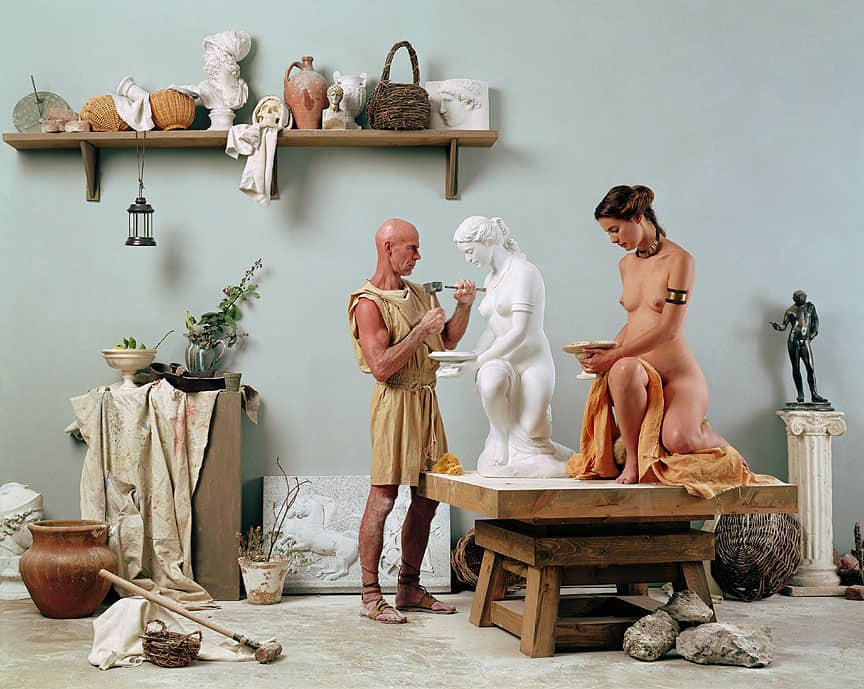 Eleanor Antin as Eleanor Antin
When her mother was dying of Alzheimer's, Antin started remembering all the fascinating Yiddish culture her mother used to tell her about. She decided to stop doing persona works, and made her Yiddish silent film The Man Without a World. Though the film is supposedly made by the imaginary 1920s Yiddish Russian filmmaker Yevgeny Antinov, Antin explains that it always felt like it was her, Eleanor Antin, doing the film. She did a few more "Yevgeny Antinov" films, and then moved on to other works. Her 2001 series The Last Days of Pompeii is also an Eleanor Antin work, without any personas involved. When she was young, she was obsessed with Ancient Greece, and wished she could have lived in that period. From this point, she also became fascinated with the Romans and Pompeii. The Last Days of Pompeii is a photographic sequence in which actors are placed in various scenes set during the last days of Pompeii. As such, we see affluent Romans living the good life, while they are in fact on the brink of annihilation. In this piece, Antin makes a connection between Rome, one of the first colonial powers, and the United States as a colonial power.

Eleanor Antin Around the World
Antin has performed and exhibited her work internationally for the past 50 years. She's performed in venues including the 37th International Art Exhibition at the Venice Biennale, Italy (2005) and The Sydney Opera House, Australia (2002).
Important solo exhibitions include Multiple Occupancy: Eleanor Antin's "Selves", ICA, Boston, MA (2014); Eleanor Antin: Historical Takes, San Diego Art Museum, San Diego, CA (2008); Eleanor Antin: Real Time Streaming, Arnolfini, Bristol, UK and Mead Gallery, Warwick, UK (2001); Eleanor Antin Retrospective, Los Angeles County Museum of Art, Los Angeles, CA (1999); and Eleanor Antin: Selections from the Angel of Mercy, Whitney Museum of American Art, New York, NY (1997).
Antin recently recreated her groundbreaking early work Carving: A Traditional Sculpture, at LACMA in May 2019, now titled CARVING: 45 Years Later. Again, she documented her weight loss, producing 500 black-and-white photographs over the course of 100 days, with a fifth row added to the sequence.
Relevant sources to learn more
Richard Saltoun Gallery
LACMA
ART21
For previous Female Iconoclasts, see:
Marlene Dumas
Georgia O'Keeffe
Graciela Iturbide
Louise Bourgeois