Articles & Features
Five Photography Monographs Everyone Should Know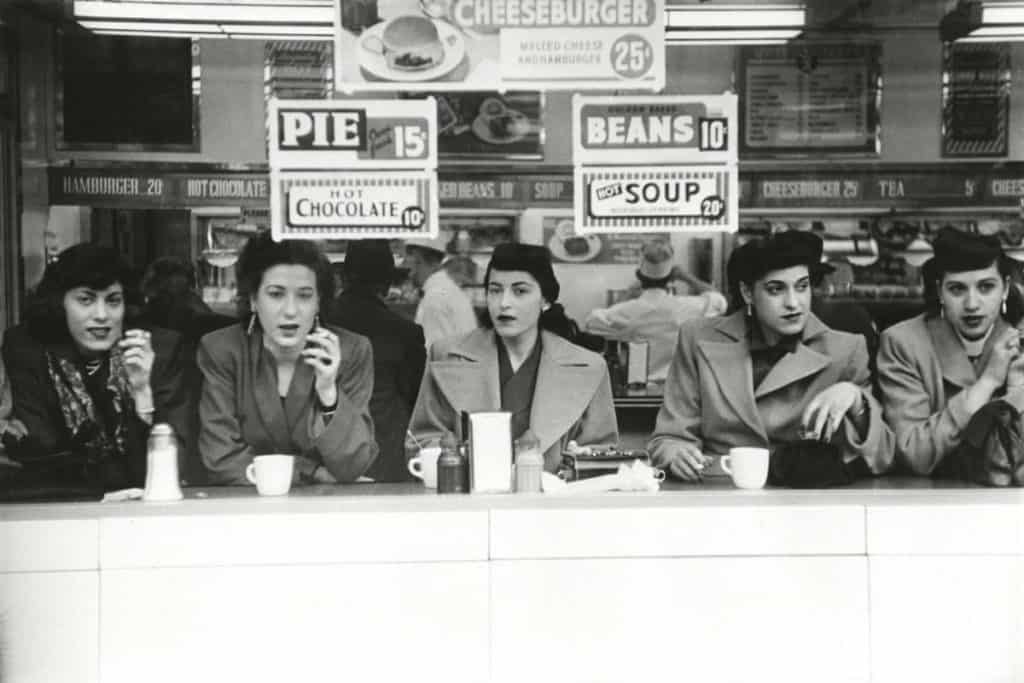 There are artists with life-long careers who produce an incredibly large number of works; nevertheless, it is possible in the majority of cases to recognise in retrospect a single body of work or art project that encompasses or best summarises the artist's entire research, conveying the essence of their aesthetic and approach.
Without questioning the unparalleled experience of admiring art in real life and the authenticity inherent in its physical uniqueness, some art monographs express that same essence and aesthetic to become a reasonable substitute for the art itself, especially in the case of photography.
For this reason, we suggest five titles of photography monographs, representative of their astounding art; milestones in the history of contemporary photography or a collector's item, these books have secured their place in photography's pantheon.
This overview does not claim to be exhaustive, indeed many other monographic titles and artists could be named, one can think of the encyclopedic and systematic approaches of Bernd & Hilla Becher and Thomas Struth, the staged photography of Sandy Skoglund or the intensity of Sebastião Salgado's images, just to mention a few.
Robert Frank – The Americans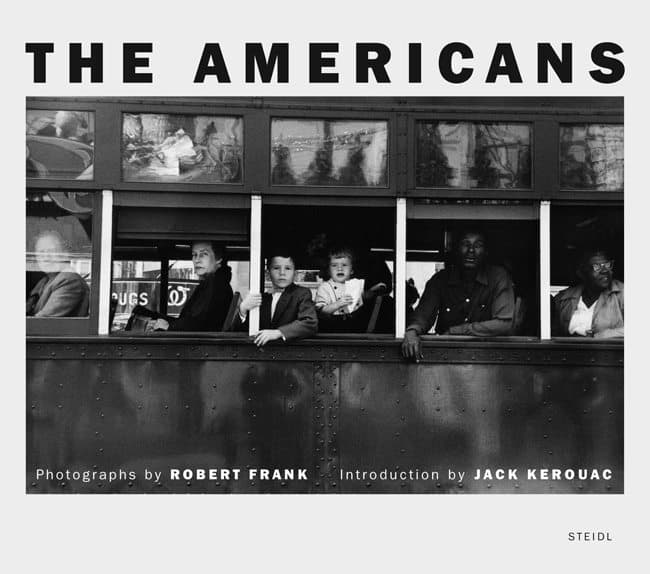 What else could start our overview but the groundbreaking monograph The Americans by Robert Frank? Drastically changing the rules of documentary photography, this work with black-and-white pictures depicts the unvarnished quintessence of American society in the mid-1950s. Thanks to stunning pictures of discontent, segregation, and alienation it exposes the usually unseen aspects of daily life. Frank obtained a Guggenheim Fellowship and, strongly inspired by Walker Evans's work American Photographs, travelled across the States from 1955 to 1957, along with his family, a used car and a 35-mm Leica , taking more than 27,000 shots of which only 83 were later selected.
Indicted as scandalous for not conforming to the optimistic and picture-perfect idealised USA facade, the project's social criticism was actually led by the purpose of showing and celebrating what was pure and good in the country. Too unconventional for the American editorial market, the book was first published in France in 1958 as Les Américains and it was only the year later that Grove Press finally published it in the United States. It was introduced by a vivid preface written by Jack Kerouac, whose Beat rhythm perfectly fits the immediacy and honesty of Frank's photographs. A third edition came out in 2008, on the 50th anniversary of the book's publication, in a new format, new typography, and a new cover designed and edited tin collaboration with the 84-year-old Frank himself.
" To see something spectacular and recognize it as a photographic possibility is not making a very big leap. But to see something ordinary, something you'd see every day, and recognize it as a photographic possibility – that's what I'm interested in."

Stephen Shore
Stephen Shore – Uncommon Places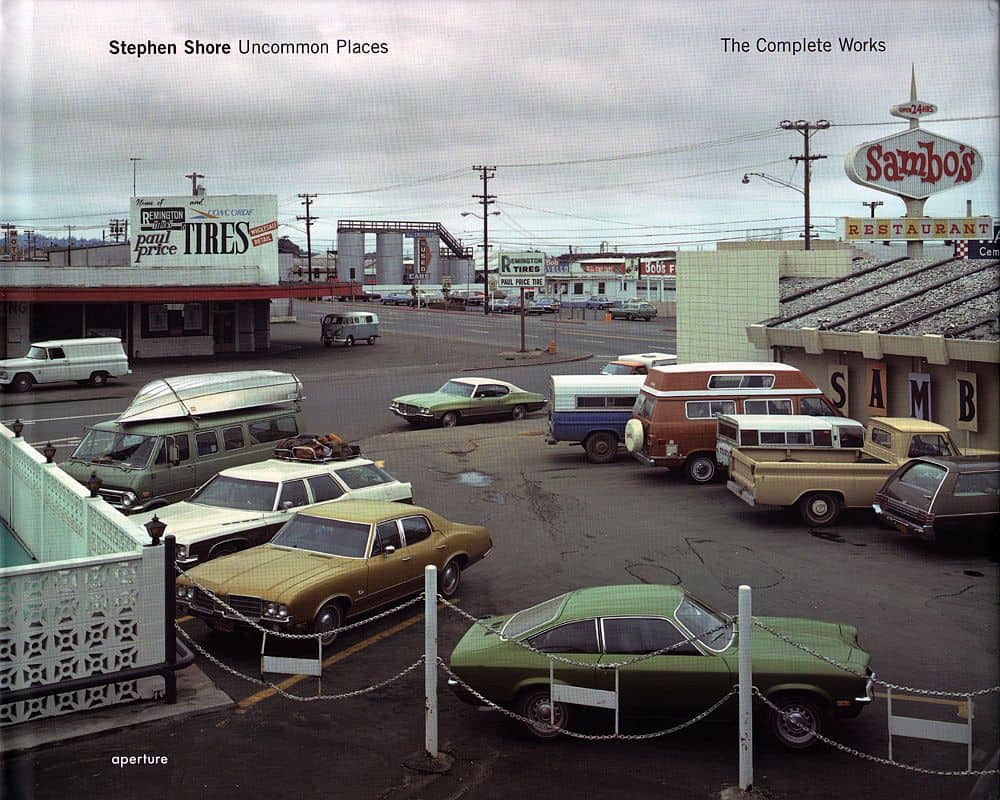 Let's stay in the realm of everyday USA, but jump forward around 20 years. In 1972 the young photographer Stephen Shore, who until then had always lived in New York, took a road trip with a friend to Amarillo, Texas, and, having a Damascene conversion whilst there, looked at America's landscapes framed by the car window as though it was the very first time.
The intuition of seeing everyday objects and places with fresh eyes became the core of his stunning work Uncommon Places, originally published in 1982 ("I wanted to ask myself what does seeing look like?").
Following on the same roads as Robert Frank, Shore travelled cross-country documenting 1970s America through large-format, full-colour pictures, taking colour photography beyond the game of advertising and fashion. From hotel swimming pools and motels to parking lots and deserted roads, but also televisions, billboards and gas stations, Shore showed what were, in fact, common places which had become a source of unexpected beauty and remoteness as well as a contemporary classic for next generations of photographers to look at. In 2015 a definitive edition of Uncommon Places. The Complete Works was published, including images that had never been seen or exhibited before.
Zoe Leonard – Analogue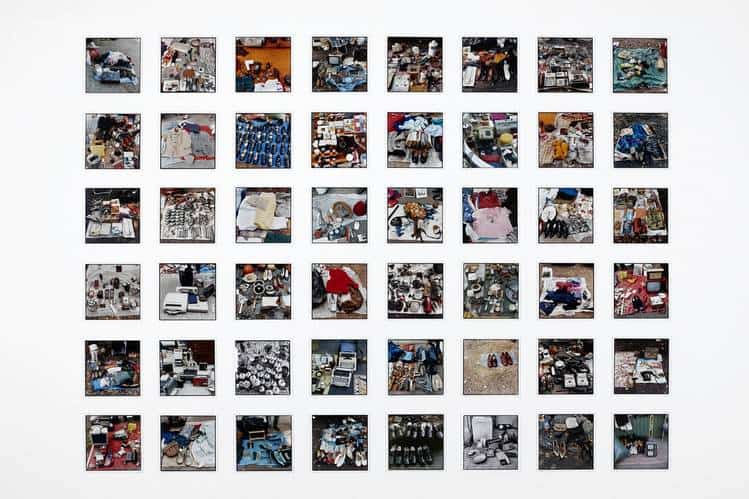 Reminiscent of Eugène Atget's photography which had documented the fading face of urban life in Paris in the transition between the 19th and the 20th century, Zoe Leonard's Analogue bears elegiac witness to the vanishing of our cities a century later– a consequence of globalisation and transition to digital technology.
The monograph, in the intersection between documentary and conceptual photography, and a reflection on the photographic medium itself, includes a vast suite of images, all of which constituted the eponymous exhibition: a massive project consisting of 412 images (342 colour, and 70 black and white) and realised between 1998 and 2009. They were displayed in grids and divided into 25 sections– currently part of the collections of MoMA in New York and the Reina Sofia Museum in Madrid.
The work began in the late 1990s when Leonard took her camera and, starting from her own New York neighbourhood, Manhattan's Lower East Side (before gentrification transformed it to a fancy area with boutiques, art galleries, and classy restaurants), took shots of closed store-fronts and windows of small shops that had begun to disappear. Then she followed the circulation of recycled merchandise—used clothes, discarded advertisements, obsolete technology—to remote markets in Africa, Eastern Europe, Cuba, and the Middle East, as a demonstration of uniformity of marketplaces across the globe. Far from the shine of catalogues, shopping malls, and digitally rendered advertisements, her work will remain as a testimony of a disappearing world, a reminder of obsolescence.
As the title may suggest, the artist meaningfully used a vintage 1940s Rolleiflex camera and produced chromogenic and gelatin silver prints on paper, using a pre-digital process.
Helmut Newton – SUMO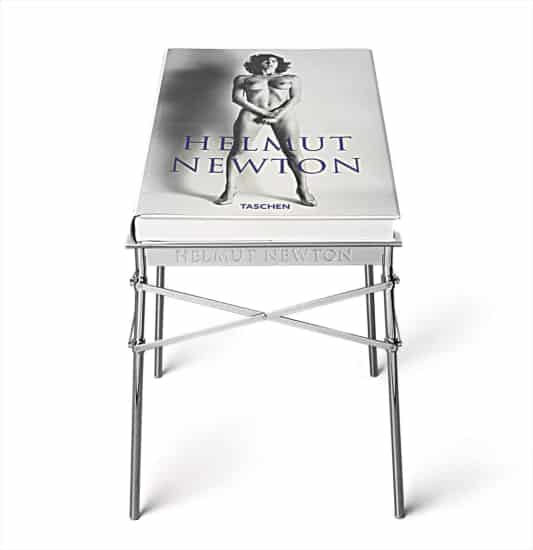 'Enormous' is the word to define this monograph entitled, quite explicitly, SUMO. Enormous for its weight – over 30 kilograms, dimensions – 50 by 70 centimetres – and content, this book is a tribute to one of the more iconic and controversial photographers of the XX century, Helmut Newton.
Originally published in an edition of 10,000 signed and numbered copies along with a bookstand designed by Philippe Starck, SUMO sold out soon and multiplied its value until the copy number one broke the record for the most expensive book of the 20th century, selling at auction for around $430,000.
This unique publication by Taschen contains over 400 pictures, with the provocative and edgy style which has become a landmark for today's photography, retracing Newton's incredible career, from fashion photographs to his nudes and celebrity portraits, all imbued with his trademark glamour.
A second edition, revised by June Newton, Helmut's widow and photographer herself, was published in 2009 in a smaller size (yet still larger than the average photo tome) and, finally, an ultimate version was issued in 2019 to celebrate the publication's 20th anniversary; though it is called XL edition, the format is friendly and a booklet about the making of SUMO is included.
Andreas Gursky – Andreas Gursky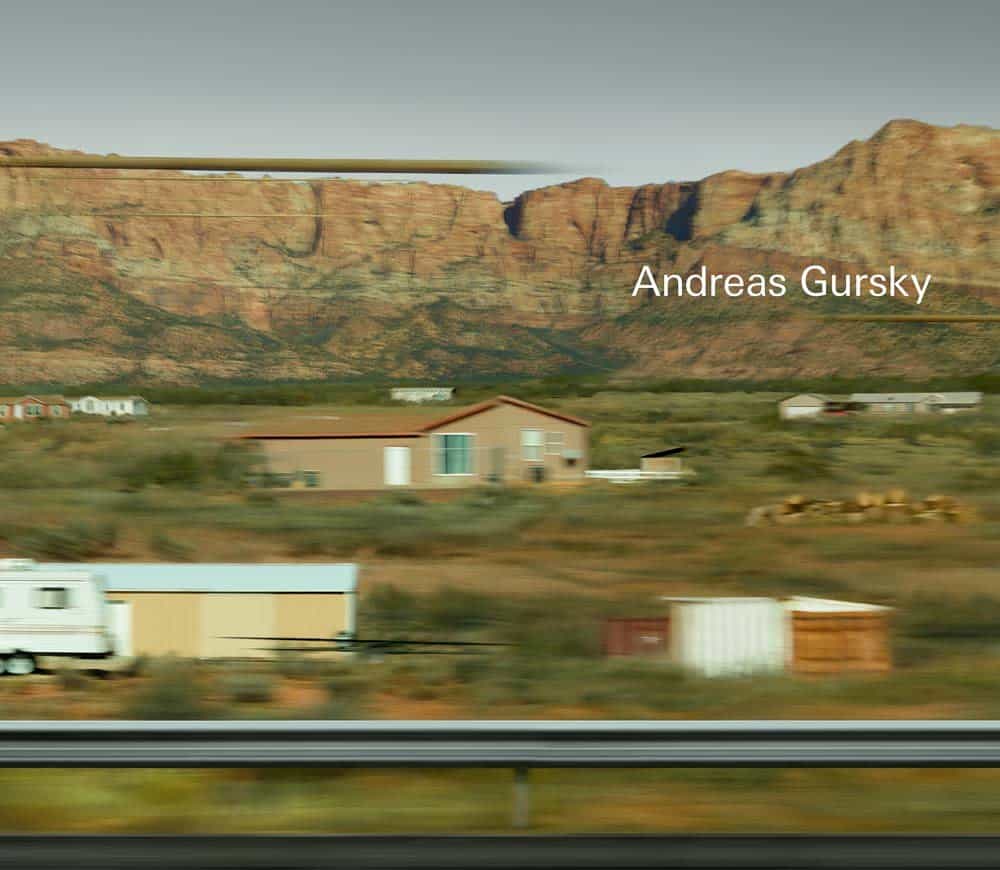 This monograph is a definitive survey of Andreas Gursky's four-decades-long career. Published in 2018 by Steidl, the book includes a conversation with Gursky himself with Jeff Wall – another remarkable figure in contemporary photography – about his sources of artistic inspiration, along with in-depth essays by Ralph Rugoff, director of Hayward Gallery, the art historian Gerald Schröder, and the artist Katharina Fritsch.
With a renewed perspective on Gursky's most celebrated works – Paris, Montparnasse (1993), 99 Cent (2001) and Chicago Board of Trade III (2009) among others – as well as a presentation of previously unpublished pictures, this book is a comprehensive overview of the photographer who struck the art world with his large-scale and high-definition images. Showing the consumer society as no one had done before, and the dwarfing of humankind by contemporary urban life, global economy, and nature, this work represents a timeless and indispensable milestone of the type of late-twentieth-century photography Gursky has made almost his own.
Relevant sources to learn more
External sources
Stephen Shore's website
Helmut Newton Foundation
Andreas Gursky's website
Discover & Buy Photography for Sale