Articles & Features
Art About Art: When the Artist Studio & Practice Is The Subject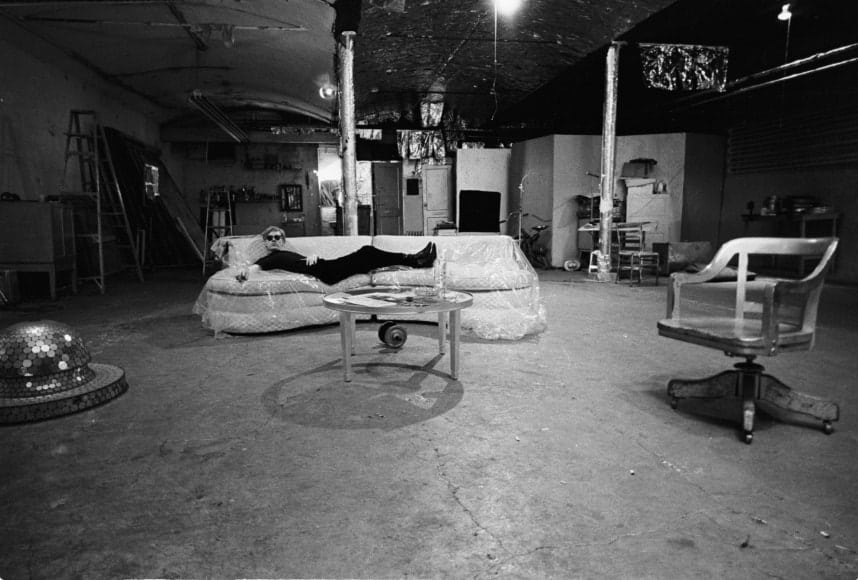 By Tori Campbell
Introduction to the Artist Studio
When artists make art about the process of artistic creation, they do so with sensitivity and empathy that might otherwise be lacking from a purely documentary standpoint. These meta-artistic works provide fascinating insight into the artist studio, providing a behind-the-scenes look into a deeply personal activity. These artists are able to throw the curtains wide open and allow the audience to enter the nitty-gritty backstage of creation and output, through the lens of a thoughtful vulnerability. Here we have compiled some of our favourite examples of artists who have chosen to devote themselves to shedding light on either their own, or other fellow artist's, processes and intimite spaces of artistic work.
Step into the artist studio with us.
Sally Mann on Cy Twombly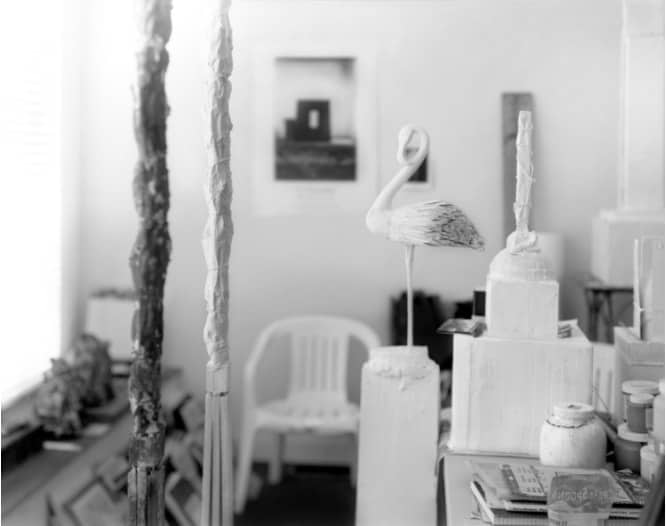 Between 1999 and 2012 photographer Sally Mann devoted her artistic output to creatively documenting the artist studio of her close friend and mentor, the late Cy Twombly, in her series Remembered Light. Twombly was known for his combination of painting and drawing techniques, and is considered a key figure in 20th century art. Sally Mann's black and white images of his artist studio sought to go beyond just his biography as a talented artist. To convey her perception of his working life Mann drew from her past body of intimate photography methods, associated with disquieting images of families and landscapes that evoke mortality and ephemerality, to record his studio space. Mann's documentation of the fragments of the late artist's life strewn throughout show the richness of his creative output, while intimately and sensitively remembering his humanity, humour, complexity, and soul.
Learn more: here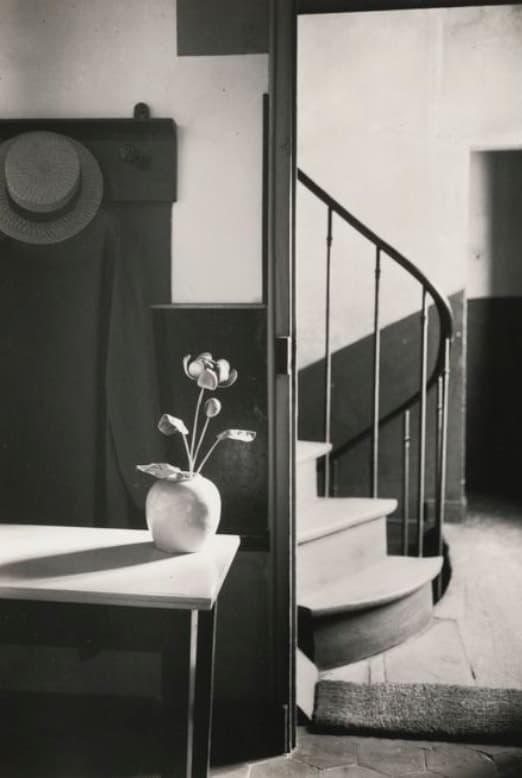 No stranger to the artistic greats of his time, Hungarian-born Frenchman André Kertész spent a decade (from 1925-1936) photographing famed artists such as Brassaï, Marc Chagall, Alexander Calder, Constantin Brancusi and Piet Mondrian. One such artist, Piet Mondrian, opened the doors of his artist studio to Kertész, allowing him to document the inner workings of his creative space. The resulting series is considered an exceptional collection of balanced, modernist photographs that radiate the calm and collected nature of Mondrian's spiritual outlook and ordered personality. Kertész' photographic work ultimately became renowned for his unusual compositions and camera angles, evocative of the fragmented nature of cubism.
Learn more: here
Hans Namuth on Jackson Pollock
"Jackson Pollock 51" by Hans Namuth (1951)
Another photographer that consistently rubbed elbows with the famed artists of his time was German-born Hans Namuth. Devoted to portraying the inner consciousness of artists and their relationship with his camera, Namuth forged strong friendships with his subjects in order to capture their vulnerabilities and the inner workings of otherwise inaccessible personalities. His portraiture took him to photograph art and architectural greats including Willem de Kooning, Robert Rauschenberg, Mark Rothko, Frank Lloyd Wright, Philip Johnson, and Louis Kahn. In 1950 Namuth asked Abstract Expressionist painter Jackson Pollock if he could photograph him in his artist studio. The resulting works propelled Pollock into the limelight, gaining fame and recognition as the poster boy for this exploding artistic movement. However, Namuth believed he had not fully captured Pollock's creative essence, and in 1951 embarked on a film exploration of the artist's process. The ten minute film Jackson Pollock 51 showed Pollock in his painting through glass, providing his audience a unique viewpoint of Pollock's methods. Legend has it the filming process taxed the artist so fully that the two argued the entire evening, causing Pollock to break his sobriety for the final time in his life.
Learn more: here
Constantin Brancusi (& Renzo Piano) on Constantin Brancusi
Romanian Constantin Brancusi lived and worked in Paris from 1904, where he held multiple artist studios — all of which he revered as works of art within themselves. From his photographic self portraits in his studio with his sculptures, of which fellow artist Man Ray helped him compose; to his bequest of his entire artist studio to the French state upon his death, Brancusi's studio was a reflection of his interest in spatial relationships. In life, Brancusi greatly concerned himself with the relationship between his sculptures and the framing space around them. Throughout the 1910s he created "mobile groups," by laying out his sculptures relationally to one another, and by the 1920s he opened his artist studio as an exhibition space; declaring it to be both as a container for his works and as a work in itself. This fascination with space and the relationship of objects within it became his primary focus toward the end of his life and career, prompting him to replace sold sculptures in his constellations with plaster copies so as to retain the overall formal equilibrium of the works. In 1997 architect Renzo Piano and the Centre Pompidou reconstructed the artist studio, and it is now presented as it was, both an exhibition space for his sculptures and a work of art itself.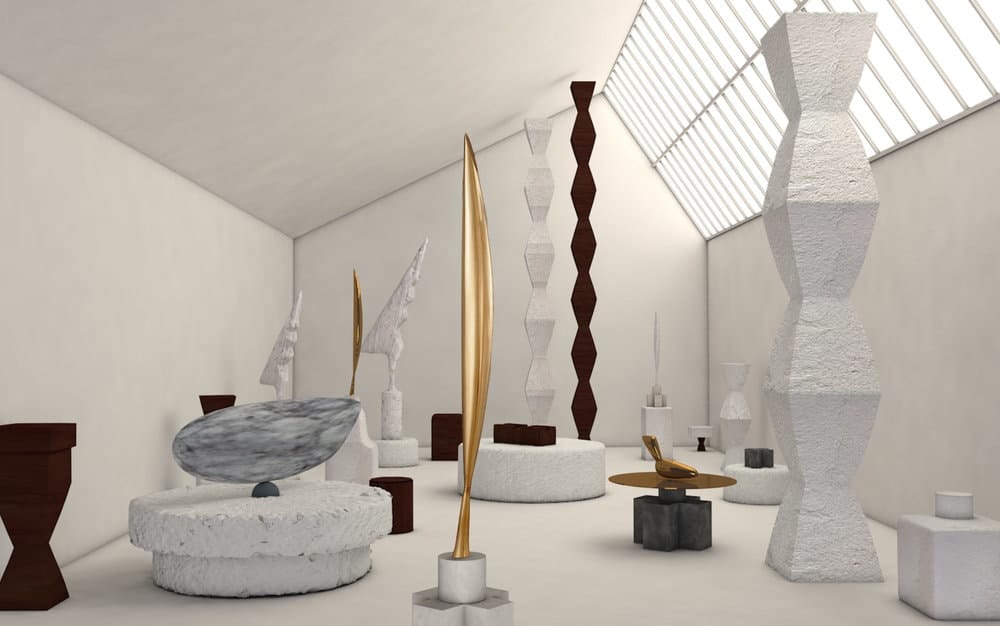 Perry Ogden on Francis Bacon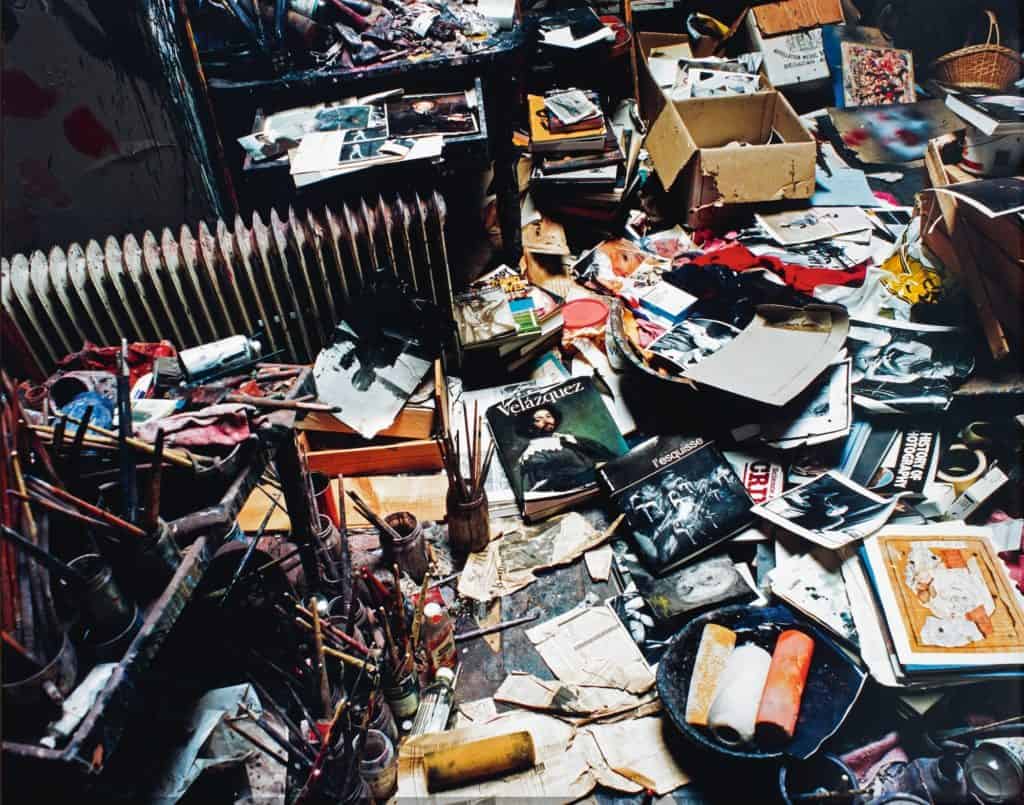 Famous for its pathological level of disorganisation and chaos, Francis Bacon's artist studio became the subject of photographer and film director Perry Ogden, resulting in a fascinating glimpse into the mind and process of the artist. After his death in 1992, Bacon's studio was donated to the Hugh Lane Municipal Gallery of Modern Art in Dublin, where it had to be transported in its disorderly entirety. Before the daunting project began Perry Ogden took unrelentingly meticulous documentary photographs of the space; portraying what we imagine to be the psychological condition of the artist's process: congested, claustrophobic, and overflowing with colour, inspiration, and artistic materials. With an attention to detail and incredible perceptiveness, Ogden snapped photographs not only of the ankle-deep debris of Bacon's creative process, but a vivid portrait of his all consuming approach to his life and work.
Learn more: here
Nickolas Muray on Frida Kahlo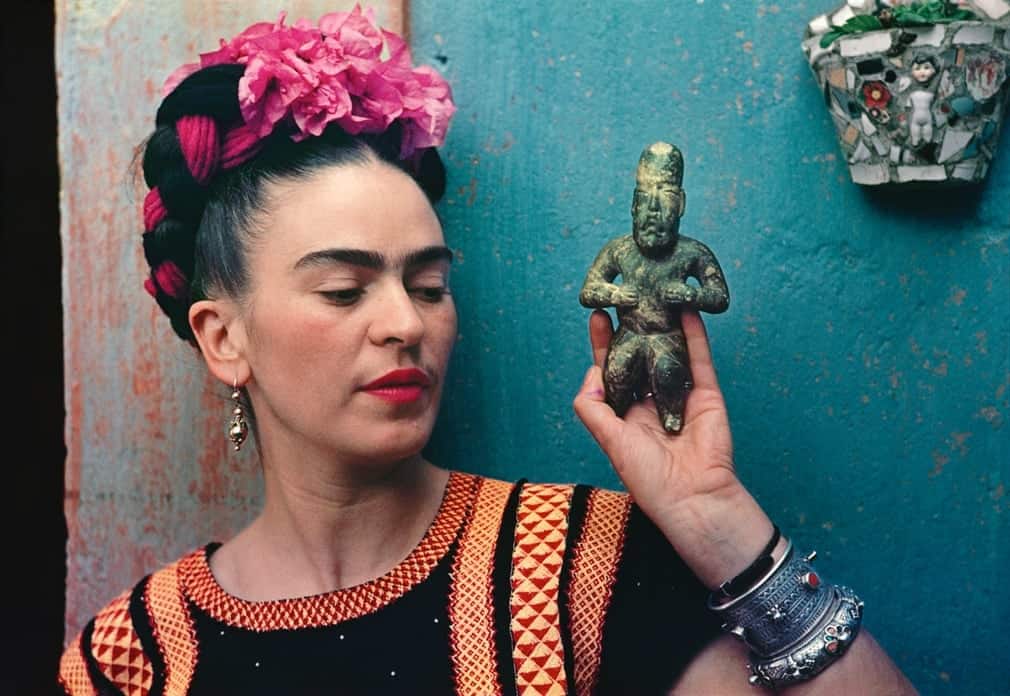 In 1931 celebrity-portraitist Nickolas Muray met painter Frida Kahlo and they began a long affair, resulting in over a decade of iconic photographs of the painter. Between 1937 and 1948 Muray took nearly a hundred known images of Kahlo, recording her rise to stardom as well as her personal struggles with health. Muray's images are those of a lover, with Kahlo gazing into his camera with an intimacy and vulnerability typically saved for private exchanges. Despite their intimacy, or because of it, these images went on to become emblematic of how Kahlo was seen, perceived and remembered by the world. In his images she appears clad in her Tehuana-inspired dress with eyes locked unflinchingly with the camera — reflecting the boldness of her self portraiture. Muray continued to photograph Kahlo even after the end of their romance in 1941, documenting the woman herself but also the objects and experiences that inspired her work, as evidenced by Frida with Olmeca Figure, similar to figures that feature prominently in some of her self portraits.
Learn more: here
Stephen Shore on Andy Warhol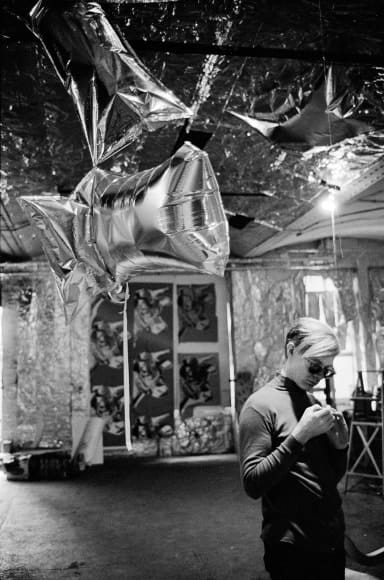 In 1965, at the young age of 18, Stephen Shore became the defacto photographer of Andy Warhol's Silver Factory. In stark black and white film he recorded the goings on in Warhol's studio, capturing the glitz and glamour of Lou Reed and Edie Sedgwick without the candy-coloured pop flash of Warhol's influence. Shore's sober photographs illustrated the concerted effort that Warhol poured into his work and image, showing a devotion to his art that somewhat contradicted the prevailing rhetoric around the Factory's celebrity and party culture. Indeed, Shore was so moved by Warhol's intentionality and dedicated focus that after leaving the artist's studio he was able to approach his own photography with a newfound work ethic that would go on to positively affect his own oeuvre.
Learn more: here
David Dawson on Lucian Freud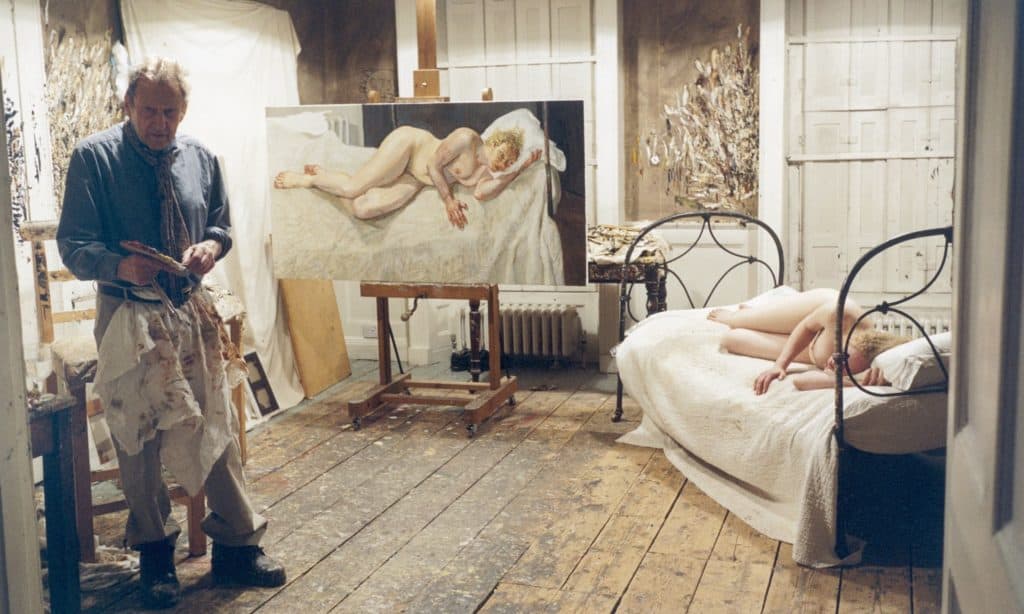 David Dawson, who worked as Lucian Freud's assistant in the studio from 1991 until Freud's death in 2011 acted as much more than his role described. Dawson was a fixture in Freud's artist studio, serving as both a sitter and an aide during his life. Now, after the artist's death, Dawson serves as the director of the Lucian Freud Archive and is the co-author of a recent two-volume book on Freud's life and work: Lucian Freud. An instinctive photographer himself, Dawson devoted some of his time at Freud's artist studio to documenting the artist's process — capturing his work with models from Kate Moss to the Queen. Now Dawson has thrown himself into fixing up Lucian Freud's home and studio, where he still works every day on his own paintings and in his work as archival director.
Learn more: here
The Lucian Freud Studio Series: The Living Studio
Joe Fig on various artists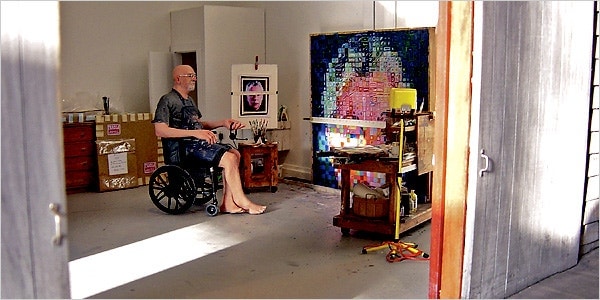 Known for his explorations of the creative process and his work on the artist studio, Joe Fig has devoted his creative output to the investigations of others. Most notably, Fig has created innumerable reproductions of famous artist studios in the form of dollhouse-like sculptures. Approaching his work through an almost anthropological lens, he first visits artists in their studios to take documentary photographs and conduct interviews. He then returns to his own creation space to render exact copies of the studios he has visited, always at mere fractions of their actual size. His elaborate, bordering on obsessive, attention to detail leads the audience to note minutiae like the brands on paint cans, less than an inch tall in studios of artists like Chuck Close or Eric Fischl. When displayed in an exhibition, these miniscule sculptures are paired with the recorded conversations Fig had with the artists, providing the ultimate "behind the scenes" experience for the art lover, by way of an entirely original piece of art in its own right.
Learn more: here
Relevant sources to learn more
Take a look behind the scenes with our artist collaboration article between Picasso & Mili
Go inside the artist studio with Joe Fig