Articles and Features
Lost (and Found) Artist Series: Lenore Tawney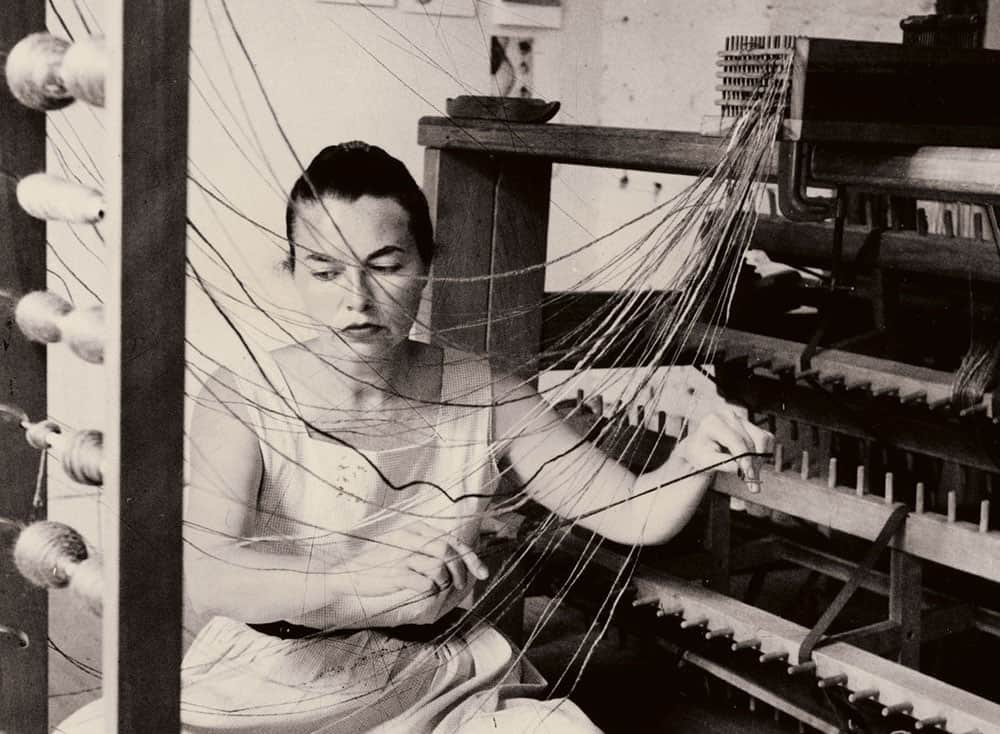 By Shira Wolfe
"Tawney's innovative work was at the vanguard of what came to be called fiber art during the second half of the twentieth century. Her groundbreaking sculptural weavings were an important influence in the United States and internationally." – Lenore G. Tawney Foundation
Artland's Lost (and Found) Artist series focuses on artists who were originally omitted from the mainstream art canon or largely invisible for most of their careers. Lenore Tawney's story in art spanned over 60 decades, yet her artistic career did not fully begin until she was in her 50s. Her breakthrough came with her revolutionary woven forms in the early 1960s. This innovative woven work helped shape the course of fiber art throughout the second half of the twentieth century. Tawney also became known for her personal collages, sculptural assemblages, drawings and postcards, which she started making in the 1960s and continued for the rest of her life.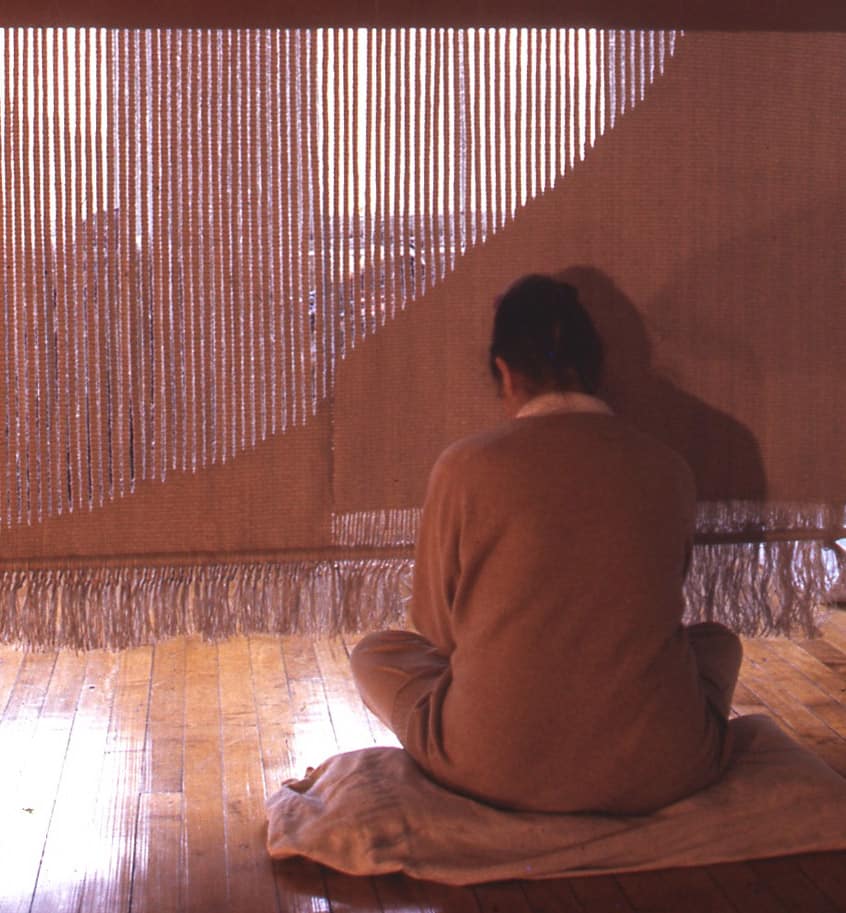 About Lenore Tawney
Lenore Tawney, born in Ohio in 1907 as Lenore Agnes Gallagher, moved to Chicago in her twenties. She worked as a proofreader and attended evening classes at the School of the Art Institute of Chicago between 1927 and 1942. In 1941, she married George Tawney, who died less than two years later. After her husband's death, Lenore Tawney studied art therapy at the University of Illinois from 1943-1945, and then travelled to Mexico. By 1946, she had returned to Chicago and, determined to dedicate herself to art, started taking classes at Chicago's Institute of Design. Though she spent only a year and a half at the Institute of Design, her time there was foundational for her further artistic career.
Institute of Design
At the Institute of Design, Tawney studied sculpture with Alexander Archipenko, drawing with László Moholy-Nagy, drawing and watercolour with Emerson Woelffer, and weaving with Marli Ehrman. Moholy-Nagy and Archipenko introduced to the interdisciplinary approach of the Bauhaus. As such, the roots of Tawney's key artistic practices – weaving, sculpture and drawings – can all be traced back to the Institute of Design. Weaving in particular would become the most recognisable element of her practice.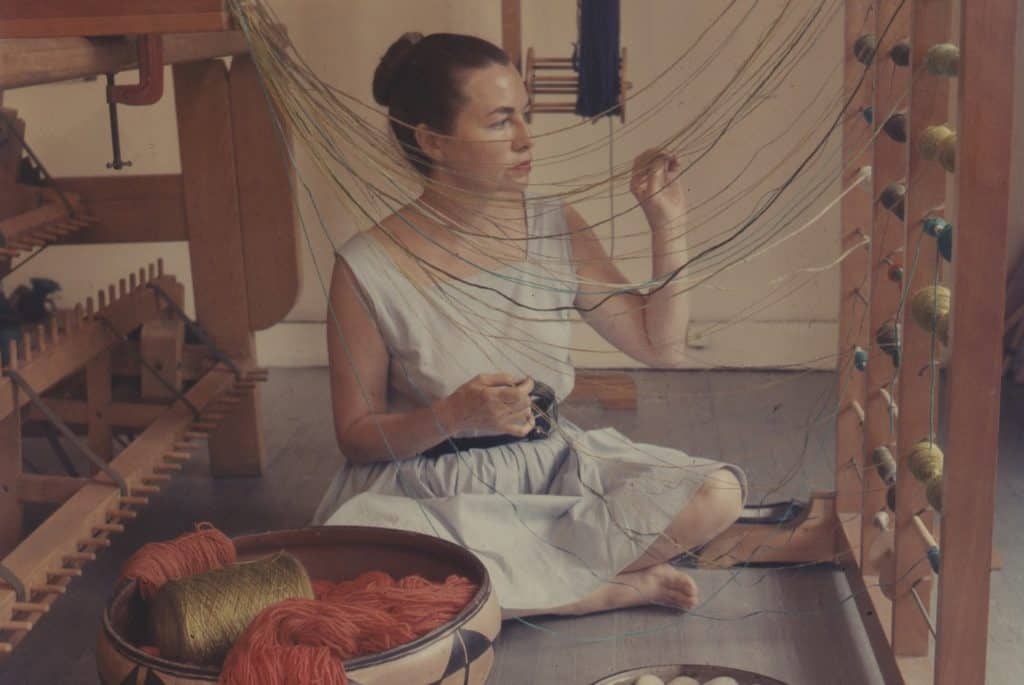 "You first have to be in touch with yourself inside very deeply in order to do something, to discover this place is our aim. I want to be under the leaf, to be quiet until I find my true self. I sometimes think of my work as breath." – Lenore Tawney
The Development of Weaving
In 1954, after having lived in Paris for several years and having travelled extensively throughout Europe and North Africa, Tawney studied tapestry with the noted Finnish weaver Martta Taipale at Penland School of Crafts in North Carolina. This six-week tapestry workshop jumpstarted Tawney's pioneering work in weaving. While she had been mostly engaged with sculptural works before, she now started down a path which would transform the ancient craft of weaving into a new type of art – fiber art. She returned to her Chicago studio eager to experiment and started a process of "drawing" with threads, leaving large areas unwoven, creating what she called "open-warp" tapestries. She loved using feathers in her works, and incorporated them from the very beginning, saying: "The feather is the pictorial representation of life, and breath is the symbol of life." She continued to use feathers, shells, pebbles and other found material from nature in her weaving, collage and assemblage works.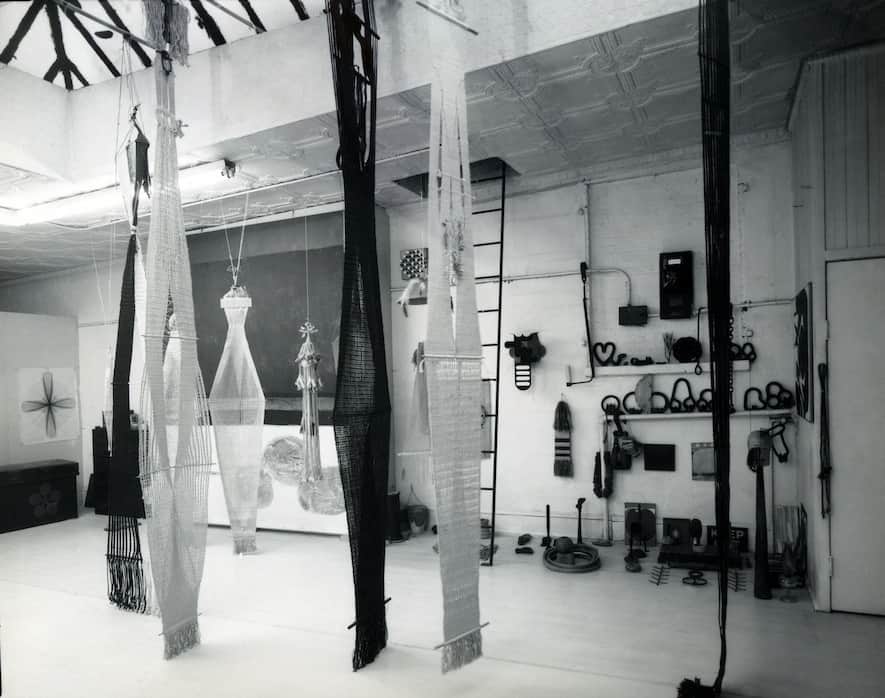 From Chicago to New York – Tawney's Blooming '60s
In 1957, Tawney left Chicago for New York. She lived a comfortable life in Chicago, but understood that she needed to make a change in order to give more space to her creativity, and make more time for her art. And for this, she needed to lead a more austere life. New York City was her answer. She wrote in her journal that she wanted to live "a barer life, closer to reality, without all the things that clutter and fill our lives." At the age of 50, Lenore Tawney dared to step into completely new territory, and it is in this period that her career truly started to take off. In New York, Tawney first rented a studio at Coenties Slip in Lower Manhattan, shaping an environment for herself that helped her develop her weavings and her spiritual interests.
In 1961, Tawney had her first New York exhibition at the Staten Island Museum. Agnes Martin, with whom Tawney developed a close friendship, wrote the accompanying exhibition text. Tawney exhibited forty weavings she created between 1955 and 1961. The early '60s were her breakthrough years.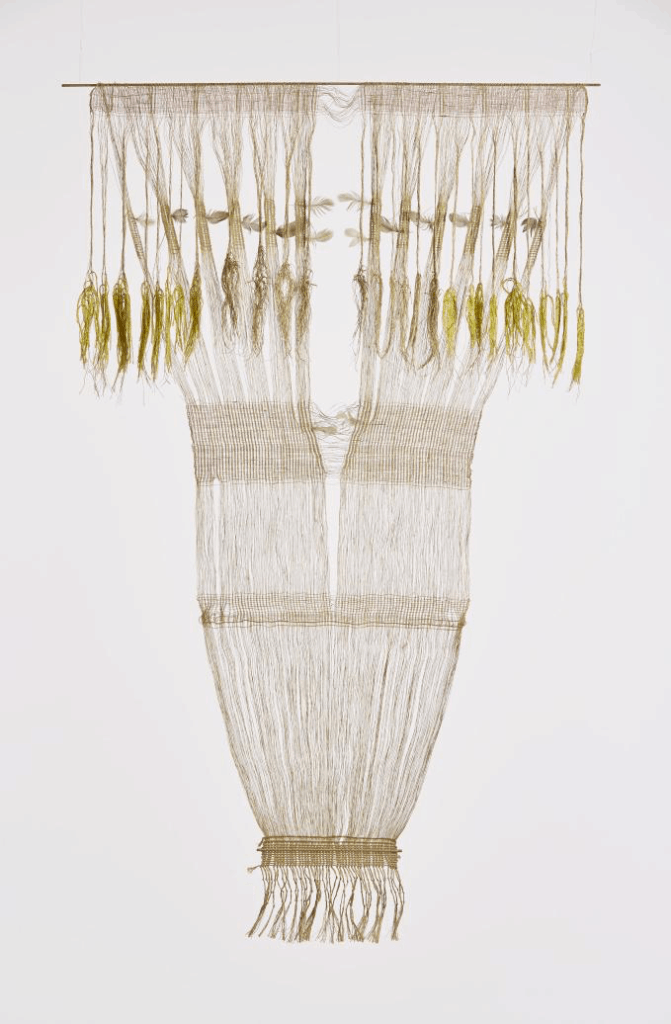 Lenore Tawney's "Woven Forms"
Tawney also spent three months in 1961 studying Peruvian weaving techniques with Lili Blumenau. This inspired her to explore gauze weaving, and to incorporate twining, knotting and braiding in her innovative "Woven Forms". With these "Woven Forms," she also transcended the limitations of textiles by leaving large parts of the material unwoven and transparent and by designing a new part for her loom so that she could weave forms that would "go up," creating contours and breaking away from the traditional rectangular or square forms in weaving. Tawney intended for these works to be hung in space, allowing for them to become sculptural objects as opposed to the typically flat, rectangular nature of textile pieces. The pieces were groundbreaking for their time, filled with influences reaching as far back as her time studying with Archipenko and learning from his sculptural forms.
The '70s – Spirituality and a Turn Inwards
Interest in fiber artists was at its peak till the '70s, and then people's interest started shifting towards different territories. After Tawney's 1974 solo gallery exhibition in New York, she had to wait more than 10 years for the next one in 1988. The craft world's segregation from the fine art world, as well as the challenge of being a woman in a male-dominated world, affected Tawney's career. Her art was often difficult for people to place, as emphasised by the New York Times review of her 1990 exhibition at the American Craft Museum, which read: "Mrs. Tawney's work exists in a limbo… it has departed from craft and function without quite arriving at art." Yet Tawney was always riding a wave of her own, working in such a thoughtful manner that her works remained imbued with artistic depth and expressive spirituality and became recognised again and again, even after periods of silence.
In the '70s, Tawney became more and more engaged with Buddhism and Siddha Yoga, travelling to ashrams in India and California. Throughout her career, she was inspired by different states of existence and by natural phenomena; she practiced meditation all her life and her approach to spirituality and meditation was subtly but irrevocably tied to her artistic practice and diaphanous woven forms. Her studio was a sacred environment, intended for contemplation and stillness. She spoke with great deliberation about her spiritual process and its meaning for art, saying: "You first have to be in touch with yourself inside very deeply in order to do something, to discover this place is our aim. I want to be under the leaf, to be quiet until I find my true self. I sometimes think of my work as breath."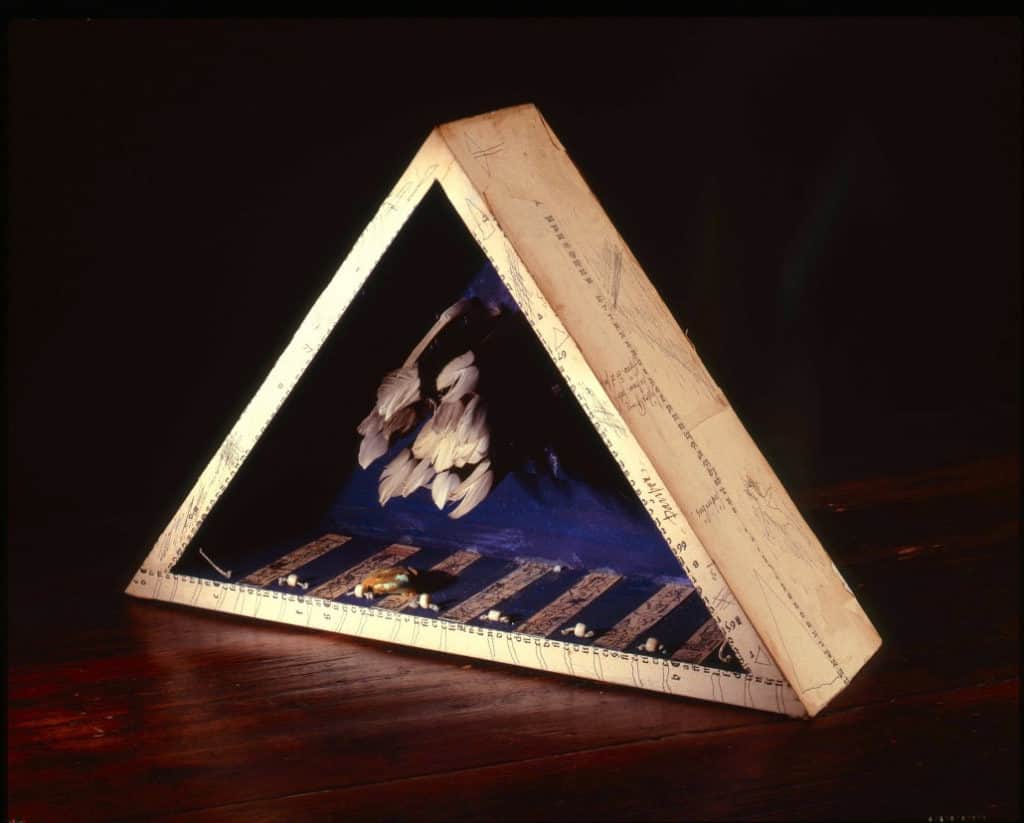 Collage and Assemblage Works
Tawney started making collage and assemblage works from found objects in 1964. She continued with these delicate, small-scale works for the rest of her life. They are intimate pieces that transmit her sensibilities of spirituality, silence, contemplation and a search for inner piece. The pieces are made up primarily of pages taken from rare books and manuscripts, birds' eggs and skeletons, animal bones, shells, pebbles, corks and pieces of wood.
Tawney, like the Native Americans whose art and artefacts greatly inspired her, attributed great meaning to objects from the natural world. She believed they were sacred, and that the divine force imbues all natural forms. "When I'm picking up stones on the beach," she said, "you known I'm down on my hands and knees and you can't imagine how many people come over and they look and they can't see and they say, 'What is it?' They think I'm picking up something valuable and finding very marvelous things, which I am."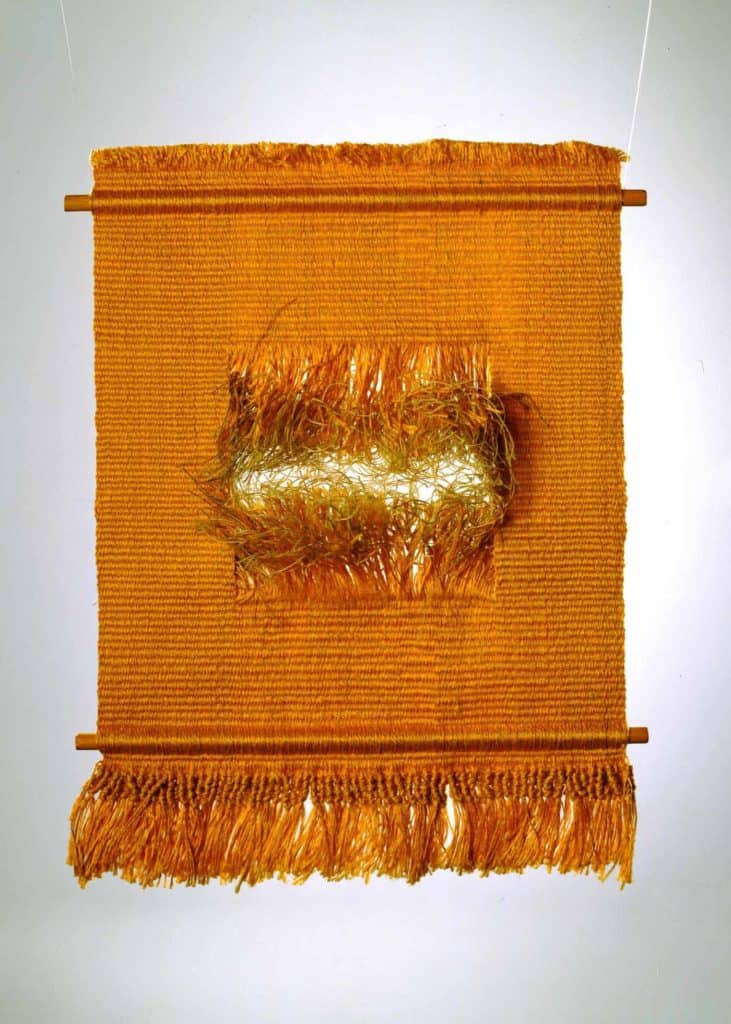 The Shield Series
Tawney begun her Shield series in 1966 and completed it in the late 1980s. These works are small, intimate and densely woven. Tawney said that she made the shields as a type of protection for herself. Her use of feathers reached a high point in these works, making small shields with thousands of threads and thousands of feathers. The shields are imbued with a powerful ritualistic nature, reminiscent of tribal arts and crafts which are made with the purpose to protect and to guide.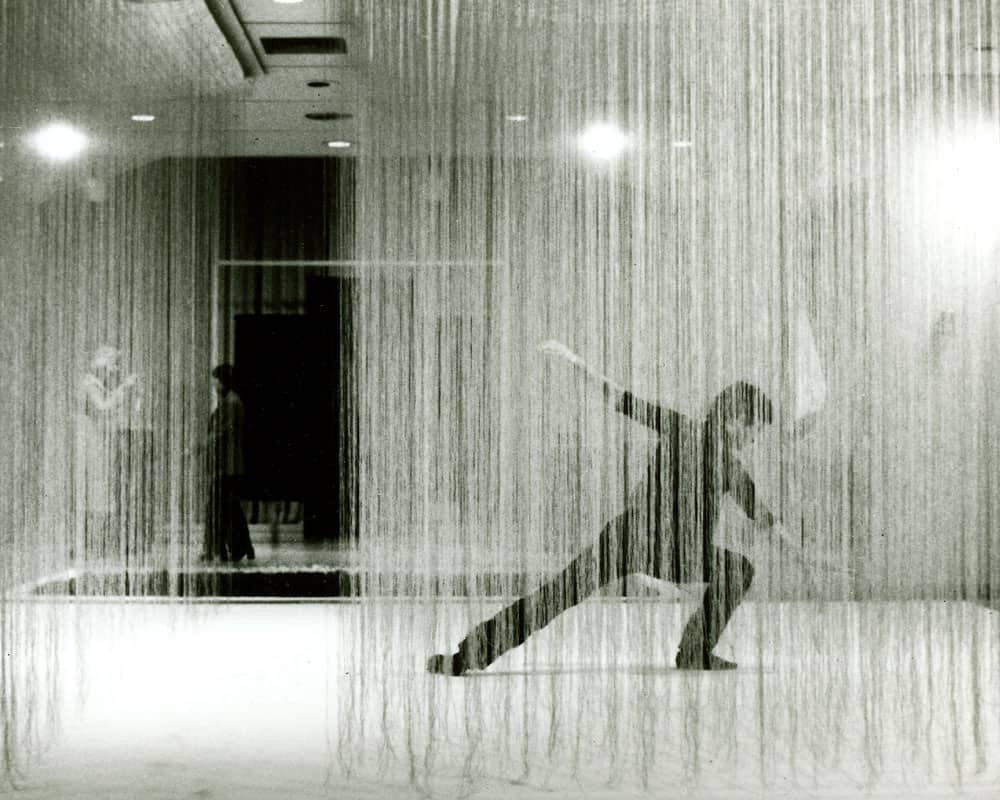 Cloud Sculptures
Tawney's Cloud pieces marked an important transition in her practice at the end of the '70s. The works consist of thousands of individual threads, which descend at regular intervals from elevated canvas panels. The effect is a delicate yet monumental experience, created through Tawney's effortless intertwining of her spiritual practice with the repetitive work of her hands to make these pieces. The Cloud works are deeply contemplative pieces evoking flowing and shimmering rain or waterfalls. They are a testament to the fact that Tawney's life was her work, and vice versa.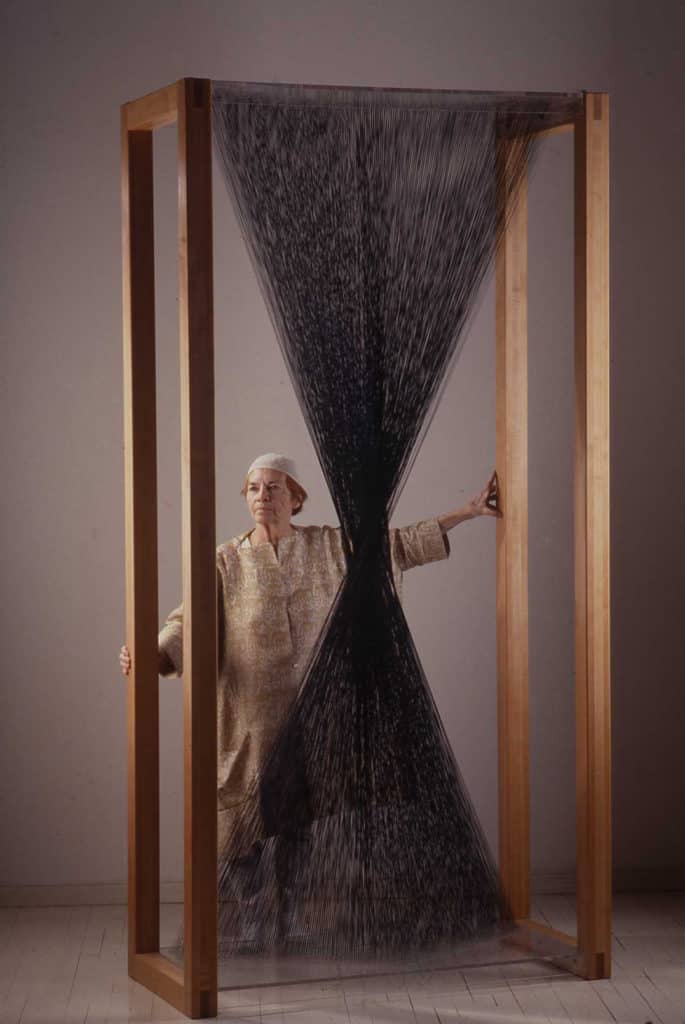 Late Life and Legacy
Tawney remained a permanent pilgrim all her life, travelling the world until she was almost 90 years old. She died in 2007 in her New York loft at the age of 100.
Her art is held in important museum collections including LACMA, the Menil Collection, the Metropolitan Museum of Art, the MoMA, the Philadelphia Museum of Art, the Whitney Museum of American Art, and Tate Modern. Her estate has been represented by Alison Jacques Gallery since 2018. In 2019, a major museum survey, "Lenore Tawney: Mirror of the Universe," was held at the John Michael Kohler Arts Center in Wisconsin. Key elements of Tawney's exceptional studio environment are on permanent display here.
Lenore Tawney established the Lenore G. Tawney Foundation in 1989, with the aim to support the visual arts with a focus on craft media, and in particular, to support emerging artists.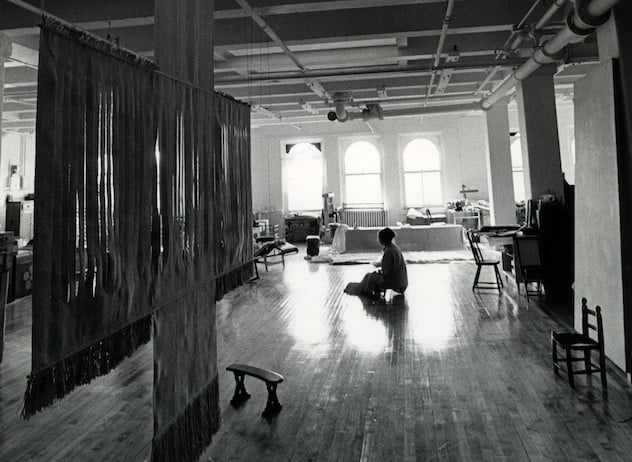 Relevant sources to learn more
For additional reading about Lenore Tawney and an overview of her works, visit:
Smithsonian American Art Museum