Articles and Features
Piet Mondrian: Life and Art of the Painter Who Depicted the World in Primary Colors
By Adam Hencz
"The first aim in painting should be universal expression."

Piet Mondrian
Dutch artist Piet Mondrian is one of the greatest figures of modern art and abstract painting. With his compositions of black lines closing up rectangles of primary colors, Mondrian created some of the most iconic works of early twentieth-century abstract art. Besides being an innovative artist who experimented boldly, he was also a prolific writer, who wrote long essays and publications on art theory. He coined the term of a unique avant-garde style he developed called Neo-Plasticism and recorded its design principles published in the primary periodical of the De Stijl movement. At the center of his art theory was a pure vision of art based on fundamental elements of painting: color, line, and form.
Who was Piet Mondrian?
Born in 1872 in Amersfoort, Mondrian spent his childhood and received formal art training in the Netherlands. At the age of 16, he left school to study painting and drawing. Mondrian ​​first received a degree in education and started teaching drawing in the local Calvinist primary school where his father was the headmaster. During this time he took painting lessons that prepared him for his studies at the Rijksakademie van Beeldende Kunsten. In Amsterdam, he started making a living out of painting copies and producing scientific drawings, while in his free time he enjoyed painting Dutch landscapes. However, he had very little success in making ends meet by selling his works.
Entering the avant-garde
In his thirties, Mondrian moved away from the academic style and immersed himself in the avant-garde. He became obsessed with transforming objects and trees into airy compositions of geometric shapes and bold colors. Meeting artist Jan Toorop in Domburg in 1908, and seeing Cubist exhibitions like Moderne Kunstkring urged Mondrian to leave the Netherlands behind, and join the Paris art scene for a few years. The First World War forced him to stay in his home country and to spend some fruitful months near Domburg, a Dutch seaside resort on the North Sea. During this period, he had an encounter with art critic Theo van Doesburg who was fascinated by his abstract painting and shared Mondrian's vision of a pure form of art and design. Together, the two artists founded De Stijl, a journal of abstract art, the first one of its kind.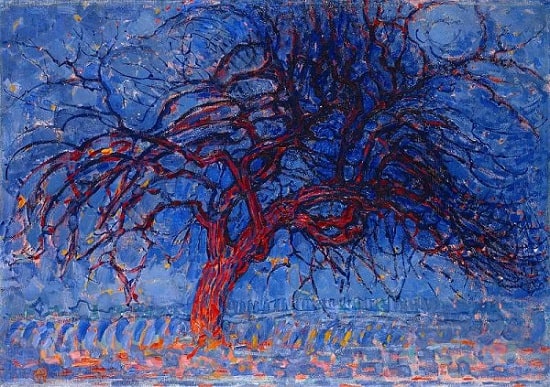 After the war
After the war, Mondrian sold all his naturalistic paintings to art dealer Sal Slipjer to completely break away from his past and to be able to fully focus his compositions seeking balance and harmony in art. He moved back to his former Paris studio in Rue de Depart in 1921 and redesigned it following the ideals of the avant-garde style he had developed: Neo-Plasticism. His design philosophy became known to a greater public on the account of the writing of journalists, interior designers, and art critics who took a step into the artist's studio. His abstract paintings eventually began to sell as more and more art enthusiasts, collectors and patrons like Katherine Dreier started paying him a visit and buying his experimental paintings. Mondrian exhibited in Nantes, Dresden, and Munich; he wrote articles on philosophy and jazz and kept redesigning his studio, which he occupied until 1936. For the first time in his life, his works started selling well, especially in Great Britain and the United States.
In 1938, in the rise of fascism, Mondrian decided to leave Europe and move to New York. He was thrilled by the city, its dynamism and optimism, and fascinated by the dance craze and boogie-woogie jazz. The works he painted in his Manhattan studio are, according to many, his greatest achievements.
"Every true artist has been inspired more by the beauty of lines and color and the relationships between them than by the concrete subject of the picture."

Piet Mondrian
Piet Mondrian's art: style and characteristics
Mondrian's early works were representational with Post-Impressionist motifs and themes such as landscapes, portraits, and flower paintings. Due to the influence and guidance of his uncle and father, he painted following the approach of the Hague School, where a meticulous way of depiction in accordance with Dutch traditions was mixed with the use of color by Barbizon painters. His paintings from this period are masterpieces as well, especially those from the turn of the century that stand out with their vibrant brushwork, bold and exotic colors heavily influenced by the Luminists.
The late 1910s marked the first significant change in Mondrian's style when he became fascinated by an occult, a spiritual movement called theosophy, which later provided roots for his aesthetic philosophy. The first of his paintings with only primary colors are from this period as well, as his works became increasingly abstracted. Exposed to radical works and new visual ideas in Paris, Mondrian also experimented with Cubism, a style he pushed to the extremes during his isolation living by the sea in the Netherlands. His transition towards abstraction was complete when along with Theo van Doesburg, Mondrian founded the journal and movement De Stijl.
De Stijl and Neo-Plasticism
During the First World War, in 1917, a group of artists, including Mondrian, started a periodical called De Stijl devoted to the theoretical foundations of abstraction in art, in which painters, sculptors, and architects expressed their own view of art. Mondrian published his essay titled Neo-Plasticism in Pictorial Art, in which he completely rejected any kind of representation in art and advocated an ultimately distilled pictorial language restricted to the use of elements of primary colors, neutrals of black, white, and gray, and the straight line. Like many other movements of the interwar period, Neo-Plasticism was an expression of idealism, and its essence was found in restoring order and clarity in a war-torn world. Mondrian's new art aimed to explore the inner dimensions of the human experience and to create aesthetic harmony through the contrast of static elements and their dynamic spatial relationships.
Most famous Piet Mondrian paintings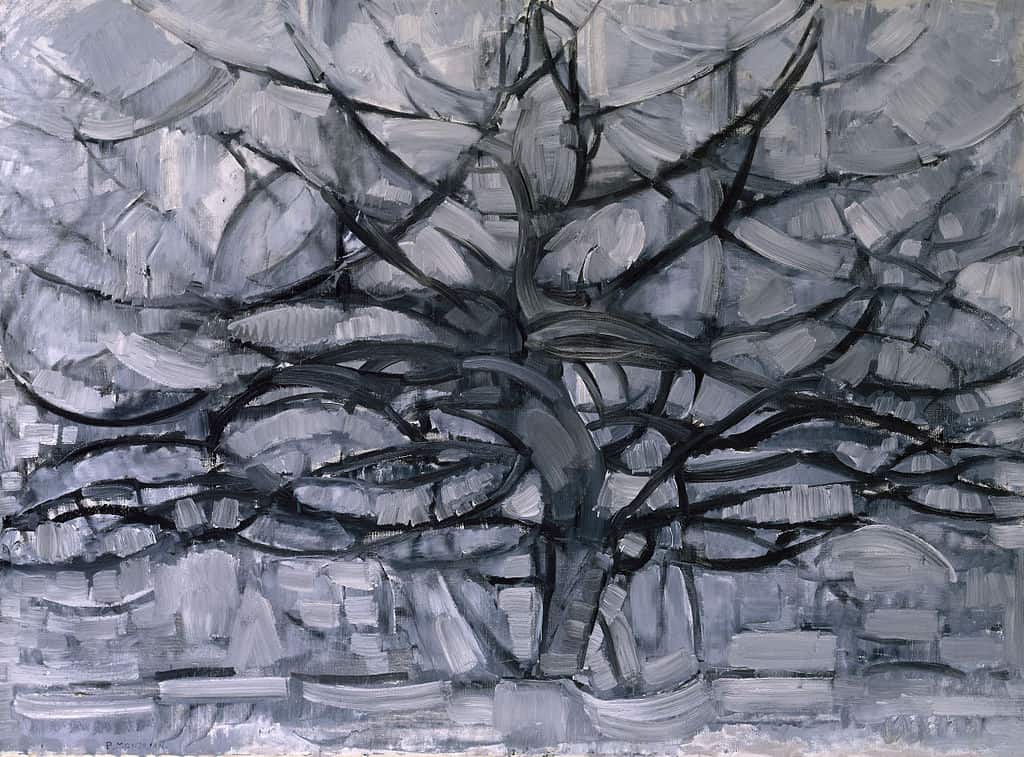 Gray Tree, 1911
Around the time when Mondrian started experimenting with avant-garde, he was obsessed with trees and depicting them, using their structure as a tool to highlight basic elements of painting, like the many shades of gray.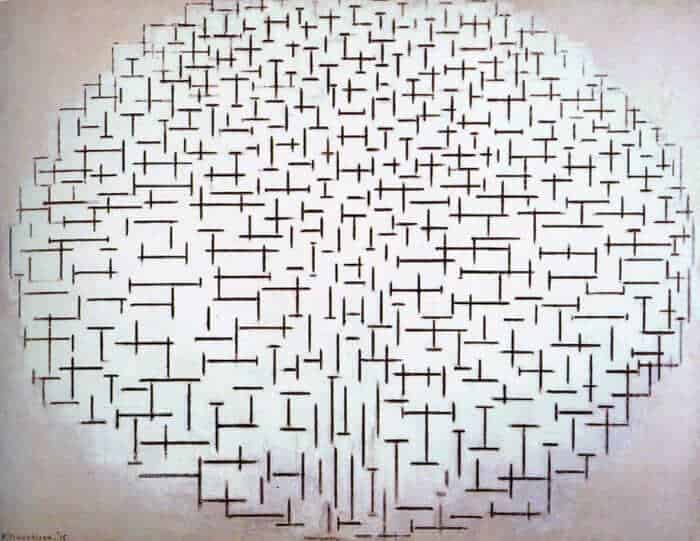 Pier and Ocean (Composition No. 10), 1915
His painting from 1915 titled Pier and Ocean – also known as Composition No. 10 is one of Mondrian's works made in isolation. Solitude made him discover completely new themes and create rhythmic abstract artworks, in which indistinct lines and white space emerge as protagonists.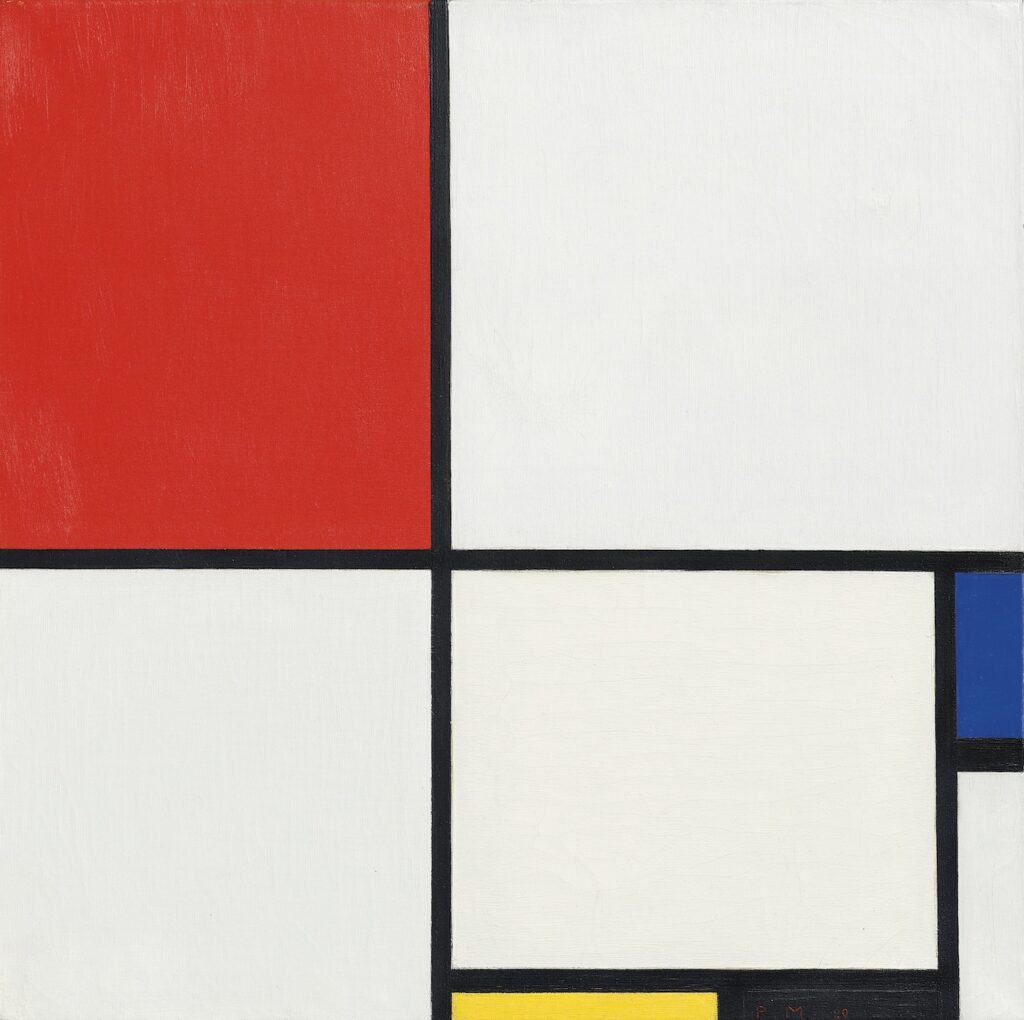 Composition with Red, Blue and Yellow, 1930
Around 1930, Mondrian produced a series of compositions that perfectly summarised the ideas underlying his aesthetic philosophy, Neo-Plasticism. The paintings dominated by black lines and primary colors represent a mature stage of his transition towards abstraction.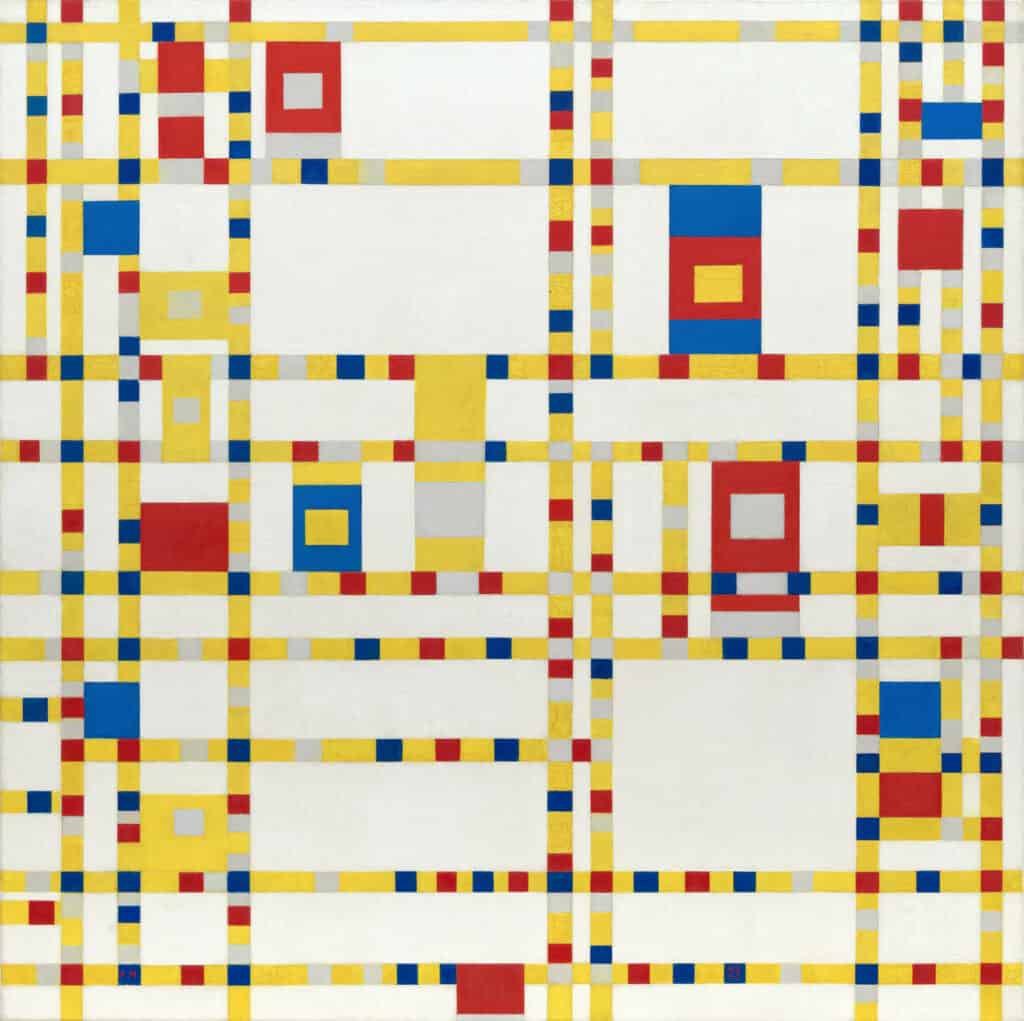 Broadway Boogie-Woogie, 1942
Mondrian's last completed paintings like Broadway Boogie-Woogie or Victory Boogie Woogie are dedicated to the buzzing energy of New York City, where he resided during his last years.
Legacy of Piet Mondrian
To this day, the Dutch painter has had a huge impact on art, fashion, architecture, and music. Piet Mondrian's artworks are printed on tote bags and hung as posters on living room and office walls around the world. The ideology of Neo-Plasticism profoundly influenced the Bauhaus movement and had an impact on the development of Minimalism a couple of decades later. Designed by Yves Saint Laurent in 1965, the Mondrian Collection is at least as well known as the painter's works. His ideas on simplicity and purity were applied not only to painting but also to architecture. One of the De Stijl architects, Gerrit Rietveld, built the Rietveld Schröder House in Utrecht in 1924, and in 1949, Charles and Ray Eames also designed a similar landmark in California driven by Mondrian's principles.
Relevant sources to learn more
Chagall, Picasso, Mondrian and Others: Migrant Artists in Paris | Stedelijk Museum Amsterdam
Art About Art: When The Artist Studio & Practice Is The Subject
Discover and Buy Paintings for Sale