Articles & Features
Functional Art? Art, Design and the fluidity of genres
By: Tori Campbell
Functional Art
While we often think of fine art as objects to look at, and not touch, numerous notable artists have created phenomenal works of functional art throughout their careers. Sometimes motivated by a desire to bring their two-dimensional works into three-dimensional form, while others merely enjoyed the tactility and practicality of creating useable artworks, the resulting pieces have bedecked the homes of the rich and famous, become tokens of admiration, and have even featured alongside Madonna in a music video. Explore the work of ten artists who brought their artistic work and practice into the realm of functionality.
Salvador Dalí's Mae West lips sofa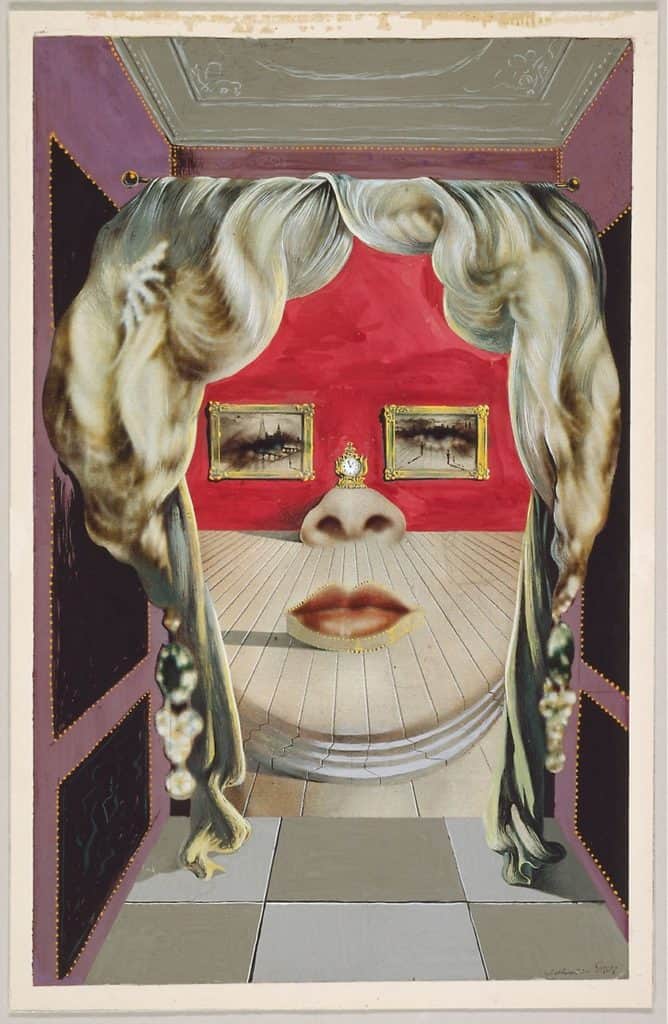 In 1935 Spanish surrealist artist Salvador Dalí unveiled a painting of actress Mae West, in which her face took the form of a furnished apartment. With eyes as paintings, a nose for a fireplace, and finally, curt red lips as the sofa centerpiece; British art collector Edward James was instantly enchanted. James requested the sofa come to life in three-dimensions, to become a work of functional art that could be enjoyed in the comfort of his own living room — and thus Dalí's Mae West lips sofa was born. The iconic piece has been through decades of fakes, copies, and iterations; and has bedecked the homes of celebrities and personalities such as Diane von Furstenberg, Christian Dior, and most notably Elsa Schiaparelli.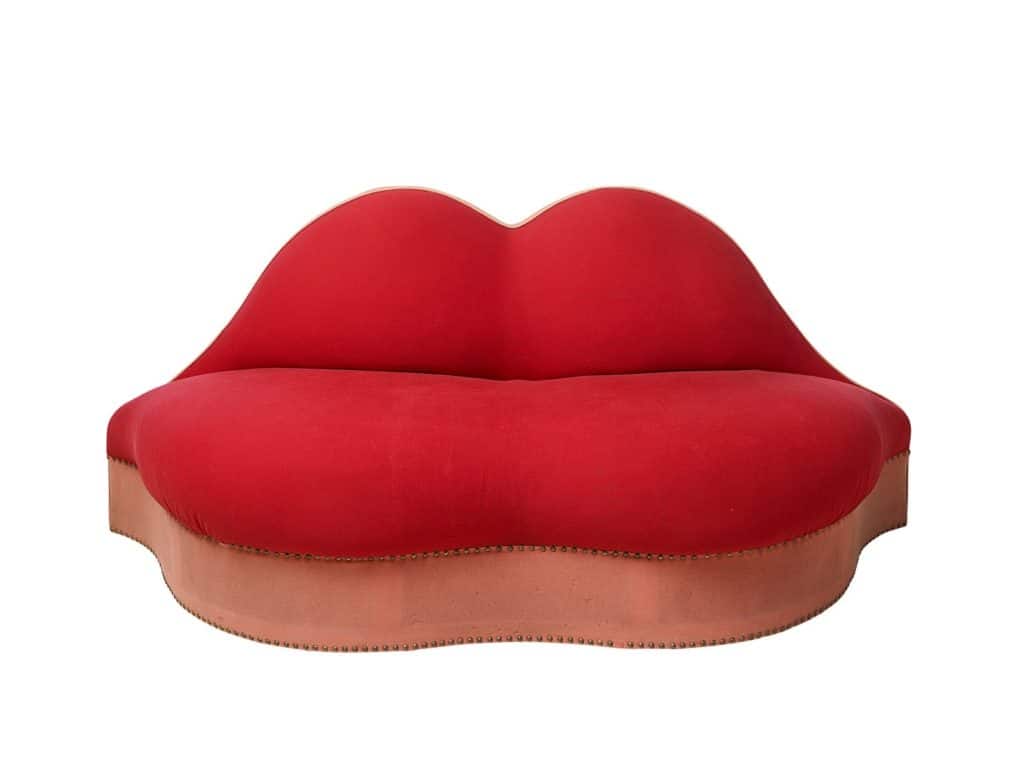 Alberto & Diego Giacometti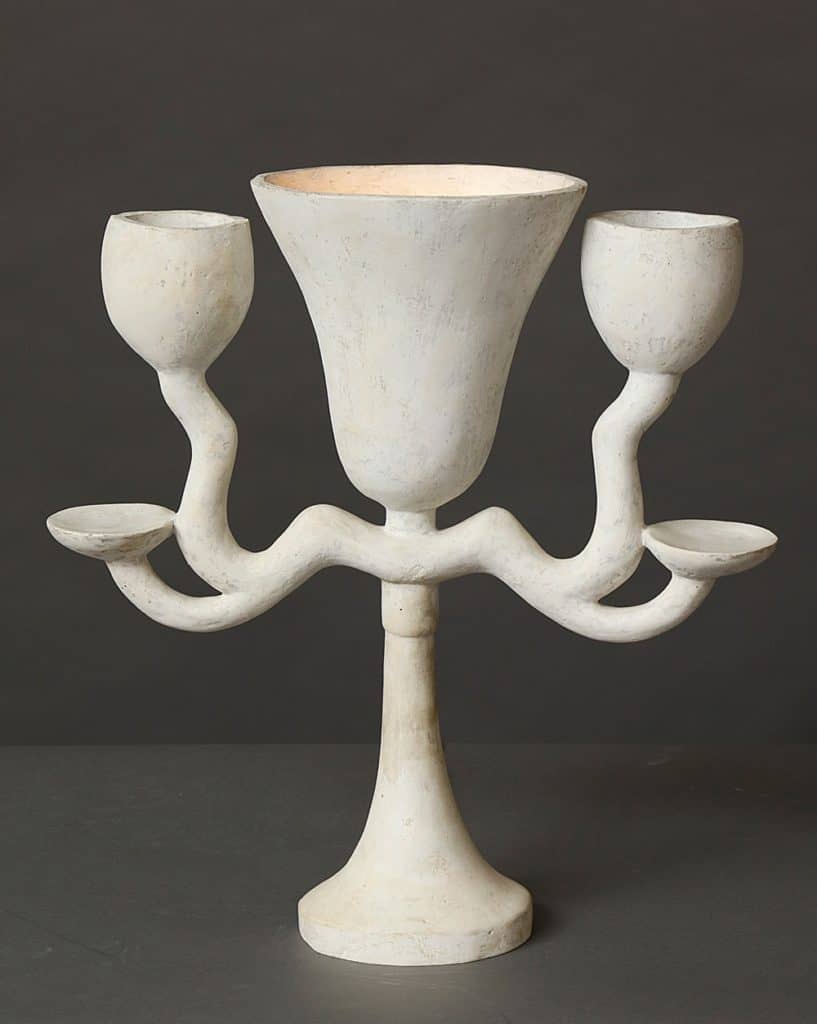 The brotherly duo of Alberto and Diego Giacometti was deeply characterised by Diego's support of his eldest brother's career as a sculptor. Diego, though often thought of as Alberto's assistant, was a talented sculptor himself became a highly skilled caster at the urging of his eldest brother after an injury to his right hand. After World War Two Diego became interested in making furniture, perhaps to separate himself from his already well-known brother, but in the end they ultimately collaborated greatly in this undertaking, creating a financially successful side business creating functional art such as benches, lamps, and tables.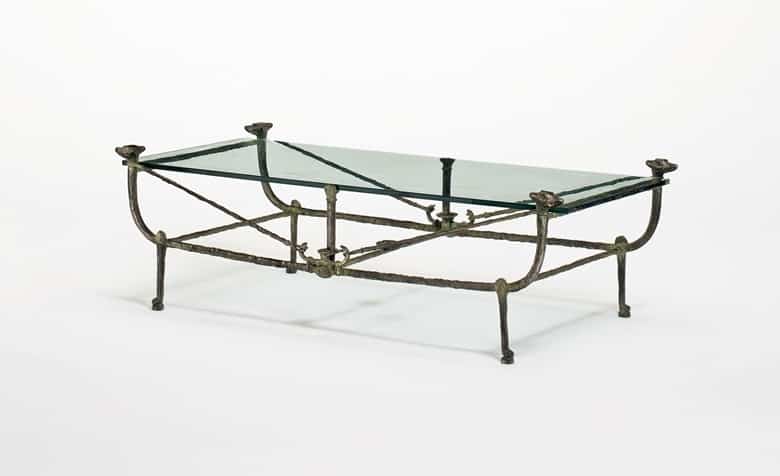 Les Lalannes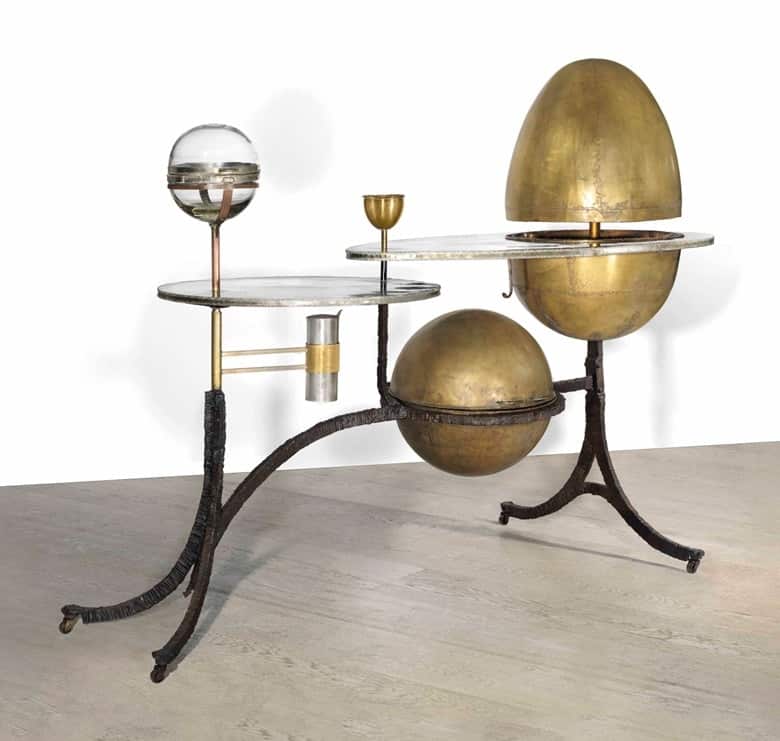 The husband and wife art and design duo Claude Lalanne and François-Xavier Lalanne became known as Les Lalanne when they began collaborating in 1956, and was formalised after their marriage in 1967. Known both independently and collectively since the 1960s, Les Lalanne is recognisable for their naturally-inspired sculptures and functional art pieces that incorporated the diverse and quirky beauty of flora and fauna. Informed by surrealist sculpture and French Baroque design, their grand pieces formed menageries worth of animals, delicately capturing these wild creatures within cast bronze and shining brass.
"The animal world constitutes the richest and most varied forms on the planet."

François-Xavier Lalanne
Frank West's Lamps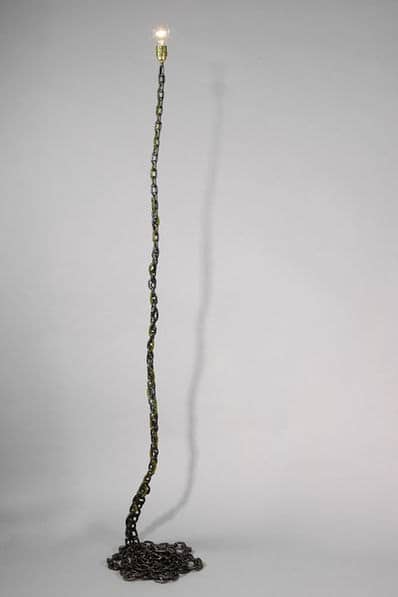 Viennese artist Franz West's expansive oeuvre consists of numerous functional art pieces. His work, lighthearted and joyful, is simultaneously philosophical and introspective; asking his audience to take part and actively relate to his works. By manipulating everyday materials and imagery, such as chain links and lightbulbs, he was able to examine the object's relationship to the viewer; bending and shaping perspective and social experiences. In opposition to his peers and predecessors, West was turned off by existential intensity, and instead enjoyed creating works that were imposing yet filled with buoyant lightness.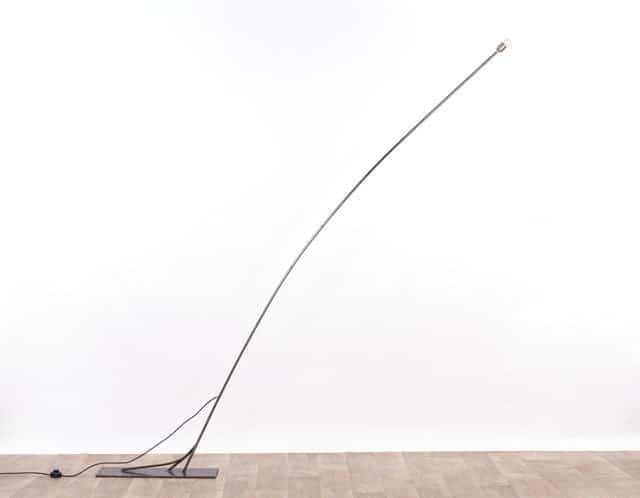 Roy Lichtenstein's Brushstroke Chair & Ottoman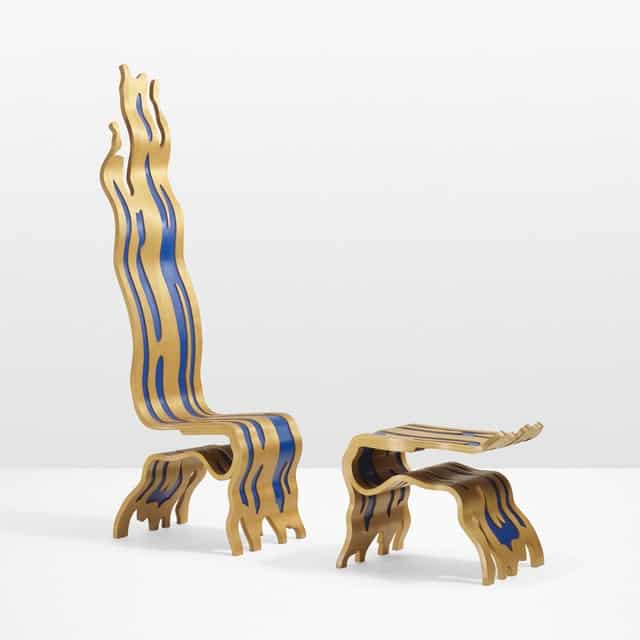 Often taken by the concept of the brushstroke as an artistic statement in itself, pop art icon Roy Lichtenstein brought this formerly two-dimensional exploration into a three-dimensional work of functional art with his Brushstroke Chair and Ottoman. Emulating the comic strip style of his two-dimensional candy-coloured artworks, his foray into furniture design resulted in numerous variations on this theme, in multiple colours of painted white birch wood veneer.
Donald Judd's Desk Set #33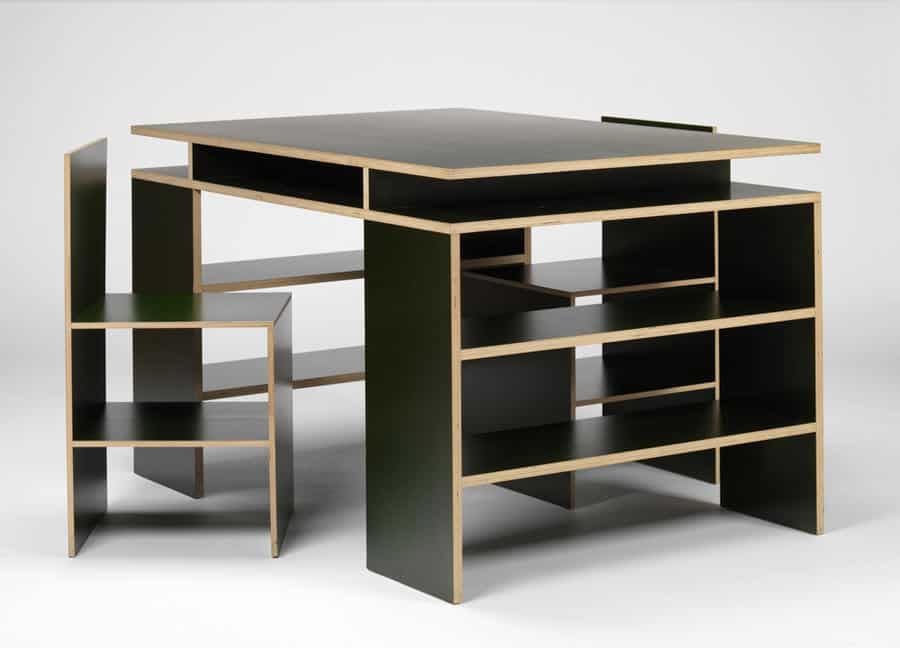 American artist Donald Judd became well-known in the 1960s for to his seemingly simple (he resisted the term 'minimalist' and refused to confine his artistic practice to this categorization), large-scale floor and wall objects composed of new materials for the time; such as plywood, plexiglas, and anodized aluminum. No stranger to creating site-specific works that would be intimately tied to the physical space in which it was displayed, Judd's functional art is merely a continuation of his central oeuvre. Exploring the relationship between the viewer, art object, and space, Judd's art and practice was revolutionary in its lack of metaphorical reverence.
Marc Newson's Lockheed Lounge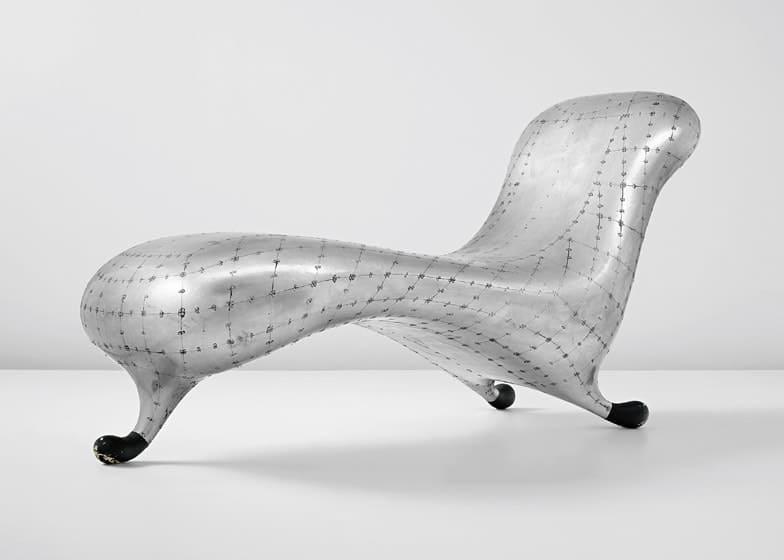 The Lockheed Lounge, designed in 1990 by Australian designer Marc Newson, became one of the designers most famous early works, gaining international fame after appearing in pop music and cultural icon Madonna's 1993 music video Rain. The fiberglass and riveted aluminium chaise lounge retained its title as the world's most expensive design object, when it was sold for £2,434,500 at a London auction house in 2015. The sleek yet bulbous chaise lounge is certainly unique in both its form and its materiality, though it retains its standard purpose –this is, if one is brave enough to sit on a £2 million piece of functional art that purports to be a seat.
Maarten Baas' Real Time series
The hands of Maarten Baas' Schiphol clock are drawn on in real time
While replicating and playing with the form and function of the clock, Dutch designer Maarten Baas' work has long being fascinated with one of the most traditional and functional objects of any public or private space. Baas' Real Time series consists of 12-hour films of performances that indicate the time. By combining art, film, design, and theatre he is able to design a new series of clock designs that enable his audience to appreciate the functionality of his art. Launched in 2009 in Milan, Italy at the Salone Del Mobile he has since expanded his series to include an iPhone app as well as special commissions, such as the Schiphol clock. The Schiphol clock, located in a place of prominence in the international terminal of Amsterdam airport, shows a man in work clothes painting the time by hand each minute (see video above).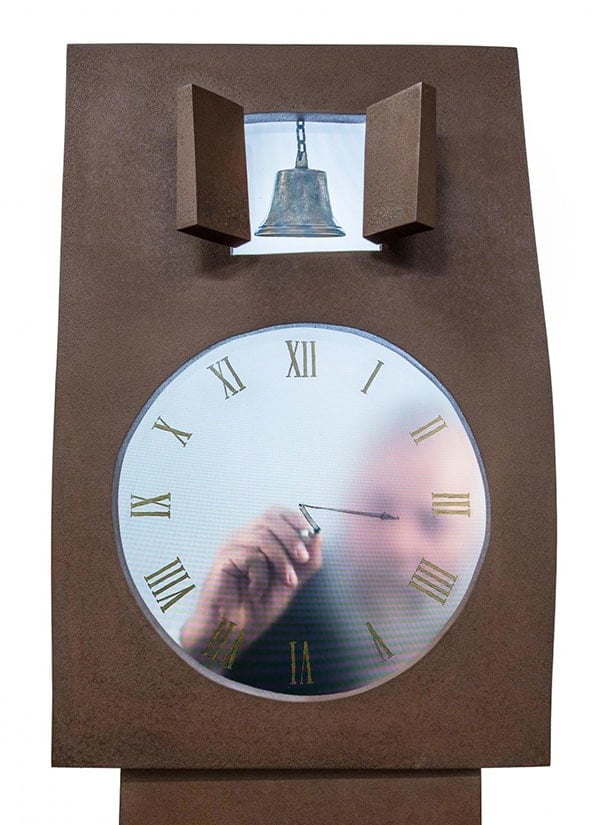 The Haas Brothers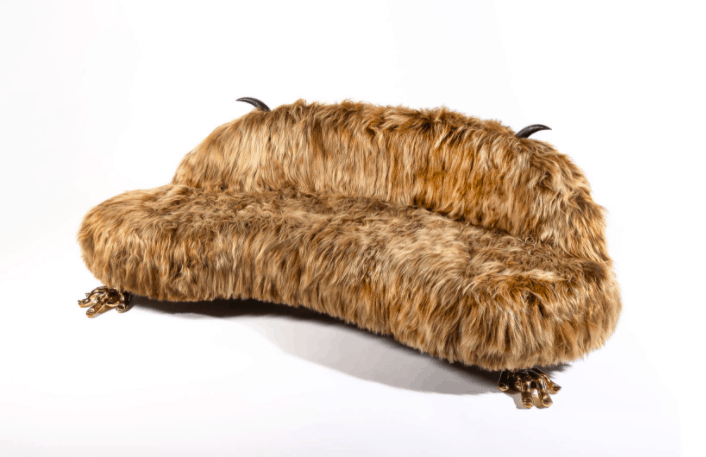 Twin brothers Nikolai and Simon, founded The Haas Brothers in 2010, to create playful works at the intersections of art, fashion, design, film–embodying a hybrid high-low aesthetic culled directly from popular culture's collected imagination. The Texan duo use a wide array of materials to realise their pieces; from brass and porcelain to resins, polyurethane and fur; their diverse mediums reflect their innovative and exploratory spirit. Though seemingly outlandish, they have been known to create functional art; pieces like couches and chairs that take comedic forms of psychedelic monsters.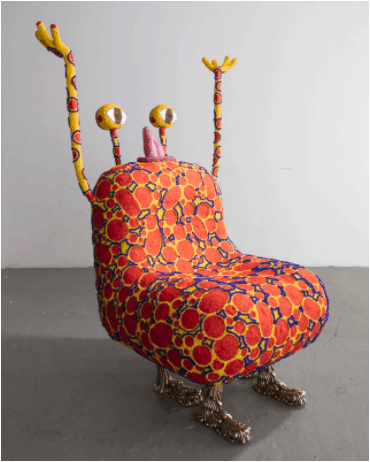 Yinka Shonibare MBE's Windy Chair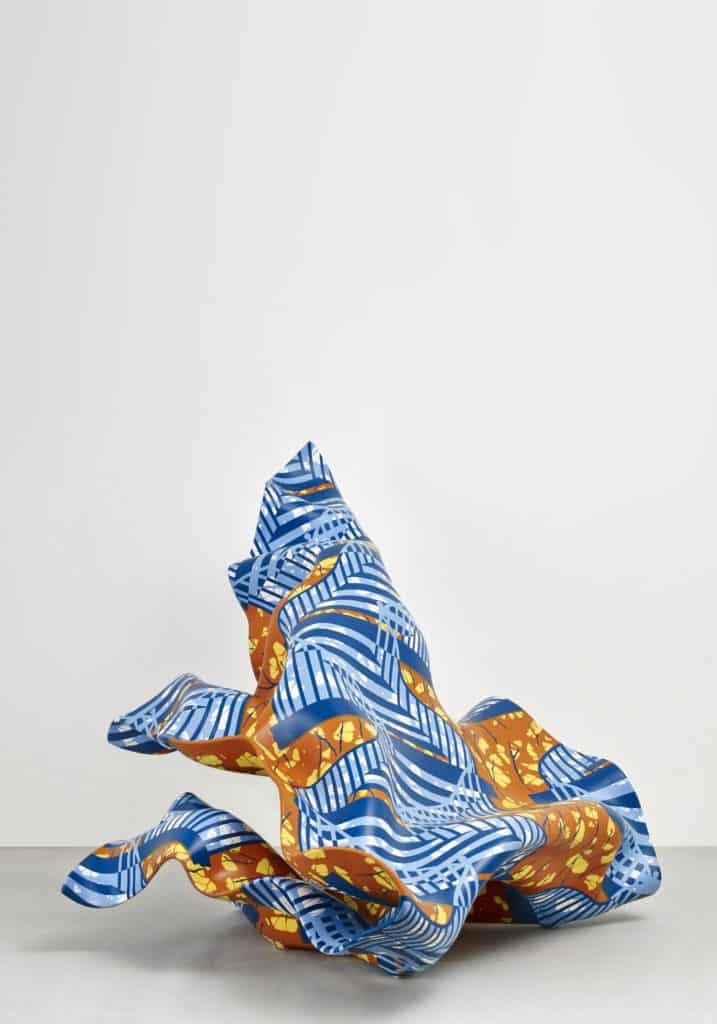 Yinka Shonibare's work is inextricably linked to his childhood spent in Lagos, Nigeria, where his family moved when he was only three years old. After his return to London to receive his MFA, Shonibare began to explore issues of race and class in his sculpture, photography, film, and painting. He is best known for the integration of visual symbols in his work most notably the richly patterned Dutch wax fabric that is produced in Europe for a West African market that can be seen in his Windy Chair I. This piece of functional art appears to be a large piece of Dutch wax fabric, suspended in air as it blows away in the wind. However light the Windy Chair may appear to be, its aluminium and stainless steel construction create a viable structural form for a strikingly beautiful chair.
Relevant sources to learn more
See more of The Haas Brothers work here
Take a look at the iconic works of Les Lalanne
Like when form meets function? Take a look at the works of architects turned artists
A Complete Guide to Art Deco Furniture