Articles & Features
Piss Christ by Andres Serrano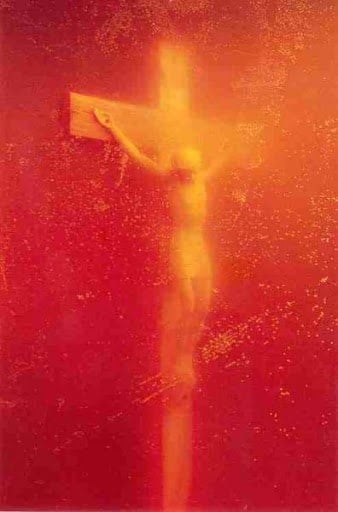 "I distrust anyone with a message. The best artistic intentions are usually cloaked in mysteries and contradictions. It wouldn't be interesting for me if the art were not "loaded" in some way."

Andres Serrano
Awash in a vivid red-yellow glow stands a crucified Jesus. A statuette submerged in a jar of urine and photographed, Immersion (Piss Christ) brought American artist and photographer Andres Serrano unprecedented infamy. In this edition of our Stories of Iconic Artworks series we explore Serrano's Immersion (Piss Christ) and the subsequent outrage, controversy, and even vandalism that was sparked by the photograph.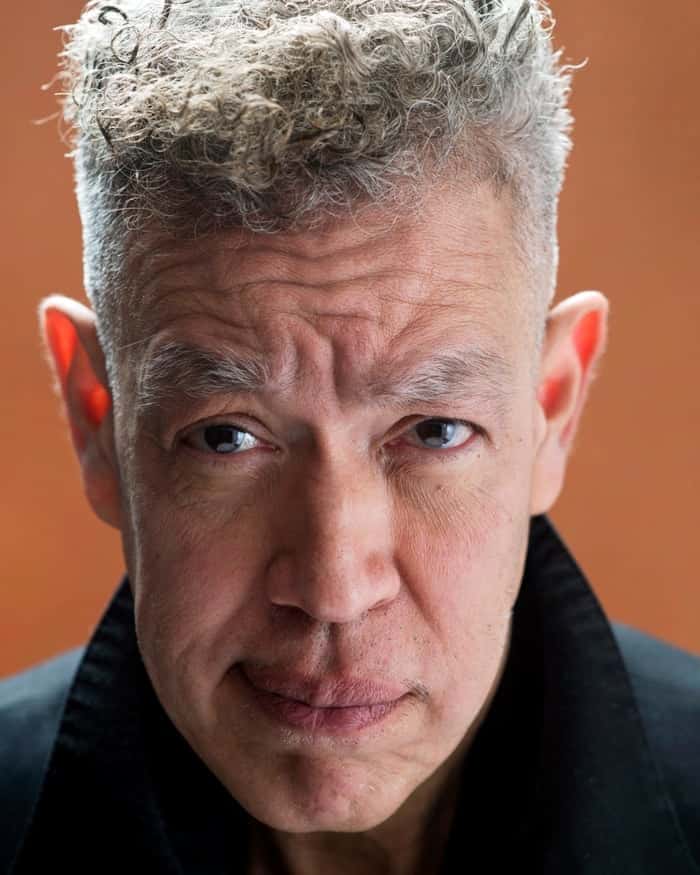 The Artist
Andres Serrano is an American artist born in 1950 in New York. He studied art, specifically photography, at the Brooklyn Museum from 1967 to 1969. He later acknowledged that he worked as a drug dealer and struggled with substance abuse in the 1970s while in New York City. He was able to return to his photography practice by the early 1980s and took an interest in working with figurative art. His work evoked and explored the religious upbringing he experienced in his Hispanic Roman Catholic childhood home. He also dove deeply into an exploration of how he could use fluids in his work, milk but also, infamously urine, blood, and semen. This series led to the creation of Immersion (Piss Christ).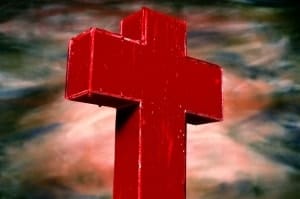 "The thing about the crucifix itself is that we treat it almost like a fashion accessory. When you see it, you're not horrified by it at all, but what it represents is the crucifixion of a man."

Andres Serrano
The Artwork
The Cibachrome print photograph Immersion (Piss Christ) by Andres Serrano depicts a small plastic crucifix statue submerged in a bright red-yellow liquid, which, due to the title of the work and testimony of the artist, we know to be Serrano's own urine. The photograph, created in 1987, was part of a larger series exploring immersions and classic iconography. Two years prior Serrano had created Blood Cross, a photograph of a plexiglass cross filled with cow's blood and slightly leaking to look as if the figure itself is bleeding.
Immersion (Piss Christ) is deeply saturated, glossy, and at first glance it is impossible to discern that the central medium of the work's creation could be a bodily fluid. Serrano himself has proclaimed that the work is not intended to be an overt political statement on religion, but rather that he prefers the work remains ambiguous. Despite this desire for ambiguity, Serrano has also alluded to being interested in the over-commercialisation and cheapening of Christian iconography in contemporary culture. As a lifelong Christian himself, he denounces the idea that he intended to create a blasphemous piece, but rather that it was a personal and serious work of art.
Initial Reception
When Serrano's Immersion (Piss Christ) debuted in 1987 at the Stux Gallery in New York City, it was favorably received. The piece went on to be exhibited at the Southeastern Center for Contemporary Art in Winston-Salem, North Carolina where it won the institution's "Awards in the Visual Arts" competition, sponsored by the National Endowment for the Arts. As the National Endowment for the Arts (NEA) is an American government agency that offers financial funding for artistic projects, Serrano ended up receiving backlash in 1989 from United States Senators Al D'Amato and Jesse Helm for receiving money from the tax-payer funded government organisation. The Senators ended up successfully passing a law that required the NEA to consider "general standards of decency" in subsequent grant awards. Other protestors asserted that the NEA award violated the separation of church and state and a large-scale debate on provocative artworks was borne. The attention resulted in a barrage of hate mail, death threats, and a loss of grants for Serrano — while the NEA budget was slashed by two-fifths. In retrospect, the debates surrounding Immersion (Piss Christ), and fellow NEA-award winner Robert Mapplethorpe's work, could be considered the front lines of the culture wars of the 1980s and 1990s.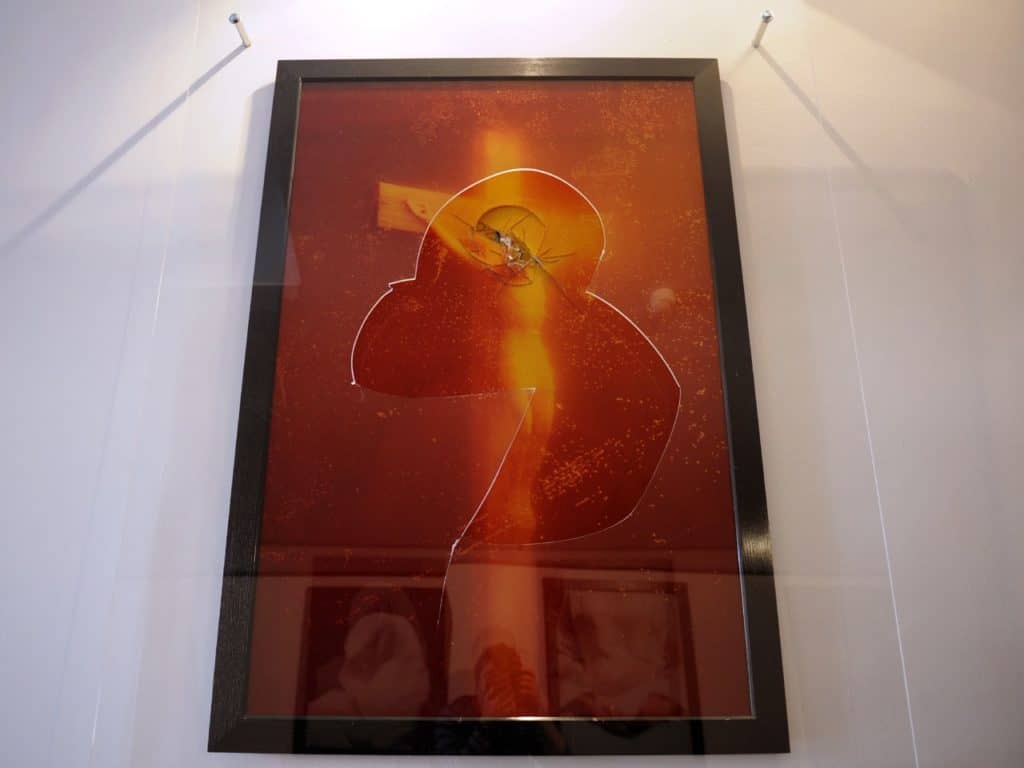 Further Controversy
Ten years after Immersion (Piss Christ) debuted, Serrano's work was being exhibited at a retrospective at the National Gallery of Victoria in Australia when the Catholic Archbishop of Melbourne at the time, George Pell, unsuccessfully sought an injunction from the Supreme Court to ban the artwork from public display. A few days later, one angered gallery visitor tried to remove the photograph from the gallery wall, and two teenagers later attempted to destroy it with a hammer. The officials at the National Gallery of Victoria reportedly received innumerable death threats in response to the exhibition and the gallery's director at the time cancelled the showing prematurely.
On April 17, 2011 while on display as part of the Je Crois aux Miracles (translated: I Believe in Miracles) exhibition at the Collection Lambert contemporary art museum in Avignon, France a print of Immersion (Piss Christ) was vandalised beyond repair by a pair of angry Christians wielding hammers. Another Serrano work, a photograph of a nun meditating, was also destroyed in the attack.
Beginning fall of 2012 Immersion (Piss Christ) was on display at the Edward Tyler Nahem gallery in New York City as part of Serrano's show Body and Spirit. Religious groups and individuals then called for President Barack Obama to denounce the artwork as he had previously for a film deeply critical of Islamists. He never did.
Driven by anger and a blind refusal for critical thinking and introspection, protesters continue to rally in opposition to Serrano's Immersion (Piss Christ). Such protesters driven by a visceral response to the bodily fluids in the photography blatantly ignore the meaning behind the work and the artist's intentions for viewers to reflect and ruminate on the implications of the crucifix as a symbol and commodity. Though Serrano's work has inspired other artists to more boldly create controversial art, the decency law passed by Senators and upheld in the Supreme Court in 1998 has meant that funding for such projects is scarce and harder to secure.
What is Piss Christ?
Piss Christ, or Immersion (Piss Christ) is a photograph by artist Andres Serrano of a crucifix statue immersed in the artists' own urine.

When has art been vandalised?
Andres Serrano's Immersion (Piss Christ) was destroyed by vandals in 2011 in Avignon, France.
Relevant sources to learn more
Enjoy this interview with the artist from 2014
CBS news coverage of the vandalism
Enjoy more from our Stories of Iconic Artworks series
Discover & Buy Contemporary Fine-Art Photography