Articles and Features
Jean-Michel Basquiat, From Street Artist to Star of the Art Scene
By Adam Hencz
An emblematic figure of contemporary art and a pioneer of Street Art as we know it today, Jean-Michel Basquiat was an ambitious young artist with a desperate need to create, who would never compromise himself to fit into the art world elite. Jean-Michel Basquiat's visual language and raw, brutal works draw on the tensions and contradictions of society, many of which still persist today. In the early 1980s, he was an important figure in the New York art scene and enjoyed his rapidly growing international fame, symbolizing the art world's recognition of graffiti, and the counter-cultural scene. His meteoric rise as a successful artist lasted for only seven years, and today Basquiat's legacy is celebrated on multiple fronts.
Biography of Jean-Michel Basquiat
Jean-Michel Basquiat was born in 1960 in Brooklyn, New York, as the first child of Haitian and Puerto Rican parents. He grew up in Park Slope, Brooklyn and showed great talents for writing, playing music and drawing at an early age. His mother would often draw with him as she was herself interested in fashion design and sketching. Basquiat's early drawings were based on cartoons and comic books, but also inspired by notorious film-makers like Alfred Hitchcock. With his mother, Basquiat would often take long walks in the city and pay visits to the Brooklyn Museum and to the Museum of Modern Art.
Street art
The teenager Basquiat was enrolled on City-As-School, a progressive and experimental public school for gifted children in Manhattan where he met young graffiti artist Al Diaz. Together, they invented the graffiti figure SAMO (shorthand for "same old shit"), and roamed the streets tagging and spraying the walls of New York's dilapidated buildings, subway cars and residential properties with poetic and politically provocative slogans. As he had no money for canvas, he also started painting on walls, doors and furniture.
Nine months before graduation, a disappointed Basquiat saw no point in finishing high school and dropped out at the age of seventeen, leaving his home for good. He was living off of selling sweatshirts and postcards marked with his drawings, panhandling, first living rough on the streets of Manhattan or crashing with friends. He often stayed on Canal Street, at Stan Peskett's loft, where he would throw parties that brought together graffitists, musicians and companions of the downtown club scene.
Gallery artist
The graffiti duo of Basquiat and Diaz parted in 1980. They never considered SAMO as graffiti art, yet even when he was hugely successful, Basquiat would be described as a graffiti artist or an ex-graffiti artist – a term that he thought tied his work with the uneducated and unsophisticated, and was simplistic and racist.
That same year Basquiat briefly met art critic and Metropolitan curator Henry Geldzahler, who reviewed the influential avant-garde and new wave The Times Square Show, an exhibition Basquiat also took part in and curated with artists like Keith Haring. The show proved to be a seminal moment both in New York art history and in Basquiat's career as well as it marked the momentum when the art world began to pay real attention to his talent.
Encouraged by the recognition of his artistic talent, Basquiat took part in numerous group exhibitions in the upcoming year, such as New York/New Wave, an exhibition that included works by artists like Robert Mapplethorpe. He met his lifelong friend and mentor Andy Warhol in 1981 in the downtown club scene, with whom he later collaborated on a series of paintings.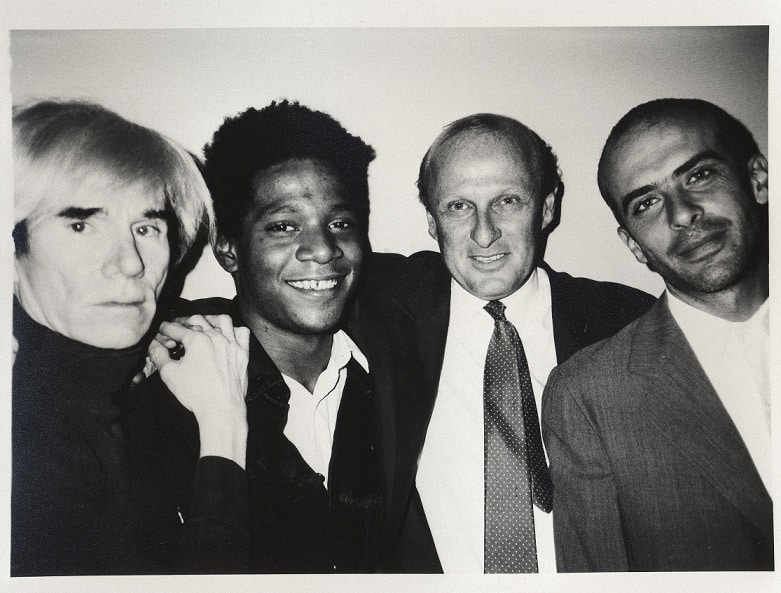 In 1982, Basquiat was a rising star, at the peak of his success. He had his first solo exhibition in the United States at the Annina Nosei Gallery showing paintings including Arroz con Pollo, Self-Portrait and Untitled (Two Heads on Gold). Annina Nosei also provided him with studio space in the basement of her gallery and introduced his work to Los Angeles collectors. Basquiat spent half a year in the city, exploring its art and club scene. He was the youngest artist to be featured in the 1982 edition of documenta, showing works among artists like Anselm Kiefer, Cy Twombly, Gerhard Richter and Joseph Beuys.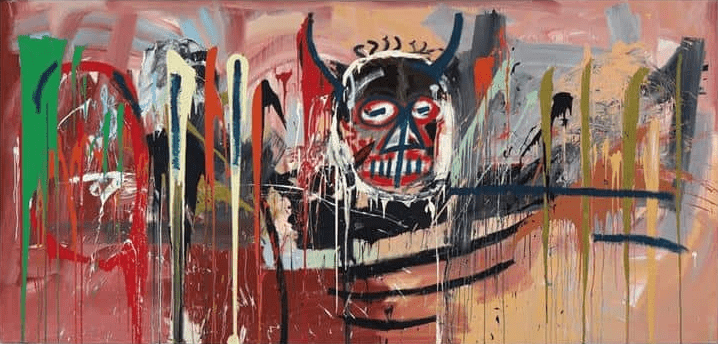 Final years and death
Basquiat's career would coincide with the beginning of the Neo-expressionist movement, a return to painting and the reemergence of the human figure that would announce the arrival of an unknown young artist to the international contemporary art scene. Basquiat sought recognition from the art world and the establishment, but he often faced prejudice for his graffiti connection, for being untrained, and he never felt fully accepted. Basquiat was devastated when Andy Warhol suddenly lost his life during a routine operation since Warhol also was one of the few people Basquiat would listen to when it came to curbing his drug use. In the following year, Basquiat became increasingly isolated and his depression and heroin addiction grew out of control. He gave up the struggle at the young age of 27, dying of a heroin overdose in his East Village apartment.
Jean-Michel Basquiat's Artistic Style: Evolution & Themes
Basquiat had a genuine passion for music and would take inspiration from hip hop artists, who used samples to incorporate past elements into their tracks. Basquiat would use this creative approach and apply it to his painting practice. In the same way musicians borrowed from James Brown, Basquiat borrowed from Rauschenberg, Picasso, and referenced his rich cultural heritage. Anatomy, poetry, trash tv, typography and art history were some of the many reference points Basquiat would use in his unique visual language, using oil sticks with spray paint, crayons and acrylics to fuse words and colors instinctively.
Heroes and crowns
A self-taught artist and closet intellectual, Basquiat knew a lot more about history than he often showed in public. One of his signature artistic motifs was the crown, a symbol he used to challenge the notions of Western art history, race and power. He would crown black heroes, such as athletes, musicians and writers, elevating them to a saintly status. He often paired the crown with the copyright symbol, as a sign of reclaiming authorship over how non-Western art was depicted and as an ironic attack on the mechanisms of the art market.
Anatomy and skulls
At the age of eight, Basquiat suffered internal injuries and a broken arm when he was hit by a car while playing in the street. He had to have his spleen removed and while hospitalized, his mother gave him a copy of Gray's Anatomy of the Human Body, a colorized medical textbook and visual exposure that Basquiat would draw inspiration from throughout the course of his whole life and career as an artist. This interest first appeared as a theme in his work in 1982 when he created a series of silkscreen prints on paper titled Anatomy.
His obsession with the body is reflected in his use of the skull, one of the symbols frequently associated with Basquiat. Basquiat also had a special interest in esoteric subjects such as alchemy and he believed that colors and words could be interchanged and used abstractly like music notes. His use of human skulls is also rooted in Haitian and African traditions and fertility masks, so long appropriated in Western art. His most mythical and sought-after painting, Untitled (Skull) (1982) has broken records at auctions, even though it had been kept in the same private collection since it was bought in 1984. When it came to auction in 2017, it reached the highest price ever paid for any American artist, a whopping $110.5 million.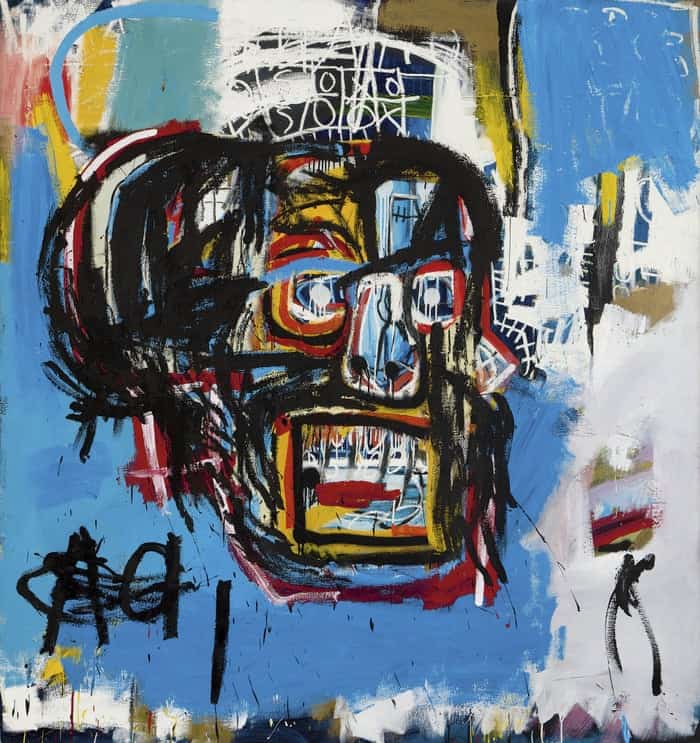 The Record-Breaking Market for Jean-Michel Basquiat
Jean-Michel Basquiat is one of the best renowned and sought-after contemporary artists of our time. Trading of his artworks has been subject to fluctuations following the global economic trends. Besides the record-breaking auction of his skull painting in 2017, Basquiat also holds the title of the most expensive Western artwork ever sold in Asia, for his painting Warrior (1982), estimated to achieve over $41 million in 2021.
Wondering where to start?