Articles and Features
Robert Mapplethorpe – Beauty and the Devil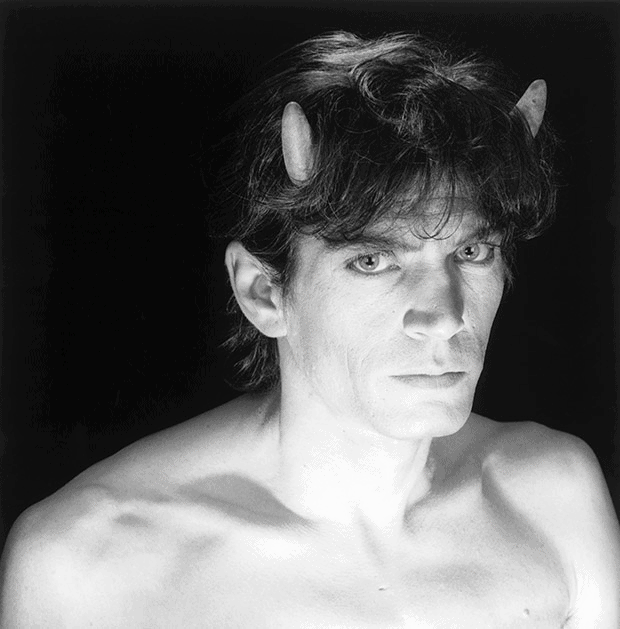 By Shira Wolfe
"Beauty and the devil are the same thing."

Robert Mapplethorpe
Disclaimer: the following article contains explicit material.
The artist Robert Mapplethorpe rose to fame in the '70s and '80s with his show-stopping photographs of New York's underground S&M gay scene. He meticulously and intensively built his own epic world of beauty, creation and vice, a world he loved to draw other people into. He was ambitious, provocative, and obsessive about exploring previously unexplored areas in art. His life and his art were inextricably tied together. In his words: "The whole point about being an artist or making a statement is to learn about yourself. I think that's the most important part. The photographs I think are less important than the life that one is leading."
Robert Mapplethorpe in the '60s
Robert Mapplethorpe was just 16 years old when he left behind his small suburban Long Island neighbourhood, where he had received a strict Catholic upbringing, and moved to New York City to study art at Pratt Institute. Already at that time, Mapplethorpe was searching for a completely unique way of expressing himself. He was obsessed with doing what had not been done before. The young artist paraded around with his pet monkey on his shoulder and finally killed the creature to use its skull for an art project. He was primarily drawing, painting and working in assemblage at the time, creating all sorts of elaborate jewelry as well. In 1967, he met Patti Smith, who had just moved to New York in pursuit of becoming an artist. They became friends, lovers, artistic collaborators, and soul mates for life. The pair quickly moved in together and remained living together for 5 years. During this period, Mapplethorpe's collages and assemblages compiled everyday objects and found images, often taken from pornographic magazines. References to Catholicism frequently appeared in these works, and would continue to play a role in his art throughout his career.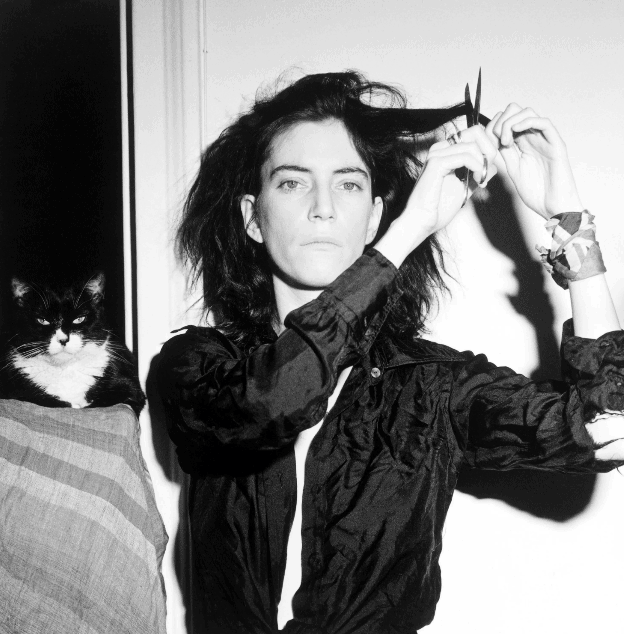 Robert Mapplethorpe in the '70s: Discovering Photography
In 1970, Smith and Mapplethorpe lived for a period in a small room in the Chelsea Hotel, a beloved place of residence for many writers, artists and musicians. It was in the Chelsea Hotel that Mapplethorpe first picked up a Polaroid camera. He had never really considered photography for his artistic production before, but soon became enamoured with the medium. Smith was Mapplethorpe's first, and favourite, model. When she rose to fame as a punk-rock poet and musician, Mapplethorpe photographed her first album cover for the iconic Horses (1975), and many more to come after that. At the time, most record covers were done in colour, and Mapplethorpe's striking black-and-white photograph of Patti Smith, nonchalantly slinging her black jacket over her shoulder, blew people away.
"The work dealing with sexuality is very directly related to my own experiences. It was an area that hadn't been explored in contemporary art, and so it was an area that interested me in terms of making my statement."

Robert Mapplethorpe
Photographing The New York Underground
In the early '70s, Mapplethorpe started exploring his homosexuality more and more, and began visiting infamous New York gay nightclubs like the Mineshaft and spending significant periods of time in San Francisco, immersing himself in the world of S&M. He took to this world like a fish to water, liberated by the sexual freedom and this area of dark human consent. He started photographing the people he met in these clubs, resulting in his shocking and provocative photographs of leather-clad men pissing in each other's mouths, fisting each other and showing off their full erections. He had found a totally unexplored area in art, something barely anyone had ever seen before, and he explored it inside out with the dedicated passion of an insider and participant of this subculture. "The work dealing with sexuality is very directly related to my own experiences," he said. "It was an area that hadn't been explored in contemporary art, and so it was an area that interested me in terms of making my statement." Mapplethorpe was obsessed with perfection, and so his photographs became extremely sharp and polished. As such, there was a fascinating contrast at play between the brutal rawness of his S&M subject-matter and the unblemished perfection of the photographs.
In 1972, Mapplethorpe's ex-boyfriend introduced him to Sam Wagstaff, the wealthy Manhattan art collector. They became lovers, and Wagstaff became Mapplethorpe's patron, buying him a studio and his first Hasselblad camera. Mapplethorpe inspired Wagstaff's rapidly growing obsession with photography and introduced him to the wild New York gay scene, while Wagstaff brought Mapplethorpe along to auctions and introduced him to important art-world figures. They taught each other about art and life, and it is due in part to this pair that photography became considered as legitimate an art form as painting and sculpture.
Assaulting American Concepts of Race, Sex, Gender and Morality
Towards the end of his career, Mapplethorpe only photographed and had sex with black men. His friend and lover Jack Fritscher, the editor of Drummer, a San Francisco magazine for gay men, notes in a 2016 article in the Guardian: "He was an existential comedian. He knew that the most frightening thing in the world is a photo of a penis. He knew pictures of black men could add another level of terror to his work. So he upped the anxiety for his white liberal patrons and made the penises big and black. Provoking American paranoia, he took a side-on shot of a black model holding a gun just above his horizontal erection: Cock and Gun (1982). When his patrons blanched, he would double-dare them: 'If you don't like my pictures, perhaps you're not as avant garde as you think.'" Mapplethorpe assaulted American concepts of race, sex, gender and morality head-on.
1980s: Accelerating Career, Accelerated Death
In the '80s, Mapplethorpe, like many of his friends and lovers, was diagnosed with AIDS. Knowing he would not have long to live, he accelerated his career even more, working tirelessly on all kinds of different photography series. One day he would take countless pictures of flowers and statues, then he would do his sex photographs, next society and celebrity portraits, and even commissioned work. "Beauty and the devil are the same thing," Mapplethorpe once remarked about his flower pictures. He was interested in revealing the beauty and the dark sides in all his subjects. In 1988, a year before his death, he had his first major exhibition at The Whitney Museum of American Art in New York. Following his death, in 1990, the Cincinnati Contemporary Arts Center (CAC) was taken to court on criminal charges of "obscenity" for putting on the Mapplethorpe exhibition The Perfect Moment. This became one of the most heated battlefronts in the culture wars of the era. In the end, the museum, and Mapplethorpe, won.
Mapplethorpe's vision and the power of his works continue today. His photographs remain challenging and revealing, bringing the viewer directly into the heart of his world, that world he so carefully created, living and cherishing it passionately till the end.
Robert Mapplethorpe: More Life at Kukje Gallery
The exhibition "Robert Mapplethorpe: More Life" opened on 18 February 2021 at Kukje Gallery's K2 (Seoul) and Busan spaces, and will run through 28 March 2021. The exhibition presents a wonderful overview of Mapplethorpe's career in photography, including his famous erotic photographs of the New York underground gay scene, his floral pictures, his celebrity portraits, still lifes and striking self-portraits.
Relevant sources to learn more
Robert Mapplethorpe: Look At The Pictures, 2016 documentary
Guggenheim
Phaidon
The Guardian
Smithsonian Magazine
Relevant related articles:
The Other Patti Smith: The Visual Art of the Punk-Poet Legend
10 Striking Artist Couples